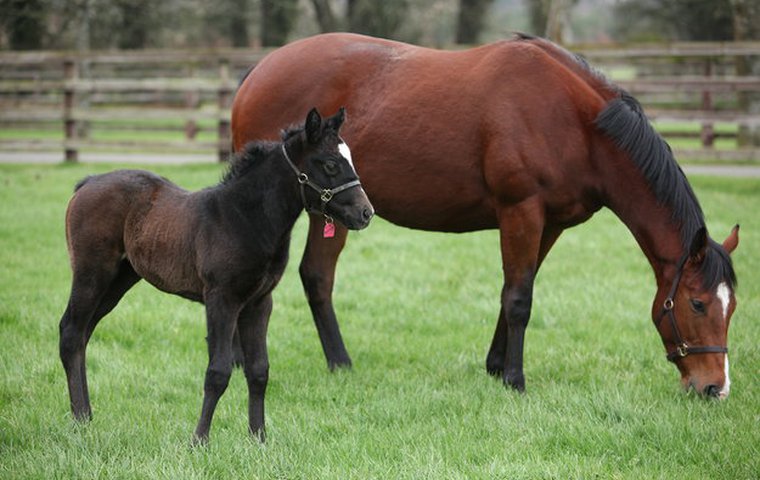 Ireland: Leading the Way in Thoroughbred Racing and Breeding

Irish racing people have always taken a keen interest in the American racing scene and are well aware of the famous trainers, jockeys, horses, and racecourses that are a part of American sporting history. Not surprisingly, given the difference in scale, Americans are not particularly familiar with the Irish racing scene, and it comes as a surprise to learn that Ireland, a country roughly matching the state of South Carolina in size and population, is one the of the most important players in the international Thoroughbred racing and breeding industry.
The Irish breeding industry has evolved in the last 25 years. Whereas European breeders used to travel to America to secure the best bloodlines, the traffic is now in the opposite direction. Europe, in particular Ireland, has become the home of the best stallions in the world. However, you will find American bloodlines if you look just two generations back on most top Irish stallions.
Galileo, Danehill Dancer, Sea The Stars, Raven's Pass, Cape Cross, Invincible Spirit, Holy Roman Emperor, and Shamardal all have at least two American grandparents, while Teofilo has four.
This shows that bloodstock is a highly mobile commodity and that any country that has developed or is developing a bloodstock industry should never become complacent.
Ireland is currently the main centre of Thoroughbred breeding in Europe, accounting for 35 percent of output. Our country is one of the biggest Thoroughbred-producing nations with a foal crop roughly equivalent in size to that of Kentucky, placing us fourth in the world after the U.S., Australia, and Argentina.
We also enjoy the support of a government that understands the value of our indigenous skills in horse breeding, training, and racing. The government also values the positive impact that our racing reputation has in other countries, particularly in the Middle East and Asia, and the growth of inward investment in bloodstock and breeding establishments from these regions.
Additionally, Ireland happens to be blessed with a climate and a soil structure that is particularly suitable to raising young horses. Given the limits of domestic demand, this has led to an emphasis on exports. In 2013, Ireland exported more than 4,800 Thoroughbreds to 37 countries worldwide with a total value in excess of €205 million ($278 million). This is double the amount of horses exported annually from the U.S.
This is one of a small number of sectors in which Ireland is a genuine world leader. Irish-trained horses won 153 races overseas last year, winning prize-money of more than €20 million ($27 million), while an Irish-based stallion has been the leading sire in Europe in each of the last 22 years.
We are now seeing an increase in the number of American investors choosing to race, breed, and buy horses in Ireland, a practice consistent with Horse Racing Ireland's mission 'to develop and promote Ireland as a world centre of excellence for horse racing and breeding'.
These investors can expect to race in a competitive environment. If a horse wins a race in Ireland, it is likely to significantly increase its value either for sale or for breeding purposes.
We deliberately set out to offer a high-quality, competitive race programme with a minimum of 10 percent of our races being black-type races. While that is a higher proportion than most other countries - in the U.S., it's 3.6 percent - these races are closely monitored under the ground rules of the European Pattern Committee. We operate a minimum rating policy whereby horses rated below a certain level are not qualified to participate in races and must be removed from training. We also aim to offer high-level prize money, the average purse offered for 2013 flat races in Ireland was just under €21,000 ($28,000).
Through Irish Thoroughbred Marketing, we have invested resources into attracting and retaining international buyers for Irish bloodstock. A strong race programme with competitive prize-money is essential in underpinning our breeding industry, and securing our future as as a premier country in which to own, breed, and buy Thoroughbreds.
---
Brian Kavanagh is Chief Executive of Horse Racing Ireland. Read his article on three challenges facing the global racing industry.