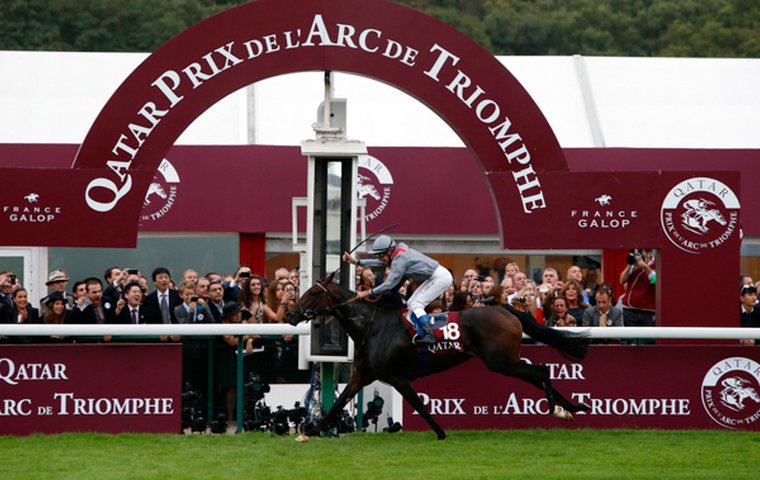 For racing's participants and camp followers alike, October is a month lived on the run. From Arc weekend at Longchamp to Ascot's Champions Day and then on to the Breeders' Cup meeting at Santa Anita, many of the most important and valuable contests of the year come and go in the span of 27 days.

It could easily begin to feel like a whistle-stop package tour: If it's Saturday, this must be Ascot. But it does not, which is to the credit of all three events, since each manages to remain distinct from the others. All three are designed to do the same job, to bring many months of racing to a suitably memorable climax in a series of G1 races, and then package and sell it to the race-going and betting public. Each meeting does so with its own, individual style.
Playing to their strengths
What all three events do well is to play to their strengths, though in the case of Longchamp on the first weekend in October, it does not really need to try since the venue's effortless elegance is the result of many decades of practice. This is a racecourse that was painted by Picasso and Degas, and photographs of meetings in the early years of the 20th century convey the same sense of history and refinement that still greets racegoers to this day. It looks, and feels, special as soon as you arrive, and puts spectators in the mood to see something special too.
Ascot, on the other hand, emphasises its Britishness. Foreign runners and race-goers are welcome, of course, but the meeting clearly sets out its stall as "British Champions Day," as if it wants to convince the locals first of all. Since it is still such a new concept, this makes perfect sense, and though the action unfolds in front of its magnificent and modern grandstand. Nowhere could be more traditionally British than the Queen's own racecourse, in the country where Thoroughbred racing began.
The Breeders' Cup is different again. It was conceived as a moveable feast, although the 2014 event will be the third in a row at Santa Anita - and there are strong rumours that 2015's event will move just a few hundred miles down the coast to Del Mar. Racegoers travel to Ascot and Longchamp, and visitors from Britain, Ireland, and now Japan often outnumber the locals on Arc day. The Breeders' Cup, on the other hand, comes to town.
If Ascot and Longchamp are grand theatres for racing, then the Breeders' Cup – in the best possible sense – is more of a travelling circus. Whether the Cup is on the West or East coast, or in between at Churchill Downs, horses arrive from the rest of the country, as well as from Europe, to join the familiar contingent from the local track. It feels like more of a coming together than even Arc weekend ever can.
It cannot be underestimated how much this feeds into the Breeders' Cup experience. It is immersive. The Americans train their horses on the track, and expect – indeed, encourage – spectators to turn up and watch. Every horse is easy to identify from its saddlecloth, workouts are logged, and every snippet of information is freely available to anyone who wants it. The build-up to the Classic, America's richest race, does not begin on the morning of the race, or even on the first day of the two-day meeting. It starts five days earlier, on Monday, when they draw for post positions and publish the morning-line odds, and gives the Breeders' Cup a momentum-building run-up that Ascot and Longchamp can never realistically hope to match.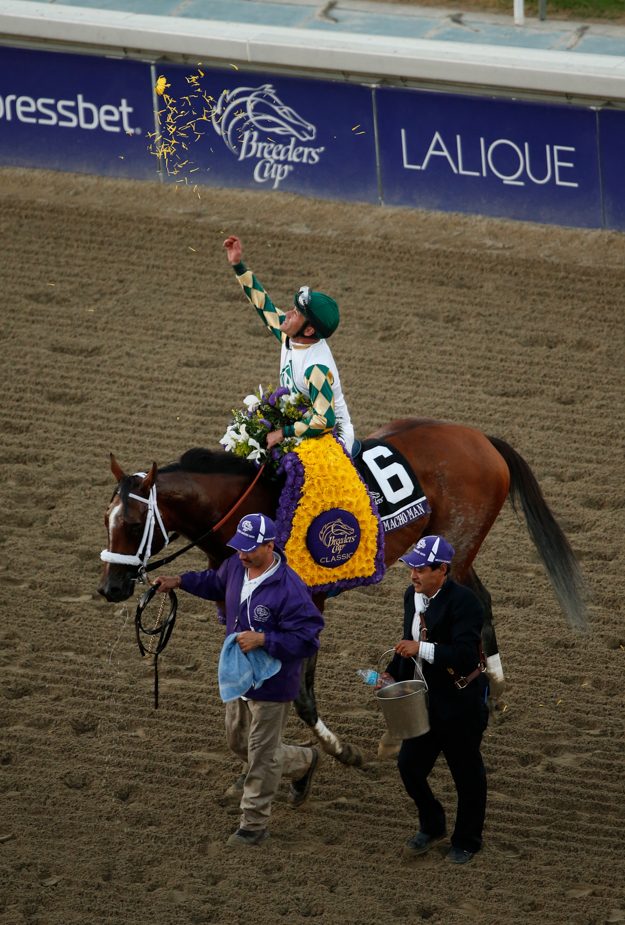 Holding the interest
Another contrast emerges once the performers and audience have assembled. Ascot, which has the highest ticket prices of the three, bent over backwards to give racegoers value for money and keep them interested during the 90 percent of the day when a race was not in progress. There was no Frankel to guarantee a bumper crowd this year, but there was an impressive display to honour and remember Sir Henry Cecil, while exhibition of major sporting trophies from around the world was particularly popular. It was a clever way to distinguish Champions Day from any other, non-Royal Ascot afternoon in the racegoers' memories too.
At the Breeders' Cup, in the ultimate consumer society, customer care is instinctive. Whether you want to watch the races, bet, eat, drink, buy souvenirs, or just enjoy the view of the San Gabriel mountains, everything is as straightforward as it could possibly be. Nor could anyone be in any doubt that this is a meeting apart from the rest of Santa Anita's programme, with the Cup's logo and imperial purple branding everywhere you look.
However, walk around the enclosures at Longchamp on Arc day and the contrast with the American way of doing things could not be more obvious or striking. There are long queues at every betting window, and at the handful set aside for the huge army of travelling Japanese racing fans in particular. They have spent lavishly on plane fares and hotels to travel halfway around the world for this day, and yet they are forced to wait half an hour or more simply to place a bet. And once the money is finally down, the choice for food and drink -- assuming you cannot afford the high-end restaurant in the members' enclosure -- seems limited to a couple of small bars selling baguettes and tins of beer, a crepe stand, and a sweet stall.
This is nothing new. My first trip to Longchamp was as a paying punter, hitch-hiking from London to Paris to keep the costs down and save more money to back Mtoto in the 1988 Arc. Then as now, I was surprised by how tedious it was to do anything other than sit on the terraces and wait for the racing to start, which is precisely what most of the Japanese racing fans did. I suspect that, once the initial excitement of being there receded, a fair few of them were getting quite bored. Racegoers seem to be viewed as an attractive backdrop for the racing, rather than an essential part of the event.
To be fair, racegoers at Longchamp this year were greeted by a stage with traditional Arabic dancers, and assorted displays and diversions to promote Qatar, the meeting's sponsor, but otherwise little seems to have changed in the Bois de Boulogne in 25 years. And when I returned to Longchamp 10 days later, to interview Christophe Soumillon during a for a meeting worth more than € 200,000 ($270,000), the likely reason was soon apparent. There were, at a generous guess, about 300 paying punters in attendance. I have been to the Guineas and Grand Prix de Paris meetings within the last five years, and again, there is no hint of a proper crowd or the atmosphere to go with it. It makes little sense to set up a racecourse to properly accommodate and entertain a big crowd when it will be empty on the other 364 days of the year.
Lessons to learn
All three of these showpiece meetings could cherry-pick ideas from each other. The Arc's branding on social media this year was particularly impressive, with its Twitter hashtag - #QPAT – everywhere. A presence on Twitter helps to build the off-track audience, and a slump in the viewing figures on NBC, despite considerable promotion, was one of the few disappointments for this year's Breeders' Cup.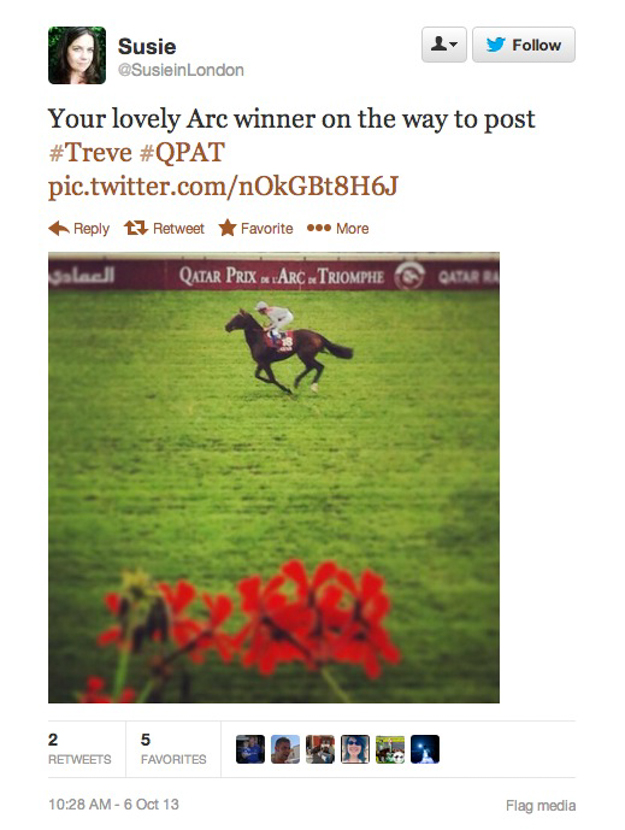 Meanwhile, Champions Day builds toward its biggest race and then runs an apprentice handicap 30 minutes later, while Longchamp staged three races and a pure-bred Arabian event after the Arc. Nothing diminishes a climax more than a low-key encore, and here, the Breeders' Cup's steady build toward a final-race Classic shows how it should be done.
Arc day could also learn a great deal about customer service from both Champions Day and the Breeders' Cup too. While its younger rivals take the paying public seriously, Longchamp often seems to take them for granted. It may have history on its side, but the planned redevelopment, which is likely to mean the Arc moves to Chantilly for the 2015 season, is imminent. When the fans who make the trip every year decide whether to return to Longchamp in 2016, will history alone be enough?
Greg Wood is racing correspondent for the Guardian. Twitter: @Greg_Wood_