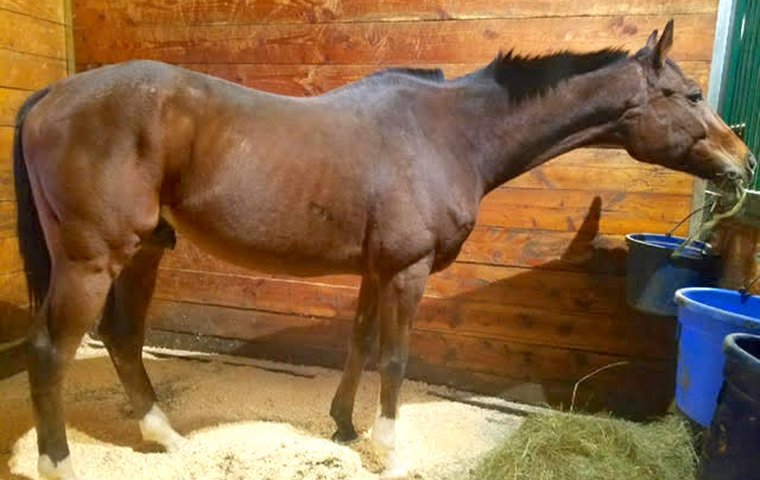 The frozen paddocks of upstate New York are a long way from the sweltering devastation of Puerto Rico.

At the ReRun adoption and retraining facility in East Greenbush, New York, about 40 miles south of Saratoga Springs — where the temperature was 2 degrees Fahrenheit (-17 degrees C) on a recent morning, a nine-year-old U.S. racing expat waits for the mercury to rise so that he can have surgery to repair his fractured splint bones, the next step in a long journey that began when Toy Cannon was foaled in New York, diverted to Puerto Rico a little more than a year ago, and headed for a happy ending when he was one of the lucky horses to be rescued from Camarero Race Track after Hurricane Maria practically destroyed the island.
"Even before the storm, he was on our watch list," said Kelley Stobie, co-founder and vice president of Caribbean Thoroughbred Aftercare. "After the storm, we went to all the barns and contacted as many trainers as we could. There were no roofs on the barns and horses were out in the elements."
Unruly youngster
Bred in New York by James Cassidy, Toy Cannon was purchased by Steve Byk's Dee Tee Stable in 2010 for $34,000. A bay gelding by Thunder Gulch out of the Lord Avie mare Ceridwen, Toy Cannon caught Byk's eye first in the catalog, then in the shedrow.
"I'm a big Thunder Gulch fan," said Byk, "and the Lord Avie mare appealed to me. When I went to look at him, I fell in love with him. He was a big, good-looking yearling with a big walk. He RNA'd [Reserve Not Attained] in the ring and I hustled back and bought him for $1,000 under the RNA [terms]."
Byk sold a majority ownership in the horse to Paul Pompa, who placed the turf-meant Toy Cannon with Hall of Fame trainer Bill Mott. A bullying, unruly youngster, Toy Cannon required patient, creative handling, and after a disappointing debut he broke his maiden in his second start, then reeled off three runner-up finishes.
It would take 18 races and two and a half years before Toy Cannon would make it back to the winner's circle, and by that point he'd been claimed away from Pompa and Dee Tee. After a stint at Tampa Bay Downs, he ended up at Finger Lakes, a common stopping point for horses unable to compete on the New York Racing Association circuit of Aqueduct Racetrack, Belmont Park, and Saratoga Race Course, and a track without a turf course.
"He never gave an ounce on dirt," said Byk. "He's just not a dirt horse, and it was completely ridiculous that he was there."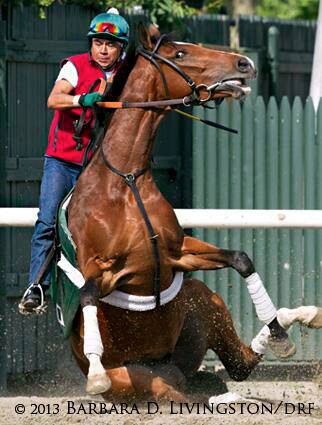 After a series of races in which he finished closer to the back of the field than the front, Toy Cannon made his last start at Finger Lakes in November 2016, resurfacing at Hipódromo Camarero in Canóvanas, Puerto Rico, a month later. Racing with similarly dismal results, he ran for the last time on September 1 last year. Nineteen days later, Hurricane Maria hit.
Making rounds and trying to save as many horses as she could, CTA's Stobie talked to Alexis Rivera, Toy Cannon's trainer, who contacted owner RAJ Stable, who agreed to let CTA rescue the horse.
"He'd been standing on cement in water," reported Stobie. "He had really bad rain rot all over him, and his back legs were really swollen. We thought he would founder on his hind legs, but he didn't, thank God."
Stateside, CTA director Shelley Gagnon-Blodgett was working with U.S. rescues, and both she and Stobie were already well aware of Toy Cannon.
"He was a grass horse [running on dirt at Camarero] and he was dropping in class," wrote Gagnon-Blodgett in an email.
CTA had previously worked with the New York Thoroughbred Horsemen's Association retirement program Take the Lead, and before long Gagnon-Blodgett and trainer Rick Schosberg, the chairman of the NYTHA aftercare committee, joined forces to arrange transport for Toy Cannon back to New York.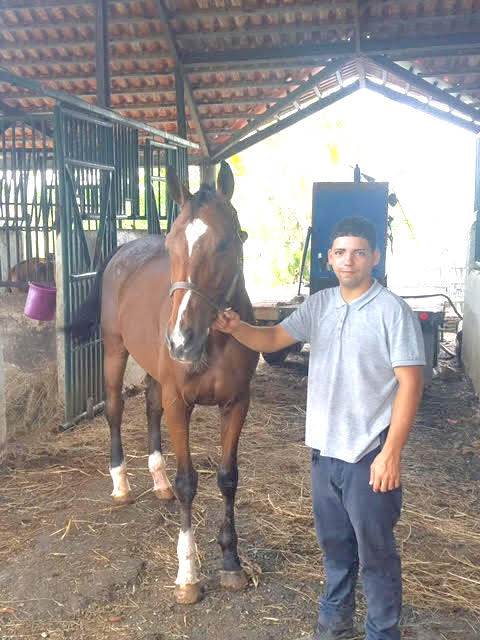 Take the Lead contributed to the horse's transport and quarantine costs, and Toy Cannon stayed at the Ocala barn of Lorraine Horse Transport in the care of Karen and Randy Hickman of Stone Ridge Stable; Lorraine then shipped him to New York free of charge.
"It was a team effort," said Schosberg. "Kelley's been doing wonderful work in terrible circumstances, and when we found out that an ex-New York horse was in danger of not surviving, we worked out a way to fund it and Lisa Molloy [ReRun executive director] jumped in up here."
"His front legs were so swollen when he got here," said Molloy, who had been contacted by Thoroughbred Charities of America's Erin Crady about taking in some Puerto Rico rescues. "He couldn't walk properly, so we did X-rays and we found the damage. The fractures are really old and he's got scar tissue, which means he raced like that."
New York-breds: click here for full details of the lucrative awards program
Toy Cannon's travails have done little to quell his stubborn streak; he's not one of those horses that wants to make friends with humans, but he has no trouble communicating to Molloy what he wants.
"He can be quite the handful when he wants to come in," she said. "When he was at the height of his game, I don't think that he was the easiest horse to deal with."
Molloy is working on getting weight back on him, as well as treating him for anemia and a surplus of selenium in his blood, which led to his mane and tail thinning. She had hoped he'd have surgery at the end of 2017, but the cold spell led her to put it off. After a couple of months of recovery, she'll determine whether he is suitable for another career, or whether he'll be placed at a sanctuary.
He is already luckier than many of the horses who suffered during the hurricane; 90 horses have died since September, and Stobie estimates that about 80 percent of them have died from storm-related causes, including founder and colic. Rescue work continues nearly four months later, with much of the island still without electricity.
"Aftercare in and of itself is a daunting task, even without acts of God and tragedies like this," said Schosberg. "The work that Kelley and Shelley did really needs to be recognized. Their efforts are phenomenal and heroic."
Click below to learn more about the organizations that helped Toy Cannon and to contribute to their work.
Caribbean Thoroughbred Aftercare received the Ellen and Herb Moelis Industry Service Award from Thoroughbred Charities of America last Saturday.