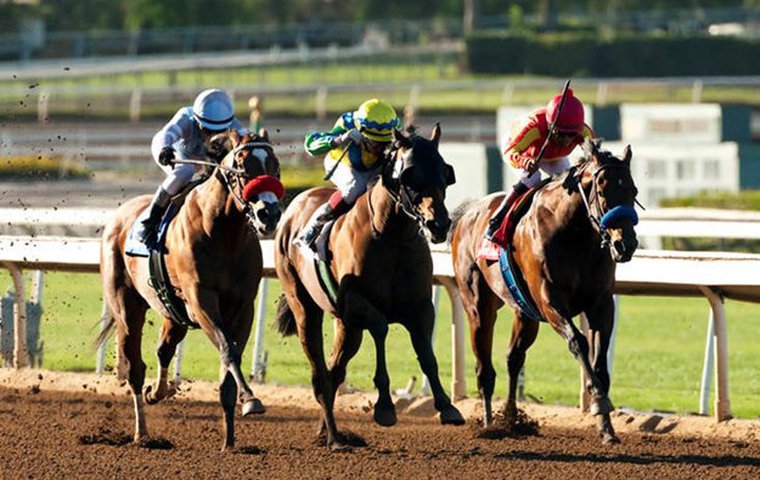 The Breeders' Cup, in its 31st year, continues to enjoy the increased presence of horses from across the globe. Yet from a betting standpoint, the event's organizers profess to see the largest potential for betting growth in domestic advanced deposit wagering, while still working to make steady inroads in the international market.

Excitement is particularly high this year, as Hong Kong returns as an importer of at least a small portion of the Breeders' Cup signal for wagering for the first time since 2010. It was just a few years ago that Hong Kong horseplayers could legally wager on only 10 imported races a year; now that number has risen above 100, according to Bill Nader, the executive director for racing at the Hong Kong Jockey Club.
When Rich Tapestry upset Goldencents and Secret Circle on Oct. 4 in the G1 $300,000 Santa Anita Sprint Championship, the Irish-bred, 6-year-old gelding earned an automatic berth into the Breeders' Cup Sprint, making him the first Hong Kong-based entrant ever in the history of the Breeders' Cup World Championships.
The Hong Kong Jockey Club will simulcast the Sprint as well as the Breeders' Cup Mile, and Nader said he forecasts a total of $25 million in Hong Kong dollars – or a little more than $3 million in U.S. dollars – to be bet in Hong Kong on the two races.
The predicted wagering is a shadow of what normally goes on in Hong Kong. Horseplayers there wagered $12 billion in just 83 days of racing in 2013. A total of 771 races were run, making the average pool for each race more than $15 million, according to International Federation of Horse Racing Authorities figures.
By comparison, tracks in the United States ran 43,139 races last year with an average per-race handle of approximately $230,000 for around $9.9 billion in total wagering.
"The presence of Rich Tapestry at Santa Anita on Nov. 1 is a game changer for the Breeders' Cup in this part of the world," Nader said via email. "Everyone will be watching with great interest and anticipation."
"It will be rather interesting," agreed Ken Kirchner, president of FalKirk International, which has managed Breeders' Cup wagering and simulcasting since 1996. "In 2010, the last year Hong Kong participated, they took six races on Breeders' Cup Saturday, and they wagered $5 million – almost $900,000 per race – and that was with no participants – horses, jockeys, trainers. This year, they're only going to take the two races, and I wouldn't be surprised if handle exceeds what it was in 2010 with six races."
There are impediments to even greater handle in Hong Kong, as well as other international markets, chiefly the time of day of the races. As Kirchner points out, when the Breeders' Cup Classic goes off at 5:35 PDT, it will be 8:35 a.m. in Hong Kong, 7:30 a.m. in Australia, and 1:30 a.m. in England.
"The difficult part is the Sprint will be seen at 7 a.m. on Sunday morning in Hong Kong," Kirchner said. "It's a difficult time; it's obviously going to be all account wagering. The facilities and OTBs will all be closed."
All-source wagering on the Breeders' Cup races last year totaled $163 million, with approximately 10 percent generated in international markets, Kirchner said. There will be 25 countries offering wagering this year, including stalwarts such as England, Ireland, and France, but also Kenya, Turkey, and many South American countries.
"So, there is certainly a worldwide market," Kirchner said. "It's one thing when the event attracts the international participants, but it's a major plus for wagering if you have wagering in the country where horses are coming from."
Of the 201 horses pre-entered in the Breeders' Cup, 38 are based outside of the U.S.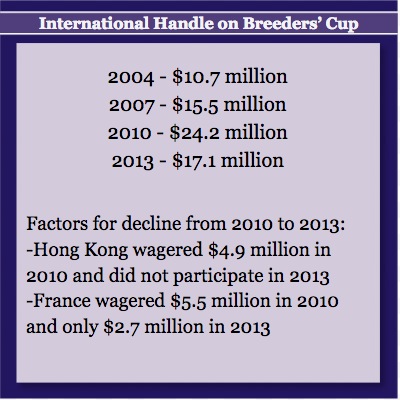 "Ken does a great job along with the folks here at Santa Anita," said Craig Favel, president and CEO of Breeders' Cup Ltd. "So, we depend a lot on their advice and counsel in terms of identifying potential markets. Clearly, in this country, horse racing is a wagering game and a dramatic amount of our revenues which go into our purse fund are attributable to simulcast activities, and so we've been aggressive in expanding not only our video distribution but actual simulcast distribution around the world.
"The more we can expose our product around the world, I think, the fact that we have 38 horses pre-entered from various countries … is a tribute to the fact that we do show our races everywhere we can get in."
One place the Breeders' Cup hasn't been able to get in is Japan, far and away the largest racing wagering market in the world. More than $24.1 billion was bet on races last year in Japan, yet a national statute prohibits wagering on imported simulcast signals.
In 2012, the 5-year-old Trailblazer finished fourth at 6-to-1 in his attempt to become the first Japan-based horse to win the Breeders' Cup Turf. He was the eighth Japanese horse to try to win a Breeders' Cup race, and his effort was televised live by the Japan Racing Association's racing channel.
"The international market still remains difficult when you have countries – particularly Japan – where it's prohibited to do simulcasting," Kirchner said. "It could still be 10 or 15 years [before the market is open]. We've been discussing this with the JRA ever since I got involved 20 years ago. Clearly, they have been unable to open their markets. Our understanding is it would require a concerted effort and legislative changes that government officials have been unwilling to make. Japan is a powerhouse. They have runners consistently in the Arc [de Triomphe in France], but their own patrons can't wager on them legally in Japan."
Yet, there have been breakthroughs on penetrating new markets, such as in Turkey, where, despite an exorbitant takeout by tracks and government, $1.48 billion was bet on racing in 2013.
International wagering on the Breeders' Cup and signal distribution is guided by FalKirk International and processed by Sportech PLC, the tote company for Santa Anita Park.
Kirchner said some countries wager into the Breeders' Cup pari-mutuel pools, and some do not – such as Turkey, Hong Kong, and Australia – because of "technical limitations or statutory limitations."
Percentages of international handle sent to Breeders' Cup Ltd., are negotiated country by country. Kirchner said the rates are private contractual matters.
Toward the end of a recent conversation, Kirchner pondered what realizing a fully mature international market for the Breeders' Cup might look like, and he chuckled at the magnitude of the challenge.
"You involve the top 15, 20 countries – England, Ireland, France, Japan – and look at the volume of wagering in those countries, and it approaches $100 billion. Clearly, there are fans around the world for this sport. So, the international cooperation is now there, or is starting to be there, for more and more horses competing in the international arena for big prize money, whether it's the Arc, the Breeders' Cup, Hong Kong Cup, or any other international dates on the calendar.
"Yet the wagering is still many years behind where we are in the competition. With almost 20 years invested in trying to get this done, the small, positive steps are there. [Realizing the full potential] maybe is not quite analogous to knocking down the Berlin Wall, but it's a pretty big wall to climb. Maybe Everest would be a better analogy."