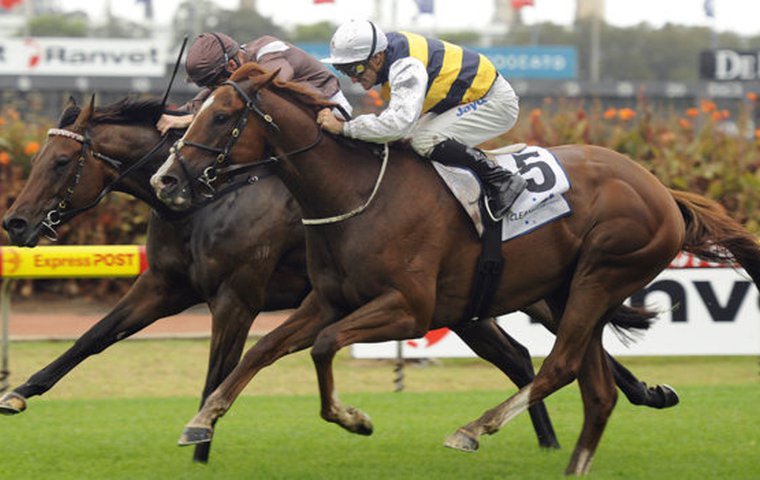 The exciting Gailo Chop has been one of the most talked-about 3-year-olds in France so far this season. But you won't find him lining up at Longchamp Racecourse when the first French Classics of the season are run on Sunday. Instead, he is heading stateside for the new $1.25 million Belmont Derby Invitational on July 5. The target was agreed when a half-share in him was sold to OTI, one of the biggest ownership groups in Australia. So who are OTI, and what else are they likely to line up for Gailo Chop? Jessica Owers reports.

In 1999, Australian friends Simon O'Donnell and Terry Henderson had an idea. They would pool their individual racing and breeding interests into a single company called OTI, and they would spend large sums on quality Australian fillies by shuttling American stallions.
The logic was sound. O'Donnell had noticed that sires such as Red Ransom and Unbridled's Song were standing in Australia for a fifth of their Northern Hemisphere price tags, and there was pinhook-like promise in that. The pair would nurse their fillies to their 3-year-old seasons, ship them off to the U.S. for a big resale, and harvest the dollars for their wisdom. But it didn't quite work out.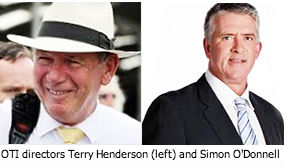 "We went back and forwards to Kentucky for three years trying to make it happen," Henderson said. "Suffice to say, it didn't. But, by the time we realized that, our racing operations in Australia had become quite successful and we decided, from then on, to concentrate on racing."
For O'Donnell and Henderson, it was a case of the best-laid plans, but neither man was dented for the experience. Between them, they had decades of racing and bloodstock experience, so the shaky beginnings of OTI are just a memory these days, a good yarn for curious journalists.
From the beginning, the company was gifted with its two Australian directors. Simon O'Donnell, a retired footballer and Test match cricketer, brought an enormous public platform to OTI. He was a television presenter for Channel Nine's football and horse racing programs, and his fame, Henderson admitted, has played a strong role in promoting OTI. But, with O'Donnell's celebrity, came Henderson's cued and careful business acumen. A former CEO and logistics expert, he was, long before OTI, a gun at finding a racehorse. Henderson had purchased, managed, and co-owned, among others, Melbourne Cup and Caulfield Cup winner Doriemus.
Today, OTI (a reference to the absorbed O'Donnell Thoroughbreds International) is one of Australia's most branded ownership groups. But, it is not to be confused with syndication. O'Donnell and Henderson state that they race in partnership with their clients, that each investment brings co-ownership with OTI as the managing owner. And though the company races horses internationally, with plunges into France and, lately, the U.S., Australia remains the focus of its racing business.
The company has about 75 racing horses, with another 25 or so yearlings and broodmares. And its roll of fame is extensive. Manighar, an ex-Luca Cumani gelding, won three G1 races in OTI colours, while Kibbutz and Brambles were derby winners. And there have been dozens of others in that vein... the French horse Montclair, Hugs Dancer, Bauer, Ibicenco, and Drunken Sailor.
Pushing its borders into France in recent times, OTI developed the AusFrench Racing Partnership with Belmont Bloodstock, an initiative that will offer 20 owners the opportunity to race a select group of horses in France. But Henderson said it wasn't the prize money that lured them.
"We felt that the characteristics of French racing suited Australian racing," he said. "They race on flat tracks like we do in Australia, and have a similar racing style to us."
This all adds up to OTI's buying dogma – it will buy into French racehorses, even race them there, but the ultimate ambition will be to bring them down to Australia.
Henderson will buy a horse from anywhere in the world, but his affection for the French Thoroughbred is obvious.
"From an assessment point of view," he said, "I find it easier to evaluate a French horse. The English, for example, race on generally undulating tracks. The French, a bit like the Americans, race over the flatter tracks like us. So we're finding that the French horses do tend to suit the Australian conditions every bit as well as, if not better than, the English horses."
It's a theory that will be tested on OTI's latest grab, the headlining French 3-year-old Gailo Chop, who has won two of the main trials for the Prix du Jockey Club (French Derby), a race that he is not eligible for as a gelding. Referred by California-based bloodstock agent Emmanuel de Seroux of Narvick International, OTI bought 50 percent of Gailo Chop earlier this year. But, while Henderson won't admit what the company paid for its half – "we never reveal what we pay for a horse, or what we sell it for, for that matter" – he doesn't mind talking about the gelding's future.
"The plan is to race him in the Belmont Derby Invitational [formerly the Jamaica Handicap] on July 5, and then he'll go back to France," Henderson said. "The horse's breeder [Alain Chopard] still owns 50 percent of him, so when we get to September, we'll make a decision on which direction we head with him. But the bottom line is that we bought this horse to bring him to race in Australia."
OTI is unclear which races in Australia might suit Gailo Chop. As the gelding has only run to 2,000 metres at this stage, there are questions about him getting the 2,400 metres of the Caulfield Cup, or having the extra wind to see out the 3,200 metres of the Melbourne Cup. The group admits they are yet to find out if the horse is brilliant enough for the Cox Plate. But, it's obvious that OTI is thinking about these targets, and that they're waiting until the Belmont event before plotting their course.
The fact that Gailo Chop is a gelding matters little to OTI. Though there is a bloodstock arm to this company, O'Donnell and Henderson are a racing operation first, everything else second. Their loyalty to this rule has brought them immense success, best demonstrated by the deeds of Manighar. Rising nine years old, the gelding is with Christophe Clement in New York these days. He has won almost $4 million.
OTI Racing is a brand, and a bright one, but behind the silks and the success are two friends who love what they do.
Said Henderson: "If you're in this game for the long haul and you just worry about money, your time in the game will be short."