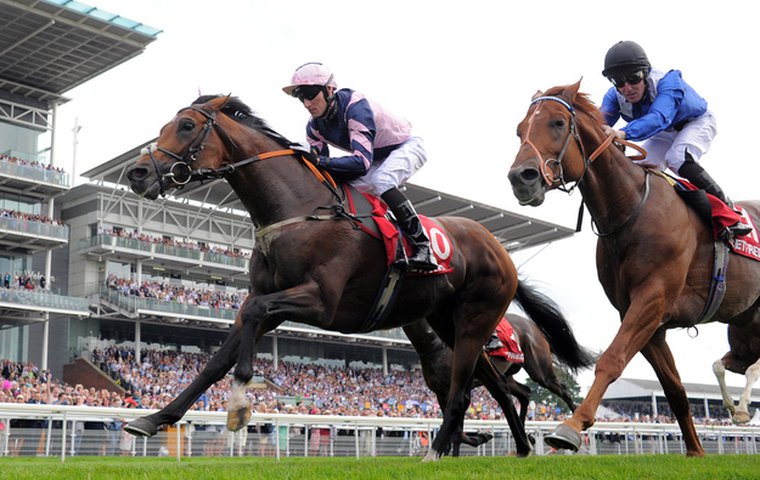 When Mondialiste lines up against some of the world's best milers in Sunday's Hong Kong Mile, he will be representing an owner, Geoff Turnbull, and a trainer, David O'Meara, who have both risen from the very bottom of their chosen professions to become incredibly successful.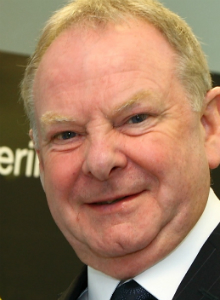 Turnbull (left) is the Chairman of the GT Group of companies, an environmental engineering business with an annual turnover of over £50 million and a workforce of 300 people, based at six different sites in the north east of England.
Little more than two decades after starting out at 15 as an apprentice toolmaker for Castrol Oils earning £2.25 per week, he founded the GT Group in 1983. He has since developed and enlarged it with such energy and astuteness that last month he was voted one of the 100 most inspirational individuals in Britain's manufacturing sector.
O'Meara is the most talked about up-and-coming young trainer in Britain and Ireland. A 38-year-old Irishman from a non-racing background, he had an unremarkable 10-year career as a professional jump jockey, never winning more than 20 races in a single season, before hanging up his boots in 2008.
His subsequent rise up the training ranks has been nothing short of meteoric. Since he saddled his first winner, Simple Jim, at Redcar in June 2010, horses with 'D O'M' stitched on their paddock sheets have visited the winner's enclosure on no less than 550 occasions.
Mentioned as a successor to both Cecil and O'Brien
This deluge of success has been achieved without the patronage of any of the nation's leading owners and from an unprepossessing Yorkshire yard with only relatively basic facilities.
And it is a mark of his burgeoning reputation within the industry that unfounded gossip has recently linked him to taking over the licence from both the leading Irish trainer of recent times, Aidan O'Brien, and the top trainer in Britain over the same period, the late Sir Henry Cecil.
Turnbull's rise up the engineering ladder took rather longer and so has the blossoming of his venture into racehorse ownership - although one can only marvel at where he finds the time for anything other than business.
He traces his lifelong love of horses back to his father, who worked with pit ponies in the coal mines and eventually gained the position of head horsekeeper at Horden Colliery in County Durham, leading the ponies out of the mine in April 1971, when they were used there for the final time.
"Horden was linked under the sea to two other collieries, Easington and Blackhall, and between the three they had 3,000 working ponies," Turnbull said. "In them days, they did not have vets, but Dad was self-taught to do all the veterinary work, including stitching them up and putting them to sleep when necessary."
"I remember as a 6-year-old going to the yard on a Saturday to see him breaking in the pit ponies," Turnbull continued. "I used to say to him that one day I would own race horses, but he just thought that I was a dreamer and called me 'Walter Mitty'.
"He taught me that if you have love and respect for a horse, you have a friend for life."
Trying to do the impossible
Turnbull's first racehorse, La Sylphide, was bought as a Christmas present for his wife, Sandra, in 1999.
Nicknamed 'Tinsel', she won seven times for the Turnbulls and finished third in a listed race before her retirement in 2004 to become their first broodmare. She has proved difficult to get in foal, but all three of her progeny that have made it to the racecourse have won.
Turnbull now has a dozen horses in training and, unusually, has not sought the advice of a bloodstock agent or employed a racing manager, instead preferring to rely on his own judgment and, of late, that of his youngest son, Nick.
So it was he himself who picked out Mondialiste from the Deauville sales catalogue in July 2014. Incredibly well bred (by the mighty Galileo out of the dual Group 1 winner Occupandiste), on the track he had won just one of his eight races but had sneaked a G1-placing when employed as a pacemaker for a stablemate in the previous year's Prix Jean Prat.
"I went to the sale to try to do the impossible – buy a horse in training and convert him into a stallion without paying millions of pounds – and I ended up spending €190,000 on him," Turnbull remembered.
"He was previously trained by one of the world's best, Freddy Head, but he was very lean when I bought him and when I got him back home he was lame too, so I stuck him out in a field.
"It was only when I thought that he was right that I took him down to David's and asked him to win me a Group 1 with him."
Victory in the Woodbine Mile
Although sceptical at first (O'Meara's initial response was 'I might scrape a Group 3 with him if you are lucky') with the horse beaten in his first four races for his new handler, that is exactly what he achieved after producing an incredible late burst of speed in the Ricoh Woodbine Mile.
And Mondialiste might even have improved on his subsequent second in the Breeders' Cup Mile but for having been locked up on the inside rounding the final turn before again exhibiting a startling turn of foot.
Asked how he came to have horses in training with O'Meara, Turnbull revealed: "He only had about 20 horses when I was first introduced to him, but I liked the way that he talked – he had a lot of plans, he was very cavalier and fearless and he reminded me a bit of myself when I was a young man.
"David doesn't leave anything to chance. He's up at 5.30 in the morning, he works tirelessly and he understands what a horse needs. Working that hard in combination with his unusual natural talent is a recipe for success."
Turnbull is not a man to rest on his laurels. Having achieved so much in his business life, he is now determined to have a crack at getting to the top of the global Thoroughbred breeding industry.
Ambitious stud farm plans
Hence his establishment last year of Elwick Stud, set in 200 acres of County Durham countryside 20 miles south of Newcastle, just a mile away from his family residence. Already home to 60 horses, including Turnbull's growing band of 22 mares, by the end of 2016 it will encompass stallion facilities, meaning that Mondialiste will be able to retire there when his racing days are over.
"Breeding has been a hobby of mine for the last 15 years and now I want to take it to a different level and do it on a professional and profitable basis," Turnbull said. "The aim is to breed the best equine athletes in the world – a challenging but achievable goal."
In the shorter term, he is hopeful about Mondialiste's chances in the Hong Kong Mile, though mindful that his horse is coming to the end of a long, hard season while the locals are just starting theirs.
"Mondialiste is not a horse who works very well on the gallops at home, so he is difficult to assess," Turnbull admitted. "But we wouldn't be sending him out there if we didn't think he was right, and his run at Keeneland proved that he is better and fitter than ever.
"He's a very versatile horse and seems to be a good traveller. He doesn't need to come from behind, he could make the running if necessary, and some people think that he will be even better on fast ground.
"My whole family is going out there, including my oldest son from Thailand, and it's a beautiful venue. We will be out there for four days and for that time there will be no business, purely pleasure, and it's very rare that that happens."
"We are living the dream and are all very excited."
James Crispe is associate director of editorial at the International Racing Bureau