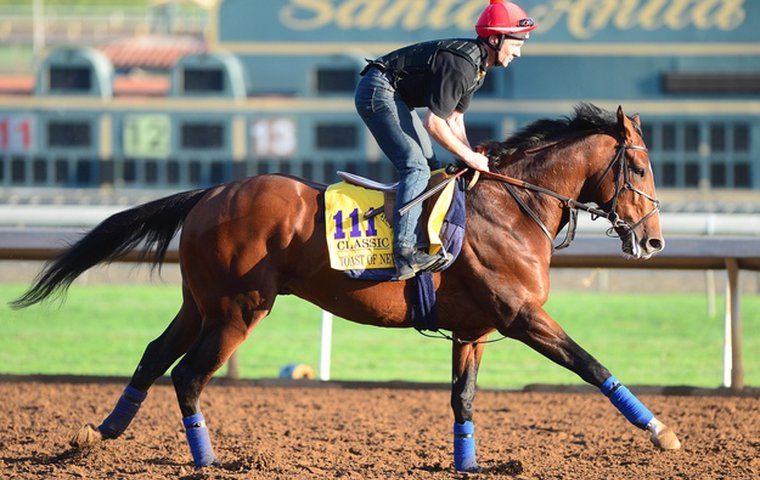 Toast Of New York's agonisingly narrow defeat by Bayern in the Breeders' Cup Classic prompted a good deal of well-deserved praise for the horse's British connections – trainer Jamie Osborne, jockey Jamie Spencer, and owner Michael Buckley.

But another man instrumental in Toast Of New York's fabulous globe-trotting campaign was Jimmy McCarthy, who flew with him on his three transatlantic adventures and, as groom and work rider, put the finishing touches to the colt's preparations for multi-million dollar races in the Arabian Gulf and on America's East and West coasts.
McCarthy is used to working in the shadows. Though liked and respected in the jockeys' room, he was rarely the subject of much acclaim during his 28 seasons as a hurdle and steeplechase rider.
And he had to wait until he was 39 years old before he finally landed a G1, the Citroen Sefton Novices' Hurdle aboard 25-to-1 outsider, Ogee, at Aintree a day before the Grand National in April 2009.
McCarthy only retired from the saddle in July 2013, and the most startling statistic of a career that encompassed almost 500 winners and more than 5,200 rides is that he never spent a single night in hospital or was sidelined with injury for more than three weeks.
Given that jump jockeys can average up to one fall every 10 rides, his guardian angel must have been working overtime.
"I once went over 100 rides without a fall," McCarthy remembered. "And, by the end of that run, I was absolutely petrified, thinking, 'When I do get one it's going to be a haymaker.' Jump jockeys need to be falling regularly to know that they can get away with it and I just count myself lucky that I was getting into a car most evenings rather than into the back of an ambulance."
McCarthy's association with Osborne goes back to 1992, when Osborne was employed as first jockey to one of Britain's biggest jumps trainers, Oliver Sherwood, and McCarthy was the stable apprentice.
"I always rode out [for local flat trainers] during the summer [off season for jump racing] as I have never been good at doing nothing. I rode work for Jamie ever since he started training [in 2000]," McCarthy recalled.
"Then, some three and a half years ago, he was short of a head lad and asked me if I would plug the gap until he got someone else. I gradually found myself doing more and more, going from part time to full time, and I suppose now you would call me his head man or assistant trainer."
He added: "Jamie and I don't always agree, but in those three and a half years we have never had a cross word. At the end of the day he is the shot caller, the one who makes the decisions."
Asked if, given the chance to turn back the clock, he would prefer to have ridden a winner at the world's foremost jumps meeting, the Cheltenham Festival, or for Toast Of New York to have won the Breeders' Cup Classic, McCarthy replied: "Right now, I would choose Toast as that is my next career, not my last career.
"I don't really look back. I have no regrets about my riding career and I don't suppose riding a Cheltenham winner would have made much difference."
His present and future career is all about Toast Of New York, a strikingly attractive 3-year-old colt with whom he has shared four 10-day intercontinental trips, to Dubai to land the UAE Derby in March, to New York to finish sixth in the Belmont Derby in July, and to San Diego to take second in the Pacific Classic before his Breeders' Cup raid.
McCarthy finds it hard to choose his favourite between the four excursions, but after discounting Belmont ("the humidity was uncomfortable and Toast was not himself") he plumps for Del Mar: "It's just such a lovely place, five minutes from the beach - it's not every day that you get to look out over the Pacific."
Other than his beauty ("horses as good-looking as him never work out to be a good as he has," McCarthy said) there was little out of the ordinary about Toast Of New York in his early days.
"He was a big backward horse when we first got him," McCarthy recalled. "He led all the other babies at exercise because he was the quietest of the lot.
"But before his final 2-year-old run [just after he had won an ordinary maiden race at Wolverhampton by 12 lengths] I said to Jamie: 'Look, I don't often big up horses but this one is definitely a G2 horse and he would only need to improve a little bit to be G1 standard.'
"Jamie went away and thought about it and came back the next day and said 'What about the [$2 million] UAE Derby?' to which I replied: 'That's the ticket.'"
Toast Of New York has taken to air travel like a duck to water. According to Brian Taylor, one of the world's most experienced flying grooms, you could take him anywhere.
"He's got a great mind, that's one of his big strengths," McCarthy stressed. "He's a very laid-back individual and, when he gets back into his box, he spends most of his time sleeping.
"He's also been remarkably sound, which is unusual given the amount of work these horses need to be able to take to get them ready for the big G1 races. He can be a bit of a boy when he gets fresh and he's his own man. When he doesn't want to be pestered he will let you know."
His iron constitution was underlined in the week after the Breeders' Cup Classic. Despite having put every ounce of energy into that Saturday race and then been subjected to another long flight, Toast Of New York almost got loose the first time he was led out of his box after arriving home at Osborne's stables in Lambourn.
"That was on the Wednesday, so I had to ride him on the Thursday," McCarthy recounted. "But he was still mad fresh, so I cantered him on the Friday and then he stood bolt upright with me in the cantering ring when I got on him on the Saturday."
The plan is for Toast Of New York to continue on his travels in 2015, starting with a return visit to Dubai in March with further stateside sorties pencilled in thereafter.
McCarthy will again be at his side, spending more time away from his 2-year-old twins, Thomas and James. He is grateful for the patience of his partner, Charlotte Illingworth. "She has been brilliant," he said. "I had a lot more time for her and the kids when I was riding but she understands that the Toast cause is a big issue and has never complained or had any angst."
Osborne described McCarthy as "a massive part of the Toast team."
"He is the man who has ridden the horse every day and the feedback he gives me is crucial," Osborne said.
"I have known Jimmy for over 20 years and we know each other inside out," he added. "He has been part of my team since day one and I have been waiting for him to retire from riding so that I could offer him the role as my assistant.
"The silly bugger kept going a bit longer than I expected and, if Toast had come along a year earlier, I might have been forced to twist his arm and ask him to retire."
----------
James Crispe is Associate Director of Editorial at the International Racing Bureau.