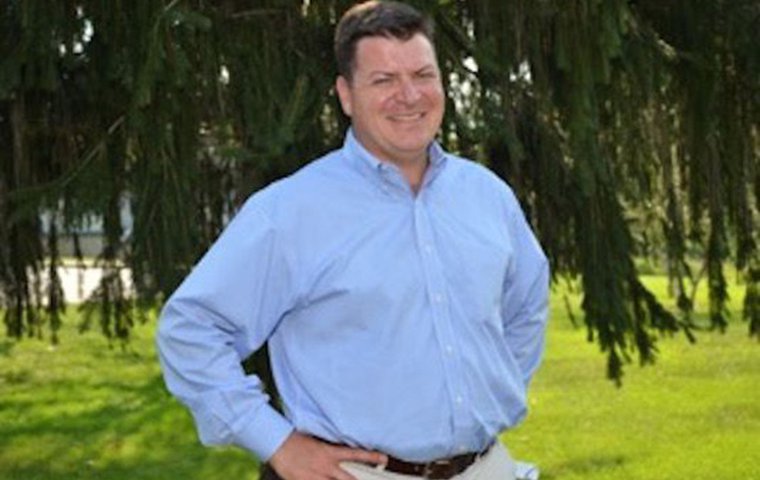 Mike McMahon grew up among Thoroughbreds at one of the racing game's most storied venues, Saratoga Springs, N.Y. But it was a trip with his father to the Bluegrass that convinced him Thoroughbred racing and breeding could offer him a world of career opportunities.

"I'd been down here to drop off mares before, but I'd never been during a sale," said McMahon, who now owns Spruce Lane Farm near Versailles, Ky., with his wife Natanya Nieman, DVM.
"There were people from dozens of countries looking at horses and buying horses and filling orders. In Saratoga when I was a kid, it did not feel like a global industry. It felt like the circus showed up and everybody was there for a couple of weeks, and then everybody went home. When I was 15, my uncle Howard was the outrider on the track at Saratoga, and my brother and I rode on the Oklahoma track from when we were little kids. But it never really grabbed me until I went to Keeneland and saw the commerce and the breadth of the trade."
Today, McMahon, now 44, is in the third decade of his Thoroughbred industry career, and many consider him one of the business's young leaders to watch.
That's partly because of his growing Thoroughbred operations, but he's also gotten notice for his willingness to get in the trenches on a variety of issues affecting horsemen, from gaming revenues to medication rules, and for his efforts to build consensus.
McMahon himself is invested in the business just about every way you can be, as a breeder, farm owner, racehorse owner, pinhooker, and bloodstock consultant. His McMahon and Hill Bloodstock agency, which McMahon co-owns with Jamie Hill in Midway, Ky., also offers equine insurance services through Hill. And the agency also manages a pair of public partnerships, the Bourbon Lane Stable racing partnership and the Spruce Lane Pinhook program for investors interested in weanling-to-yearling resale opportunities.
All told, McMahon and Hill clients have bred, raced, sold, or owned 76 Graded stakes performers, including current Bourbon Lane Stable star Bourbon Courage, a $15,000 yearling purchase who blossomed into a Graded winner with more than $1.1 million in earnings, and last year's West Virginia Juvenile winner Hashtag Bourbon, among other graded performers.
Pinhooking ventures have also yielded some impressive scores, among them Listen Dear, a $205,000 Bernardini weanling who brought $725,000 at the 2009 Keeneland September yearling auction. More recently, the Spruce Lane Pinhook partnership - in which McMahon and Hill invest at the same level as their partners - pinhooked a $145,000 Cowboy Cal colt to a $550,000 yearling sale at Fasig-Tipton's 2014 July auction.
Pinhook partnership model that makes sense on Wall Street
The partnership models, McMahon said, are designed to bring in new investors and show them a pathway to launching their own racing or breeding programs. To that end, the bloodstock agency acts as managing partner, invests in the horses alongside their partners, and does not mark up their horses.
Bourbon Lane offers two partnerships a year - one in yearlings and one in juveniles - and each partnership owns at least three horses to spread risk.
An added incentive for some owners: Bourbon Lane's commitment to Thoroughbred aftercare. The stable is supports Thoroughbred Charities of America (McMahon is on its board), the Retired Racehorse Project, and the California Retirement Management Account. The stable also established a dedicated "Bourbon Lane Stable paddock" at Old Friends in Georgetown, Ky., where any Bourbon Lane equine alum who is not suitable for a post-racing career can retire.
"On the racing side of it, we thought that, if we offered a really fair deal - a partnership rather than just having clients - more people would graduate to being owners on their own," McMahon said of the Bourbon Lane Stable concept. "So they'd leave the 2 percent partnership level, which is our minimum, and they'd go out and buy their own horses. And we've seen that that's been successful. Hopefully, that also will help us grow our bloodstock business.
"At the same time," he added, "it's hard to sell racing as a financial means, so we've balanced it with the opportunity to invest in our weanling pinhook, and that will pay for you to have the fun you want."
Agency co-owner Hill designed the Spruce Lane Pinhook partnerships along lines that are innovative for the Thoroughbred world but familiar to Wall Street, said McMahon.
"People who are more used to Wall Street and hedge funds can relate to the way our pinhook is structured and the way we're paid, and that's allowed us to grow and compete," he said. "We do 2 percent when we buy, 2 percent when we sell, 3 percent to [consigning agent] Hidden Brook, and then, after the bottom line for the whole year, we make 20 percent of the profit. So we make much less in a poor year, but in a really good year, when everybody's making plenty of money, we make more. That's a standard hedge fund model.
"In the bad years, we lose money over the old horse-world model, but in the good years we make more, so it balances out. And the average guy who works on Wall Street says, 'Oh, so this is what you guys do, too. I'm good with that.' There's no translation needed."
'Being hands-on with the horses has helped our bloodstock business'
McMahon grew up at McMahon of Saratoga Thoroughbreds, the farm his parents Joe and Anne McMahon gradually developed from a disused Christmas tree farm into one of New York's best known Thoroughbred breeding operations.
"My dad's favorite line about the early years there is that we ate a lot of chicken and zucchini," McMahon said. "It wasn't that he liked chicken and zucchini, but they had a chicken coop and a zucchini patch. As a kid, I never had another job off the farm. The farm is what we did. By the time I got to college, I was sure that the only way anyone made money in the horse business was as a veterinarian, so I went to Cornell pre-vet."
After graduation in 1993, McMahon completed the Irish National Stud course and put in a five-year stint at EQUIX Biomechanics before launching his own bloodstock agency in 2000. His CV also features stints with trainer Scotty Schulhofer and commercial breeder Robert Courtney Jr., and pinhooking ventures with prominent yearling-to-juvenile reseller Eddie Woods.
McMahon and Nieman bought the Spruce Lane Farm property, a former cattle operation on Hedden Road in Versailles, in 2005. And, although McMahon and Hill Bloodstock keeps its office nearby in the picturesque village of Midway, 60-acre Spruce Lane is McMahon's first port of call each morning.
"I just think that makes you a better bloodstock agent, if you can say, 'This morning I was here working with horses,'" he said. "If you're hands-on and able to do things, people respect you for that. I think that's really vital, and I think that's helped our bloodstock business."
The farm is the hub of the Spruce Lane Pinhook program and this year has prepped a dozen pinhooks for the summer and fall yearling sale; they'll sell with Hidden Brook Farm's consignment, McMahon explained, because "we're really too busy buying at the sales to consign."
Plan B is ready if weanling prices keep going up
Since McMahon and Nieman bought Spruce Lane, North America's average weanling price has risen 26 percent, from $43,716 to $54,888, and median price has gained even more, climbing 67 percent from $15,000 to $25,000. That makes turning a profit a tricky proposition, but McMahon credits his team's willingness to scour entire catalogs - and Nieman's ability to spot vet issues that will turn other bidders away but will no longer trouble the horse by yearling sale time. But, if weanling prices keep going up, McMahon said, he and Nieman have a plan B.
"Our main objective of late is to grow the broodmare band in the right direction so that our weanling sales are occurring at the same time we're buying," he said. "Natanya and I usually sell the majority of our foals as foals, and that is to make room for the higher-end pinhooks. If weanlings start getting too hard to buy, we'll probably keep more of our foals. But I don't think we'll get away from pinhooking weanlings. The farm is set up well for it, and it's something we all enjoy."
But McMahon's work isn't all condition books, sale catalogs, and stallion directories. He's also a trustee of both the Thoroughbred Owners and Breeders Association (TOBA) and Thoroughbred Charities of America, and he's a past president of the New York Thoroughbred Breeders.
"I learned a lot from my dad," McMahon said. "He has a great sense of civic duty. He's been on the board of the New York Breeding and Development Fund since 1975, I think, and he never misses a meeting. He cancels things and juggles things to make meetings. He goes to Albany when he has to, and the New York breeders have never had a better ally. He has a nice debating style and a passionate, logical way of talking. My dad taught me that we have to look out for this business."
Lasix: working on a compromise
Lately, of course, there have been plenty of challenges for a civic-minded Thoroughbred industry insider to tackle, and McMahon isn't shy about expressing his opinions on issues of the day.
"My biggest concern is that on Kentucky Derby day, you open up the New York Times and there's a beautiful spread on the Kentucky Derby, and then in the right-hand column there's a piece that says horse racing is the dirtiest sport since boxing in the '50s," he said.
"We have this terrible press image. We have the pageantry and the history, all the things that we love, and then the Huffington Post on opening day at Saratoga just did another article saying horse racing is full of druggies. This, to me, is the problem that we face."
Racing's public image woes, McMahon believes, are related to the race-day medication debate, but he's wary of The Jockey Club's push for federal oversight and their proposal to involve the United States Anti-Doping Agency in enforcement, plans that many horsemen vehemently oppose. McMahon has been working with a number of other TOBA board members to craft a compromise.
"It's what we call 'the Graded stakes approach,' which is that in a Graded stakes race, on race day you will not get Lasix," McMahon explained. "But every other horse in the country can get Lasix for any maiden, allowance, or claimer. The reason for that is we feel like this is so polarized: one group says we need Lasix or our racetrack will close because we won't fill the entry box, and another group that says we can't use Lasix or our industry will die.
"We have two equally certain groups, one who wants to go to legislation and endanger the Interstate Horseracing Act. They've said, 'We're so sure we'll jeopardize the whole industry' if we don't agree to give up race-day drugs."
Veterinarian Nieman would like to see more funding funneled toward researching medications, which she believes can have a therapeutic benefits, and their withdrawal times.
"That needs to be sorted out much better," she said. "I hear a lot of complaints from racetrack veterinarians about thresholds and withdrawal times. You can get a positive when you really were trying to do the right thing by a horse. And the study groups are small. We need more funding for research and bigger studies with more numbers.
"I think it's warranted at times, and certain horses need it," she said of Lasix. "And, if you happen to own one of those horses and it's a stakes horse or if you're a trainer and you only have five horses and three of them are bad bleeders, what do you do? It really wreaks havoc on people's livelihoods."
That, McMahon believes, is the beauty of the Graded stakes approach.
"Our approach doesn't attack those people," he said. "Our approach says, 'Okay, Jockey Club members who are backing this bill, you are the ones who mostly race in the Graded stakes. You take the medicine first. And it doesn't bother the guy with five horses who's eking out a living at Ellis Park."
'There's not as much cheating in U.S. racing as we all think'
The Breeders' Cup tried to take a similar tack in 2011 when it announced it would prohibit race-day medication in its juvenile races in 2012 and in all its championship weekend races in 2013 but then dropped the policy entirely by 2014. Why does McMahon think a Graded-races-only ban will work now?
"Because The Jockey Club is going to put $40 million into legislation and endanger the Interstate Horseracing Act. If you really feel like that's not a danger, go ahead. But I've been involved in politics, and I've seen what politicians do once you give them a chance. And I don't think we should do that. I don't think the people in charge of horse racing should let that happen to horse racing or we might have something like the EPA [Environment Protection Agency], in this case USADA, going to the backstretch of maybe the Kentucky training center one day and shutting it down because they see someone in a stall. Maybe that's the bad medicine we all need, but it would be so much easier if we all just policed ourselves."
McMahon said he'd like to see some out-of-competition testing, too, and he believes The Jockey Club and horsemen's groups opposed to federal oversight can find common ground in the TOBA drug-free Graded-stakes concept. And that, he thinks, will be good for racing.
"The public really only looks on Derby Day and days like the opening day of Saratoga," he said. "So, although this approach doesn't solve it totally, it solves it for major-league racing. If you're the Yankees, and you're running the Yankees clean but your double C baseball team in Arizona gets caught throwing a spitball and fixing a game, it does affect your organization, but it doesn't capsize your industry. It doesn't shut you down.
"There are major-league tracks and minor-league tracks, and there's major-league racing and minor-league racing. To hold the same bar for all of them is a little bit unrealistic."
"I don't think there's as much cheating as we all think," he added, "and I think the Racing Medication Testing Consortium and the idea of getting all the states on the same program with the penalty structure that's in place is going to do that. I don't think we need legislation to do that. I think we're close to being there, and closer every year. I like the progress that's already going in that direction."