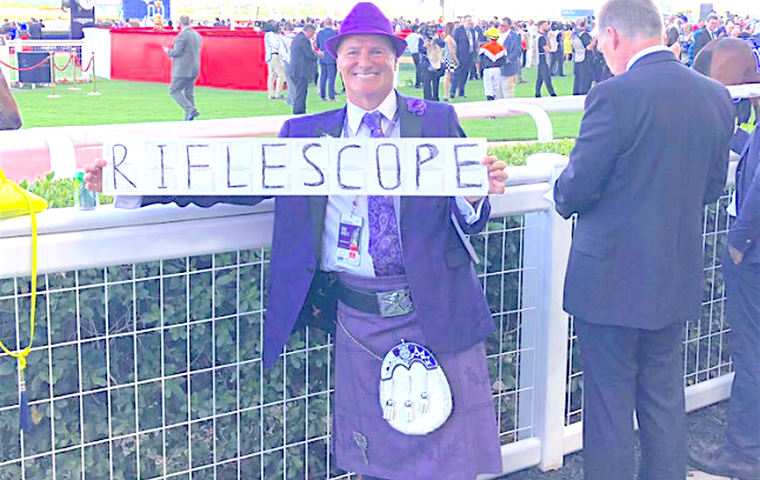 The tranquil, leafy, paddock at Saratoga. One man stands out. His bright white teeth and easy smile suggests American, the lurid pink kilt suggests otherwise. Meet Bev Hendry, founder of Hot Scot Racing.

That Hendry is outgoing goes without saying: he's rarely seen on a racecourse without some form of tartan clothing and is a passionate supporter of racing; both in his adopted homeland and further afield in Dubai.
Born in Aberdeen, Scotland, he founded Hot Scot Racing in 2007, but was a huge fan of the sport way before that. Settling back in the conservatory of his Florida home, he takes up the story, which involves a pub, some fellow expatriates and a very good horse.
"In 2007, I lived in Fort Lauderdale and a group of friends and I would go to this pub called Waxy O'Connor's, where lots of racing guys would come in from Gulfstream. We had a corner where we'd watch racing and we called it 'Waxy's Stable'. There was this Irish guy called Jack Lally, who owned horses, and he said to me, 'Why don't you come to Gulfstream on Saturday, I've got a horse running in the Mr Prospector.'
"The horse was called Kelly's Landing. I went and sat with the owner, the horse wins, I'm in the winner's circle and the trainer starts talking to me; a guy called Eddie Kenneally, another Irish guy; a really likeable guy. He said: 'You know, you should get into racing.'"
It probably didn't hurt that Kelly's Landing went onto even bigger success, winning the 2007 G1 Dubai Golden Shaheen at Nad Al Sheba. His exploits re-ignited the racing flame in Hendry, who grew up watching the sport in Scotland. "My first book was the Sporting Chronicle, as it was then," says the 65-year-old. "I used to bet sixpence each way and stuff like that. We were from Aberdeen in Scotland, so the nearest track to us was Perth [nearly 90 miles away]."
Hendry's natural enthusiasm and unbridled passion for racing hide a sharp business brain. He's the chairman of Americas at Aberdeen Standard Investments and divides his time between working in Philadelphia during the week and the 'Hot Scot Farm' in Ocala at weekends. His partner, Christine Hosier, an experienced horsewoman with names such as Claiborne Farm and the Jockey Club of America on her resume, is also based in Florida.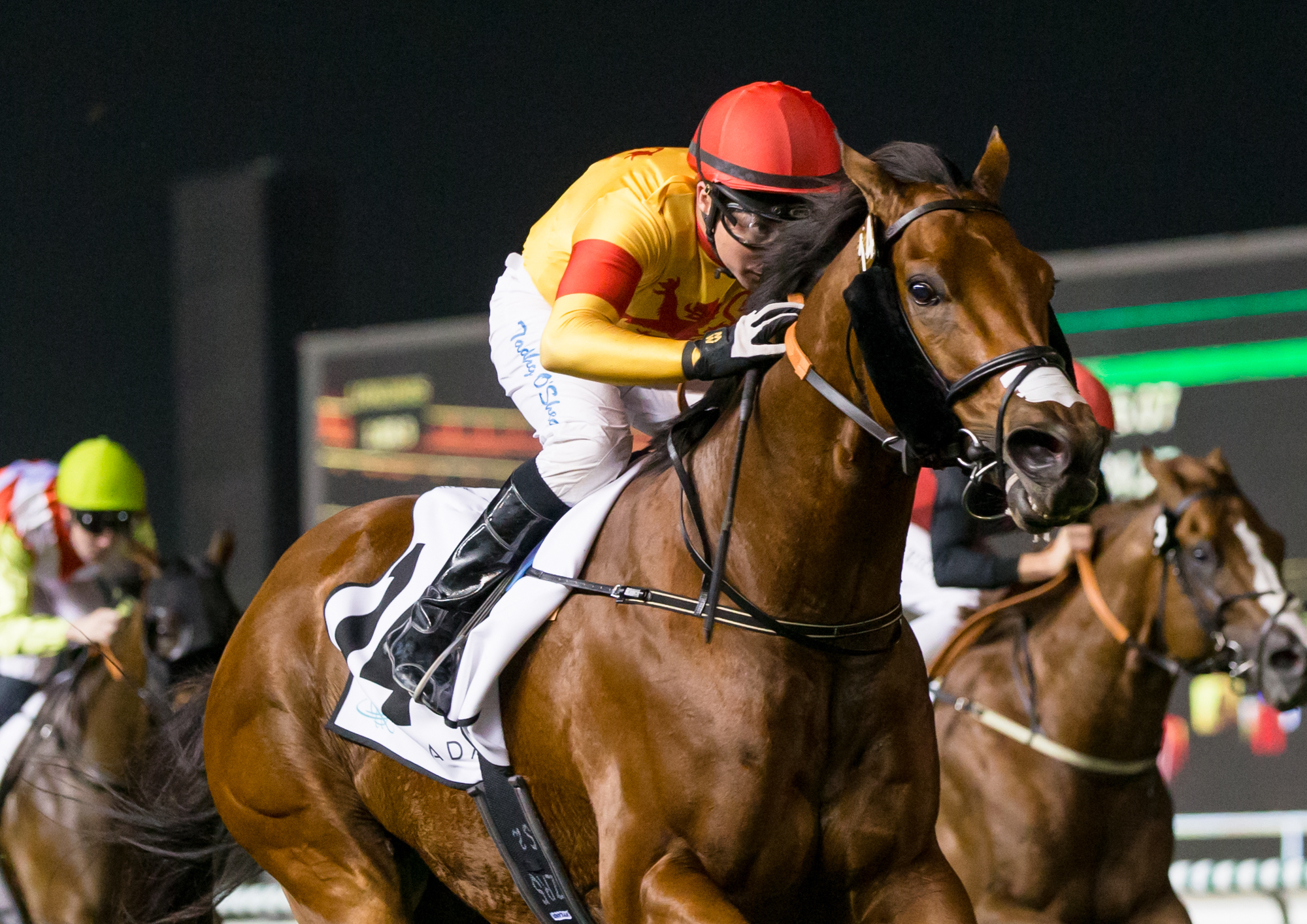 "The reason it's Hot Scot Racing Stable is that I was Scottish and I lived in Florida and it was hot, nothing to do with 'this guy's hot' or anything like that," he says, somewhat sheepishly. "Looking back on it, maybe I shouldn't have called it that. Our colours are Scotland's Lion Rampant flag, which is yellow with a red lion."
Back in 2007, Hendry was on the hunt for the first horse to carry those distinctive new silks.
"By now, my two kids had just finished college in America, which is very expensive, so I had some disposable income and I disposed of it! I bought a horse at the Ocala sales in February 2007; he was by Cherokee Run and we called him Cherokee Scot.
"It was group of us from Waxy O'Connor's, and I was the major shareholder. First time out, he ran great and finished third in a really tough Maiden Special Weight at Churchill Downs, so we're all really excited about that; he could be a Derby horse; Saratoga horse.
"So we're driving up to Saratoga when we get the call from the trainer: horse has bowed a tendon. Usual stuff; usual nightmare. But we still went to Saratoga, had great fun, met more people, networked and really just got into the business. Cherokee Scot came back after eight months' rest but was never the same; they never are."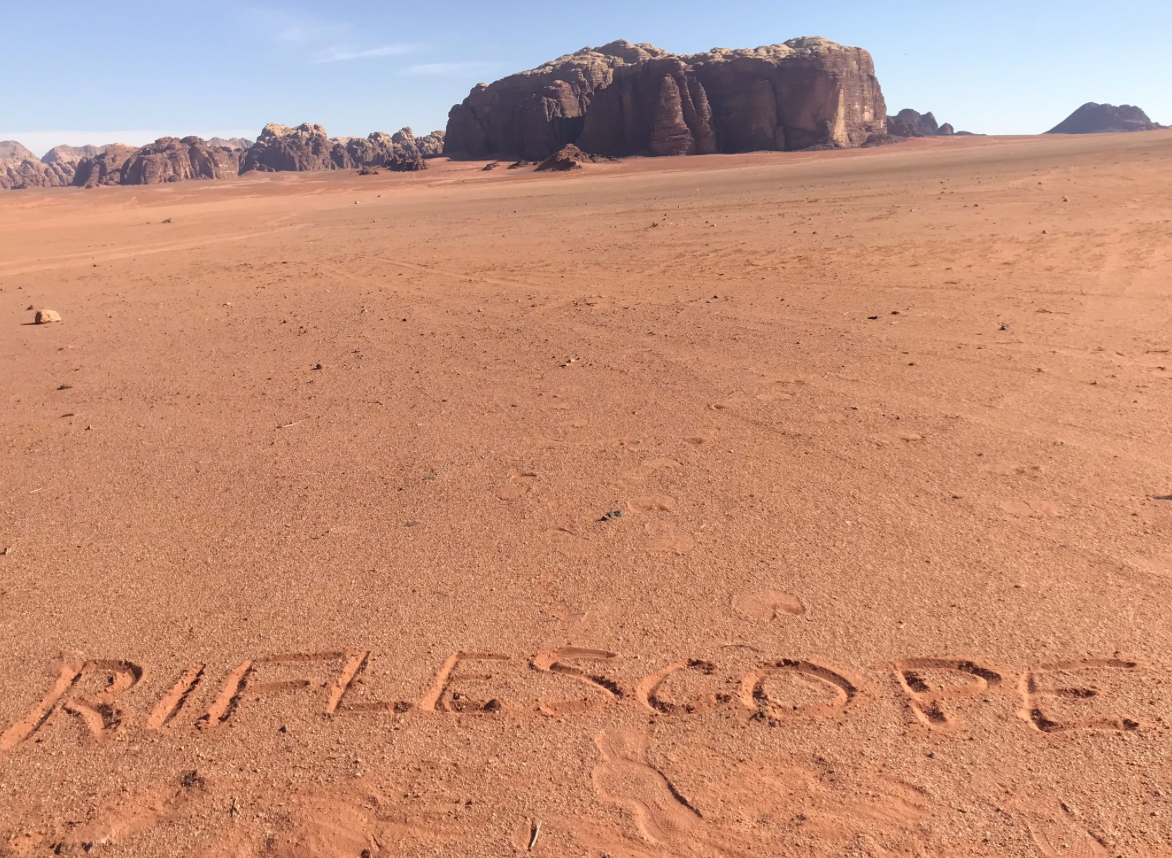 He might not have been, but Cherokee Scot performed an important role in that he got his majority owner entwined in the thrill of ownership. It snowballed from there.
"I started buying regularly at the Ocala sales, one or two. That's where I met Christine, and she was able to pick out horses. My expertise is handicapping, so I would pick out the claimers and she would pick out the yearlings and the 2-year-olds. We've had some great success pinhooking, which is mostly all up to Christine, and we've started breeding our own horses."
At the moment, there are seven horses based on the ten-acre Ocala farm, including a Gio Ponti filly and a flashy Freud yearling colt, who Hendry has already named Forever Jung. They also have a Big Drama 2-year-old, Captain Flint, who is soon to join trainer David Fawkes, and recently welcomed a homebred filly foal by American Pharoah.
Despite all this, Hendry says his attention is moving outside America. In March 2018, he was in Dubai for the World Cup meeting and decided on a whim to drop in at the Horses In Training sale. Once there, he was advised by a friend to take a look at the 5-year-old Raven's Pass gelding Riflescope. He and Christine liked what they saw and duly purchased the horse; on credit card, no less.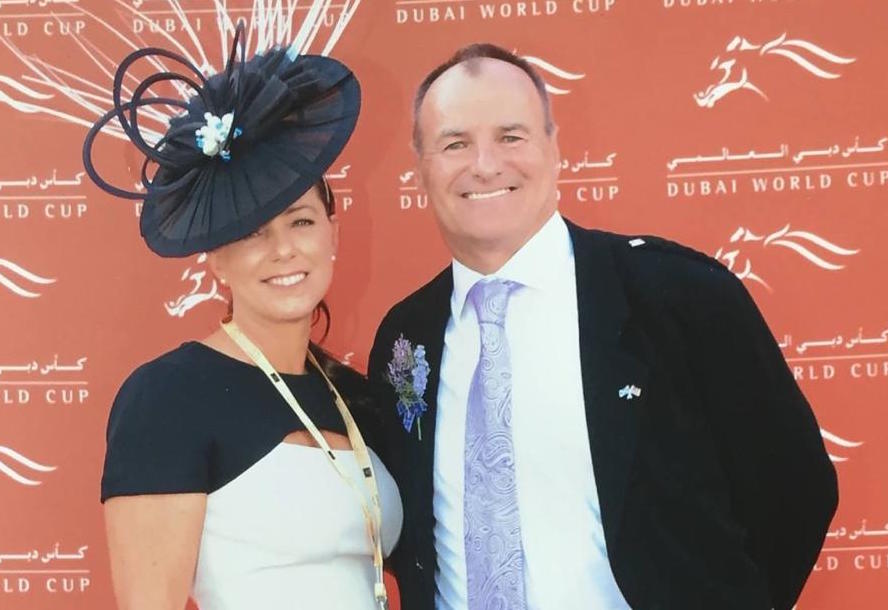 Riflescope rewarded their faith, winning a turf handicap in February this year. Hendry was there to see it, having flown to Dubai with the air miles he garnered from buying the horse on his Amex card. The subsequent scenes won't be forgotten soon by anyone who was there.
"My biggest success and most fun was definitely Riflescope winning at Meydan. I've never been so happy with a horse," he grins. "He's now our biggest-earning horse in Hot Scot history. Hopefully he'll go on and do even better next year."
Riflescope failed by just a nose to earn an invitation into the $2 million Al Quoz Sprint on Dubai World Cup night, despite an energetic social media campaign by his owners, which included writing the horse's name in sand on various beaches and historic sites across the Middle East.
"We had a lot of fun trying to get him into the Al Quoz Sprint, travelling all over the world, making Twitter pictures and giving the Meydan group a hard time, but it was all in good spirits. He was just a little bit short of it, but he seems to be improving. We'd like to get some more horses to Dubai; we've had so much fun there that I'm scaling down my racing in the U.S. and focusing more on there and on partnerships."
Preakness runner
More immediately, Hot Scot can look forward to a Preakness runner, being part of the Bourbon Lane syndicate.
"We've got a small share in Bourbon War, who just missed out on the Kentucky Derby. But it's in a partnership, it's not the same as Hot Scot; it's more fun when you see your silks and your colours. You get your name on the programme and everything else.
"The guys at Bourbon Lane are great fun, but I'm only a small shareholder with hundreds of others. It's still very exciting when the horse does well - and I think partnerships are definitely the way to go - but it's still much more fun when it's your own horse."
Those at Meydan on that February evening can attest to that: a Hot Scot Racing winner is a lot of fun indeed.