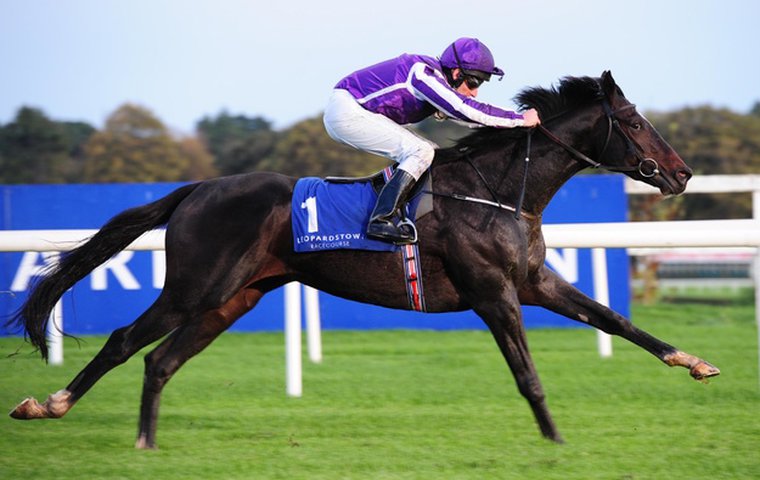 On Friday, the United States will celebrate its independence, 231 years after a fledgling, underdog nation beat the British on these shores, driving them back to England in defeat.

On Saturday, Belmont Park will honor that independence with the inaugural "Stars and Stripes Festival," inviting the English—along with the French and the Irish—back for another skirmish, this one to take place over Belmont's turf course.
A month after the New York Racing Association's blockbuster Belmont Stakes card, which featured nine graded stakes races that offered $8 million in prize money, Stars and Stripes Day includes five graded stakes worth $3.35 million highlighted by the $1.25 million Belmont Derby and $1 million Belmont Oaks, both G1 races.
"We have to try to make racing more popular in the United States," explained Martin Panza, NYRA's senior vice-president of racing operations. "If you can create large events with big races that attract international horses, you have a better opportunity for media to pay attention. And if media pay attention, and word gets out on radio and television, you might want to come see something that's not a normal, everyday racing card."
The Belmont Derby and Oaks were formerly known as the Jamaica and the Garden City, respectively, and were run as part of Belmont's fall meet.
New York-based trainer Chad Brown has won the last two renewals of the Garden City and is expected to have two runners in the Belmont Oaks and one in the Belmont Derby. Brown has clients who regularly purchase European horses for him to run in the U.S., and both of his Oaks fillies, Minorette and Goldy Espony, began their careers overseas.
"I'm open to it being a more international event, which is great for Belmont Park," Brown said. "It should provide a great card of racing."
"The races are also going to come up a lot tougher when the Europeans come over for a turf race," he observed. "That's a given."
Both the Oaks and Derby are invitational, and Panza said that he worked with contacts in Europe, Dubai, and Japan to select invitees; he and NYRA stakes coordinator Andrew Byrnes travelled to Newmarket to visit training yards and pass out brochures about the event, in the hope that trainers and owners would consider coming, if not this year, then in the future.
"We didn't get the word out this year until February or March," Panza said. "We need to work on getting a better pattern set up leading up to these races, whether that means Belmont or other racetracks having a couple of more races as preps."
In the end, NYRA extended 28 invitations to the two races, and Europeans have responded with clear interest with four expected contenders from England, Ireland, and France in the Belmont Derby, and five in the Belmont Oaks, trained by top conditioners including Aidan O'Brien, Dermot Weld, and Gai Waterhouse. A host of American challengers also is likely to line up.
One of Brown's clients, Peter Bradley of Bradley Thoroughbreds, purchased Goldy Espony in France in May specifically with the Belmont Oaks in mind. Bradley commonly purchases horses in Europe to race in the U.S.
"We were looking for a horse to run in [the Belmont Oaks]," Bradley said. "I try and buy horses that fit the style of racing over here and have enough quality to compete anywhere."
A winner in the G3 Prix Penelope at Saint-Cloud Racecourse before Bradley purchased her, the French-bred filly by Vespone (IRE) out of Goldy Honor finished seventh in the Pour Moi Coolmore Prix Saint-Alary at Longchamp Racecourse in May.
"We bought her before that race and it didn't go the way we planned," Bradley said. "The race didn't come up right, and the going was soft."
While confident that his filly will have a better showing on Sunday, the timing of the race does give him some pause, not only this year but going forward.
"She's only been here a month," he pointed out. "And while you can do that, it's much better to give horses 90 days—or however long they want—to acclimate. With the race in early July, you have to identify horses in March at the very beginning of the season, or horses that you saw [as 2-year-olds] or off one race this year."
Even for horses based in the U.S., the change to the racing schedule requires some adjustments, Brown said. With the G1 Garden City no longer on the Belmont fall calendar, the G2 Sands Point, which used to run in late May, is expected to take its place.
"When races like these move on the schedule, major adjustments have to be made," Brown said. "In the fall, the Sands Point isn't as big a race. It's not a Grade 1, so you may point a different type of horse to it, depending on where they put it and how close it is to the [G1] Queen Elizabeth [II Challenge Cup at Keeneland]."
"But I'm fine with it," he added. "You just adjust to the change, and the purse money is great."
Purse money of $1.25 million, and not the horse's name, is why Upper Lambourn-based Jamie Osborne is bringing UAE Derby winner Toast of New York to run at Belmont this weekend.
"We decided to avoid the Epsom Derby and we were looking for other alternatives," said Osborne, who has never run a horse at Belmont, though competed as a jockey in a steeplechase race there in the 1990s. "This horse won $1.2 million at Meydan, so it goes slightly against the grain to run for 50 thousand quid. It would be counter-productive to do that, so we've been looking for where we could go to chase some money."
The Kentucky-bred Toast of New York—named, said Osborne, for one of owner Michael Buckley's favorite movies—has raced only once this year, in the UAE Derby on a synthetic surface, and with a deliberately light racing schedule planned, the timing of the race, its distance, and its restriction to 3-year-olds made it "an ideal spot for him," said the trainer.
Realistically acknowledging that the races might not attract the best of international turf horses, Panza nonetheless sees strong fields shaping up because the two races offer an option—a lucrative one—that might not be available elsewhere.
"Look at the case of Jamie's horse," he pointed out. "It rained a lot around the time of the Epsom Derby and he's not a soft ground horse, so this race fell into his lap. Our ground is firmer by their standards, and the Belmont Derby also gives a mile-and-a-quarter option for horses that can't get a mile and a half."
French-bred and –trained Gailo Chop is a gelding, therefore ineligible for spring French classics, and is among the horses expected to run the Belmont Derby.
"He might be the best French horse," Panza said, "and Toast of New York could very well be the best English horse."
"There are only so many million-dollar races," he went on, "and the Belmont Derby is $1.25 million. You take your shot, and we pay down to eighth place."
Reviewing the field for the Oaks, Bradley concurred with Panza's assessment of the quality of the horses travelling to New York to compete.
"The field for the Oaks is actually quite sneaky good," Bradley said. "Horses are going to have to be good to have a real chance in there."
While high purses and more competitive races will make it tougher for local horses and horsemen, Brown nonetheless sees an upside to the increased competition.
"If it provides for better business at Belmont, all locally based trainers reap rewards," Brown said. "In the big picture, you're trying to do more for racing in New York, and it's good to have a big race day like this."
For Panza, the inaugural Stars and Stripes Day marks the foundation of another significant date on the Belmont Park calendar.
"For the first year, I feel pretty good. The horses that are coming are good," Panza said. "We want people to know that the Belmont meet doesn't end after Belmont Stakes day."