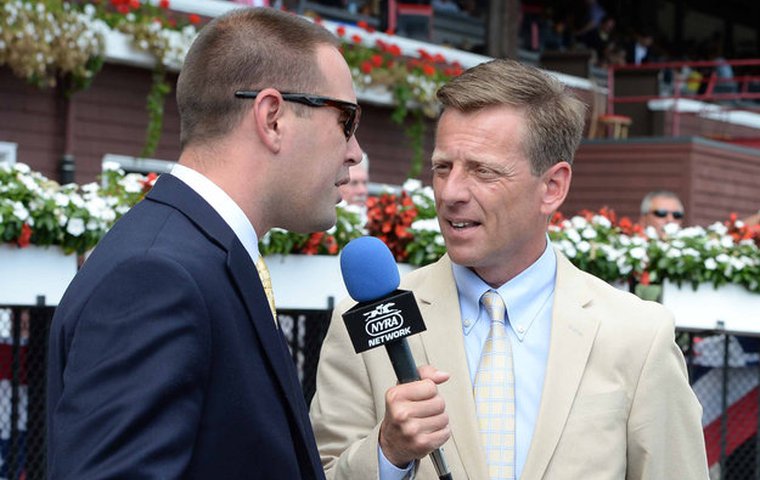 For former jockey Richard Migliore, calling time on his 30-year career in many ways was more difficult than the riding-related injuries that led him to that juncture four years ago.

Migliore's first job offer post riding came from HRTV, the same week he announced his retirement. Still reeling emotionally from the realization that he would not ride again, Migliore wasn't quite ready to walk through that open door. But the phone call from the network's executive producer, Amy Zimmerman, did much to ease his pain.
"Amy was the first person to reach out to me, and it was the greatest gift anybody could have given me at that time in my life," Migliore, 50, said on a recent afternoon at Saratoga Race Course. "I wasn't feeling good and asked when I was feeling better if we could talk again. The fact that anyone basically said that I had value other than being a jockey was such a confidence booster, and gave me a lot of peace that it wasn't the end of the world."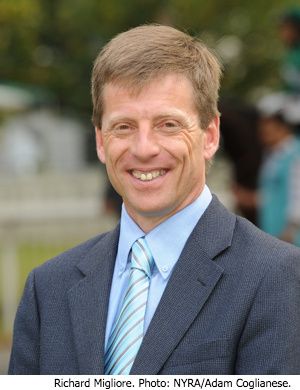 But Migliore's world as he had known it for three decades had been turned upside down. No longer was he part of the jockey colony in New York where he began his career in 1980, and quickly rose to prominence as one of the most consistent and reliable riders, day in and day out, on The New York Racing Association (NYRA) circuit.
"The Mig" – a moniker that came early in his career and stuck – rode 4,450 winners and won 178 graded stakes. His body of work, included a win on the world stage in 2008 when he guided 36-to-1 Desert Code to an upset in the inaugural running of the Breeders' Cup Turf Sprint at Santa Anita. From 30,102 races ridden, Migliore's mounts earned $160 million, which still ranks him 23rd on the all-time money won list in North America.
A few months after the phone call from Zimmerman, Migliore joined the HRTV team as part of its Breeders' Cup coverage at Churchill Downs. More doors have since opened, and Migliore has carved out a niche for himself as a popular and knowledgeable racing commentator, not only for HRTV, but also FOX Sports 1, MSG Network, and NYRA.
The riding accident that ultimately forced Migliore from the saddle to the broadcast chair occurred in January 2010 at Aqueduct. After a couple of weeks on the sidelines, with what was believed only to be a concussion, Migliore returned to riding. Lingering and severe discomfort in his neck and shoulders, however, led him to spinal specialist, Dr. Andrew Hecht, that spring.
Tests revealed that the latest spill had caused additional damage to an already compromised area of Migliore's body: A broken neck he suffered in a 1988 racing accident.
Although Migliore would spend only six months out of the saddle as a result of that injury, the diagnosis had come with chilling news - if the break had been a few millimeters lower, he would have been a quadriplegic. Luck had been on the rider's side in that incident, but this time there would be a different outcome.
On May 4, 2010, Hecht performed a nearly four-hour surgery on Migliore at Mount Sinai Medical Center in New York City. The procedure, which fused several cervical vertebrae together with a bone graft, metal plate, and eight screws, was successful, but did not provide the ultimate result the rider so desperately wanted.
"They give you a happy shot before the anesthesia, so I don't remember this conversation, but my wife, Carmela, was there and told me I asked [Dr. Hecht] how long after the surgery would it take for me to start to rehabilitate and get back to riding," Migliore said. "And he turned to Carmela and said, 'He does know that in all likelihood he is not going to ride again?' And she said, 'No, he doesn't."
"So they did the surgery and when I came to, Dr. Hecht was sitting there," he added. "Surgeons don't wait for you to wake up in recovery. As soon as I saw him, I knew it was over.
"The next day he explained to me why I couldn't ride anymore. He had fused so many levels of my spine, I wouldn't have had any stability above or below where he fused everything. I wouldn't be able to take any kind of impact. In all likelihood, if I had another accident, I wouldn't walk away from it. He told me he would never sign-off on me riding again."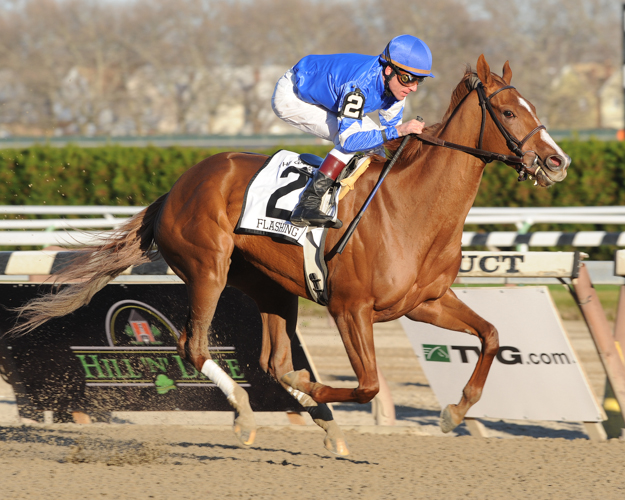 On June 2, 2010, a tearful Migliore officially announced his retirement at Belmont Park in front of a roomful of members of the media and horsemen, who had gathered for the post position draw of that year's Belmont Stakes.
"It really smacked me in the face when I got up there to talk about it," Migliore said. "Man, all these years that I did this. I knew some day it would end...but this actually was the end."
Migliore, who grew up in Brooklyn, New York, attended the races at Aqueduct and Belmont when he was a kid with his father who liked to bet. Later when the family moved to Bay Shore on Long Island, Migliore's love of horses intensified, as did his intent to become a jockey.
He dropped out of high school in the ninth grade to pursue his dream. Instead of living the life of a typical teenager, he chose to live in a tack room in trainer Stephen A. DiMauro's barn at Belmont Park where he honed his race-riding skills. And there were more sacrifices to come.
While he was a natural in the saddle, there was nothing natural about the lifestyle that Migliore was forced to maintain in order to ride. He was taller than most jockeys – he grew to 5 foot 7 inches – and his battles with weight commenced even before his first career mount on Sept. 29, 1980 when he was 16. Countless hours in the hot box to sweat off excess weight, and vomiting or flipping (as it is referred to by riders) after every meal, became daily habits.
"It was so bad," recalled Migliore, who was recognized with an Eclipse Award as North America's top apprentice in 1981. "I weigh 145 pounds now, and I don't look heavy, so think about me at 112. I reduced even before I rode my first race. I weighed about 123 pounds three weeks before I rode my first race. I weighed 103 the day I rode my first race.
"Hot box, flipping, you name it, I did it," he continued. "No stone unturned there. [Weight control] was easier for me the last seven, eight years of my career because I found a way that worked for me. I stayed very stable. Whereas before, if I had a vacation, I was going to put on weight. If I had a day off, I was going to put on weight and was going to worry about it. So I started looking at food as fuel; whatever I put in my body had to count. Every calorie had to be accountable for some job. I still had to flip, but not out of control, I would do it once a day, or not even."
In his second career, Migliore has also proven to be a natural. When he rode, Migliore was articulate and gifted at communicating with horsemen. He has brought that knack to television, where viewers are educated from a ex-jockey's perspective.
"Starting work in television wasn't as difficult as it should have been, and I think a lot of that had to do with people I was so fortunate to work with right away, and are so good at what they do," Migliore said of the support he received from HRTV's production team and on-air talent. "They were so willing to help me and talk to me when I was unsure about myself. To be honest, it's hard to watch the first [shows] I did because I'm not sure what anyone saw in me.
"But one thing that has always been easy for me is talking about horses, and I've always been most comfortable talking about horses," he added. "So, once the cameras got going, I forgot about it, and just started talking horses."
The irony is not lost on Migliore that there were times in his riding career when he had little patience for what television analysts thought of rides he gave horses.
"One thing I've always felt strongly about is being honest and candid," he said. "I see something and it is matter-of-fact to me, even if it comes off as a criticism. The way a horse is managed, trained, or ridden, it's not a criticism, it's just an observation of mine.
"I will go back [after a telecast] and see if I was unfair in my assessment of somebody," he continued. "And I have not found a situation where I said something that was a personal attack or something that I didn't honestly feel or see. And I think it opened up my eyes to the things that I was sensitive about as a rider...that I was probably not fair at times when people made observations about my riding. I guess until you walk a mile in someone's shoes, you don't understand that."
Married for 29 years, with four children, ranging in age from 12 to 23, Migliore and his wife, Carmela, live in New York's bucolic Hudson Valley. On dark days at NYRA, and when he isn't traveling for HRTV or FOX Sports 1, Migliore gets his "horse fix" at his farm in Millbrook, New York, where he has four horses, including 17-year-old Skep, a retired racehorse.
Migliore's retirement was a bitter pill for him to swallow at the time, but he is clearly at peace with it now.
"When I was 12 years old...that's when people started talking to me about being a jockey," he said. "I thought that would be a really cool thing, and the fact that I actually got to do it...wow. I was the kid who was trying to get goggles from Eddie Maple, Mike Venezia, Jorge Velasquez, and Angel [Cordero], and then there I was in the jocks' room competing with them, and beating them...
"To have that incredible journey, even traveling around the world just because I could ride a horse, I really can't say how fortunate I still feel. What a cool thing. I grew up in Brooklyn and I really always wanted to live on a farm. And because I could ride a horse, I live on a farm now. I feel like the luckiest guy in the world."