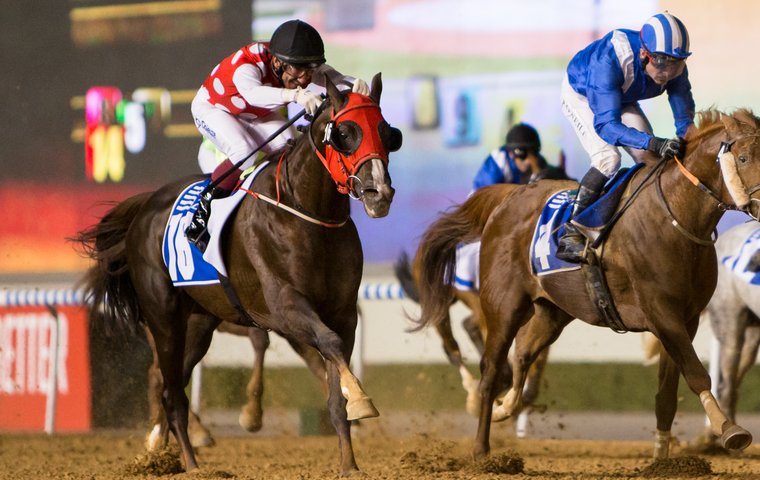 It caught a few people by surprise when multiple G1-winning jockey Olivier Doleuze bought his tack to Dubai at the start of the UAE season in November. After 15 years in Hong Kong, the veteran rider could have been forgiven for spending the winter playing golf, or think about retirement, even. Not so, he's still on an adventure.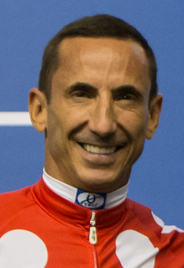 "It was a surprise to me too," says the genial Frenchman (pictured), looking very much at home in a swish restaurant inside one of Dubai's many five-star hotels. "I've been riding since 2002 in Hong Kong, off and on, for around 15 years. I thought when my contract finished there maybe I would like a break, maybe retire, but I still wanted a bit of time to think about it. Then, after two or three months, I missed horses and missed riding."
So to Dubai he went, along with his wife and son. It was a brave move, stable jockey jobs having already been snapped up for the season, meaning Doleuze would have to take rides wherever available. Almost immediately, it worked, top French trainer Eric Lemartinel putting him on some of his Arabians and the jockey landing feature race success on Darius Du Paon at Abu Dhabi's opening fixture.
As with his big victories, he celebrated the win with an outstretched arm.
"I've been lucky to sit on the right horse at the right time," he says of his five wins so far this season. "It's the same everywhere, but I've been blessed to ride a few winners already."
So, out of all of the places he could have chosen to base himself for the winter, why Dubai?
"I like the heat. After a long time in Hong Kong, it's difficult to get back to a cold place, and I've been lucky enough to ride some good winners here, including Rich Tapestry," he explains. "The way they treat horses here is fabulous. In Hong Kong there is no space, but here it's a bit like paradise for the horses. So I thought this was the right place to go."
Now 46, Doleuze has spent plenty of time contemplating when to bring the curtain down on a career that has yielded nearly 600 winners in Hong Kong alone.
"I think I am nearly at the end of my career; 15 years in Hong Kong is tough," he says. "It's a good place, but it's tough for the mind as you give a lot to Hong Kong. So now it's time to enjoy my job as much as I can. So I'm happy to be here, to meet some different jockeys, to ride some Arabian horses. Experience in life is what I like."
Rich Tapesty's U.S. success stands out
He's hesitant, however, about committing to riding for much longer, pointing to a difficulty in keeping his weight down as one of the factors that might spur on retirement plans.
"When you turn 40, the body changes a little bit and it's more difficult to lose weight," he says ruefully. "So I don't know if I will ride until 50. We'll see where the wind blows; maybe I'll just ride a bit heavier, but we'll see. I think 50 is a good number."
Even if he doesn't press on into a fifth decade in the saddle, Doleuze has much to look back on, including plenty of G1 success with the likes of top miler Good Ba Ba, as well as Rich Tapestry, who became the first Hong Kong-trained horse to win in America when landing the 2014 Santa Anita Sprint Championship for trainer Michael Chang. It's that win that stands out.
"I would say Good Ba Ba was the best horse I rode in Hong Kong, but my highlight would be when I won in America on Rich Tapestry," he says. "It's the first time that a Hong Kong horse raced there and to win on the dirt in America was something very special. When you win the local races it's good, but when you start to travel and win outside with the horses from Hong Kong it's special.
"I don't think anyone will do this again. Rich Tapestry was a very good horse, but on the grass he was just a local Group 2 horse. When we put him on the dirt, he was one class better, because he was just able to travel so well and keep his energy very well. So we took him to Dubai and won the preparation race and then we were second, beaten by another Hong Kong horse. Then back in Hong Kong, there weren't too many options, so we decided to try our luck. When we said we were going to go to America, everyone looked at us like we were crazy, so to be able to win was fantastic."
Even after so many good memories in Hong Kong, where he is the ninth most successful rider of all time, you get the impression that Doleuze is happy to be out of what can at times be a pressure-cooker environment.
"It's a lot of pressure," he says. "There is so much gambling involved in Hong Kong and so much competition between the trainers and the jockeys. It's complicated to explain, but it's such a tiny place that, when you have a bad time, people who used to call you every day to ride won't even pick up the phone anymore.
"So it's up and down, so you need to be very strong in the head and don't let all the emotional stuff affect your riding. But it's a very good place and, when you leave there, you will improve, not only as a jockey but as a person, because there is no place for failure. If you're not strong enough, you can't stay in Hong Kong."
As he takes more time to enjoy life, what does the future hold for Olivier Doleuze, who famously designed many of his own clothes while in the Far East, and who, even on a day off, is immaculately-dressed with a cashmere jumper wrapped over his shoulders. Perhaps a fashion line?
"No, no, I don't think so," he smiles. "That's why I'm happy to be riding again so I don't have to think about it. It's not easy, I stopped school when I was just a kid, so from 14 until now, all I know is to ride horses, so it's difficult when it suddenly stops.
"I'm trying to think about different options, but I can't find just one. I would enjoy training, but in Europe it's difficult and in Hong Kong it's really, really difficult, so I don't really know. But for sure I will have to do something, or I will get bored very easily."
With such energy for life and a superb career to reflect on, Olivier Doleuze certainly won't be bored for very long.