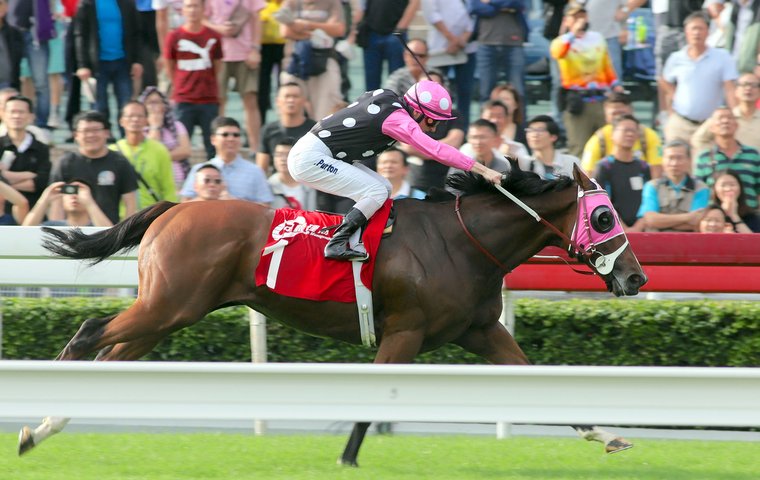 Right now, Beauty Generation should be in the conversation about the world's best racehorse. At various times this year, the focus has been on Winx and Enable, Cracksman, Gun Runner and Roaring Lion. The Hong Kong superstar is in the same bracket – without a shadow of a doubt

Beauty Generation has been building. When the Longines World's Best Racehorse Rankings (WBRR) were released on July 8, the Hong Kong superstar was nowhere among the elite. Fair enough, for at that point he did not deserve a leading figure and was not even in the same league as Winx (130) and Gun Runner (129), who led those classifications based on this year's form.
But the 6-year-old was only spelling, waiting in the wings after having a busy time of it from October, 2017, to the end of this April. The zenith of that spell was a one-length victory in the G1 Longines Hong Kong Mile at Sha Tin – rated his career-best performance of 119 at the time.
The rest obviously did the trick. In three starts since he returned in October, Beauty Generation has proved himself an improved horse. And he is very much on target for a repeat victory in the Hong Kong Mile on December 10.
Beauty Generation's return to action came in a G3 handicap on October 1 over an inadequate seven furlongs. Well, inadequate in theory – not in practice. The New Zealand-bred gave progressive Ping Hai Star ten pounds and a lesson he may not forget. He cruised round and quickened up, scoring by a margin of just over two lengths, which could have been double that.
This was worth a figure of at least 125, and, given both the style of victory and that it was Beauty Generation's comeback, clearly a performance that broke new ground for the gelding. You can't prove yourself the world's best horse in a G3, but this was at least a taster for what was to come.
Why should Beauty Generation be an improved horse? Simple. The answer requires just two words: John Moore. We have banged on about the 68-year-old Sydney-born horseman ever since TRC Global Rankings began. When we did the R&D for the algorithm, he kept coming up as a trainer who, despite the relatively few Group races for which to compete in his domain, was deadly accurate in his efficiency.
We did not set out to recognise Moore (#12, 1012pts) and fellow Hong Kong trainers John Size (#11, 1014pts) and Tony Cruz (#14, 1004pts) on purpose; the figures did it for us. And, the ability of TRC Global Rankings to recognise top-class humans in any domain around the world is an aspect of which we are proud: you would have no chance of ranking these three truly brilliant horseman as high as we do simply by the aggregation of wins; our principled network approach to calculating the true dominance of jockeys, owners, trainers and sires cares about quantity and quality, and it places efficiency front and centre in measuring the present value of the sport's competitors and making implicit predictions about future results.
Moore, Size and Cruz need to be ranked as high as they are because they are more than capable of repelling other top-ranked raiders at the Hong Kong International Races (HKIR), which take place next month.
To bring his charge to a peak for the HKIR again, Moore has used two more races since that stunning comeback. On October 21, Beauty Generation was again required to concede lumps of weight in the G2 Sha Tin Trophy, a handicap back over his best trip of a mile. No problem at all. He went to the lead, set his seal on the race over a furlong out and, though needing to be kept to his best by world #11 rider Zac Purton, was never going to be defeated by Singapore Sling and won by half a length.
This was another career-best figure, rated 126 by the WBRR of November 4 – just 4lb behind Cracksman and Winx at the top on 130.
But the best was yet to come. In the G2 Jockey Club Mile last weekend, Beauty Generation ran at least as well again on the figures (the committee will report on the figure next month) but exceeded the visual impression he had created – and smashed the Sha Tin track record into the bargain. And all this despite drifting across the course.
Moreover, Beauty Generation showed he is impervious to the tactical circumstance of a race (see video below). Nobody wants to go on? Fine. He can make all. The leaders contest an opening quarter under :24 (splits in Hong Kong are taken from a standing start)? Also fine. He can bide his time.
Purton allowed him to land in a spot towards the rear of the field as the leaders opened with 23.70sec first quarter. What happened next was devastating: Purton let his mount loose, Beauty Generation bounding up through the field to the shoulder of the leader, The Golden Age.
This looked effortless, but it could not have been so. The second quarter was clicked off in 22.81sec, which Beauty Generation made five lengths into. This was nearly Frankelesque. The move Purton made hardly ever works on ordinary horses, but let us assume in the rider's favour that he knew what he had underneath him (though physical laws still apply even to a phenom).
The third quarter went by in 22:62. At the end of it, Beauty Generation turned for home in command. Perhaps it was too easy. Perhaps he wanted to get closer to the adulation of the crowd. Either way, he wandered and wandered, first to the middle of the course and finally to within five horse-widths of the stands' rail. But it did not stop him winning by three lengths and smashing up the clock.
If you are not impressed by this, you will never be impressed by any horse. Running 1:32.64 from a standing start round a bend is staggering enough, but factor in the manner in which Beauty Generation did it. He had lived up to the billing given him in an excellent preview article by David Morgan on our site.
Whatever happens next month, this performance will remain among the best seen on the planet in 2018. And, with stronger competition in the big race next month, Beauty Generation has a real shot at the overall WBRR title. He can easily top 130 on the evidence of his latest run.