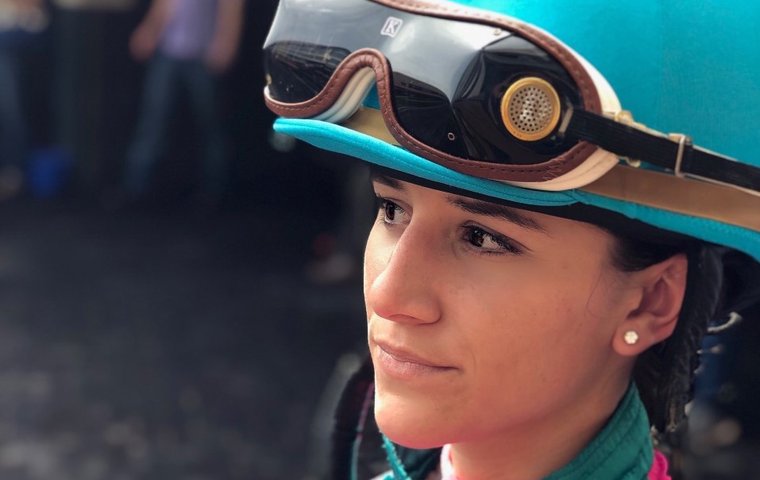 There was a young girl from the small town of Haughton, Louisiana. Her mother, a nurse, would drive her daughter to a babysitter before school, on her way to work. When they passed Louisiana Downs racetrack, the 4-year-old would beg her to stop so they could stand by the rail and watch the horses gallop by.

From that time, the girl determined that one day she would be a jockey riding Thoroughbreds. She had ponies, and she fell off them, but she kept getting back on. She graduated to galloping Thoroughbreds from the tender age of 12, a Cajun tradition it seems.
From 15 she decided online schooling and full-time riding was the right fit for her. "I just went out every morning and begged people to let me gallop, and I just got run off with all the time. But I still remember my first breeze so well. It was just amazing."
She got through school by twisting all her subjects in an equine direction, whether a school essay or a science report, and then spent a season ponying at a Quarter Horse meet.
She stuck at it. "So, as soon as I turned 16, I just went up to the outrider and said 'I'm here to get my jockey license'." And he said, "Who the hell are you?"
In the fall of 2014, aged 17, she went to Fair Grounds to gallop, and a matter of months later obtained her apprentice jockey license. "I was so scared. It was my first time away from home, and I just wanted to make a good impression. I got run off with on my first day."
She didn't race at Fair Grounds that winter, but she learned and gained experience, and on May 9, 2015, she finally donned the silks, at Louisiana Downs, and she won.
"It was so wild. I was literally shaking I was so nervous and excited. I remember in the race, when I got to the eighth pole, the other horses weren't there. I thought something had gone wrong. I cried for about two days after. There were old school friends and my elementary school teachers there."
The next few winners came in just a few weeks, and then a horse ducked and jumped a rail with her. She broke three ribs and punctured her lung, and that meant two months off. Her comeback went well, though. More winners. But then, just a couple of days before the meet ended, two horses went down in front of her and brought her down with them. She suffered severe concussion.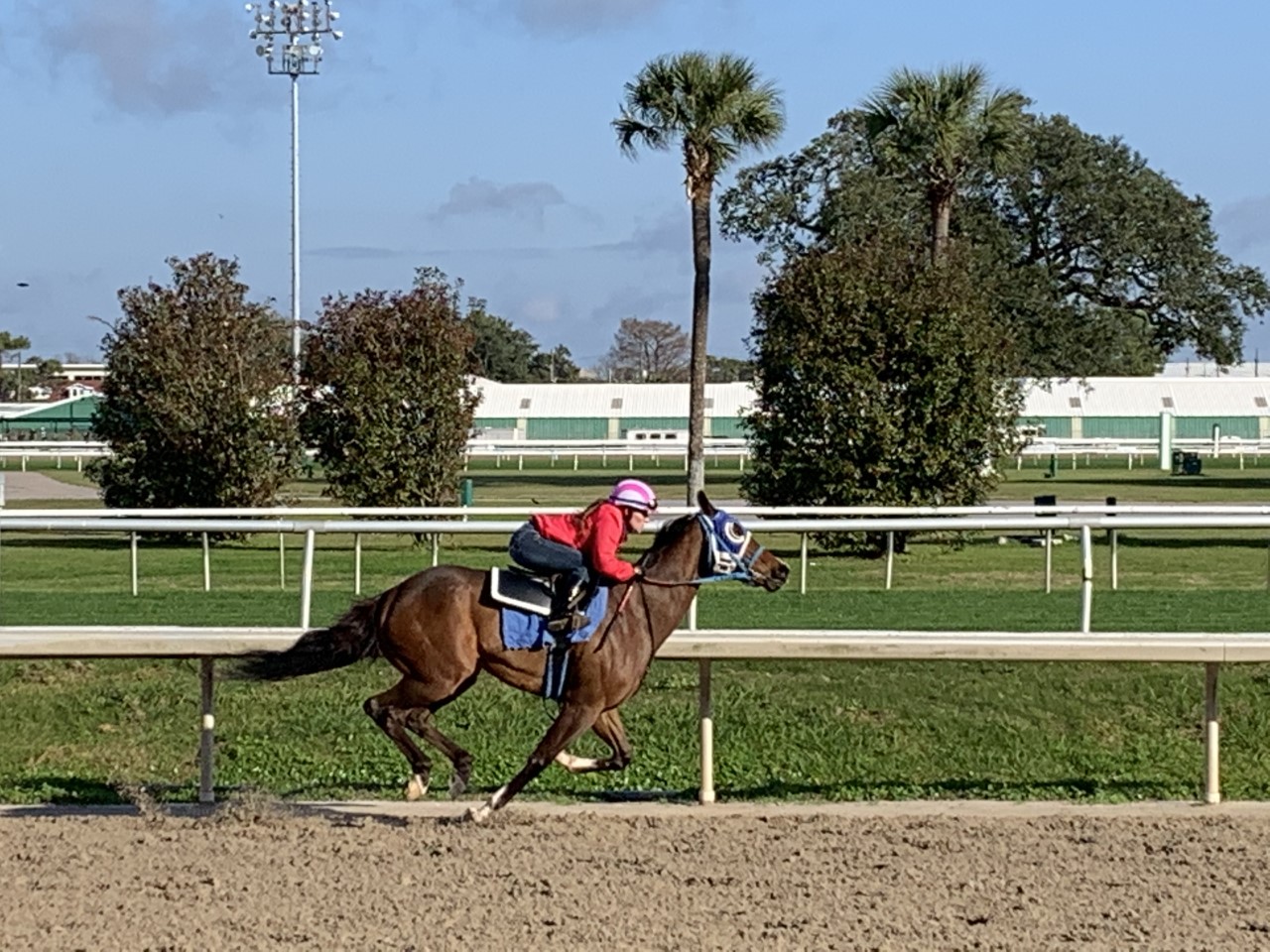 She came back a month or so later, then had another fall, and another concussion, but this one went undiagnosed, and, after that, she kept falling off the horses she exercised. "I was getting lost on the way to work."
Eventually, it took another race spill, knocked out again, before she had the time-out she badly needed. "I went and spent some time in California and recuperated."
On her return, she found rides at Louisiana Downs tough to come by, so she headed up to Indiana Grand and, within a month, found herself in the winner's enclosure once more. But she was having trouble with her left leg going numb. "I was working a horse the morning after the win and, when we were pulling up, I literally dropped on the hors. I had no strength in my back." It took a spinal specialist to diagnose a herniated and crushed disc.
By the time she was ready to race-ride again, Turfway Park had rolled around, but not much happened there, and, when Indiana Grand started in the spring, it was the same story. She decided to head back down to New Orleans and Fair Grounds.
Her first win back came for trainer Denise Schmidt and her partner, Larry 'Deadeye' Jolivette, and business slowly started picking up.
Deadeye had known Murray since she was a kid starting out at Louisiana Downs. He let her gallop for him sometimes, saw how keen she was.
"She had sparkle," he said, "and she was so keen, she would bleed for it."
She won three times on that horse at Fair Grounds, and over the next year she started to ride most of the barn's horses.
And then she broke her arm, and the arm got infected, which kept her out of the saddle for six months.
Finally, last year, things clicked. "2019 was my best year to date. I went to Evangeline and won six from about 20 mounts. Then I won about 11 at Louisiana, and then I came to Fair Grounds.
"I got here and people were telling me not to give up my galloping job. "
She has ridden 14 winners so far at the meet. Fair Grounds has a competitive jockey colony, and 22-year-old Murray is lying 18th, one behind Edgar Morales, in number of wins.
There was a jumps trainer in England, Captain Tim Forster. He had a runner in the Grand National. He didn't think the horse was much of a jumper, which was quite important as it is a 4¼-mile race with 30 five-foot obstacles to overcome. He didn't think much of the jockey either. When they were in the paddock, the rider asked the trainer for his instructions. "Keep remounting," he told him. They won the race.
Erica Murray has kept remounting.