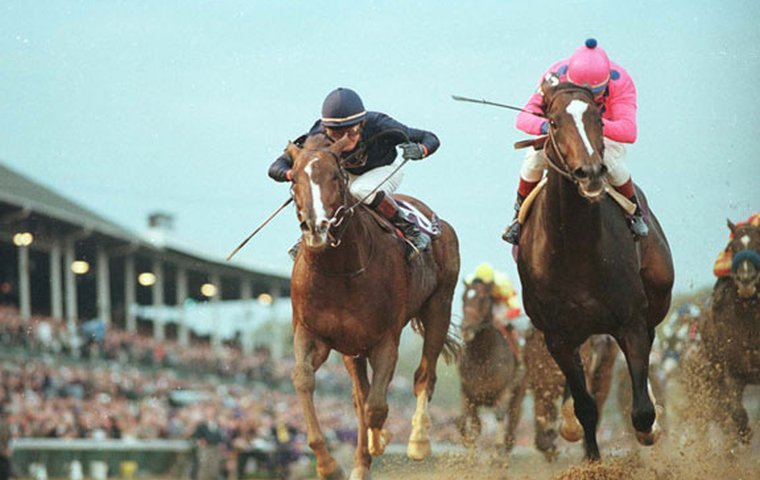 Nowadays, owners use all sorts of techniques to name their horses, whether calling them after beloved friends and family members or using the animals' own personalities as inspiration. But in the first half of the 20th century, Colonel E.R. Bradley made famous the technique of starting all his horses' names with his own initial - B.

And so paraded forth Bimelech, Black Toney and more. As Bradley's star waned, so, too, did such unique monikers.
But in the 1940s, a newcomer, Harry Z. Isaacs of Maryland, took up his hero's mantle and began the task of bestowing upon each of his runners names starting with the first letter, I. The monikers of Isaacs' runners - clunky names like Itsabet or Isachallenge regularly reared their heads alongside the more prosaic Intent or In The Purple - appear less poetic than those of Bradley's Idle Hour stock. But in his own right, Isaacs carved out a bloodstock empire whose influence is strongly felt to this day.
It'sasuccess
A Maryland clothing manufacturer described in The Blood-Horse of October 6, 1990, as a "lifelong bachelor", Isaacs devoted his spare time to the interests of the Turf. Born in 1904 in Louisville, Kentucky, Henry Zachary Isaacs was just the right age to witness Man o' War's rise to immortality.
As he grew his father's business, I.C. Isaacs & Co - which he ran until he sold it in 1984, Isaacs came into contact with the horsey set as his company made and sold premium textiles used in equestrian clothing. He soon became a student of pedigrees, then fell head-over-heels in love with Man o' War's sire, Fair Play, and his talented but fiery progeny.
In 1939, horseman Max Hirsch convinced Isaacs to turn his passion into a real hobby. Not long after, Isaacs purchased 55-acre Brookfield Farm, near Stevenson, Maryland, where he kept some of his stock. That number included eight horses sold in the Idle Hour dispersal after Bradley's 1946 death.
The February 26, 1945 issue of Baltimore's The Evening Sun chronicles Isaacs' expansion. The Sun's then racing editor, Don Reed, wrote that, after buying Brookfield, Isaacs was "in a hurry to have produce of that farm carrying his colors in competition". He picked out a mare named Liz F, spending $2,500 for the Bubbling Over mare, then in foal to Swing And Sway. Sent to War Relic, Liz F wound up foaling Isaacs' influential stallion Intent.
Isaacs got his hands on one of the lesser daughters of Bradley's grand broodmare La Troienne: Besieged (by Balladier). Besieged became the third dam of Isaacs' mare Imaglee.
Richard Zwirn fell in love with horse racing by hanging around Brookfield trainer E.I. Kelly's stable as a teen. He became fascinated by Isaacs' ultra-consistent runners and, when he eventually branched out into breeding himself, made it a goal to acquire representatives of Isaac families. Imaglee became the fourth dam of Zwirn-bred Durkin's Call, who won the Durkin Stakes in 2019.
Zwirn recalled, "And I have kept track for the last 20 years of every offspring, progeny, of any Brookfield-line mare and it's been tricky. But it's a hobby and many, if not most, have died out and that's just the way of the world."
Another New York-bred - P J Advantage, who shares a maternal granddam with Durkin's Call - took the George W. Barker Stakes this year.
A year after his idol died, Isaacs raced his first stakes winner, the perfectly-named Itsabet. As a 2-year-old filly in 1947, Itsabet captured the Garden State Stakes, then followed up with three stakes wins as a sophomore. She added a minor black-type win at four before joining the Brookfield broodmare band. Sent to winner Brookfield (an aptly-named Isaacs runner, sired by Bradley's Bimelech), Itsabet foaled Ifabody, who took the Coral Gables and Wilmington Handicaps. Sent to Isaacs' creatively-named Inyureye - a son of Brookfield who ran third in the 1951 Pimlico Futurity - Itsabet issued 1959 Paumonok and Inquisitor Handicaps winner Isendu.
But it's through daughters that Istabet wields her greatest influence today. Sent to No Robbery, Itsabet foaled Is Certain. Sent to Imasmartee - Isaacs' stakes-winning colt by Amerigo out of a Brookfield daughter - Is Certain foaled 1981 Cicada Stakes winner In True Form.
Zwirn purchased one of Itsabet's descendants - a daughter of Gio Ponti named See The World - for himself. "Her [great-]granddam is In True Form, which was [the] Harris [family of California]'s blue hen mare; she's a favorite," he recalled. From the In True Form family, the Harrises bred G1 winner Cost Of Freedom and stakes winner Top Of Our Game among others.
The legacy of Mariah's Storm
Returning to Isabet, her Intent filly Ironically foaled dual stakes winner Imsodear (by Chieftain), in turn dam of 1975 champion juvenile filly Dearly Precious (by Dr Fager). Dearly Precious got G3 winner Mister Modesty, a handsome, G1-placed son of Nijinsky, and his stakes-winning full sister, Dearly Too.
Bred to Epsom Derby winner Roberto, Imsodear yielded Immense, winner of the 1982 G3 Little Silver Handicap. Immense foaled two stakes winners by two different sons of Blushing Groom: French G2 winner Panoramic (by Rainbow Quest) and the talented Mariah's Storm (by Rahy). A Graded stakes winner all three years she raced, Mariah's Storm managed to outperform her excellent race record as a truly stellar broodmare.
In the breeding shed, Mariah's Storm foaled 2000 European Horse of the Year Giant's Causeway (by Storm Cat). The strongly-built chestnut dashed through wins in a series of Europe's premier G1 races at three. In his sole Stateside start, Giant's Causeway registered a gallant runner-up finish in that year's Breeders' Cup Classic to Tiznow. Retired to Ashford Stud in Kentucky, he led the general sire list three times - in 2009, 2010, and 2012 - before his 2018 death.
But Mariah's Storm's influence isn't limited to her 'Iron Horse' son. Group-placed Freud, a younger full brother to Giant's Causeway, headed the 2018 New York sire list by earnings. The talented twosome's full sister, multiple Group winner Your'resothrilling, foaled five stakes winners, all by Galileo: champion 2-year-old and English and Irish classic winner Gleneagles; 2014 Irish 1000 Guineas winner Marvellous; Australian G2 winner Taj Mahal; G1-placed Coolmore; and dual G1-winning filly Happily.
Three more full brothers to Giant's Causeway and Freud (including top Chilean sire Tumblebrutus) placed in stakes, as did an additional two Mariah's Storm foals by Galileo. Another full sister to Giant's Causeway yielded Decorated Knight (by Galileo), winner of the 2017 G1 Tattersalls Gold Cup and Irish Champion Stakes, while Mariah's Storm's Sadler's Wells filly Love Me Only produced Classic-placed Storm The Stars (by Sea The Stars, half-brother to Galileo).
From Maryland to Ireland … and beyond
Amazingly, Itsabet's links to international stallion stars isn't limited to Mariah's Storm and her progeny. Let's return to Iaround, a daughter of Round Table and Itsabet. Iaround foaled G1-placed I'm A Pleasure (by What A Pleasure), dam of 1984 G1 Jerome Handicap winner Is Your Pleasure.
Sent to Isgala - sired by Brookfield homebred Intentionally out of Isaacs' stakes winner Infatuation, a daughter of Imacomin, who beat the boys in the 1948 World's Playground Stakes - I'm A Pleasure produced In Jubilation. Zwirn purchased In Jubilation's maternal granddaughter for his own band. "We had a mare, Touchmeifyoucan - she had nine or ten babies for us, and she was an Itsabet line [mare]," he recalled.
Iaround became internationally influential through her 1968 Young Emperor filly Irule. Sent to Roberto, Irule foaled Sookera, arguably Ireland's top juvenile filly in 1977. Sookera took a March 17 race as a juvenile, the first of the season, then held her form to win the end-of-year G1 Cheveley Park Stakes in England.
Bred to High Line, Sookera produced an incredible broodmare: Kerali, who, in turn, yielded the indomitable Kahyashi mare Hasili. These last two broodmares formed the foundation upon which Juddmonte Farms' master, Prince Khalid bin Abdullah, built his Judmonte equine empire.
Prince Khalid derived some of his first success from Brookfield bloodlines. He raced Known Fact, winner of the 1979 G1 Middle Park Stakes. The son of noted American runner and sire In Reality (more on him below), a paternal grandson of Isaacs' excellent runner Intentionally, added the 1980 the English 2000 Guineas at three, earning honors as that year's champion miler.
Juddmonte Farms general manager Garrett O'Rourke said, "Well, obviously, Known Fact was [Prince Khalid's] first Classic winner and ... that was at the time that he had obviously decided to get into racing and had put together a plan for his breeding operation." Among those mares was the aforementioned Sookera.
"But by the time he had decided the best way to have the best horses was to develop a top broodmare and a breeding program," O'Rourke noted. "Then, he was in full flight to secure some of the top mares that he could access, and Sookera was one of those mares acquired in a deal from Robert Sangster and obviously she was a G1 2-year-old with a lovely Isaacs pedigree."
And so Isaacs' Stateside operation became a core of one of the greatest Thoroughbred operations of the last century.
O'Rourke added, "You've got obviously the one thing that she had, that Sookera had - tremendous speed and precocity, and she was a very, very-good looking mare, just a perfect model. This was a very easy mare to match with neatly any stallion."
O'Rourke joined the Juddmonte team in 1992. Of Sookera, he recalled, "She became a real favorite of mine." He added, "She has one of the absolutely sweetest temperaments, and she passed that on to the likes of Bold Fact and So Factual, and it ran on down through the generations with her."
Matched with the aforementioned Known Fact, Sookera produced full siblings Bold Fact, winner of the G3 July Stakes (G3), and So Factual, winner of the G1 Nunthorpe Stakes. O'Rourke remembered, "I think that's any breeder's dream, to have something along those lines, that you can use to your own advantage and tailor what you get."
He added, "This family is just extremely easy and very easy to mate with all the top stallions out there."
Queen Kerali
Sookera's aforementioned High Line filly Kerali foaled the dam of 2005 champion grass horse Leroidesanimaux. 'Leroy' is best known as the sire of 2011 Kentucky Derby victor and champion sophomore colt Animal Kingdom, who added the 2013 Dubai World Cup at five. Kerali is also the granddam of English G1 winner Promising Lead and G2 winner Three Valleys.
Her best foal, though, was Hasili, dam of five G1 winners for Juddmonte. England's Broodmare of the Year in 2006, Hasili kicked off her broodmare career in fine form. Sent to Prince Khalid's brilliantly fast sprinter Danehill, Hasili produced Dansili in 1996. A highweight in two different countries over seven to 9.5 furlongs, Dansili won three group stakes in France.
He led that country's sire list in 2006, the year his son Rail Link captured the Prix de l'Arc de Triomphe. Sire of 138 stakes winners (nine percent from foals), Dansili was pensioned in 2018 - the same year distant relative Giant's Causeway died - after siring 20 G1 winners.
In 1998, Hasili produced European and American champion filly Banks Hill, another Danehill offspring. The globetrotting mare took the 2001 G1 Coronation Stakes at Royal Ascot, placed in two French G1s, and then finished out the year with a win in the Breeders' Cup Filly & Mare Turf .
In 2002, she tallied the G1 Prix Jacques Le Marois before retiring to Juddmonte's broodmare band. Her best foal thus far has been Romantica (by Galileo), winner of the 2013 G1 Prix Jean Romanet.
Bred this time to Green Desert - like Danehill, a son of Danzig - Hasili produced Heat Haze, another talented turfster who won two G1 grass stakes on the U.S. West Coast. Then came another Danehill daughter, Intercontinental, who took home an Eclipse Award as 2005's top grass filly. After success in France at two and three, Intercontinental followed in her big sisters' hoofprints and headed to America. Winner of the 2004 G1 Matriarch Stakes, she took five Graded stakes in her championship season, including another edition of the Filly & Mare Turf.
Hasili went back to Danehill in 2000, foaling a colt named Cacique the following year. Cacique approached championship quality in 2006, tallying the G1 Manhattan Handicap and G1 Man o' War Stakes and adding seconds in the G1 United Nations Stakes and G1 Arlington Million. Retired to Prince Khalid's Banstead Manor Stud in England, Cacique saw his stud career hampered by fertility issues, but he still got three G1 winners before being pensioned in 2016.
Barren in 2002, Hasili was sent back to Danehill to foal one more top-flight runner. In 2003, she issued Champs Elysees, who captured the 2008 G1 Hollywood Turf Cup and 2009 G1 Canadian International. Named Canada's Horse of the Year in 2009, Champs Elysees sired 26 stakes winners. He died in 2018.
Resurrecting the Fair Play line
But Isaacs never forgot his love for that great stallion Fair Play, and Bradley's stock. Indeed, it's thanks in large part to his efforts that the Fair Play sire line survives today, primarily through Tiznow and his descendants.
He developed a fondness for Man o' War's feisty son War Relic and sent the aforementioned Liz F to the stallion. Also dam of the aforementioned Inyureye, Liz F produced Brookfield homebred Intent.
Intent came into his own at four, winning the 1952 Santa Anita Maturity (now the Charles H. Strub Stakes), San Juan Capistrano Handicap (which he also won in 1953), and two other stakes. Standing at Brookfield Farm, Intent sired the similarly-named Intentionally, another Isaacs homebred. Intentionally defeated eventual champion First Landing at two in the 1958 Futurity and earned an Eclipse Award as top sprinter in 1959.
Continuing a successful career through 1961, Intentionally stood at Tartan Farms in Ocala, Florida, where he became an excellent stallion. His best progeny include hard-knocking sprinter Ta Wee (a half-sister to Dr Fager), world-record setter Tentam, and In Reality, who often wound up trailing Dr Fager and Damascus at three.
Classic-placed as a sophomore, In Reality won several of the best races of his generation when out from under the thumb of his arch-nemeses. Sire of 83 stakes winners (a spectacular 15percent from foals), he sired the likes of top distaffer Desert Vixen, Known Fact, and 1986 champion sprinter Smile.
In Reality's sons continued the Man o' War sire line into the modern era. G2 winner Valid Appeal sired two leaders of the juvenile sire list in Valid Expectations - later a standout stallion in Texas - and Successful Appeal. Like In Reality, Believe It often ran up against two immortal rivals: this time, in Affirmed and Alydar in 1978. Still, he managed to capture that year's Wood Memorial and place in the Kentucky Derby and Preakness and sire 30 stakes winners, as well as the dam of dual Classic winner and good sire Real Quiet.
Multiple G3 winner Relaunch proved the best of In Reality's sire sons, though. Relaunch's best runners included 1986 Breeders' Cup Classic victor Skywalker; 1994 Breeders' Cup Distaff heroine One Dreamer; U.S. turf star With Anticipation; 1996 G1 Metropolitan Mile winner Honour And Glory; talented stayer Waquoit; and Baby Zip, dam of leading sires Ghostzapper and City Zip.
Several of Relaunch's sons carried on the sire line - for example, Skywalker sired 1993 champion older male Bertrando, who got speedy juvenile Officer. But Relaunch's best sire son wound up being a minor winner named Cee's Tizzy.
Mated repeatedly to the broodmare Cee's Song, Cee's Tizzy sired full siblings Tiznow, the two-time Breeders' Cup Classic victor who turned into a very good stallion; multi-millionaire Budroyale; and several more good runners. Tiznow is currently represented at stud by the likes of Tiz Wonderful and Colonel John (both in Korea), Gemologist, and G1 winners-cum-young sires Tourist and Strong Mandate.
Full sisters to Tiznow and Budroyale produced G1 winners and sires Paynter and Preakness winner Oxbow. Cee's Tizzy also sired 2001 champion older mare Gourmet Girl and 2008 G1 Ancient Title Handicap winner Cost Of Freedom. The latter gelding's pedigree comes full circle, as not only is he a tail-male descendant of Brookfield homebred Intent, but his fourth dam is none other than Itsabet.