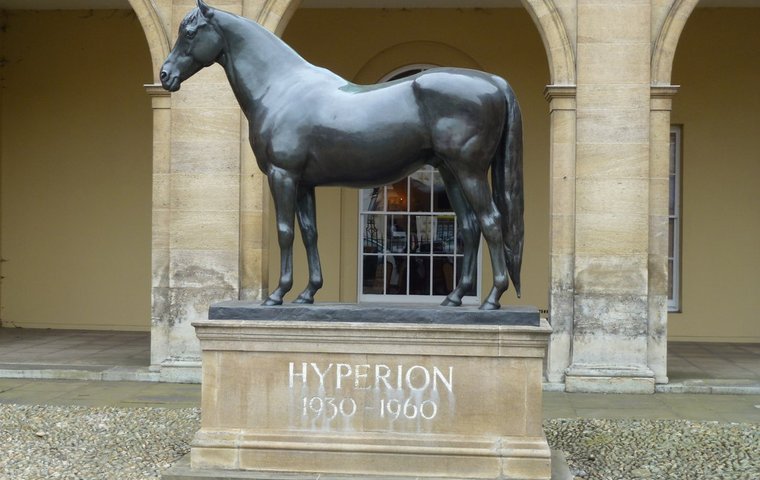 Renowned bloodstock writer Tony Morris with the 14th in his 100 Shapers of the Breed series.

Hyperion, ch, 1930, Gainsborough – Selene, by Chaucer
In his capacity as manager of Lady James Douglas's Harwood Stud, Charlie Brown was naturally anxious to attract top-class mares to his employer's 1918 Triple Crown winner Gainsborough.
The stallion was not normally a difficult sell, once he had established himself among England's leading sires, with the outstanding St Leger and Gold Cup victor Solario among his progeny, but he could not be confident of persuading Walter Alston, his counterpart in Lord Derby's employ, to book Selene for a mating with the horse in 1929.
Selene had been the best 3-year-old filly of 1922, and she had already produced three high-class performers in Sickle, Pharamond and Hunter's Moon, the first two sired by Derby's own stallion, Phalaris. She had been barren to her latest Phalaris covering, and he was an obvious candidate for a fourth union with the horse who had already acquired two sires' titles.
Alston demurred, not entirely convinced that the mating was right for Selene, as it involved a duplication of St Simon in the second and third generations, but he eventually fell in line with the plan and obtained Lord Derby's approval.
Try the mating one more time
When the mare resisted Gainsborough's advances in March and failed to conceive following a tryst in April, Alston felt that his doubts had been confirmed. He phoned Brown, intending to tell him to send Selene home, but somewhat reluctantly agreed that the mating should be tried one more time in May.
The third attempt proved successful, and on the morning of Good Friday (April 18) 1930 the product of those illustrious bay parents arrived. Confounding expectations, their colt turned out to be a chesnut with four white feet. And he was small, a veritable midget whose future might lie in pony races.
If Hyperion's coat colour came as a surprise, there was no reason why it should be held against him; it just meant that Gainsborough and Selene had both transmitted a chesnut gene. As for his want of size, why wouldn't Selene deliver a small foal? She was small herself, so small that Lord Derby had scratched her from her classic engagements, only to realise later that she might have won both the Oaks and the St Leger. Her own sire, Chaucer, had also been been on the small side, as had Sickle, her firstborn.
Aged five months, the diminutive colt was parted from his dam and transferred to Side Hill Stud, where he would remain for a year before his move to George Lambton's stable. When he arrived there, he was still so small that a makeshift low manger had to be installed in his box to enable him to feed comfortably.
Broken in and ridden away, Hyperion measured only 14.2 hands, offering no hint of promise, and Jimmy Griffiths, the lad assigned to tend him, soon asked to switch to a more forward specimen. That decision would bring him a lifetime of regret.
One morning at exercise, when the ever-lazy colt seemed even idler than usual, rider Bill Hewitt gave him a sharp dig in the ribs. Hyperion's response to the wake-up call was an almighty buck which catapulted the rider out of the saddle. But, instead of running loose and causing chaos in the string, he stopped ten yards away and began to crop grass, then allowed Hewitt to re-mount without any fuss.
The colt had made his point, and bore no grudge. Thereafter he was always the most tractable, even-tempered individual. While he might occasionally be obstinate, he was never spiteful or vicious.
In the late Spring of 1932, Hyperion was still a lazy worker, impressing neither the Newmarket touts nor his trainer. But Lambton felt that the colt was at least ready for a race, and accordingly sent him to Doncaster on May 27 to contest a five-furlong race for maidens at closing. He did not bother to go himself to watch a 25/1 outsider in a 19-runner field, but was notably encouraged by jockey Tommy Weston's positive report on the colt's performance. It had been a highly promising debut, reaching fourth place behind rivals who all had the benefit of previous racecourse experience.
Only three weeks after starting as an apparent no-hoper in a maiden, Hyperion returned to action as second favourite for the New Stakes at Royal Ascot. What was more, he led all the way, trouncing 21 opponents by three lengths and more. His runner-up, 6/4 favourite Nun's Veil, had won her last two races and was highly regarded. Remarkably, the colt's time was faster than that of champion sprinter Gold Bridge over the same distance earlier in the day.
Was he overrated?
Hyperion's reputation had risen rapidly, but his next two races removed some of the lustre he had acquired. At Goodwood he could only manage to dead-heat with the filly Stairway in the Prince of Wales's Stakes, and worse was to follow in the Boscawen Stakes at Newmarket, where he finished a dull third of four, beaten five lengths and three by odds-on Manitoba and longshot Tavern.
The impression that Hyperion had been overrated was apparently confirmed two weeks later in a gallop on Newmarket's Racecourse Side when he finished behind four stable companions. What had happened to the colt who had been so brilliant at Ascot?
The Dewhurst Stakes at the end of October was supposed to be the target for Stanley House's well-regarded maiden winner, Thrapston, but when that son of Gay Crusader was struck down with a fever Lambton elected to saddle Hyperion in his place. In theory the seven-furlong trip should suit him, but all confidence had evaporated after that dismal trial gallop, and in a field of six only one started at longer odds.
Hyperion's status as a 100/7 outsider looked right as the field came to the crest approaching the descent into the Dip, but then Weston gave his mount a right-handed crack that yielded an instant response. In a matter of strides the colt reeled his rivals in and shot by the post an easy winner by two lengths. Perhaps he really was a top-class runner after all.
What happened in a 'wide-open' Derby
The official handicapper was not wildly impressed by Hyperion's form as a juvenile, placing him 1lb behind the leading colt, Manitoba, with three fillies – Myrobella, Betty and Brown Betty – ranked superior to the pair. Over the winter, Manitoba ruled as Derby favourite, with Hyperion second best.
Hyperion had not been entered for the 2000 Guineas, in which Manitoba proved a disappointing favourite. His first outing at three came in the week after the Newmarket classic in the Chester Vase, then a conditions event open to 3- and 4-year-olds. He was required to give between three and 14 pounds to his contemporaries, and he saw them off easily for a two-length triumph, but the value of the form was anybody's guess.
To all appearances the 1933 Derby promised to be a wide open affair, and it was only in the half-hour before the race that Hyperion's price was cut from 10/1 to head the market at 6/1. Still under 15.2 hands, he was the smallest of the 24 runners, but the last-minute confidence expressed in his chance was vindicated in sensational style.
Never far off the pace, the colt came out of Tattenham Corner duelling for the lead with stable-companion Thrapston, soon left that rival behind and was out on his own throughout the last three furlongs. The judge erred badly in calling the winning margin four lengths; it was clearly more like six or eight lengths back to King Salmon, who could never muster a serious challenge. Underlining Hyperion's exceptional performance was his race-record time of 2:34.
Two weeks after Epsom, Hyperion reappeared in the Prince of Wales's Stakes over 13 furlongs at Ascot. His five rivals were no great shakes, but four of them were set to receive concessions of 16lb, which might make matters interesting. Even so, the Derby hero started at 2/1 on and won as he liked by two lengths.
Lambton wanted to give Hyperion another race before the St Leger, and Hurst Park devised what seemed an ideal prep in mid-August, naming it the Hyperion Stakes. As it turned out, the colt could not run in the event named after him; a slight dislocation of his stifle joint meant a spell on the easy list.
During his absence from competition, Hyperion's physical condition was the subject of many rumours, and at one point bookmakers became so convinced that he would not make his Doncaster date that they offered 20/1 about him. But all was eventually well, and on the big day he was a firm 6/4 favourite in a strong field.
Overwhelming dominance
The tactics that had succeeded so comprehensively at Epsom were employed to the same effect in the St Leger. Always prominent, and in front turning for home, Hyperion soon burst clear to win in a canter by three lengths. At the end of the season the Free Handicap weights illustrated his overwhelming dominance over his generation. He ranked nine pounds clear of second-ranked Canon Law.
Slightly sore after his exertions on the firm ground at Doncaster, Hyperion was retired for the season. As things turned out, it would have been better if he had switched from stable to stud in 1934, as his 4-year-old campaign brought only dire disappointment.
Lambton was told that his services were no longer required at Stanley House, and that he would be replaced by the much younger Colledge Leader for Hyperion's third season in training. The news came as a bombshell to the man who had been associated with the Derby string for 40 years. He refused Derby's generous offer of compensation – said to have been £100,000 – and promptly set up as a public trainer, determined to demonstrate that he was not too old for the job, and he continued in that role until his death at the age of 84 in 1945.
Leader's stint as Hyperion's handler ostensibly began well. The colt won twice at Newmarket in May, then went to Epsom for the Coronation Cup, only for the trainer to be instructed to withdraw him on account of the prevailing hard ground, and to prepare him for the Gold Cup, hoping that Ascot might provide a more suitable surface.
As luck would have it, even the Limekilns gallop at Newmarket rode firm for Hyperion's pre-Ascot workout, and he virtually pulled himself up, finishing far behind his companions.
Gold Cup disaster
The Gold Cup proved a disaster. Felicitation, who had won the Churchill Stakes by ten lengths a day earlier, set off in front, never looked in any danger, and strolled home by eight lengths, while Hyperion lost second place to Thor close home.
The reason for the favourite's collapse was hotly debated, with trainer and jockey both blamed by some, but the likeliest cause was want of stamina for the extreme distance.
Derby promptly announced that Hyperion would be taken out of training forthwith, but he soon had second thoughts, keen that his champion should sign off with a victory. Even that plan came to nothing, the colt failing by a short head to give 29 pounds to a single rival, the 3-year-old Caithness, in the Dullingham Stakes over Newmarket's July course.
The lack of lustre about Hyperion's performances in 1934 could not detract from his record at three, when he had been the wide-margin winner of the nation's two greatest races. Every major breeder wanted to use him at stud, and he was soon fully booked for the 1935 season at a fee of 400gns.
His 'full' book in year one amounted to 22 mares, in his second no more than 31, and in his 25 stud seasons he only twice covered as many as 40 mares. Another sign of his times was that, for all his success, the charge for his services was never increased from that set at the outset of his career.
A flying start at stud
Hyperion's first crop consisted of only 13 live foals, but two of them won major races as juveniles – Heliopolis in the Imperial Produce Stakes and Casanova in the Dewhurst Stakes. Three of his first 3-year-olds earned places at classic level – Admiral's Walk as runner-up in the 2000 Guineas, Aurora as second in the 1000 Guineas, and Heliopolis as third in the Derby. Aurora would achieve further fame as dam of two celebrities in Brumeux and Alycidon, while Heliopolis would twice reign as champion sire in North America.
Among the 16 live foals in the second crop, Godiva won both filly classics, Golden Penny was her runner-up in the 1000 Guineas, Stardust ran second in both the 2000 Guineas and the St Leger, and Hippius took third place in the last-named classic before earning victories in two editions of the Champion Stakes. Thanks to those gifted 3-year-olds Hyperion topped the sires' list for the first time in 1940.
Stardust would go on to make his mark as a stallion at home, while a non-winner from that crop, Helios, would earn a sires' title in Australia.
The third crop, consisting of 28 live foals, included several notable individuals who excelled at three and helped to ensure a second sires' championship. Owen Tudor won the Derby and a Gold Cup, Sun Castle the St Leger, and Sol Oriens the Irish Derby.
While Owen Tudor earned further distinction as sire of an outstanding sprinter in Abernant and an exceptional miler in Tudor Minstrel, Selim Hassan was twice champion sire in Argentina and unraced Alibhai became an influential sire in the States. The most significant of the fillies foaled in 1938 was Hydroplane, who did not win, but became the dam of U.S. Triple Crown hero Citation.
His finest daughter
Hyperides was the best colt from the 1939 crop, finishing runner-up in both Derby and St Leger before taking the Coronation Cup as a 4-year-old, but he was overshadowed by a filly of truly exceptional class in Sun Chariot, heroine of the Fillies' Triple Crown in the colours of King George VI. Hyperion would have plenty of other good daughters in the years that followed, but none would surpass the achievements of that temperamental but brilliant champion.
After four seasons with runners, Hyperion had reigned as leading sire three times, but he ranked only third in 1943, when his classic generation could muster nothing better than third-placed finishers in the 1000 Guineas (Cincture) and Oaks (Tropical Sun). The latter filly would earn notice again as third dam of Vaguely Noble, while a colt from her crop, Deimos, would claim two sires' titles in South Africa.
Hyperion was represented by a third Oaks winner, Hycilla, in 1944, and she would add a Champion Stakes to her record before the year was out, but the real star turn from that crop was Pensive, winner of the Kentucky Derby and Preakness Stakes and runner-up in the Belmont Stakes.
He was one of several colts born in 1941 who would enjoy success at stud. Rockefella did well at home, Coastal Traffic made some impact in France, and both Red Mars and Ruthless were significant achievers in New Zealand, the latter as champion sire on two occasions.
Classic race performances by Sun Stream, winner of the 1000 Guineas and Oaks, Midas, second in the Derby, and Rising Light, second in the St Leger, brought Hyperion to the fore again in 1945, when he secured his fourth sires' championship by a wide margin. Also from that generation was a popular favourite in the gelded High Stakes, who scored the last of his 33 wins as an 8-year-old.
More quality stock
Hypericum, who had won the Dewhurst Stakes in her first season, landed the 1000 Guineas of 1946 to become her sire's seventh individual classic winner from eight crops to race. Remarkably, there were to be no more, though there would be plenty of quality among the stock that followed, virtually to the end of his career.
From the same crop as Hypericum came Iona, placed in both distaff classics, Radiotherapy, placed in the 2000 Guineas and Derby, along with Khaled and Gulf Stream, runners-up respectively in the 2000 Guineas and Derby. Gulf Stream would earn three sires' titles in Argentina, while Khaled's innings at stud in America was notable for the mighty Swaps. A lesser performer from this crop was Aldis Lamp, who ruled as Belgium's champion sire on no fewer than 14 occasions.
Hyperion was placed fourth on the sires' list in 1947, his lowest ranking since he had 3-year-olds to represent him. But two of his colts born in 1944 would find success at stud, Empyrean in Australia and Hypocrite, who had a season as champion in Venezuela. Ultimately more significant than either was the filly Lady Angela, whose second tryst with Nearco resulted in the hugely influential Nearctic.
The only runner of much note from the crop foaled in 1945 was Hyperbole, who won nine races, the best being his last, in the Knights' Royal Stakes at Ascot as a 5-year-old. He was not wanted as a stallion at home, but he proceeded to gather sires' championships in Denmark, Norway and Sweden.
Major winners by Hyperion were becoming less prolific, but his many early successes meant that his stock were routinely in demand by breeders all over the world. His sons had thrived wherever they were sent from the outset, and that pattern was destined to continue. Burpham, foaled in 1946, did well at stud in Brazil, and other South American nations benefited famously from the arrival of three from the 1948 crop – Hylander headed the list in Venezuela, Leading Light emulated him in Peru, and Aristophanes became hugely successful in Argentina, with a superstar son in Forli, whose impact was felt on other continents.
His natural heir
Another country that profited from the acquisition of Hyperion's sons was Turkey. Caerlaverock, foaled in 1949, became champion sire there, and Cihangir, a foal of 1951, topped the table on two occasions.
But Hyperion had not finished as a progenitor of top-class runners – far from it. His 15th crop, born in 1950, included the colt who would earn recognition as the best of all his sons. That was Aureole, who finished second to Pinza in both the Derby and King George VI & Queen Elizabeth Stakes as a 3-year-old, and returned to win the King George at four.
Aureole would not have to go abroad to find success at stud. British breeders welcomed him as the natural heir to his sire, and their faith was justified when he became the champion sire of 1960 and retained that title in 1961.
There were high-class sons of Hyperion still to come, including two of the 1953 vintage in Hornbeam and High Veldt. The former won 11 races and was second in the St Leger, while the latter chased Ribot home in the 1956 King George VI & Queen Elizabeth Stakes. Hornbeam proved an effective sire, and a more widely admired broodmare sire; High Veldt became champion sire in South Africa.
The last colt of real distinction by Hyperion was High Hat, who notoriously ignored the script by beating Petite Etoile in the Aly Khan International Memorial Gold Cup, the race staged to celebrate the life of the filly's owner. High Hat would have his moments as a sire, perhaps most notably with the 1000 Guineas success of his daughter Glad Rags, and he still features in pedigrees through her.
Hyperion's legacy
A contemporary of High Hat was Koppernik, the last son of his sire to excel as a stallion abroad. He emulated Hypocrite and Hylander as champion sire in Venezuela.
Hyperion's books were understandably limited in his late 20s, and in 1958 he got only nine living foals. Among them were a winner of the Princess Elizabeth Stakes (Mystify), the dams of classic winners Waterloo (Lakewoods), Ribocco and Ribero (Libra), and, most remarkably, a champion 2-year-old filly (Opaline).
Hyperion earned distinction in so many areas in his long life, which ended when he was put down in December 1960 as an act of mercy. Aged 30, he was beyond relief from the pain he suffered in his near-hind leg.
As a 3-year-old, he was as good as any in living memory. As a six-time champion sire, he outranked worthy contemporaries, including Nearco. As broodmare sire and sire of sires, his record was outstanding, and his name featured in countless pedigrees of superior Thoroughbreds. At his death, he had male-line descendants flourishing at stud in many countries.
Six decades later the Hyperion male line can barely be said to exist, and the prospect of a revival is remote. But that just serves as a reminder that the male line is not the be-all and end-all in the development of the breed. Hyperion still features in other areas of the pedigrees of countless high-class horses all over the world.