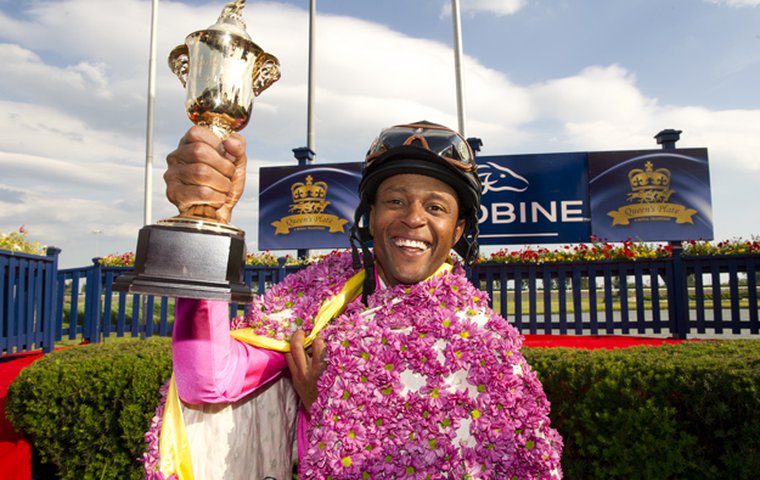 Gary Kemplen wasn't quite sure what to expect when he stepped into the hospital room to see his fallen rider. The longtime jockey agent certainly hadn't anticipated seeing a trace of a smile to greet him, or the first words he'd hear to be a steely veteran channeling his inner Arnold Schwarzenegger, delivered with a Bajan accent. "I'll be back."

It was two years ago on May 20 when the incident occurred. A Tough Buck, a then 4-year-old gelding trained by Don MacRae, collapsed just after the finish line in race five at Woodbine, but was able to get up and walk off the track under his own power.
Husbands, however, wasn't nearly as lucky. He was caught briefly underneath A Tough Buck with the end result a broken tibia and extended time on the sidelines.
Kemplen, who has handled the champion rider's book since 2007, was unsure of what his first words to Husbands should be, hoping whatever they were, it would be right for the situation.
As it turned out, he didn't need to worry.
"Looking back, I probably should have known that he would say something like that," recalled Kemplen. "That's just the way he is. Obviously, he hated the fact he wasn't going to ride for a while. Any athlete that competes at a high level, they loathe the thought of not doing what they love, not being out there. At the same time, beyond the physical healing, you have to cope with how mentally taxing it is. But, that smile, that look of determination, it said a lot. It wasn't wishful thinking or trying to reassure either himself or me that everything was going to be OK. It was a look and a tone that told you he was coming back to be on top."
Four months later, Husbands was back in the saddle.
When 2013 came to a close, he had recorded 89 wins at Woodbine, enough to put him in a tie for fourth in the standings. His mounts earned $3.95 million.
Strong numbers, even more so considering it was an abbreviated campaign, but nowhere near satisfying enough for the veteran rider.
"I am driven to be the best," Husbands said. "It's what I expect and it's what I set out to do every year."
In 2014, the man who engineered Canada's last Triple Crown champion, Wando, in 2003, made it his mission.
The numbers speak for themselves.
Husbands notched his seventh Woodbine riding crown with 170 wins from 676 mounts, accompanied by 21 stakes scores. His mounts collected more than $10.6 million in earnings, the second-highest total of his career, which got out of the gates in 1998.
The pinnacle of Husbands' stellar season came when he piloted the filly, multiple Sovereign Award-winning Lexie Lou, to a Queen's Plate triumph, weeks after they had teamed to win the Woodbine Oaks.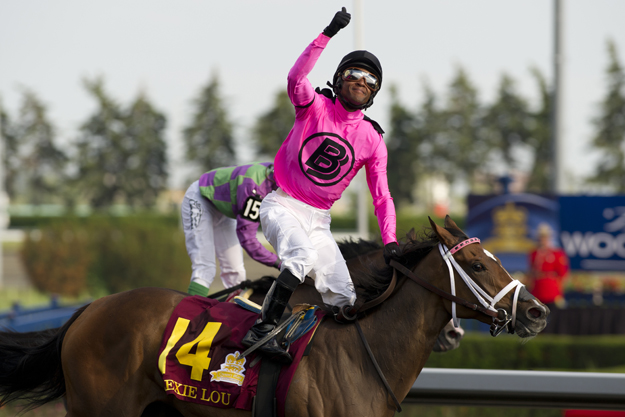 In all, he notched 21 stakes wins at the Toronto oval, nine of them graded, including a pair with Conquest Harlanate, the G2 Natalma and G3 Mazarine. He was also honoured with the Sovereign Award as Canada's top rider.
"I can't honestly say any of it was a surprise," offered Kemplen, of the rider who has been recognized with the Barbados Service Star (BSS) in the country's Independence Day honours. "In fact, you almost expected it. As the season went on, he just kept getting better and better. When you go back to the very beginning of his career, you see a jockey that wanted to be No. 1, and would do what it took to get there."
Husbands became the youngest rider ever to win the Cockspur Cup in Barbados at the age of 16. He would top the 1993 Barbados riding title at Garrison Savannah before heading to Woodbine for the 1994 meet.
Five years later, he was honoured with his first top jockey Sovereign, a year in which he led the Woodbine colony in almost every category, winning 177 races from 998 starts.
Some of Husbands' most heralded victories include an upset in the 2001 edition of the G1 $1 million Woodbine Mile with Numerous Times, and a Belmont Park shocker where he teamed with 56-1 Exciting Story to take the G1 Metropolitan Handicap the same year.
In addition to partnering Wando through the 2003 "Crown," Husbands was also the regular rider of 2007 Horse of the Year, Sealy Hill.
With a trophy case that boasts eight rider Sovereigns, and the 2014 Avelino Gomez Memorial Award, an annual honour that recognizes a rider's on- and off-track contributions, Husbands is a slam-dunk for induction into the Canadian Horse Racing Hall of Fame, which takes up residence at Woodbine Racetrack.
That conversation, however, can wait.
Husbands' focus is on the present, namely, adding more victories and more titles to his racing resume.
Closing in on 3,000 wins – he came into 2015 less than 150 short of the milestone – the 42-year-old is hungrier for success than he's ever been.
Although his yearly totals yield far more trips to the winner's circle than the 14 he recorded in 1994, his first campaign at Woodbine, Husbands still feels very much a rookie when it comes to his craft.
"When I came to Woodbine, I knew it would take time to achieve the things I wanted to," he offered. "I knew I had to be patient, even if it wasn't always easy. But, I haven't lost that fire one bit. I drive myself to be the best every day."
All of which makes the question, "Are you going to be in the saddle again in 2016?" a moot point.
"Oh, I'll be back," he said with a big smile.