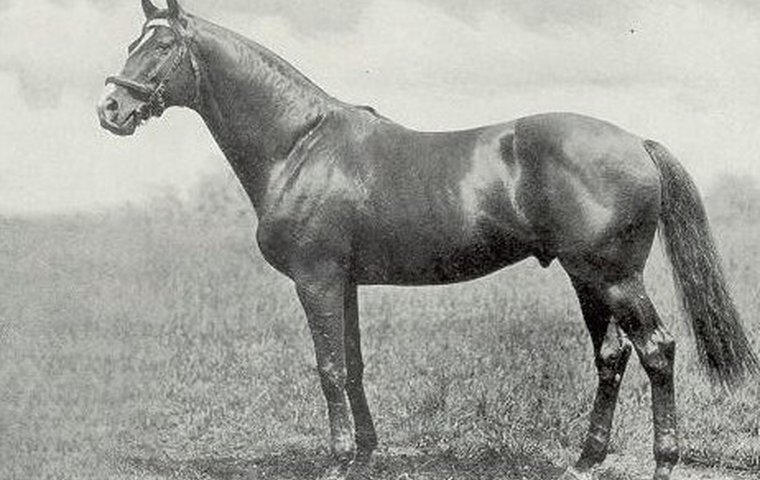 Renowned bloodstock writer Tony Morris with the 15th in his 100 Shapers of the Breed series.

Hurry On, ch c, 1913, Marcovil – Tout Suite, by Sainfoin
Only a really special horse becomes a champion on the racecourse, a champion as sire, and a champion as broodmare sire. Hurry On collected all three accolades, achieving that rare distinction and surpassing by far any expectations that might have been imagined when he was foaled on 7 May 1913.
His sire, Marcovil, suffered from chronic unsoundness in training, managing only eight starts in four seasons, his principal success coming as a 50/1 shot in the 1908 Cambridgeshire, the only race he contested as a 5-year-old. He began his stud career at a fee of £25.
Hurry On's dam, Tout Suite, never reached 15 hands, being so under-sized that it seemed pointless to put her into training. Though daughter of a Derby winner in Sainfoin, out of Star, a half-sister to Derby-placed Mask, she lacked the quality that her pedigree might have given her. Indeed, at the 1904 July sales in Newmarket, 17-year-old Star and her foal, who would be named Tout Suite, were sold as a package for 80gns.
The fifth and last foal delivered by Tout Suite was Hurry On, one of 13 foals registered by Marcovil in 1913. An individual with far more size and substance than his dam, the colt was sold as a yearling to Fred Darling for 500gns, the trainer acting on behalf of his patron, James Buchanan, founder of a leading Scotch whisky firm.
Darling wisely recognised that there was no point in trying to train Hurry On as a 2-year-old; far better to let the colt develop his strength and fill out his frame naturally. He might just turn into a proper racehorse at three.
Hurry On duly developed considerable strength, and attitude with it. He resented a strange person entering his box, and he became impetuous. Darling soon realised that the colt gave more when worked on his own, and the trainer was himself his regular rider.
Hurry On was not engaged in the Derby, and the wartime substitute Classics switched from Epsom to Newmarket were already history before he made his racecourse debut. That came in mid-June in a 15-runner mile maiden at Lingfield worth only £100 to the winner, and he won in it good style by a couple of lengths.
His next venture came in the Stetchworth Plate over a mile and a half on Newmarket's July course, and he again won readily by two lengths, conceding five pounds to all four rivals. He had what seemed a tougher task on his third outing, when the 1000 Guineas winner Canyon promised to be a formidable foe in a ten-furlong test on hard ground at Newbury, but she wound up only third, beaten eight lengths, with Blackadder separating the pair.
Many were now beginning to realise that Hurry On was a serious racehorse. Darling already believed as much, and set up a trial over a mile and six furlongs at Beckhampton to confirm him in that view.
Prodigious gallop
The colt's galloping companions were granted six to eight lengths' start, but he reeled them in and easily drew clear at the end. Second-best in the gallop was a 4-year-old called Brownii, who had been narrowly beaten in the Newbury Autumn Cup last time out, and was at the top of his game. Brownii was carrying 6st 12lb, while the year-younger Hurry On was burdened with 9st 12lb, a ridiculous difference making a nonsense of the weight-for-age scale.
Anyone aware of that gallop could have no doubt that Hurry On would win the September Stakes, the Newmarket race recognised as the wartime substitute St Leger. The son of Marcovil had both Guineas winners – Clarissimus along with Canyon – among his opponents there, but his dominance was emphatic, strolling home at a canter with three lengths to spare over Clarissimus.
Competition in races staged during the Great War was often not as strong as in pre-war years, but Hurry On convinced most observers that he was a genuine champion, superior to many seen before. He had two more races after the September Stakes, conceding lumps of weight when trouncing modest rivals at 40/1 on in the Newmarket St Leger, then beating 5-year-old Troubador by ten lengths at 25/1 on in the Jockey Club Cup.
At the end of 1916, Fred Darling was called up for service in the army, and Hurry On was switched to Victor Gilpin's stable in Newmarket. As it turned out, the colt proved too headstrong for his new connections to deal with, and all thoughts of campaigning him as a 4-year-old were abandoned.
(For what it's worth, in 1999 John Randall and I examined the form of all the best horses of the 20th century, assigning ratings to them on the time-honoured Timeform scale. We rated Hurry On 139, better than war-time Triple Crown winners Gay Crusader (138) and Gainsborough (137), and level with Bayardo in his 3-year-old campaign. The only colt we could rate more highly before his time was Bayardo, 141 as a 4-year-old in 1910, while the usual three-pound sex allowance should be noted in relation to our rating of 137 for Pretty Polly as a 3-year-old in 1904 and 4-year-old in 1905.)
First-crop success
Hurry On was retired to Lavington Stud in Sussex and was promptly announced as full at a fee of 200gns for his first season in 1918. He was the product of a hybrid vigour mating, his sire being inbred to Hermit, while his dam had three crosses of Stockwell in her fourth generation. He was an easy horse to mate, devoid as he was of Galopin and Bend Or.
The first mare covered by Hurry On was his owner's Bellavista, who had both of those influential horses in her background. Amazingly, the outcome of that mating, foaled on 11 January 1919, was Captain Cuttle, winner of the 1922 Derby in the colours of his breeder, who meanwhile had been raised to the peerage as Baron Woolavington. Named after a character in Charles Dickens' Dombey and Son, the colt was the first of seven Derby heroes trained by Fred Darling.
Captain Cuttle, who had been placed in the 2000 Guineas, won the St James's Palace Stakes after his Epsom triumph. Although his daughter Scuttle won the 1000 Guineas in 1928, he was sold to Italy only a few weeks later and died at 13 after a fall from a mare.
Among the 21 other foals in Hurry On's first crop were Diligence, who won the 1923 Great Jubilee Handicap and became a sire of minor distinction at home, and Hunting Song, who won six sires' titles in New Zealand.
Hurry On had two of the best juveniles of 1922 in Town Guard and Hurry Off. The former, winner six times out of eight, including the National Breeders' Produce Stakes and the Gimcrack Stakes, headed the Free Handicap, in which the latter would surely have featured prominently if his victory in the Dewhurst Stakes had taken place before publication of the weights.
Star turn who beat Mumtaz Mahal
The high hopes for their campaigns were not realised. Both made it to the Derby, Town Guard finishing a poor 15th as 5/1 favourite, Hurry Off a modest ninth at 66/1. Town Guard ran only the once, plagued by physical problems, but Hurry Off improved in the second half of the season, winning four in a row, including the Sussex Stakes.
Hurry On's star turn in the 1924 season was Lord Rosebery's filly Plack, who lowered the colours of Mumtaz Mahal in the 1000 Guineas and notched further victories in the Newmarket Oaks and Jockey Club Cup. She also ran second to Straitlace in the Oaks and failed by a short head to concede eight pounds to Jura in the Atalanta Stakes at Sandown Park.
The best colt from that crop was Captain Cuttle's full-brother Tom Pinch, whose name derived from another Dickens character, this time from Martin Chuzzlewit. He kept good company for much of the season, actually started favourite for the 2000 Guineas and was third-best in the betting on Derby day. His best performance came when he emulated his brother in the St James's Palace Stakes.
Hurry On always needed high-calibre 3-year-olds to maintain his profile as a leading sire, and he did not have one in 1925. St Becan promised much when runner-up in the 2000 Guineas, but winning proved beyond him that season. However, there was a top-class juvenile waiting in the wings, hinting that 1926 would improve matters for his sire.
Sure enough, that youngster, successful in the Rous Memorial Stakes at Goodwood and the Champagne Stakes at Doncaster, duly emerged as the best of his age in his second season. Coronach, another home-bred for Lord Woolavington, had to give best to Colorado in the 2000 Guineas, but he proved invincible thereafter, taking the Derby, the Rous Memorial Stakes, the Eclipse Stakes and the St Leger, all by daylight margins. Those performances were instrumental in securing the sires' title for Hurry On – and with annual earnings unsurpassed since St Simon's seventh championship, 30 years earlier.
Two juveniles who contributed to the 1926 earnings tally were Cresta Run, ranked joint-best of her sex with 8st 6lb in the Free Handicap after a victory in the Imperial Produce Stakes, and Call Boy, placed joint-fifth on 8st 9lb after his win in the Middle Park Stakes, in which Cresta Run finished last.
Both came good as 3-year-olds, Cresta Run making all the running to record an impressive win in a record field of 28 in the 1000 Guineas, while Call Boy, after a short-head defeat by Adam's Apple in the 2000 Guineas, took the Newmarket Stakes by four lengths and the Derby by two, having led virtually all the way.
Call Boy's owner, theatrical impresario Frank Curzon, survived his colt by scarcely more than a month, succumbing after a series of heart attacks. His brother, Sir Harry Mallaby-Deeley, determined to save the Derby winner from export to America, bought him for 60,000gns, promptly retired him to stud, and advertised him to stand at a fee of 400gns, indicating that he was fully booked for his first three seasons.
It was all to no avail. Hurry On's third Derby winner proved virtually sterile – a sad outcome after the aforementioned under-achievement of the first, Captain Cuttle, while the second, Coronach, would earn respect for a couple of Derby Italiano winners, and the dual Arc heroine Corrida, but left little of note at home before his export to New Zealand.
Unraced dam of a Kentucky Derby winner
The pick of Hurry On's 1925 crop was undoubtedly Toboggan, who won the Dewhurst Stakes, the Oaks, the Coronation Stakes and the Jockey Club Stakes. In due course she would produce Bobsleigh, winner of a Newmarket Stakes and a stallion of minor distinction.
Another Oaks winner came in the 1926 crop. That was Pennycomequick, who routed her rivals by five lengths and more on ground riding hard at Epsom. Contemporary with that filly was Hunter's Moon, a son of Selene who won the Newmarket Stakes and enjoyed success at stud in Argentina, and a filly called Hastily, who never raced, but became the dam of 1934 Kentucky Derby winner Cavalcade.
Press Gang, a colt out of 1916 Derby and Oaks heroine Fifinella, ranked second-best among the 2-year-olds of 1929 after his win in the Middle Park Stakes, and he was probably the best 3-year-old of 1930, when he won the Princess of Wales's Stakes at Newmarket and dead-heated with Ut Majeur (who received ten pounds) in the Gordon Stakes at Goodwood.
A majority of Hurry On's later good progeny were fillies. Will O' The Wisp was second in the Oaks and won the Yorkshire Oaks in 1932, Typhonic landed the Park Hill Stakes in 1933, and Instantaneous earned third place in the 1934 Oaks. Instantaneous was one of two from the 1931 crop to excel as broodmares, she as the dam of 2000 Guineas winner and leading sire Court Martial, and non-winner Jiffy as the dam of Derby and Gold Cup victor Ocean Swell.
Principal achiever
Another filly who did not win became the principal achiever of the crop foaled in 1932. She was Indiscretion, whose French-trained daughter Imprudence won the Poule d'Essai des Pouliches and both England's filly Classics in 1947.
Hurry On's last runner of real distinction came from his 15th crop, the foals of 1933. That was Precipitation, a big son of the Cambridgeshire winner Double Life who did not run at two and finished down the field in the Wood Ditton Stakes on his debut at three. Disqualified after a first-place finish in the Royal Standard Stakes, he proceeded to collect victories in the King Edward VII Stakes at Ascot, the Gratwicke Stakes at Goodwood, and the Hyperion Stakes at Hurst Park.
That sequence was sufficient to make Precipitation a fancied candidate for the St Leger, but an untimely bout of heel-bug ruled him out of the Doncaster Classic, which was won by Boswell, a stable-companion – and supposedly an inferior one. Precipitation was fit to race again at the start of October, and then, in the Jockey Club Stakes, he received 3lb from Boswell and beat him readily by two lengths.
If there was some doubt as to who was the best staying 3-year-old in 1936, it was easy to identify Precipitation as the best stayer and best older horse of 1937. Had there been a Racehorse of the Year title to win at that time, he would have taken that as well. Wins under top weight in the Victor Wild Stakes and the Queen's Prize were followed by a comprehensive triumph over worthy competition in the Gold Cup.
Hugely impressive stud record
Although Hurry On's Derby-winning sons failed to extend his male line, Precipitation made a better fist of the challenge, though he also had Classic-winning sons who achieved little at stud, namely Airborne (Derby, St Leger) and Premonition (St Leger), and his very best product, 1951 champion 3-year-old Supreme Court, was scarcely any better. But Chamossaire and Sheshoon kept things going for a while in Europe, while Australia and New Zealand came to celebrate the Hurry On line for the descendants of unimportant runners Count Rendered and Summertime, and latterly the progeny of Agricola, winner of the 1959 Newmarket Stakes.
Hurry On's stud record at home was hugely impressive. As well as his season as champion sire in 1926, he ranked second in 1922 and 1927, third in 1928 and 1929, and fourth in 1924. As broodmare sire he topped the list in 1938, 1944 and 1945, was runner-up in 1936 and 1939, and third in 1935, 1940 and 1947.
Those achievements all sprang from his single season as a runner, which he began as a nobody with a pedigree that promised nothing, and ended as a genuine champion whose qualities all the top breeders wanted to replicate in their stock.
Hurry On spent his entire stud career at Lavington, retaining his health and vigour into his early 20s. He began to deteriorate physically towards the end of 1935, and was put out of his evident misery on 11 March, 1936.