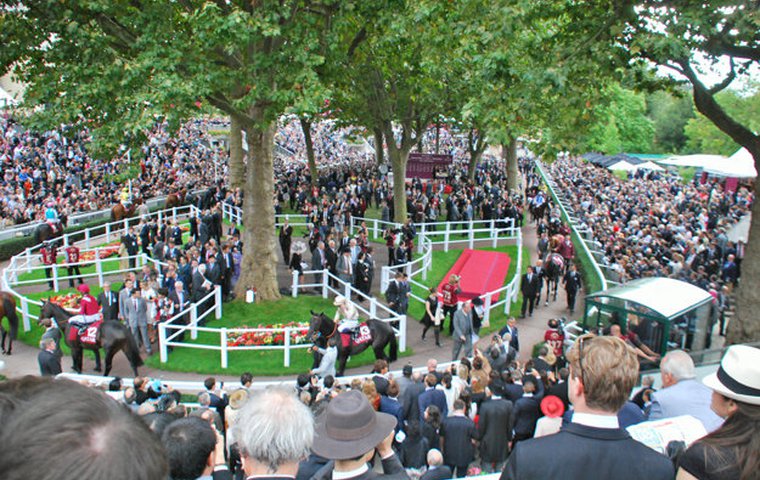 It's the heartbeat of French Thoroughbred racing – a card of staggering international quality featuring no less than eight G1s, headlined by arguably the most prestigious horse race in the world. Arc Day at Longchamp in Paris this Sunday is not just important because of the quality of the horses competing, it is also crucial to the finances of the sport in France.

The Prix de l'Arc de Triomphe itself, the €5 million ($6.3 million) super-race that for years has been the ultimate target for the best mile-and-a-half turf horses in the world, will be watched by a global TV audience of approximately one billion, with bets taken in 40 countries.
Eighteen of these have betting linked to the French pari-mutuel (PMU) common pool. In the U.S., wagering on the event is available at 19 U.S. racetracks and through better operators TVG, Twin Spires, and Xpressbet. Last year, total French PMU wagering on Arc Day totalled €33 million ($41.6 million) with €18 million ($22.7 million) on the Arc alone.
The crowd dwarfs attendances at other Thoroughbred days throughout the country. Last year it was 44,000 – a huge turn-out in a country where racetrack attendances are notoriously low - and this year it is expected to be higher, swollen by the annual pilgrimage of around 8,000 Brits and probably as many as 5,000 racing-obsessed Japanese travelling over to support the powerful three-pronged challenge from Just A Way, Gold Ship, and Harp Star.
Another 900 or so are expected from other Continental European countries, and further afield - including Australia, Hong Kong, the Middle East, and the U.S. A number of them will be owners and breeders who will have the Arqana bloodstock sale at nearby Saint-Cloud on Saturday evening on their agenda.
The Arc – first run in 1920 – has long been an event that has transcended horse racing in popular French culture (there were about 30,100 French racegoers there last year, hugely more than the paltry attendances at most Parisian tracks) but the arrival in 2008 of the sponsorship of the Qatar Racing and Equestrian Club elevated its standing still further.
Qatar immediately doubled the Arc prize money to €4 million ($5 million) under a five-year agreement. This has subsequently been increased on a regular basis to the current level and the sponsorship agreement has been extended to 2022. Prize money for the two-day meeting now stands at €9.2 million ($11.6 million), which includes a Saturday card featuring four G2s and the Qatar Total Arabian Trophy, a G1 for 4-year-old mares. (An even bigger race for Arabians, the €1 million ($1.27 million) Qatar World Cup, is included on Sunday's card.)
This year Qatar have also become more actively involved in promoting the meeting, notably through a spectacular September launch evening boat event on the Seine, attended by worldwide media and personalities, including the Arc Day Ambassador, French actress Juliette Binoche.
France Galop, for its part, has beefed up its efforts, with an easily understood online ticket-buying service and a free bus service to and from two key metro stations on both days.
Conscious of the need to improve its overall marketing strategy, two years ago France Galop President Bertrand Bélinguier appointed Jean-Christophe Giletta (previously with the Stade de France sports stadium) as marketing director, with an objective of increasing racecourse income and creating greater interest from the general public.
Giletta quickly realised that basic main stand entry prices at €8 ($10.1) for major races such as the Prix de Diane at Chantilly in June and the Arc were relatively cheap compared to other major Parisian events. A day entry at Roland Garros for the French Open tennis, for instance, starts at €25 ($31.5).
A new strategy of increased advertising, ambience, merchandising, and pricing was introduced for the 2013 Arc, with standard entry increased to €10 ($12.6) for the main entrance and race programmes costing €5 ($6.3) when previously free. The 1,500-capacity temporary seating near the finish - at €25 ($31.5) a seat - sold out.
"The new marketing approach brought increased revenue of €550,000 ($693,000), for the 54,000 total weekend attendance, despite a drop of 2,000 to 44,000 for Arc Day compared to the previous year, proving that people will pay more for a quality sports product," Giletta said.
The strategy has continued this season for other top racedays such as the Prix de Diane at Chantilly and the Grand Prix De Paris evening meeting at Longchamp on Bastille Day in July.
"This year for the Arc weekend we have increased the basic stand entry price to €20 ($25.2) for the Sunday, in line with the Prix de Diane, but it is possible to get a combined Saturday and Sunday ticket for €26 ($33) instead of €30 ($38) if you book online with the France Galop website," Giletta explained. "The ambience has been increased with our sponsor Qatar depicting a large village setting, activities for children, and over the weekend the possibility of winning six Citroen cars through lucky draws and one each for the winner of the Mr. and Mrs. Elegant contest on Sunday."
In view of the increased media advertising and improved activities, France Galop is expecting to increase spectator numbers for the weekend to more than 60,000.
But the meeting needs very little marketing across the water in Britain, where 8,000 fans regularly pencil it in as a trip not to be missed.
"My company has been organising racing trips to the Arc meeting for the past 40 years and this year we are bringing around 1,000, who will stay in either three- or five-star hotel accommodation," said Ian Fry, director of specialist travel company Horse Racing Abroad, which is based at Chester in north-west England.
Horse Racing Abroad have a contract arrangement with France Galop for a grandstand area at the track offering a catering service, and the trip also includes an optional visit to the stable of Criquette Head-Maarek (trainer of last year's Arc winner Treve) on Saturday morning plus a show and meal in the evening at the famous Lido cabaret restaurant on the Champs-Élysées.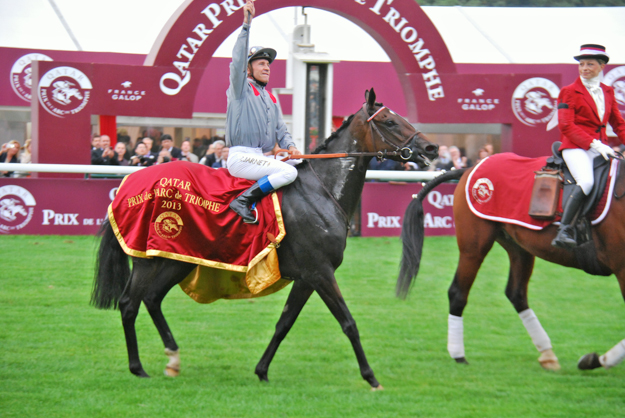 "Paris itself is a great attraction with so many places of interest to see and things to do, while the Brits love their racing and the quality of the fields and great atmosphere at the track is a big draw," Fry added. "We organise a number of other racing trips, including to the Breeders' and Melbourne Cup, but the Arc is easily are biggest in terms of numbers."
Gold Crest, a travel company based in Ilkley, West Yorkshire, have been organising coach trips to the Arc from the north of England for the past 15 years. "The tour is very popular and we bring 150-300 people each year," said product manager John Dalglish. "Our customers have stated at £80 ($101) a day, it's such good value and the attraction is a full day in Paris on Saturday and fantastic racing the following day, with the option of a city tour and cruise on the Seine also available."
But, while progress is being made on Arc weekend, there's a clear sign of the struggle Giletta faces in his overall effort to increase the general interest of the French public in Thoroughbred racing.
With its €33 million ($41.6 million) turnover last year, the Arc card rates significantly behind a harness meeting on the last Sunday in January – featuring the Prix d'Amerique, Europe's leading trotting race, which is run at another Paris track, Vincennes. This year, €38.6 million ($49 million) was wagered on the Prix d'Amerique card.
While the Arc may be the biggest turf race in the world, it isn't even the biggest race in Paris when it comes to betting turnover.