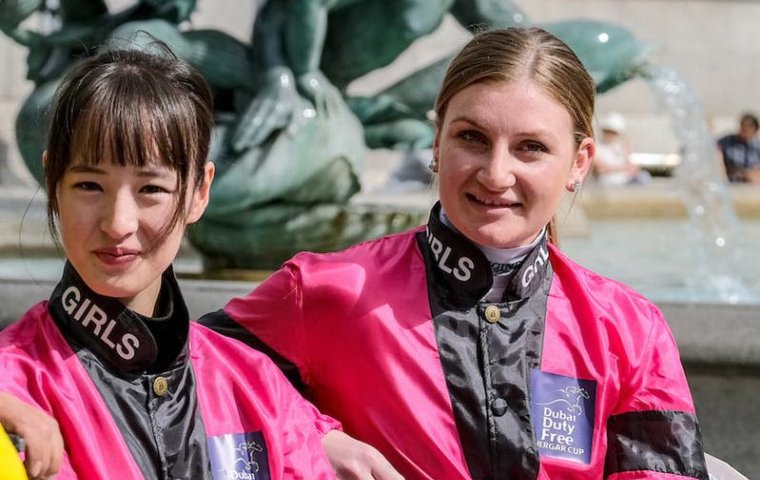 The Girls team are out to retain the Dubai Duty Free Shergar Cup at Ascot tomorrow (Saturday) and they certainly have every chance with a line-up featuring three of the most celebrated female riders around - the world's top-ranked woman, the most successful female rider in Europe and the only one to hold a licence in Japan.

In captain Hayley Turner, they have last year's winner of the Alastair Haggis Silver Saddle, awarded to the leading rider at the Shergar Cup, making a record 13th appearance at the event. So she will have much to pass on to Australia's Jamie Kah and Nanako Fujita, from Japan, as they make their riding debuts in what is billed as the world's premier jockeys' competition, in which they will take on three all-male teams representing Great Britain and Ireland, Europe, and the Rest of the World.
The trio come from jurisdictions where the deal for females varies significantly.
Jamie Kah: nearly 800 winners already
Kah, 22, whose parents were Winter Olympic speed skaters, followed a different sporting path, making such rapid progress in the saddle that she had ridden 163 winners by the time she turned 18, including claiming the Adelaide Jockeys' Premiership, the first apprentice to win the title in almost 20 years.
Now with nearly 800 wins to her name, she moved to Melbourne this year where she was rewarded with a breakthrough G1 victory on Harlem in the Australian Cup at Flemington in March.
Her rise is reflected in the TRC Global Rankings, which - as the table below shows - make her the number one of her sex in the world based on results in Group and Graded races worldwide over the last three years. That the highest female is ranked just #152 says a lot more about the general lack of opportunities for women at the top levels, particularly in the Northern Hemisphere, than it does about their race-riding abilities.
WORLD TOP TEN FEMALE JOCKEYS ON GROUP/GRADED RESULTS
"It's pretty cool," Kah said at the Shergar Cup media event on Thursday. "But then you see I'm 152 on the list, so there are still a lot of boys ahead of us."
How has she done it? "With a lot of luck at the start of my career," she said. "I've been put on some very good horses early and straightaway. My boss when I started, John Macmillan, let me ride every single one of his horses. I don't think any boss has ever put their apprentice on that much.
"That gave me the kick-on I needed. People saw that, trainers saw that and they thought if he is trusting her, we will."
She has also been helped by an environment in which female jockeys are regularly seen having success, without the need for any special help, such as a female weight allowance.
"I think we've had so many good females that have opened doors for us," Kah added. "They've ridden Melbourne Cup winners, Group 1 winners and nowadays there is no female or male division. We're just all jockeys and that's how it should be."
This is not Kah's first visit to Britain. She spent part of a summer riding out in 2015, when she took a break from race riding shortly after fellow rider Caitlin Forest died of injuries sustained in a fall.
"It was a lot of different things," she explained. "I started racing when I was 16 and there was too much pressure. I was expected to be at the top level when I got so much success early. I just took six months off. I needed it. It was getting to me and we lost one of our best friends back home and I just wanted to work out if it was what I wanted to do still.
"I found I really missed horses. I started riding work for Jeremy Gask and up in Newmarket and went back home. Ever since, I felt like I'd grown up. Once I got back into it I've loved it ever since."
The trip fuelled an ambition to ride in Britain, not just at a one-off event like the Shergar Cup - and soon.
"Ever since then, I've had it in my head I wanted to come back and ride up here because I thought the horses are beautiful," she said. "It's so different to Australian racing.
"It's definitely an ambition because I don't see myself having a really long career. I love it, but I don't want to do this forever. There are so many more things to life, having a family and all that, I wouldn't come back to racing after that. I probably only see myself riding for another four or five years.
"It would be awesome to ride at some different tracks against some different jockeys. It would be something to tick off the bucket list."
Weight allowance: 'a backwards step'
Kah arrives in Britain as the debate about whether female riders should have a weight allowance is undergoing a revival. Three-time G1 winner Turner, the most successful female jockey in British racing history and a Royal Ascot winner just last month, made her name without one, and the idea horrifies Kah.
"I think it's crazy backwards," she said. "Giving the allowance like they've been talking about, if they introduced that in Australia, we'd all blow up. It's just such a backwards step. We wouldn't even think about it.
"I think it's a lot of trainers' and owners' mindsets that are still back in the past. If you're good and you can prove yourself you should get rides."
Nor was she comfortable about being part of a Girls team. "I would much rather be riding for the Rest of The World team. I wasn't thrilled about the Girls team. If there was a male team and a girls team, that would be okay, but maybe in the near future that could change."
Nanako Fujita: idolised in Japan
Fujita, whose 22nd birthday is today (Friday, August 9), lacks the experience of her teammates but arrives in Britain off the back of a victory in the Women Jockeys' World Cup at Bro Park in Sweden, where she rode two winners.
In 2016, she became the first woman for 16 years to debut on the Japan Racing Association circuit and last year surpassed the record for the most career wins by a JRA female jockey with her 35th success. Another landmark was reached this year when she rode in a G1 for the first time, finishing fifth in the February Stakes.
In the week after Deirdre became the first Japanese-trained horse to win a British G1 for 19 years, Fujita is going to Ascot as much for her education as to ride a winner.
She is idolised in Japan, where her success, which includes 23 winners this year, has encouraged other girls to follow her path.
"This is my fourth season as a professional jockey," she said. "We have some girls at jockey school now, so in a couple of years' time they will debut so that will change the women's position in horse racing in Japan.
"I never think it's tough because of my sex. Since March, the JRA has introduced a 2kg female allowance. That is very supportive in terms of getting rides.
"I just want to learn a lot of things. I just want to be the jockey who could be trusted and be loved by everyone "
On her last visit to Britain, to compete in an Arab race, her mount was withdrawn after it got loose when she was unseated in the paddock. She hopes for much better luck on this belated debut. "To be honest I am a bit nervous," she admitted. "I am very pleased and honoured to be able to participate in the Shergar Cup. I hope I can learn a lot from other jockeys. I will be doing my best not to be beaten by the boys."