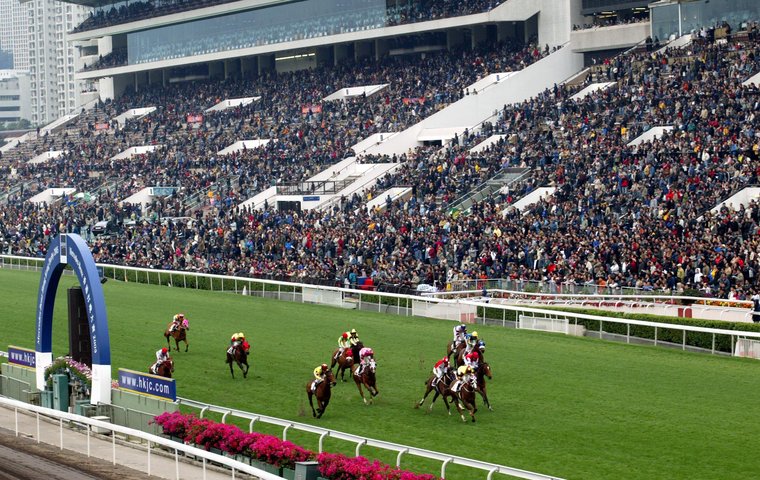 The year is 2022. A little over a year before, amid growing flames of rancor among vocal animal welfare groups, the racing industry came together in an unprecedented show of unity to bring about federal medication regulations in the United States.

These regulations largely mirror the rules, regulations and policies outlined in article 6 of the International Agreement on Breeding, Racing and Wagering. Elements of Hong Kong's medication system are also woven in.
Arguably the most significant changes look like this:
Elimination of furosemide on race-days and in training (as in Hong Kong),

No anabolic steroid use both in and out of competition,

Tighter restrictions surrounding corticosteroid joint injections (I get into the particulars further down)

Elimination of non-steroidal anti-inflammatory drugs in racing.
This is, of course, a hypothetical reality. The legislative, bureaucratic, financial, logistical and political hoops that would need to be jumped through to reach such a point are, to say the least, considerable.
But, with no inconsiderable weight behind the call for uniform medication rules, and with the likes of the Water Hay Oats Alliance pushing to eliminate the use of performance-enhancing drugs in horse racing, this idea alone raises all sorts of questions, including a vital one:
How would the tightened medication regulations outlined above affect the way U.S. racehorses are trained, raced and managed?
Without broaching the finer points of how this system would be organized or financed, I posed the question to prominent trainers, jockeys, veterinarians and owners. I should also stress that their participation isn't necessarily reflective of their politics on the issue.
Nor is the following an all-encompassing dissertation – more a cross-section of ideas, and an attempt to follow writer Samuel Butler's lead - he once noted: "Life is the art of drawing sufficient conclusions from insufficient premises."
What it unearths, however, is an array of ideas as to what this hypothetical future might resemble.
"When you've got a lot of horses, you can afford to drill them hard and the strong survive," said one trainer, on whether so called mega-stables would be especially impacted. "I think after a long transition we'll see horses stay around longer," said another. While one prominent owner thinks that it would lead to "a lot less racing and a lot less horses".
Old methods
The 800-pound gorilla in the room is the issue of furosemide, or Lasix, which came into wide use in the U.S. during the 1970s.
Before then, trainers used a variety of methods to treat bleeders, the obvious being the drawing of horses, where water and hay are taken away for as little as a few hours before they run, and as much as a day, as a means of dehydrating them.
Conventional logic goes that dehydration reduces pulmonary pressure, which lessens the chances of Exercise Induced Pulmonary Hemorrhage (EIPH) by reducing the pulmonary arterial pressure on the delicate capillaries lining the lungs.
Some other tricks of yore were steeped in superstition and supposition. Trainers, even very successful ones, tried things like wrapping a copper wire around the base of a horse's tail and dropping copper pennies in their water buckets.
"I tell you what I did 25 years ago, I quit giving horses vitamins," said retired trainer Jay Robbins, who conditioned Tiznow to two Breeders' Cup Classic victories.
The idea came about when Robbins' father, veterinarian Jack Robbins, believed that too many of his son's horses were bleeders. He noticed just how many different vitamins his son administered, and put two-and-two together.
Robbins doesn't know if it worked, "but I don't think I had quite so many bleeders as I did prior to taking the vitamins away," he said.
Could these methods trickle back into wider circulation?
… new methods
The science behind EIPH is still unraveling.
But we know, for example, that it's generally considered a progressive condition (the American College of Veterinary Internal Medicine recommends that EIPH be considered a disease), and that there is no difference in the career longevity of horses who experience some level of EIPH and those who never suffer EIPH.
Studies have also shown that bleeding from the nostrils (epistaxis) occurs in less than one percent of race starts (even as low as 0.16 percent of starts) among horses not administered Lasix. But the chances of epistaxis occurring increases with age.
Some of the newer methods believed to treat and mitigate the effects of EIPH have already gained traction. Kentucky Derby-winning trainer Graham Motion uses salt vapor chambers, in which horses can inhale and ingest mineral salts.
"I think that reduces any mucus or any infections in the trachea," he said. "And I'd like to think that it helps reduce the amount of bleeding and stress in the lungs. I think the salt vapor room and things like the hyperbaric chamber will become more useful."
Hyperbaric chambers — pressurized rooms rich in oxygen — are thought to increase the amount of oxygen dissolved in blood, thereby hastening the healing of damaged tissue.
Environmental factors are known to affect the respiratory health of horses. This is likely to sharpen the eye to things like dusty shedrows, and the quality of straw, hay and feed-stuffs.
Dubai World Cup-winning trainer Kiaran McLaughlin also suggests that, in certain parts of the country, like Florida and Saratoga, racing programs might be adapted to better avoid horses performing in excessive heat and humidity.
"In Dubai, where they race at night when it's not too hot and humid, they don't seem to bleed so often," he said.
'Anecdotal at best'
Santa Anita-based veterinarian Dr. Jeff Blea agrees that treatments either believed or proven to reduce pulmonary arterial pressure will grow in popularity.
Studies suggest that nasal strips can help mitigate EIPH. But when it comes to nebulized solutions such as colloidal silver and thymic protein (thought to help fight respiratory infections and disorders), and conjugated estrogens (thought to help coagulate the blood), evidence as to their actual benefit is "anecdotal at best", Blea added.
The problem is that there is limited empirical data surrounding many of these newer methodologies, he said. "We don't know what we don't know."
And so, with the question marks still surrounding the biology behind EIPH as well as the effectiveness of certain treatments, there's likely to be a certain amount of 'attrition' in the horse population as trainers evolve and adapt their training regimes to life without Lasix, said Blea.
In Hong Kong, with its variation on the three-strikes-and-you're-out rule for bad bleeders, roughly one horse per season has been ruled off from racing as a result of chronic bleeding issues over the past four seasons.
If Lasix is curtailed in training, however, how might that affect the way horses are conditioned on the track of a morning?
Trainers in Hong Kong try to manage and minimize the sorts of things that are thought to induce EIPH, including stress, over-training, and soreness (possibly because of stress-induced hypertension), as well as inflammatory airway disease, wrote Dr. Brian Stewart, head of Veterinary Regulation and Biosecurity Policy at the Hong Kong Jockey Club.
That's why some Hong Kong trainers prefer not to swim bleeders, especially horses stressed by swimming, because they will hold their breath and take "large, intermittent inspirations" which is thought to exacerbate EIPH, Stewart added.
Some Hong Kong trainers draw their horses. But, according to Stewart, drawing isn't necessarily done there to dehydrate the horse but to reduce stomach contents prior to exercise, minimizing the "gut-piston" effect on increasing "intra-thoracic pressures" – in layman's terms, the theory that the abdominal contents slap into the diaphragm during running, rupturing the delicate capillaries in the lungs on the opposite side.
When I interviewed Hall of Famer Allen Jerkens in 2011, he told me about a time, before the advent of Lasix, when he was given a talented filly to train who happened to be a chronic bleeder.
Instead of working the filly, Jerkens said, he galloped her "a little faster each morning", getting her fit without realizing a race was approaching. Keeping her settled and relaxed in this manner, she thrived, he said, and subsequently won a number of decent races.
Aussie model
In countries like Australia, where training is also typically conducted on the racetrack, the horses, as a rule of thumb, are given longer, steadier workouts in comparison to the U.S. and gallop over longer distances in between, said ex-Australian and Breeders' Cup-winning trainer Brian Lynch.
"They're not frightened to train them down there," he said.
The emphasis in Australia is to break off a little steadier at the beginning of a work, "and quicken up the last part in 13s or 12s, if they're going well", Lynch said. "Whereas over here we'll quicken up at the pole and try to maintain that the whole way."
Could American workouts and training programs morph to reflect the industry's antebellum past, or countries like Australia? This question has a bifurcating effect, splitting the nation's trainers between coasts.
"I think that today, we train and work a lot slower than trainers do on the west coast anyway," said McLaughlin, about his cohorts on the east coast.
"Some of us trainers think we won't be able to keep our horses in the feed tub, and/or keep them sound, if we worked them every six or seven days in 58 or 59 seconds," he added. "But they do it out there and they're successful – don't get me wrong. But we don't do it out on the east coast."
The trainers I spoke with on the west coast largely acknowledged the extra emphasis they put on speed of a morning. But as to whether they believed their workouts would slacken off under tightened medication rules varied depending upon their general training philosophy.
Ben Cecil's European sensibility underscores his views that a more conservative approach to training would "undoubtedly" keep horses sounder for longer. But in the end, he said, it could all come down to numbers.
"When you've got a lot of horses, you can afford to drill them hard and the strong survive," he said. "The successful people have large numbers, and, while those numbers get dwindled down to a few, they're that much fitter than everyone else."
Slower races?
Hall of Fame jockey Chris McCarron agrees. "These mega-outfits, they're kicking butts," he said. "There's no obvious reason why they should cut back on numbers."
Even though tighter medication rules would create "greater challenges" for trainers with 100-plus horses on their books, he said, their assistants — "many of them trainers in their own right" — and their slick-run operations would adapt to the new climate, he said.
Turning our attention to the afternoons, would the lickety-split tempo from the gates of U.S. racing dial down a notch under the hypothetical medication rules?
"I don't think so," said three-time Kentucky Derby-winning jockey Gary Stevens. "But I think after a long transition we'll see horses stay around longer."
One reason for that could be a shift towards races that emphasize stamina over speed. "I think we could see less six-furlong races, more staying races, for sure," said Stevens. "I think horses hurt themselves more in sprint races than they do staying races."
Studies that connect shorter races with an increased chance of catastrophic injury support this notion. But other studies of racehorses that link the accumulation of mileage at high-speed within a period of time to an increased risk of fatal breakdowns led to agreement over an idea among everyone I asked: the likelihood of horses being turned out and rested more frequently, as a sweetener rather than the intervention of injury necessitating it.
But good old fashioned rest and recuperation is also one of the best cures for horses already showing signs of wear and tear, said retired veterinarian Bill Marrs.
"I would suggest you turn a horse out for four or five months, if not more, let their capillaries heal," he said, about horses showing worsening signs of EIPH.
The same goes for horses with joint problems. Rest is often a better long-term cure than corticosteroid joint injections that often only temporarily alleviate the underlying injury, he said. This raises an issue that Jay Robbins considers far more "problematic" for the industry than Lasix.
Corticosteroid joint injections
Under the hypothetical medication program, I presented a system like Hong Kong's whereby intra-articular corticosteroids can only be administered after a thorough clinical examination. A second injection of the same joint can only be performed 30 days or more after the first injection, again after a clinical examination.
A third injection of the same joint can only be performed 30 days or more after the second injection, after a radiographic examination of the joint is performed, and after the result is cleared by an independent veterinarian.
"It's what should happen anyway," said Dr. Rick Arthur, California equine medical director, about the sorts of routine veterinary practices that should occur prior to corticosteroid injections.
Still, post-traumatic osteoarthritis — a fancy name for joint degeneration in athletes — has been shown to be effectively managed through proper treatment strategies. But if corticosteroids are used less frequently, what then?
The obvious methods, said Arthur, include hyaluronic acid, a joint lubricant, and IRAP, a concentrated anti-inflammatory protein derived from a horse's blood that helps the articular cartilage. Polysulfated glycosaminoglycans like Adequan also help with joint inflammation.
'It would be like it used to be'
Swimming pools — routinely used in many other countries — could alleviate some of the repetitive stress on joints caused by training. But, Arthur cautioned, "you need to condition bone, and to condition bone, you need to put weight on it. Swimming pools don't accomplish that."
Ultimately, the way racehorses are trained, raced and managed could see a return to the pre-1970s, said Stone Farm founder Arthur Hancock, now 74.
"It would be like it used to be," he said. "The only time the veterinarian came around the barn was if a horse got sick, or had a temperature, or he would come around the morning of a race before the track vet came to inspect them."
Hancock correlates a dramatic reduction in average starts per horse over the decades to greater medication usage - a turnaround in medication regulations would reverse that trend, he hopes. Other changes might occur, too.
"Back then we had more distance races, and maybe we worked horses a little further, a little slower," Hancock said. "Although Ben Jones [six-time Derby winning trainer] used to say 'just go half a mile, keep 'em happy,' and he used to do just fine."
'You just don't know'
The "bigger question," said owner Maggi Moss, winning-most owner in the nation in 2006, is: "Who are going to be the owners of these horses?"
Under the proposed medication framework, Moss also sees the clock being turned back to what she describes as the industry's 'Sport of Kings' roots, when only those with large disposable incomes could afford to own racehorses.
This future would involve "a lot less racing and a lot less horses", where the smaller tracks have all but disappeared, and the remaining more prestigious tracks race only three days a week, she said.
"You'll have a whole different format of racing, meaning you start with the breeding," Moss said. "You're not going to breed what we're breeding now, which is way too many horses for speed."
Others take a less apocalyptic, and more circumspect, view.
"I think horsemen and trainers are very adaptable to whatever guidelines are in place," said multiple Eclipse award-winning trainer Todd Pletcher.
"I try not to deal too much in hypotheticals. But I think we try to adjust each horse's individual schedule on how they're handling the workload anyway," he added.
"Until you're in that situation, you just don't know."