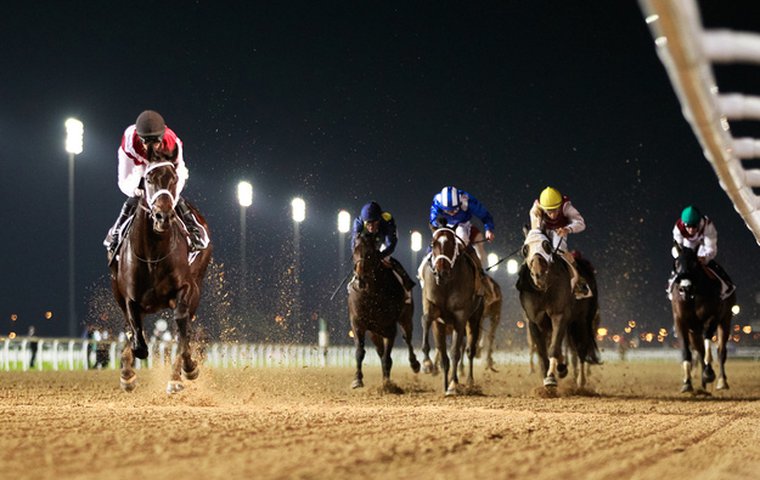 The world's richest horse race is back on dirt. After the first 14 runnings of the Dubai World Cup were contested on a natural surface at cozy Nad Al Sheba, the glistening behemoth of Meydan offered all-weather Tapeta footing when it opened in 2010. For a variety of reasons, both officially offered and critically opined, the Dubai Racing Club announced last spring that dirt would return after five seasons of all-weather racing. After 18 meetings conducted this season at Meydan, March 28 brings the 20th renewal of the $10 million Dubai World Cup on a surface comprised of 88 percent sand and a 12 percent blend of silt and clay.

Centerville, Ohio native Doug Watson is generally a very jovial fellow, but when the surface switch declaration came down, he was quite possibly the happiest man in Dubai. An assistant in the United Arab Emirates to trainer Kiaran McLaughlin starting in 1997, Watson took over when McLaughlin returned to the U.S. in 2003. Since then, Watson is the winningest conditioner based in the UAE, with 394 wins from 3,811 starters as of March 18. He has 117 more victories than his next closest rival over that same period.
But the five years the UAE's flagship course ran races over the Tapeta were Watson's least successful as a trainer.
"We tried from day one to figure it out, and it just seemed nothing we did worked," Watson recalled. "Our horses came out of the all-weather races really stiff. We'd see some others just training the heck out of their horses, and even though they looked tired all the time, they'd keep winning. It was frustrating."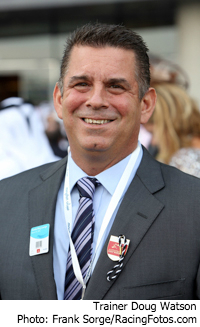 Watson's crew, established at Red Stables, a private facility in the Al Quoz neighborhood about three miles north of Meydan, brainstormed potential plans.
"When things weren't going well for us on the all-weather, we tried a few different things. We would load eight in a box and take them to Jebel Ali," the western Dubai, right-handed course with a steep, stamina-building final furlong that needs to be seen to be believed. "I was taking all the freshness out of them as that really seemed to be working elsewhere. We did everything possible to win on the Tapeta, and it just didn't happen."
Averaging 20 wins a season at Nad Al Sheba from 2003 to 2009, it took Watson three full seasons to earn 20 wins at Meydan. Last season, horses prepared at Red Stables won four races – all on turf – from 108 starters at Meydan.
With the dirt back in play this year, Watson's squad took flight. Through the 113 races run at Meydan this season, the Red Stables' gang won 23 races, with 21 of those coming on the sandy stuff. No trainer has more wins on the Meydan dirt than Watson.
The secret to his success?
"We went back to the old way of doing things, how we prepared horses for Nad Al Sheba.
"Not knowing what to expect, we split some of our horses right before the season began, the ones that were going to start early. We took five to Jebel Ali before the first Meydan meeting and worked them up the hill. Not one of them ran well at Meydan."
Those Watson just kept ticking over the 7 ½ furlong dirt training oval at Red Stables all won or were placed in the first four.
"That determined how we handled the rest of the season. We talked it over at home and said we would just go back to the way we did a few years back. I called Dhruba [Selvaratnam, the trainer based at Jebel Ali] and said we wouldn't be coming back over to train."
"Clearly, it's worked, and it's been pretty easy. Get your horses fit, then just keep them fresh."
Who are the winners?
What is helping Watson, and others in the UAE, is that some horses have really seemed to take to the new surface.
Through the 18 meetings thus far, 75 races have been conducted on the dirt and 47 of them have been won by 21 horses. Put another way, 21 horses have at least two wins from the first 75 races on dirt, what seems a fairly remarkable degree of victorious consistency.
What has been accomplished in one season of dirt at Meydan equals the last two full seasons on all-weather, where a total of 21 horses recorded at least two wins on that surface in one season from either the 2012-2013 or 2013-2014 campaigns.
As for the frequent winners this year, their wins are spread across both the local races, for lower-rated horses, and those racing in the richer Dubai World Cup Carnival spots.
Mike de Kock's Kentucky Derby candidate Mubtaahij has three wins on dirt, two of those races being at the Carnival, while Godolphin's Local Time swept the dirt offerings for sophomore fillies. Tamarkuz has won three straight after a troubled-trip second on the opening night of the Carnival, including a sweep of the two group-level stakes for milers on the dirt. The son of Speightstown could stretch out in the Dubai World Cup or go a likely short favorite for the Godolphin Mile.
Watson trainee One Man Band was the first to win three races on the dirt, all of them in non-Carnival action, while Musabah Al Muhairi trainee Shaishee capped his triple with a win in the Mahab Al Shimaal on Super Saturday.
Is the surface playing fair?
Of the 75 dirt races, only four were won by horses that came from well off the pace. Dividing the running style into four categories below, 23 of 28 sprints, 17 of 22 miles, and 20 of 25 routes were won by horses that either made all the running, or more likely, ran forward, in close attendance to the early pace. Winners have come from almost every gate in dirt sprints, but 15 of 22 races at 1,600 meters have been won by horses drawn in the innermost five barriers. 18 of 25 two-turn dirt races were annexed by horses drawn in the first seven stalls.

While being forward clearly seems to be of some benefit, there have been very few surprises throughout the season. Winners aren't producing the head-scratching changes in form noticed on occasion with the all-weather. Toolain produced a shock on the international commingled tote at the third Carnival meeting when ignored at 123-to-1. On closer review, the former UAE-based Saudi shipper had three dirt wins to his credit, and was beaten less than a length by multiple G1 winner Ron The Greek in October.
Dirt pedigrees are well-represented in the winner's enclosure, but not entirely dominant. Street Cry has sired a season-leading nine winners (from seven horses) on the surface with seven wins from four horses by Dubawi, six from three runners by Distorted Humor and the same from Pivotal.
"We've had a few winners come from off the pace," Watson remarked, "but we generally try to push forward without ruining them. The ones who are getting beat might not appreciate the kickback."
One of those rare off-the-pace winners was Watson's Faulkner, a late debuter who won all three of his runs this season (and career), concluded by a Carnival handicap on Jan. 8th where he became the only horse this year to have beaten the aforementioned Tamarkuz.
"I've never been asked more about a horse in my entire career than I have about Faulkner. Unfortunately, he had a stress fracture in his tibia. If we had a year-round season, he'd be back in June, but we can give him the time and expect him to return next season. It just takes rest to heal and he was sound three days after it happened."
Poised for World Cup night success
Watson might have some more questions to answer when World Cup night rolls around, as his yard, without a win at the World Cup meeting to date, is positioned with some phenomenal chances in 2015. Two-time Meydan dirt winner Layl, most recently third in the G3 Burj Nahaar, will give Watson a chance in the G2 Godolphin Mile. Cool Cowboy, a former American-based sprinter, is due for the G1 Dubai Golden Shaheen after a gritty fourth in the G3 Mahab Al Shimaal on Super Saturday. "He was a little short for his prep and should really come on for it."
But Watson's big chance comes in the lucrative finale on World Cup night when Candy Boy makes his local debut for his new connections.
"He has been absolutely thriving over the last few weeks. He's getting aggressive in his box and we are in a really good spot. He's a big colt and we think the bends here, which are a bit gentler than what he faced in the U.S., are suited to his frame."
Candy Boy has been a bit camera shy. The son of Candy Ride is winless since February 2014 when taking the G2 Robert B. Lewis Stakes at Santa Anita. He was badly hampered by a rival going into the first turn of the Kentucky Derby, then was second behind Shared Belief in the G2 Los Alamitos Derby in July.
"He really caught our eye in the West Virginia Derby," Watson said of Candy Boy's next start, where he was at least four wide on both turns and did everything to win bar having his nose down first.
"He fools you in the morning. Pat Dobbs [Watson's retained jockey] gets on him in the morning and was asking me if we should pick up the pace. He said he felt like they were just cantering at 20 seconds a furlong, and the watch keeps showing 15 and 16-second splits. He's just so laid back."
The World Cup will be Candy Boy's first race since a sixth in the Breeders' Cup Classic when he endured yet another wide trip.
"We got him for the big race, so thought there wasn't much benefit in taking the edge off with a prep run, so we are content running him fresh. He could do anything, and he really could win. Regardless, we think he will be very good for a couple years over here. He's getting us all excited."
With a smaller than normal field anticipated for the World Cup, a surface that suits Watson's style, and a fresh, dirt-loving 4-year-old on edge for a $10 million race, what more could you ask?
---
Pat Cummings is the founder and editor of DubaiRaceNight.com and will be on-site covering his ninth Dubai World Cup beginning March 23. Follow him on Twitter @DubaiRaceNight.