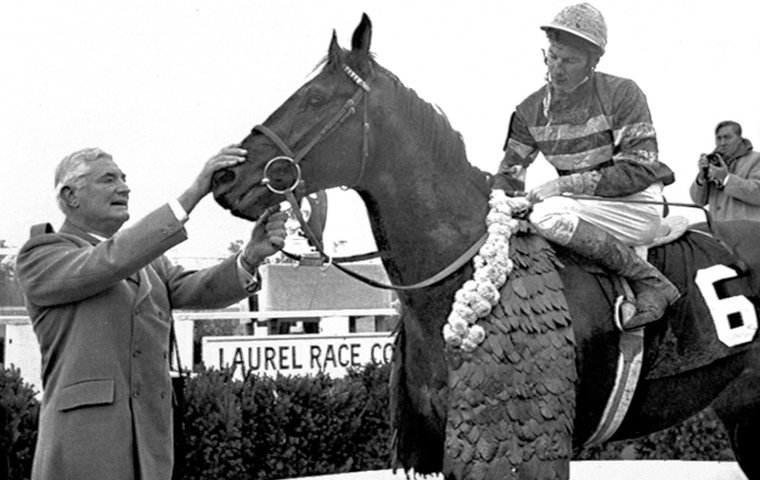 Ahead of Saturday's running of the world famous Grand National in Liverpool, England, Sean Magee remembers an American owner's historic victory in the great race.

Forty years ago this month, Raymond Guest, former U.S. Ambassador in Dublin, joined one of the true elites of horse racing history, a group so exclusive that before Guest it had only one member – King Edward VII, no less. In the four decades since Guest joined up, just one more name has been added to the list.
This is a club anyone can join – provided you have scaled the twin peaks of British racing's flat and jumping codes by owning winners of both the Derby at Epsom and the Grand National at Aintree. (Sadly for the bulky ghost of the ultra-eccentric Miss Dorothy Paget, whose great steeplechaser Golden Miller won the 1934 Grand National, winning a wartime substitute Derby at Newmarket, as she did with Straight Deal in 1943, does not count.)
Edward VII won the Derby three times – twice when he was Prince of Wales, with Persimmon (1896) and Diamond Jubilee (1900), and with Minoru (1909) after his accession; and the Grand National once, with Ambush II in 1900.
Raymond Guest, whose colours were officially "chocolate, pale blue hoops and cap," won the Derby twice, with Larkspur (1962) and Sir Ivor (1968), and the Grand National with L'Escargot (1975).
The two races could hardly be more different. The Derby is for 3-year-olds and run over a helter-skelter mile and half of refined Surrey; the Grand National is for battle-hardened chasers and takes place over 30 fences along nearly four and a half miles of Liverpool suburbia. To win both is a remarkable achievement, and this is a timely moment to salute the second man to secure the double.
Jacqueline O'Brien, widow of Vincent O'Brien, the great Irish trainer who trained both of Guest's Derby winners, has no doubt about the Virginian's dominant quality:
"He was the luckiest owner we ever had, the luckiest that could ever walk through your gate. Rarely did he have more than one horse with us, but he struck gold so often.
"I always thought there was something almost exotic about him, which came from his very aristocratic background. He was a large, often domineering person, but you couldn't help enjoying his company."
Raymond Guest was born in the U.S. in 1907, son of Frederick Guest (who had sat in Lloyd George's cabinet in Britain) and his American wife Amy Phipps; he was the great-grandson of the seventh Duke of Marlborough, and Winston Churchill's second cousin.
After a Yale education, Guest spent much of World War II as a commander in the U.S. Navy, serving with distinction and much decoration, and was a state senator for Virginia between 1947 and 1953.
From an early age he had played all manner of sports – among his memberships he listed The Jockey Club, Racquet and Tennis Club, and Royal Yacht squadron – and loved golf, polo, fishing, and other sporting pursuits.
In 1960, Guest was introduced to Vincent O'Brien – then concentrating on the flat after a hugely successful time with jumpers – and at the Ballsbridge yearling sales in Ireland bought a diminutive chestnut colt by 1954 Derby winner Never Say Die.
This was Larkspur, who showed enough promise as a 2-year-old for connections to entertain the possibility that he could go well in the 1962 Derby – an optimism that increased after the colt had won his Epsom prep race at Leopardstown.
Nine days before the race, Guest drove down to Tipperary to watch his horse's last serious gallop, and Jacqueline O'Brien recalls a difficult morning:
"I remember Raymond parking his great big car outside the front door and coming in for breakfast – and then disaster struck. Vincent was looking through the dining room window into the yard. He saw Maurice O'Callaghan, the head man, coming quickly towards the house, and rushed out to meet him. Was everything all right? No, it was not. Overnight a swelling had come up on the outside of Larkspur's hind leg below the hock. The vet was called, and there was no question of working Larkspur that day. But rather than show concern for his horse, Raymond went straight back to his car – and in a whoosh of gravel stormed off back to Dublin."
Guest was a much happier bunny when Larkspur won the Derby (a race best remembered for seven runners falling on the run down Tattenham Hill) and donated some of the prize money to finance building a new facility – suitably named the Larkspur Park – in Cashel, the town close to O'Brien's Ballydoyle operation, for the benefit of the local community. Larkspur was not one of the more memorable Derby winners, but he has an engaging memorial in that Cashel park.
Raymond Guest's racing interests were not confined to Europe, and three years after Larkspur's Derby his colours were carried to victory in a U.S. Triple Crown race, when Tom Rolfe, trained by Frank Whiteley Jr., won the 1965 Preakness under Ron Turcotte. Tom Rolfe, who at the end of the season was voted leading 3-year-old in the U.S. (his other wins included the Citation Handicap and the American Derby), made up a rare American challenge for the Prix de l'Arc de Triomphe, in which he was ridden by Willie Shoemaker into a highly respectable sixth place behind Sea-Bird.
The following year featured the episode for which Raymond Guest is best remembered – away from the track itself – in racing circles: the Bet.
There are numerous different versions of how this famous wager was struck, but the bare details are straightforward enough. In 1966, Guest acquired three yearlings. He loved a wager, and approached the leading bookmaker William Hill – the man, as opposed to the company – to enquire about a price for these youngsters in the Derby two years later. Hill offered him 100-to-1 about each of them to a stake of £500 each way (each way bet is two bets: one bet is for the horse to win and the other is for the horse to place), and the bet was struck, giving Hill a liability of £62,500 per horse – around £950,000 in today's money.
By the end of the 1967 season, one of the trio, who had been named Sir Ivor after his owner's cousin Sir Ivor Guest, had shown such a level of form, notably when winning the Grand Criterium at Longchamp, that he was strongly fancied for the 1968 Derby. And come Derby day, having landed the 2,000 Guineas at Newmarket on the way to Epsom, Sir Ivor produced a sensational late turn of foot under Lester Piggott and won easily – at a starting price of 4-5.
The lengths to which William Hill went to minimise the effect of Guest's bet – including the threat of publishing details of the bet in the Sporting Life newspaper – would remain a staple of racing gossip for many years, but Guest held firm.
Sir Ivor's owner was absent from Epsom on Derby afternoon for the defining moment of his great horse (and of his bank balance). He was on ambassadorial duty in County Wexford, where he was required to plant a tree in the Kennedy Arboretum to commemorate the late John F. Kennedy's birthday. In Vincent O'Brien: The official biography (2005), Jacqueline O'Brien and Ivor Herbert quote an unidentified newspaper account of how Sir Ivor's owner watched the race:
"Mr. Guest watched the Derby in Ireland on a portable TV, and, as his 3-year-old swept to victory, Mr. Guest was mobbed by hundreds of wildly enthusiastic Irishmen and women. In the excitement, the ceremony, Ireland's tribute to President Kennedy, was forgotten for a while and government ministers, diplomats, and bishops gathered around the TV set on the ground, wrapped in brown paper to shade it from the sun. The eminent Raymond Guest knelt on the ground, visibly trembling in front of the set."
Elsewhere, presumably William Hill was on his knees as well.
Guest managed to get to the Savoy Hotel in London for the celebratory party – and extraordinarily, given the dazzling manner of his Derby victory, Sir Ivor was beaten in his next four races. The Irish Derby at the Curragh looked a shoo-in, and another lavish celebration was arranged at the U.S. Embassy in Phoenix Park, Dublin. But this turned out to be a very damp squib, as Sir Ivor, ridden by Liam Ward (as was the agreement for the colt's Irish races), failed to stay as robustly as Ribero – ridden by none other than Lester Piggott – and the Derby winner was beaten into second place.
"It was the saddest party I've ever been to," recalls Jacqueline O'Brien, "and I think most of the guests left early" – a recollection confirmed recently by Liam Ward: "It was the greatest flop, and I left as soon as I could."
Sir Ivor was then beaten in the Eclipse Stakes and the Prix Henry Delamarre, and in Arc by the brilliant Vaguely Noble. But he regained the winning thread in the Champion Stakes, and ended his career in glorious fashion when landing the Washington D.C. International – glorious but controversial, as Lester Piggott later explained in characteristically laconic fashion:
"In keeping Sir Ivor covered up behind horses on the inside until very late on, then producing him close home to unleash his great burst of acceleration and win easing down by three quarters of a length, I knew exactly what I was doing. The American press begged to differ, accusing me of nearly getting the best horse in the race beaten. One journalist wrote that 'If he were an American jockey he'd be crucified,' but I knew more about Sir Ivor than the press did."
For all the success on the flat, Raymond Guest's great ambition – like so many American owners before and since – was to win the Grand National, and well before Larkspur had put his name on the European racing map, he had had his first runner in the Liverpool marathon: Virginius, a 50-to-1 outsider who, ridden by Alan Lillingston, was brought down in 1957.
More attempts followed. A highly popular steeplechaser who twice ran in his colours in the National was the grey mare Flying Wild, who had come to Guest's attention one day in 1960. He had missed his U.S.-bound plane at Dublin airport, and was invited by trainer Dan Moore to spend some time at his nearby yard while waiting for the next flight. The late John Oaksey told in Horse and Hound magazine how "the sporting American saw a 4-year-old mare in one of the boxes – and fell in love at first sight."
That love deepened over the years as Flying Wild proved herself one of the most popular jumpers in training, despite having the temerity to beat the immortal Arkle (at a weight difference of 32 pounds) by a length and a short head in the Massey-Ferguson Gold Cup in December 1964. Splitting winner and third that day was Buona Notte, owned by Jim Joel – who will make a late appearance in this story.
Flying Wild ran in the Grand National twice, falling at the first fence in 1964 and being pulled up two years later, but for Raymond Guest there was not too long to wait.
At the Ballsbridge sales in November 1966, his agent bought for 3,000 guineas a 4-year-old gelding by the French stallion Escart III, named L'Escargot, and the chestnut went into training with Dan Moore. A more than useful hurdler, L'Escargot became a very good chaser indeed, winning several big prizes – in the U.S. as well as Britain and Ireland – before taking the Cheltenham Gold Cup at 33-to-1 in 1970, and then again in 1971 as 7-to-2 co-favourite.
In 1972, L'Escargot ran for the first time in the Grand National, and unseated Tommy Carberry. The following year he finished third, almost unnoticed behind the famous duel played out by Crisp and Red Rum, and in 1974 he was runner-up to Red Rum. So L'Escargot went into the 1975 race on an eye-catching sequence of third then second – and although he was now 12 years old and arguably past his best, started as 13-to-2 second favourite.
Sporting a ungainly pair of light blue blinkers – to team with the light blue of Tommy Carberry's cap – L'Escargot won with consummate ease. Coming to the last fence, Red Rum, in pursuit of a unique third Grand National victory, was marginally ahead, but on the endless Aintree run-in L'Escargot just went further and further ahead, and was 15 lengths clear at the line.
Red Rum would have to wait another two years for his third National, for this was L'Escargot's day – and he became only the second horse in history, after Golden Miller, to have won both the Cheltenham Gold Cup and Grand National.
There was a sour postscript to L'Escargot's finest hour, picked up by Steve Dennis in a recent Racing Post profile of this remarkable horse: "L'Escargot ran but once more, ending his career with second place in the Kerry National, whereupon a peeved Guest, who after Aintree had made a present of the horse to [trainer's wife] Joan Moore, thinking that his racing days were done, snatched him back and took him to the U.S., where he died at the age of 21."
By the time Raymond Guest himself died, in Virginia on New Year's Eve 1991 at the age of 84, there was a third member of that most rarefied of racing circles.
Jim Joel, of "black, scarlet cap" fame, won the 1987 Grand National with Maori Venture, 20 years after his colt Royal Palace had won the 1967 Derby. (Royal Palace went on to win the following season's Eclipse Stakes in which Sir Ivor was third.)
So the clique now consists of three fabled owners rather than two. What price a fourth?