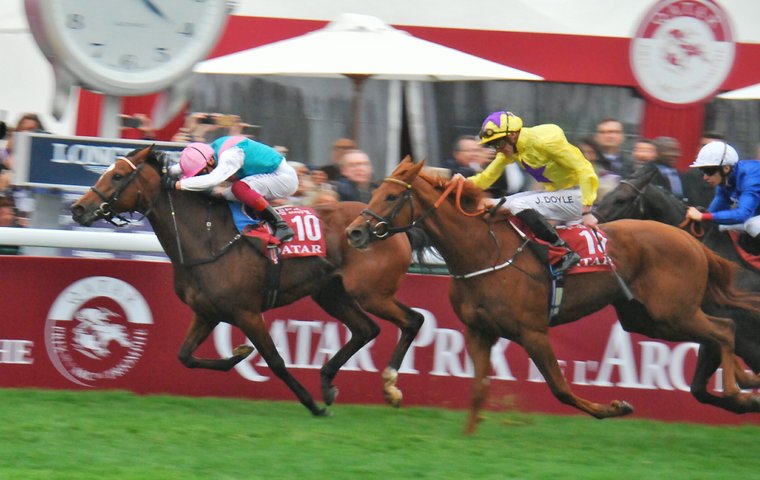 We will remember it as one of the great Arcs, and rightly so, but that will not be borne out when the number crunchers have had their say. On the contrary. The figures will tell us that, as Arcs go, Sunday's was one of the lesser renewals.

Many will argue that it's the narrative attached to the two fabulous fillies that matters, and they have a point. We can all agree that Enable and Sea Of Class are exceptional talents, and that their backstories encapsulate much of what makes our sport so captivating. What's more, the finish they served up was as thrilling as any we have seen in recent years.
However, nobody was suggesting before the event that it was an Arc with any great depth to it, and with the pack finishing hard on their heels it will be nigh on impossible to rate the strength of the form highly by conventional means.
John Gosden spoke afterwards of the very strong pace, and that is certainly what we were led to expect, with a quintet of Aidan O'Brien runners headed by St Leger winners Kew Gardens and Capri, who both required a thorough test.
Yet while Nelson, who as a Frankel son of Irish Oaks winner Moonstone must be the best-bred pacemaker in the business, had made the running for Kew Gardens on his last four starts and looked admirably equipped for the task, he did not go that quick.
Moderate time
He can't have done. After all, he finished far too close for comfort in eighth, beaten barely four lengths and seemingly running a career-best by almost any measure, and the time was a moderate one for the conditions.
Sunday's race was run on ground officially described as 'good' after minimal rain, yet only the soft or heavy-ground Arcs won by Sakhee, Dalakhani, Workforce, Solemia and Treve (her first win) have been slower since the turn of the century. What's more, Enable's time was the best part of five seconds slower than that recorded by Danedream on ground described the same in 2011, and that equates to almost 30 lengths.
While Capri sat perfectly poised behind his stablemate until outsprinted late on, the less-than-searching pace failed to play to the strengths of the more patiently ridden Kew Gardens and, more significantly, it also compromised the chance of Sea Of Class, who ran an extraordinary race from the kind of draw only Golden Horn has overcome in recent years.
On the other hand, the pace almost certainly played to the advantage of Enable, who was perfectly placed towards the head of the field throughout from an ideal draw but, at the finish, was coming back not only to the strong-finishing runner-up, but also to last year's second, Cloth Of Stars, and the Prix Foy winner, Waldgeist.
Sea Of Class did extraordinarily well to get so close to Enable after racing at the back of the field until into the straight, James Doyle having elected to drop her out and wait with her on the inner rather than take the Golden Horn route adopted by Frankie Dettori three years previously, a tactic attempted unsuccessfully this time by Andrea Atzeni on outsider Defoe.
Doyle had little choice on a filly whose most potent weapon is her devastating late burst. He spoke afterwards of having been held up momentarily by Waldgeist as Sea Of Class was beginning her run, but it could have been so much worse. That, and a nifty sidestep around Tiberian, were the only impediments as she charged through the 19-runner field.
Would the ground be so suitable next year?
The damage was done by pace and draw. She would probably have won if the pace had been stronger, and she would almost certainly have won if she had been better drawn and been able to adopt a position just a length or two closer to the leaders.
All being well, she will have a chance to make amends in 12 months' time, but the draw is almost bound to be a factor again, and she might not be so lucky again with the ground.
While many will regard Sea Of Class an unlucky loser, that need not detract unduly from Enable, who joined greats including Ribot, Alleged and Treve as a dual winner of Europe's foremost middle-distance race despite a far-from-ideal preparation.
We all knew that she had endured a troubled spring and summer through injury, but it was only in the post-race debrief that we heard she had missed work after spiking a temperature following her belated return in the September Stakes, and so won again despite not being at her very best. That would account for her uncharacteristically weak finish, and it makes a wonderful achievement even more commendable.
As for the rest, the Arc once again drew a season's best from the frustrating Cloth Of Stars and a solid effort in fourth from his much shorter-priced stable-companion Waldgeist, who had toyed with him when they met in the Foy but merely plugged on this time.
Capri, who had been off five months when fifth in that race, did about as well as could be expected in fifth once again, having enjoyed the run of the race, while shock Coronation Cup second Salouen, another who was able to race handily from a favourable draw, once again outran his odds in an honourable sixth.
Kew Gardens' strong-finishing seventh place is worth marking up given the way the race panned out, and he looks set for a successful 2019, while his stablemate, Magical, made late ground in similar fashion from even wider on the track.
Ordinary French crop
On the negative side, the efforts of Study Of Man and Patascoy, first and second in the Prix du Jockey Club, served only to emphasise how ordinary the French middle-distance 3-year-old colts are this year, while Japanese fans must wait again after Clincher, the nation's sole hope and an unexciting one at that, finished down the field.
This, however, was all about two hugely talented fillies, neither of them seen to full advantage yet still much too good for the rest.
A rematch would be any promoter's dream, and with such sporting connections it just might happen.
Let's all hope so.