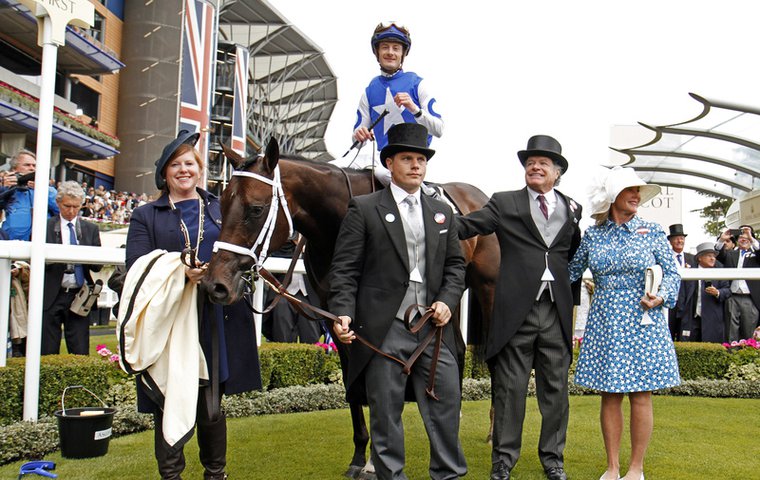 Mark E. Casse is nearing the end of a year that would be a dream come true for most trainers. Through Nov. 28, he has already compiled a career-best $17,540,438 in earnings for the season, placing him third in North America behind only Chad Brown and Todd Pletcher.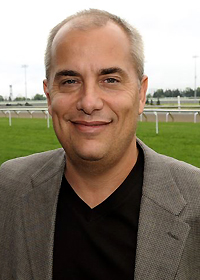 Casse (left) has accounted for eight Grade 1 victories through six different horses. He also captured a Group 1 in no less a setting than Royal Ascot.
For a second straight year, he won at least one Breeders' Cup race.
In all likelihood, he will have two diverse champions at the Eclipse Awards ceremony in January. There's owner Robert Masterson's outstanding mare Tepin, who is in line to defend her title as the champion female turfer. The other is John C. Oxley's 2-year-old star Classic Empire, who won the Breeders' Cup Juvenile to become the frontrunner for an Eclipse Award and emerge as the leading candidate for the 2017 Kentucky Derby.
Casse is ranked #17 in the world in the current TRC Global Rankings, and #4 in the U.S. He was also top in North America among trainers of 2-year-olds and #2 in the world at the last count just three weeks ago, according to the rankings.
It has indeed been a very good year for Casse, whose recent fame only underscores how successful and underappreciated he has been for decades.
Great turmoil
"I never felt I was better than anyone," he said, "but I also didn't think anyone was better than me. I just set out to prove it. After this year, I guess you can say I'm a 37-year overnight sensation."
Yet, for all of the glory and success rolled into this year, 2016 has also been a year of great turmoil for the 55-year-old Casse and his close-knit family.
Just last month, his largest client, Conquest Stable, gave up on racing and sold roughly 100 racing/breeding prospects at the Keeneland November sale, basically slicing the size of Casse's stable in half.
The loss of a client pales, however, when compared to the way Casse's world was rocked on March 6, when the man who was his beloved, life-long mentor, teacher and confidante – his father Norman E. Casse, a highly respected horseman who owned Cardinal Hill Farm in Ocala, Florida, and played a key role in the founding of the Ocala Breeders' Sales Company – passed away at the age of 79 after suffering a brain infection, having been bedridden for about two years.
"Losing my dad was tough from a personal standpoint," Casse said. "From a racing standpoint, by far this year exceeds anything we've ever done. I feel like Dad is up there helping us."
While Casse's 2016 journey has included as many twists and turns as a mountain drive, in numerous ways it has mirrored a career in racing, with several layers to it.
Circuitous path to the top
As a son of a respected horseman, it was not surprising that Casse's life has revolved around racing. Yet his path to his current perch among the sport's top trainers was circuitous, to the say the least.
At the age of 15, he was active in the management of his father's farm in Ocala. In 1979 at Keeneland, he posted his first win as a trainer and in a few years emerged as a prominent trainer on the Kentucky circuit. One of the highlights was capturing the trainer's title with a record 29 wins at the 1988 Churchill Downs spring meet.
Then in 1992, his career path took a U-turn, when he left public training to become the private trainer and general manager of operations for Harry T. Mangurian's Mockingbird Farm in Ocala.
A former owner of the NBA's Boston Celtics and Buffalo Braves, Mangurian housed up to 900 horses at his farm.
"From a financial standpoint, if I had continued down that same path, even though I was doing quite well in terms of wins, I would have been buried. Most horse trainers don't make a lot of money. It was a struggle. I made more money in five, six or seven years with Mr. Mangurian than I ever would have training horses," Casse said.
But, in 1999, Mangurian decided to liquidate his holdings in the sport and Casse ultimately returned to training, only this time he landed in Canada at Woodbine Racetrack.
By 2002, he won his first training title at Woodbine and, in 2006, he won the first of his seven Sovereign Awards as Canada's leading trainer (2006-08, 2011-14).
Stroke of genius
Yet for all his success in Canada, Casse yearned to return to the United States and, about five years ago, with some helpful prodding from his oldest child, Norman, he began to race a division of horses in Kentucky under the care of his now 33-year-old son.
"We've been very successful at Woodbine the last 15 years or so, and I was content with that," Mark Casse said. "We start in March, end in December and it gives you some time to take it easy. But Norman pushed us to expand the operation and go after it more. He got us back in Kentucky and then one thing led to another and I started getting more aggressive about our operation.
"I was also hearing a lot of talk along the lines of, 'Oh, he can win in Canada, but nowhere else,' and that probably sparked my enthusiasm as well."
The move to Kentucky proved to be a stroke of genius as it expanded Casse's base of operations and roster of owners.
In 2012, he set a personal mark of $10,238,086 in earnings and topped that in 2014 with a total of $11,879,496. With bases in Canada, Kentucky, New York and Florida, he eclipsed that mark in 2015 with $13,697,149 and has already put that figure in the rearview window this year.
Reflective of those totals, Casse's expert management of his widespread operation has accounted for 16 graded stakes wins in 2014, 17 the following year, including two Breeders' Cup victories, and is up to 26 so far in 2016 – not including Tepin's victory in the Group 1 Queen Anne Stakes at Royal Ascot on June 14.
Advantages of technology
"Mark manages a great team," Masterson said. "It's not just Mark himself. It's the way he manages a group of people from the grooms to his assistant trainers that makes him successful. He's very much on top of the entire program in order to get the best out of his horses, and to pick the right races and works, when to lay the horse off. I've found he's excellent at that. He's aware of everything that's going on."
Norman likens his father's role in the stable to that of a general manager of a sports franchise as he coordinates the work of a team of assistants that also includes David Adams, Mitch Downs, David Carrol, Jamie Begg and Randi Melton.
"Dad spends much of his time in Ocala, but he'll be there for a big race or important work. Technology makes things much easier and creates a lot of possibilities," Norman Casse said. "He oversees all of the horses. Each of the divisions has an assistant like me and they oversee the day-to-day operations in each of those states and they talk to dad on a daily basis or send in a computer chart.
"At the end of the day, all of our charts are compiled into one master spreadsheet and we all receive a copy of it. Dad is basically delegating the work so that he has a trainer at each site and he uses his expertise to guide them through what to do on a daily basis.
"He also doesn't micromanage everything. People who worry too much or overanalyze things are not as successful in this business. He knows what works and what doesn't."
Another key element in Casse's success has been his ownership of Moonshadow Farm in Ocala. Through operating it with his wife, Tina, Casse has control of his horses through all phases of their racing career.
Seeing the potential in Tepin
"What separates us from most big training operations is that, from the day the horses are bought until they retire, they stay in our company and that pays dividends," Norman Casse said. "When a horse needs time off or is not doing well, we can send him to our farm and not worry about losing him or not getting him back. He stays in our system. We don't have to worry about the politics of these situations."
Perhaps the best example of the role Moonshadow has played in Casse's rise to the top of his profession is his best horse to date, Tepin.
Voted the champion turf female after winning the 2015 Breeders' Cup Mile, Tepin had been bought by Masterson for $140,000 at the 2012 Fasig-Tipton Saratoga yearling sale. She won the G3 Princess Stakes at Delta Downs at two – on dirt – but her 3-year-old campaign was a disappointment as she finished eighth in three of her four 2014 starts and was sent to Moonshadow after finishing eighth in the G1 Del Mar Oaks in August.
When she returned to the races in 2015, Tepin was a much different horse.
"Tepin had some little physical problems at three," Masterson said. "The right decision was made to lay her off for six months. It was an excellent move because you could see the potential in her, but we weren't getting it out of her because of little nagging things. Mark has such a great facility. Sending her there was the turning point in her career."
'Kentucky Derby on steroids'
Tepin, who has not raced on dirt since her first start at three, won her first three starts of 2015, capped by a victory in the G1 Just A Game at Belmont Park. After a pair of photo-finish losses at Saratoga, she won the G1 First Lady at Keeneland and then rolled to a decisive victory over males in the Breeders' Cup Mile.
This year, the immensely popular mare extended her winning streak to eight, including her momentous win in the Queen Anne.
"Winning at Ascot, it was like I was dreaming," Mark Casse said. "It so different than anything I had experienced. My wife called it the Kentucky Derby on steroids. We went over and beat them at their own game."
Tepin closed out this year with runner-up finishes in the First Lady and Breeders' Cup Mile to give her 13 wins in 23 career starts and earnings of more than $4.4 million, but her gallant performance at the World Championships, where she lost by a half-length despite a wide trip, only heightened Mark Casse's pride in the multiple G1 winner.
"Her race at this year's Breeders' Cup was maybe the best race of her life," he said. "It was an unbelievable tough race and it showed how great she is because she was totally out of her element being as far back as she was but she ran by some good horses. I was proud of her. Afterwards, I felt she didn't lose anything in defeat. So many people had written her off but I think she proved she's a long way from being gone.
Dubai challenge
"She is a true testament to our program. I could have been the leading trainer in Canada for 20 years and I don't think I'd get the same recognition I've gotten from her."
Her connections were so pleased with her effort at Santa Anita in the Breeders' Cup that she is expected to remaining in training at six. Mark Casse said the G3 $150,000 Lambholm South Endeavour at Tampa Bay Downs on Feb. 11 will be her prep for a major challenge in the $6 million Dubai Turf on March 25.
"She's a once-in-a-lifetime horse," Masterson said of his mare, who is one of four nominees, along with California Chrome, Beholder and Songbird, for the Secretariat Vox Populi Award. "Mark will tell you she's best horse he's ever trained. [Jockey] Julien [Leparoux] will tell you she's the best horse he's ridden. You don't get horses like that. You just say thank you when it happens."
While Tepin was a denied a return trip to the winner's circle at the 2016 Breeders' Cup, the Casse family celebrated another victory at the World Championships when John C. Oxley's Classic Empire won the $2 million Breeders' Cup Sentient Jet Juvenile and made Casse a major player on the Road the Kentucky Derby for the first time.
A winner by a neck under Leparoux over the since-retired Not This Time in the BC Juvenile, the dual G1 winner's lone loss in five career starts came in the Hopeful Stakes at Saratoga, where he wheeled at the start, tossing jockey Irad Ortiz Jr. from the saddle.
Pressure of training a Derby favorite
"I've never had a horse at this point in time that had the ability of Classic Empire. He makes you hold your breath every day," Mark Casse said. "He's got a long way to go to accomplish what Tepin has accomplished, but he has so much ability. You only need to look at his Breeders' Cup race. I was told he had the best Thoro-Graph number in the Juvenile since Street Sense (2006). He's an extremely talented horse and we just have to try to keep him healthy."
As much as Casse had won a Breeders' Cup race for 2-year-olds in 2015, that was on turf with Catch A Glimpse in the BC Juvenile Fillies Turf. Producing a top-shelf Triple Crown contender has been a much different story.
Though he has saddled Kentucky Derby starters in past years, none had anything close to the credentials of Classic Empire as they went off at odds of 22-1, 52-1 and 58-1 and Danzig Moon's fifth in 2015 was the best finish of the trio. Casse's three Preakness starters have finished no better than sixth, while he has yet to start a horse in the Belmont Stakes.
Now, he has to face the pressure of training the horse who was the 6-1 favorite among the 23 individual betting entries in last weekend's opening round of Kentucky Derby future wagering (10-1 is generally available with the handful of British bookmakers advertising a market on the race).
"It's exciting for us because 2-year-old racing is where the future stars come from," Mark Casse said.
Better prepared than ever
While Tepin's best races have been on turf, Norman Casse believes that her exploits in major races has the stable ready for the grind of the Triple Crown trail.
"To me, I mean this 100 percent, the Kentucky Derby is the one thing that drives me every day," he said. "I think Tepin is completely different than a Derby horse. She's a turfer, a miler, she's run in England, but I believe the experience with her taught us a lot about having a horse like Classic Empire.
"There's a lot of pressure having a horse like Tepin and there's pressure in trying to win big races you're supposed to win and that's going to be the same thing with Classic Empire. So, going into his 3-year-old year, I feel we're better prepared than we've ever been. We've had some highly regarded Derby-type horses but they didn't pan out. But that was then, this is now.
"The only thing that can top the feeling we had at Ascot would be if we won the Kentucky Derby. I am sure of that."
Mark Casse says Classic Empire's 3-year-old campaign will begin in Florida and that the colt's final Kentucky Derby prep will come in the Blue Grass Stakes at Keeneland, the same track where he won the G1 Breeders' Futurity in October. (The Blue Grass has just been downgraded from G1 to G2.)
"We'll look at Blue Grass and go backwards and decide how we want to get there. Maybe two races before that, one in February, one in March," he said.
That first weekend in May could be huge in more ways than one as Casse also trains Breeders' Cup Juvenile Fillies runner-up Valadorna, a Stonestreet Stables 2-year-old filly who is being pointed to the Kentucky Oaks.
Painful reminder
Add in La Coronel, a 2-year-old filly who won the G3 Jessamine for Oxley, and it's understandable why a move to buy less yet higher-priced horses at yearling sales has put Casse atop the TRC Global Rankings for North American trainers of 2-year-olds with 973 points. The only trainer in the world with more points is Ireland's Aidan O'Brien with 1,038.
"We have a lot of nice young horses," Mark Casse said. "In every category we're close to the top and we still have four or five 2-year-olds who haven't started yet and have some potential."
If fate is kind and Casse does indeed make it to either the Derby or Oaks with a major contender, it promises to be a highly emotional day, filled with thoughts of the person who will not be there to share it with him.
More than eight months after his father's death, you can still hear the emotion in his voice as he talks about how much he meant to him.
As recently as after the Breeders' Cup, Casse was served another painful reminder of losing his father.
"My dad and I would talk four or five times a week, but whenever there was a big weekend or when I was traveling, I would call him and go over the races," Mark Casse said. "This time I flew back from California after the Breeders' Cup and, when I couldn't talk to him about the races and see what he thought, it really hit me hard. That used to be our time to talk.
"He was my mentor. I idolized him. He's the one that taught me everything about horse racing. He was always the first one to take me places and I did so many things with him. Every time I go somewhere it usually brings back a memory of my dad.
Horse racing resented
"I thought the greatest gift I could give my dad was naming my first son after him, and that's why he's Norman, which is not a very common name these days. I'm sure there's some days he wasn't happy I named him that, but that was the love and the respect I had for my dad. That's why I did it."
As tight as the family has been, Norman knows more than ever his father needs the support of his seven children.
"Because we work together, I probably have filled a void for him," Norman Casse said. "I know how he misses talking to his dad after big races. I feel we now talk more about personal things. He's putting a better effort into being a part of our lives. He came to Kentucky for Thanksgiving. He knows he needs to be around a little more often and I appreciate that."
That relationship between father and son has always been rock solid, even though Mark and Norman's mother were divorced when Norman was young. Yet there was a time when Norman loathed the thought of a day at the racetrack
"Basically, when I was little, Dad moved away and, when I would visit Dad, we'd go to the races. So here's an occupation that took me away from my father and, when I'd get to see him, I had to go to the races. I resented horse racing a lot," Norman said. "But I grew up in Kentucky, where horse racing is revered, and I fell in love with it.
"I was at the Kentucky Derby when Smarty Jones won [in 2004] and it blew up from there. My passion was not derived from something Dad forced me to do, and that's what has allowed me to succeed. I'm doing it because I want to do it."
Now, the circle of life in the Casse family is continuing, with Mark and Norman working together.
Unfinished business
"They say history repeats itself. Dad was like me," Norman said. "His dad spent a lot of time away. Grandpa told a story that he was gone for a while and, when he got back, dad was a legitimate horse trainer. He said, "What happened to Mark?' I imagine Dad, when he thinks about how far I've come in 10 years, feels the same way."
Mark Casse agreed that the satisfaction he derives from the work Norman has done handling horses such as Tepin and Classic Empire is much akin to the pride his father took in his accomplishments.
"There's much more satisfaction when you accomplish some great things with your son," Mark said. "It's special when your family is involved. All of my children enjoy racing, but no one is as involved as Norman.
"He's done a great job, and it makes me proud when I hear people say what a great job he does. (Trainer) Bob Baffert came up to me at the Breeders' Cup and said, 'Boy, your son does a great job. I'm going to steal him from you.' I told him, 'You can try but you better do it quickly.'
"It's probably not too far off in the future that Norman will go off on his own. It's getting to that point in time."
Indeed Norman knows the time is coming for him to go out on his own and open a stable, but he says there's still some unfinished business with the stable's stars that will keep him alongside his father for a while.
"It's a question of finding the most appropriate time," Norman said. "It's been great working for Dad, but I have my own goals. There's certain things I want to do and achieve and people who want to work with me. It's going to happen. But at this point I owe it to Mr. Masterson and Mr. Oxley to stay here until Tepin and Classic Empire finish their careers, considering how involved I am with them. I want to be there for those two great horses."
Just as he's always been there for his father, especially during a tumultuous year such as 2016 that has brought Mark Casse so much joy and success and yet heartache as well.