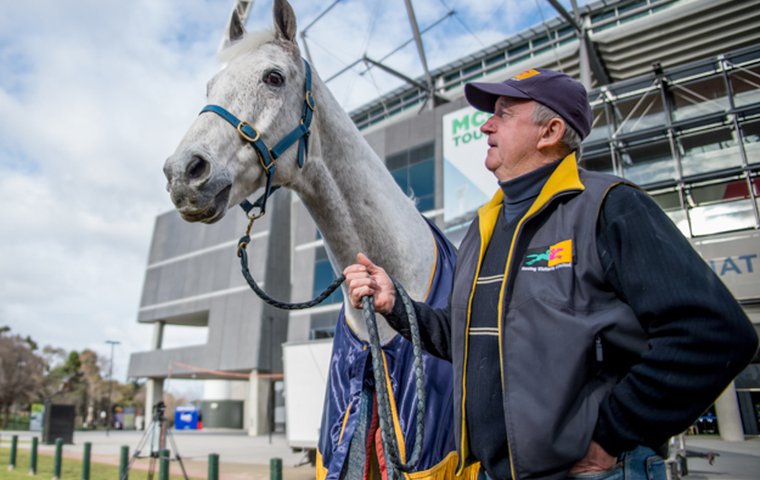 Subzero is one of Australia's most famous Thoroughbreds. He became a national icon after winning the Melbourne Cup in 1992, but it is his career as a racing ambassador that has earned him Hall Of Fame recognition in Australia. Kristen Manning met the famous grey gelding.

He has hobnobbed with the rich, the famous, and the powerful. He has performed with actor Hugh Jackman and met prime ministers, sheikhs and pop star Kylie Minogue. He has helped raise more than AUD$10 million for charity, and has made a difference in the lives of thousands, consoling the ill, befriending the lonely, and educating school children. He is invited to religious ceremonies, schools, hospitals, weddings, and funerals. He is a Hall Of Fame member and the subject of a song, but he enjoys simple pleasures such as the company of mates, a bit of country and western music, a swim. He has achieved and experienced more in 26 years than most do in a lifetime. And he isn't even human. He is Subzero, 16 hands high and 500 kilograms. Grey.
"A special sort of horse," said his owner, respected clerk of the course Graham Salisbury. Salisbury, along with fellow clerks at Flemington, Caulfield and other Victorian metropolitan tracks, use grey horses, often retired Thoroughbreds, as riding mounts, and he scouts them from race fields. He saw something special in Subzero from the very first day he saw the grey back in early 1990. A graduate of Magic Millions on the Gold Coast, Subzero, a son of Kala Dancer, had been purchased by trainer Lee Freedman with the Golden Slipper in mind. His half-sister, Confederate Lady, had won a G3 Blue Diamond Prelude, and he hailed from the family of Slipper hero Marscay.
Subzero made it to the track at age 2, winning a couple of races at Flemington toward the end of the season. But by then, he'd already been earmarked by Salisbury as a future star. That is not to say Salisbury predicted Subzero's stellar racing career, but he did see something special in the young thoroughbred that he might be able to use in a life after racing.
"Lee would use my stables to house his yearling purchases while they were waiting to be broken in," he recalled. "As soon as I saw Subzero, I knew I wanted him. I looked at him and thought, 'Gee, he's got an intelligent head.' And he was well put together. There was just so much to like about him - a nice deep shoulder, plenty of rein, and an enormous stride."
At track work, Salisbury approached trainer Lee Freedman. "Keep me in mind when that grey horse has retired." Salisbury recalled Lee Freedman laughing while he said, "Let me at least break him in first."
Fast-forward a couple of years and Subzero was in G1 form, recording easy victories in the South Australian Derby and the Adelaide Cup, en route to the grand prize in 1992 – the Melbourne Cup. Though he had been purchased with a sprinting career on the cards, he had proved a first-class stayer instead. As he kicked clear 250 metres from home in the 1992 Cup, the crowd roared as only Melbourne Cup crowds can, and Salisbury thought his chances of getting Subzero as a clerk pony were finished. The horse was famous now, a national star.
But a couple of years later, just a day after Subzero's racetrack finale in the 1994 Brisbane Cup, Lee Freedman was on the phone, asking Salisbury if he was still interested. He was.
Subzero made his way to the clerk's stables a veritable superstar. The gelding had won almost AUD$2 million in prize money, and was one of very few grey horses to win a Melbourne Cup, earning him enormous public affection. But he was still very much a racehorse when he began his new duties as a clerk pony.
"He got off the float like boxer Jeff Fenech," Salisbury said of Subzero's arrival, "And I wondered if he was going to be the right horse for the job. At his first meeting as a clerk's horse he stood quietly, but when the barriers opened and the field went, so did he."
Subzero served as a Racing Victoria clerk pony from 1994 until June 2008, 12 years of ponying young racehorses on and off the course, almost always in the hands of Salisbury. It was, and is, a job that required patience and obedience, and Salisbury noticed how Subzero, or "Subbie," became a wildly popular clerk pony during his years in the role. Children and adults, he noted, would hang over the rail to pat the horse, calling out his name and snapping pictures. Salisbury believed there was yet another career for Subzero in the making, and as arthritis began to rule the grey horse out of racecourse work, he took up ambassador duties with Racing Victoria.
The famous grey became the ambassador and mascot for the Australian Racing Museum and Hall of Fame, appearing at luncheons, award ceremonies, and civic receptions. But his most celebrated association is with Racing Victoria's outreach education agenda, the Community Education in Schools Programs. In this, Subzero visits both primary and secondary schools, offering children the opportunity to touch and smell him, and learn a little about the racing industry as both a pastime and, for older children, a career. It is a role that has carried him thousands of miles since 2008, to more than 300 schools, and made him ridiculously well known.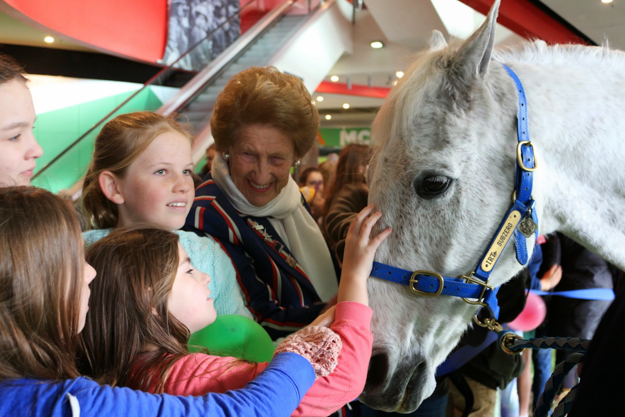 "Subzero is one of racing's most recognisable faces," said Greg Carpenter, Racing Victoria's general manager of racing. In September 2013, Carpenter announced a new race series for grey Thoroughbreds – the "Subzero Challenge." Comprising three races in the Australian spring, the series is open only to grey horses, and has become a very popular addition to the annual calendar.
"Racing Victoria determined it an appropriate time to celebrate and acknowledge the incredible contribution of Subzero to Victorian racing," Carpenter said. "We thank him for his contribution and cement his place for perpetuity with the naming of the Subzero Challenge."
There are few horses with as many notches in their belt as Subzero. The famous grey has a line of products to his name – cooler bags, hats, t-shirts, and drink bottles. In 2000, he was flown to Dubai as a special guest for Dubai World Cup week. Salisbury has turned down offer after offer for the horse, and while Subzero is no longer ridden, he is still on the ambassador trail, and still keeping fit.
"He is so athletic and a very good swimmer," Salisbury said. "I think if he'd had two legs, he'd be an Olympic Gold Medal winner instead of a Melbourne Cup winner. His lung capacity is probably a couple of kilos heavier than the normal horse."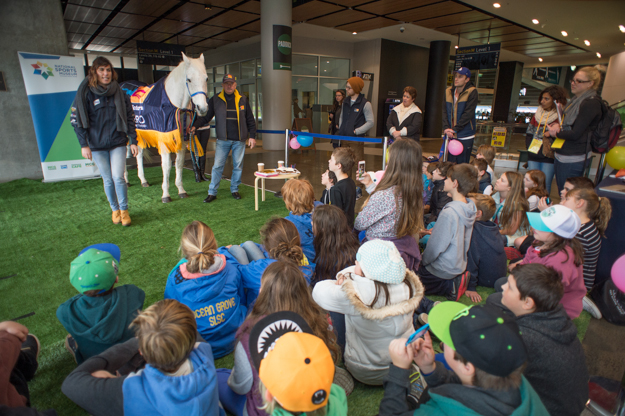 Subzero, now 26, lives at the Salisbury family's Heathcote property in rural central-Victoria. The 2008 Melbourne Cup runner-up and former Luca Cumani-trained Bauer is in a nearby paddock, with a few broodmares and rescued racehorses here and there. Salisbury's daughter, Nicole, said Subzero taught her to walk.
"I'd stand up and he'd gently nose me from behind to keep me up on my feet," she said. "He was a wonderful horse to grow up with."
In March, he was presented with the Chairman's Award at the Australian Hall Of Fame induction ceremony for his long years of service as a racing ambassador. Subzero accepted it, "in person," at the venue in Canberra. It is a unique achievement for a racehorse, and Salisbury is very proud.
"I always said that I wanted to make him the people's horse, and that is exactly what he is."