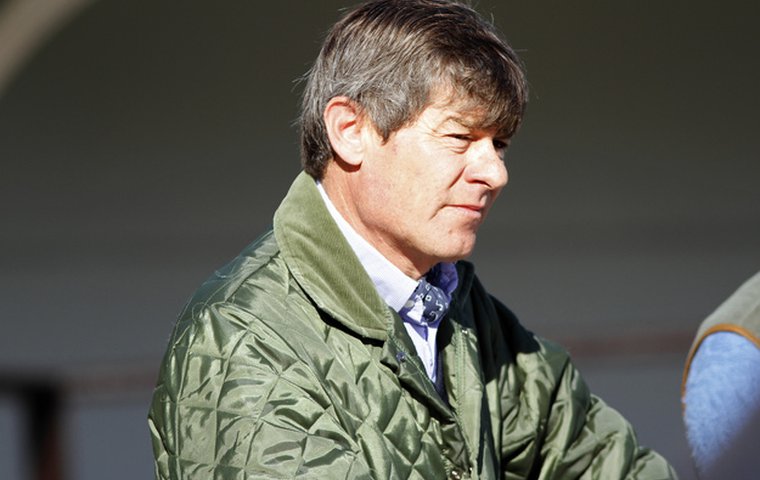 As Godolphin's racing manager, Simon Crisford was one of the most prominent figures in world racing for more than 20 years. Crisford left the role in 2014, but what he learned at Sheikh Mohammed's right-hand has stood him in tremendously good stead in his new life as a trainer, as Howard Wright found out.

Second-album syndrome terrifies most new recording artists. In similar fashion, second-season success can acutely concern racehorse trainers, but not Simon Crisford. He already acknowledges that, in one respect at least, 2016 is almost certain to be different from his first term with a licence, simply because of the natural cycle of running a racing stable.
Twenty-two winners from 85 runners gave Crisford a strike rate of 26 per cent in his opening season, one of the best in Britain. Matching that this year will be extremely difficult, he admits.
"I didn't have too many runners in my first season, and a lot of my owners were extremely patient and let me run the horses when I wanted to run them, which meant I only turned up when I felt they had a realistic chance of winning," he explains.
A different approach needed this year
"It would be nice always to be able to do that, but with a bigger stable this year it's not necessarily going to be possible. I'll have to approach things slightly differently.
"Last year, the older horses were hand-picked to deliver a specific purpose. This year I'm relying on those I had last year as 2-year-olds, who haven't got proven form, or weren't identified as being well handicapped. That's why the strike rate will probably come down.
"Naturally we'll have more runners and will be squeezing everything into the period before the autumn sales, which means you have to run on different types of ground, different distances, and that may not always suit every horse, although you wouldn't necessarily know that beforehand.
"My ambition is to upgrade the quality, within the set number of boxes available to me. I'll try as best as I can to maintain a high strike rate, because it's important for the owners, but I'm not going to let it be my master.
"I've got to do right by my clients. After all, they are the people who have supported me. But with more horses in the yard, who will have to run more times, last year's approach becomes more difficult. Not all my owners are going to want horses in and out of the yard; they might want them to stay for longer, even if their ability is at the lower end of the scale, where they essentially get fun out of their horses.
"The key things are maintaining standards, upgrading quality and above everything else enjoying it. I absolutely love this job. It's a tremendous way of life."
A wealth of experience in stables
Crisford's opportunity to train came later than is usual. Indeed, having gone through the rigours of the trainer's course and been handed his first licence at the age of 52, he points out: "I think I might even have been the oldest first-season trainer, maybe not in the history of horseracing but certainly in my memory."
Yet his experience in stables, broken only by a stint in journalism as the Racing Post's first Newmarket correspondent, was enormous.
"When I left Godolphin in February 2014, I started doing consultancy work for Sheikh Mohammed, advising on all things relating to horse racing worldwide, and I'm still doing that. There was a lot of work involved, but I actually felt there was room for me to do more, so towards the end of spring 2014 I decided I would start training.
"I'd been assistant to John Dunlop and Sir Mark Prescott – albeit 25 years earlier – and in between had worked with more than 100 trainers worldwide in a management capacity, from the best in America and Australia to many in Europe, as well as with Saeed bin Suroor, both in England and Dubai, and he remains a very dear friend.
Training: the reason I went into racing in the first place
"I'd been observing them, dealing with them on a day-to-day basis, so I actually felt that I was in a good place to train on my own. I came into racing wanting to be a trainer and it's only because my career went in a different trajectory that the opportunity never allowed it to happen. Until suddenly I was in a position to make it happen, and I knew that, if I didn't do it then, I'd never do it. Taking a year's sabbatical would have been time wasted.
"Also, my son Edward, who's now 25, is very keen and it was a great opportunity to work together as a family business. He'd been with Eoin Harty in California for a short time, had done the Irish National Stud course and had been with John Gosden for four years, so he was ready for a full-time assistant's job. Where better to go than with me?
"He'll eventually take over. There's no timescale, but he doesn't want to be waiting until he's 35, or 50. I think when I get to 60, I'll be doing something else."
Valuable help from Clive Brittain
That's for the future. The present in 2014 was occupied in finding the right training premises.
"Newmarket was where I wanted to be based," Crisford says. "I never thought of going anywhere else, because as I was just setting up it was the right place to be.
"I was very fortunate that Clive Brittain agreed to rent me some boxes. He'd never done that before and probably never had any intention of doing it, but I'd known him for a long time, more than 25 years, and he was extremely helpful. He was beginning to wind down, and he allowed me the opportunity to start in his bottom yard, which we've called Calne Stables.
"I've increased the capacity to 75 boxes, with probably a few more to add. I know everyone says that training is a numbers game, which to some extent it is, but from my point of view and the way I'm positioned, 75-85 horses is all I want. Eventually I may have to move, because the yard might have to be sold, but for the moment it's working well."
Recruiting the right people was key
Even before Crisford contemplated filling the boxes, he set about putting staff and systems in place.
"The most important aspect from the outset was to get the right people in place," he says. "Having worked with so many trainers worldwide over the last 25 years, the most important thing I learned from observing them was that, if I had a structure in place, with the correct policies, procedures and strategies, with the right people pressing the right buttons, I had half a chance.
"My recruiting policy for people consumed all my time. I didn't even think about the horses. I just wanted to get the right people in place, and I think I've done that. There's experience and experience. I was looking for people with experience who had the right touch, and I've got top quality people throughout the business.
"When I was doing my trainer's course at the British Racing School, the chief executive, Rory MacDonald, told the group that he was due to retire and if anyone would like any help, they should give him a call. I did, and we worked quite closely on how we were going to pull it together. He saw the seeds being sown but, sadly, didn't live to see them grow into how we are today.
"All the big trainers I've worked with, such as John Gosden, Mark Johnston and Andre Fabre in particular, have a system in place that is exemplary. Of course, they have big stables and need structures, but, for any young trainer setting out, I'd say that the single most important thing is to get the proper systems in place first. Then, hopefully, you can attract the right owners, after which you have to keep them, and the horses come thereafter."
Owner-breeders: why I love training for them
Just as Crisford could call on a mountain of observation to fashion his new career as a trainer, so his experience in management with Darley and Godolphin proved invaluable in attracting owners.
"Every day I realise how fortunate, and grateful, I am that over the years I built up a big contact base," he says, "and when I let it be known I was starting to train, a lot of people, particularly those from the Middle East whom I'd known really well, offered to support me. That gave me a sense of encouragement and purpose to get going.
"I was also fortunate that some European-based owner-breeders agreed to come along. I love training for owner-breeders because they absolutely understand all the horses they own; they are very close to them and they know the game inside out. Training for owner-breeders gives you an opportunity to develop horses as and when they need that development, as opposed to possibly having to rush them to get on a racecourse.
"Everybody tries to do the best they can with every horse, but with owner-breeders there's probably a stronger bond.
"For my first season, the only aim I had in mind was that, at the end of the year, I could say to myself that everyone in our team had put 100 percent effort into trying to produce the best possible results for the clients, and that every horse had been given the best possible opportunity to show its best.
Gang Warfare and First Selection
"Of course, there's an element of luck involved. We got lucky with Gang Warfare, whom we bought for 22,000gns and he won four in a row, and First Selection was spotted by his owner and has won four times, including our first Group race in the Solario Stakes, as well as finishing second in the French 2000 Guineas.
"I bought a handful of horses in training for the second season, but not as many as in the first year, when I couldn't wait for the 2-year-olds. That's the difference this year. The 2-year-olds who have turned three form the bedrock of the stable, whereas this year's 2-year-olds are some way behind at this stage."
With the stable's 2016 list of owner-breeders reinforced by such as Normandie Stud, Pauline Good, Bill Gredley, Lane Racing and Lady O'Reilly, and other names including Sir Alex Ferguson, Sheikh Mohammed Obaid and a number of syndicates on the roster, Crisford is keen to stress his role as a public trainer.
Sheikh Mohammed: the biggest influence in my life
However, with several of Sheikh Mohammed's associates in place and Sheikh Hamdan having significantly increased numbers among the stable's band of 2-year-olds through several high-value purchases, he is equally anxious to express his gratitude to the Maktoum family, giving the lie to any suggestion that he left Godolphin on other than the best of terms in the shake-up following the Mahmood Al Zarooni scandal.
"The key is that Sheikh Mohammed has been an amazing support, and his brother Sheikh Hamdan has also been tremendous," Crisford says. "Without the initial support of the Maktoums, and their continued support, it would have been a struggle.
"No-one is more passionate or knowledgeable, or understands pedigrees better, than Sheikh Hamdan. As for Sheikh Mohammed, he has been the biggest influence on my life. I learned more about horses from him than anyone I have ever met. He gave me the time to teach me and explain things, and he always takes a great interest in what we're doing.
"If things had turned out differently, I'd still be with Godolphin, but what happened pushed me into something I've always wanted to do, what I set out to do at the very beginning, but I'm much better placed now to do the job properly.
"Still, it's one brick at a time. Last season was about laying the foundations; this season it's about building the platform for the future. We're trying to build the next Burj Khalifa, and so far we're on level one!"