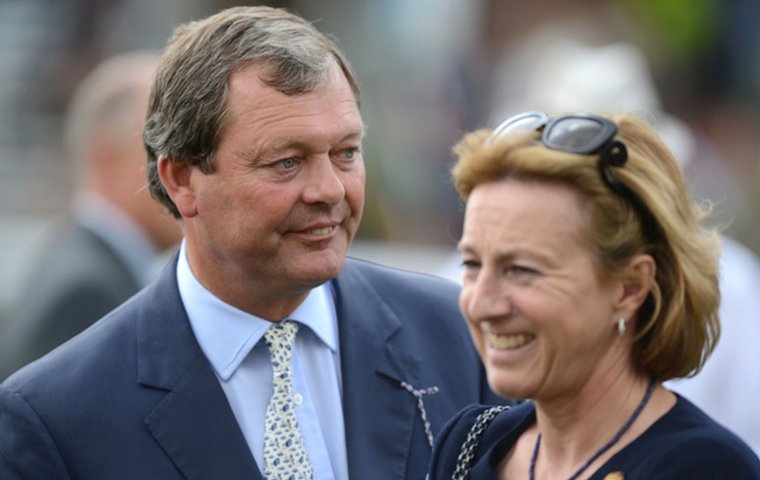 The season has been punctuated by a spate of personal bests. By number of winners, by percentage of winners to runners, and by prize-money earned, William Haggas has never known anything like it.

Runners from Haggas' Newmarket stable in Britain broke through domestic prize-money earnings of £2 million ($3.2 million) last month. And Mukhadram earned more than half as much again when he chased home African Story in the Emirates Dubai World Cup in March.
Those gains are likely to be supplemented at Britain's "Weekend of Champions" on Friday and Saturday (Oct. 17-18), when Dubai Future Champions Day unfolds at Newmarket ahead of Qipco British Champions Day at Ascot. Yet suggest that it has been a banner year and Haggas, 54, raises a grumble. He feels he should be more strongly represented at the season's last hurrah.
"Yes, we've done well," he acknowledged. "The winners have been going in at a good rate, but there is always room to improve."
Some describe Haggas' ascent of the training ranks as his second coming. But the first never happened after he won the 1996 Epsom Derby with Shaamit. What seemed at the time as a career-changer led him straight to the gates of despair.
"The next year we only had 12 winners," Haggas reflected. "It was a horrific time."
The project looks very different now. Haggas' patrons read like a Who's Who of the turf – among them the Queen of England, for whom he trained his first winner when Purple Heather won at Windsor in May.
Perhaps the pivotal moment arose from that fallow, post-Derby season.
"For the first 10 years, I was training it was all about me, me, me," said Haggas, who took out his licence in 1987. "I was struggling to let [his wife] Maureen in. Once I relented, we went from strength to strength."
As befits a daughter of Lester Piggott, Maureen brought plenty to the table. It was just a question of embracing diverse talents.
"Some people are better at certain things than others," Haggas reflected. "Maureen is magnificent in shaping the way the stable operation runs. We now feel we have a great structure and the right people backing it up, but it took time."
The stats back him up. His prize money haul is double the sum he accrued in 2008, when he breached the domestic £1-million barrier for the first time. And that, in itself, was twice as much as his Somerville Lodge stables routinely earned in the early years of that decade.
In 2014, Haggas has again saddled more than 100 winners, a landmark he reached for the first time last year. And, within an intensely competitive racing environment, one in every four runners dispatched from his Newmarket base has returned with the spoils. No other British trainer comes close.
The highlight of Haggas' season to date was the triumph posted by Sheikh Hamdan Al-Maktoum's Mukhadram in the G1 Coral-Eclipse Stakes, one of Britain's showcase all-aged races. "The championship races are the most important, so that gave us all a big lift," he said.
"But there's an immense amount of satisfaction in winning stakes races with homebred fillies belonging to my owner-breeders. They have their own programmes and it's good to be able to send successful fillies back to their farms."
"We have also won some valuable handicaps," he continued. "I can't dine out too much on those, but the bizarre nature of racing in Britain is that some handicaps are more valuable than Group races. Many owners here have horses in training for pleasure, but I feel it is my duty to try and balance their books as best I can."
The legacy of his efforts has seen the quality of horse he trains rise appreciably of late. Indeed, Haggas landed his second British classic in 2011 when Dancing Rain, who cost 200,000 guineas ($336,000) as a yearling, won the Oaks ahead of her sale for 4 million guineas ($6.72 million) at public auction. Such deeds tend to get you noticed.
Several trainers in Britain have Middle Eastern owner-breeders on their books but they must earn the right to be entrusted with the best home produce.
"The bigger owner-breeders are beginning to have confidence in us," Haggas said. "It's a fact of life that the best horses go to the better trainers, and we are trying our utmost to get into that category."
That they are well on the way brings as much relief as it does joy. A man who started out with the backing of a wealthy father took two decades to take his place among the Newmarket elite. For Haggas, the route matters not now that he has finally arrived.
"When I started, I think I was perceived as someone for whom everything was all right, with a silver-spoon upbringing and parents with a lot of money," he said. "I don't think – or at least, I sincerely hope – they don't think that now."