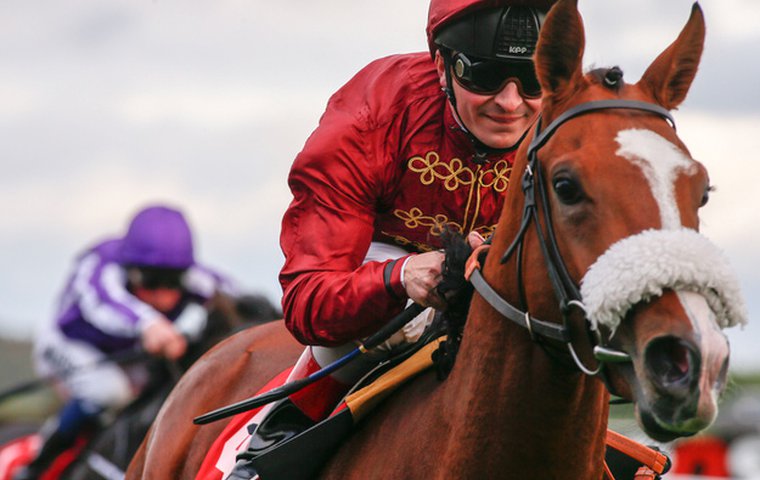 The standing joke is that Andrea Atzeni looks like Mr Bean. You can just, but only just, see what the wannabe wits mean about a facial similarity. But this description of the newest sensation in the European riding ranks is such a caricature it's insulting to the composed but often smiling 23-year-old Sardinian - and ridiculously complimentary to the wildly gurning comic creation that is Rowan Atkinson's alter ego. They both have dark hair and small features. Any other comparison borders on the libellous.

If rapid success corrupts and makes men arrogant, Atzeni is still too young to have become aware of it. There is no hint of conceit about him, no hint of impatience, even when accosted for an impromptu interview.
Unlike so many world-famous or soon-to-be world-famous jockeys, he had no background in racing whatsoever when his physique was talent-spotted while he was still on his father's farm on the Italian island.
"Small but perfectly formed," as the British satirical magazine Private Eye used to say about people it wanted to irritate, Atzeni looked as though he might be a natural jockey, and that's what he's proved to be. Fans already speak of his gymnast's balance and his ball player's eye for an opportunity. Most important for his chosen profession is the fact that he will never, or at least not for a very long time, have to starve and therefore weaken himself, either in body or mind.
His build decided his destiny, but so did his rural opportunities.
"I started riding when I was about six years old," Atzeni said. "It was a friend's horse. Then, when I was about 10 years old, my dad bought me one of my own. I was still very young when I started riding racehorses - about 15 years old.
"It had been my decision all along. I always wanted to be a jockey. I was working for Marco Botti's father [the leading Italian trainer Alduino] as a stable hand. Marco helped me very much and, by the time I was 17, I was riding in races. Then he asked me to come to England with him [Marco Botti is a successful trainer there] and I've been at Newmarket since then."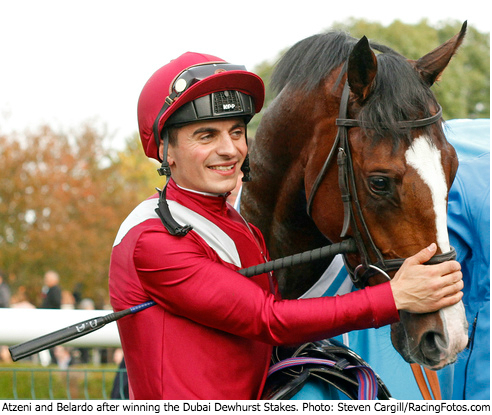 In jockeyship even more than in most fields, money talks. In 2010, his first full season in British racing, Atzeni netted more than £1 million of Britain's notoriously meagre prize money.
Steady improvement followed, even - most unusually - after he lost his apprentice's allowance. He had run up a series of big-race victories by the end of 2014, the year in which he won his first classic (the English St Leger on the Roger Varian-trained Kingston Hill).
His prize money haul last year more than tripled his first year's earnings, and he'd so impressed the racing world in general with his poise and skill that he'd been invited to replace former British champion Jamie Spencer as first jockey to Sheikh Fahad's fabulously wealthy Qatar Racing operation.
"My first rides for Sheikh Fahad will be in Dubai at the Carnival," Atzeni said. "He is a great man to work for: very young but very knowledgable. He loves his racing and really understands it. I'd say he's got everything needed to become a champion owner and I'd say riding for him will be one of the best jobs in racing in a few years time, if not sooner than that."
Having arrived at what is already beginning to look a lot like one of the top jobs in world race-riding, what was he doing then a month before his contract was due to start in January taking on a short-term contract in Hong Kong, a jurisdiction famous for a pyramidical pecking order among jockeys that newcomers, however promising they may be, usually find a glass mountain to climb.
"Hoping to improve," he said. "It's difficult there. I don't mean getting rides. I got plenty of them, but getting the good rides. That's hard."
Jockeys are not allowed agents in Hong Kong, nor are friends or well-wishers permitted to act as agents on their behalf. The purpose of the prohibition is to keep all possible avenues of corruption closed. The result is that only those jockeys who are good at schmoozing owners and trainers while establishing a local reputation for brilliance in the saddle - never mind the reputations they arrive with - get invited to ride the horses with the best chances.
The process usually takes a year or two at least. Maybe the young Sardinian has not yet acquired the schmoozing knack because, in the two months he was in the territory, he rode just three winners from 79 rides: not at all the sort of return he's grown used to in Britain, where last year he rode 125 from 704.
His Hong Kong successes, however, have returned a winning 10 percent of more than HK$4 million. But to think it was only the prospect of financial reward that drew him to Hong Kong is to miss the point.
"Hong Kong was great," he said. "A great experience. Racing there is completely different from what I'd got used to in England. It's not just that it's very competitive. It's that they ride so tight together, you have to be so sharp. It sharpens you up just by riding there. You even have to be sharper when you're not riding because you have to be sharp at looking at the form to get the rides you want."
"I do think that, when you leave there, you're a better rider. There, it's all about position and speed. That's what makes it very different from England. You've got to be so sharp in everything you do."
Clearly he's not a man who believes in resting on laurels or awarding himself periods of self-indulgence after achievement.
How does he see the future now? What are the long-term ambitions. Would he like to be champion jockey in Britain one day?
"To be a champion jockey in Britain, you've got to be attached to one of the big stables with plenty of horses, something on the level of Richard Hannon or somebody. Of course I'd love to be champion jockey one day, but at the moment, I want to do the best I can on the best horses."
That's almost exactly how Ryan Moore, now "officially" the World's Best Jockey but then preparing to relinquish the British title he'd already won as he opted for quality over quantity, described his thinking in an interview six years ago when he was about the same age Atzeni is now. So the hottest young property in European race-riding brought himself to what is invariably a tough place for an incomer rather than take a break before the next big challenge that began on Jan. 1.
Atzeni doesn't spend a lot of time looking back on what he's done - except when looking back whets his appetite for what's to come - and says he's concentrating on his Qatar Racing commitments in Dubai.
The horses that gave him some of his best triumphs in 2014 include Kingston Hill, the 4-year-old he looks forward to partnering whenever there's no clash with his main job ("he's still my ride when I'm available"), John Smith's Cup winner Farraaj, who after a third place in the Cox Plate may yet develop into a top-class horse, and Elm Park.
Asked to nominate one standout moment in the year just past it would be riding the last-named to victory in the G1 Racing Post Trophy, a race that's thrown up champions in the past.
"I'd already been told I'd got the job, but riding that one home for Sheikh Fahad felt very good. Obviously I'm looking forward to being on him again. He is very classy, and certainly good enough to win at least one G1 as a 3-year-old. Whether it's the Guineas or even the Derby, I don't know, but he's definitely that good."
No flashy predictions. Maturity leavened with eagerness; solid good sense with an ability to set a group of his fellow Italians laughing at a remark he makes over breakfast. As un-Bean-like as you could imagine, it's a character that bodes well for his career.