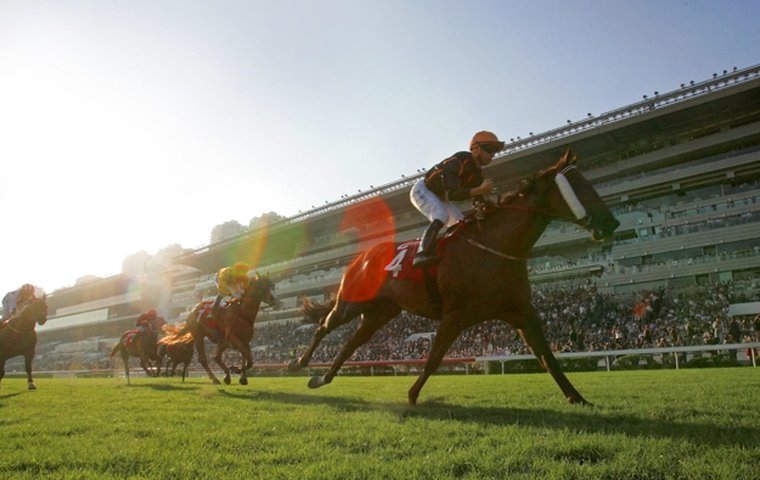 Able Friend, John Moore, João Moreira.

Great horses make great trainers. It's a cliché because it's true. So is the converse however -- and you could have a chicken and egg argument about which leads most strongly to which until the cows come home or the lights go off in the stand.

Able Friend is the best horse in Hong Kong. More than that, he is officially the best horse ever trained in Hong Kong. More than that, he is officially -- along with the currently sidelined Shared Belief -- the highest rated racehorse in the world. Anybody who doesn't know that he's running at Royal Ascot on Tuesday hasn't been paying attention.
The same might be said of anyone who doesn't know he's trained by the doyen of Hong Kong trainers, John Moore, 65, or that he will be ridden by the man already being talked about as perhaps the best jockey in the world, João "Magic Man" Moreira.
Moore is on his way to his most successful ever season. Indeed the most successful season any Hong Kong trainer has ever enjoyed. The Australian is already Hong Kong's most successful trainer, the only one to have trained more than 1,000 winners in the territory, the winner altogether of more than HK$1.3 billion (around US$170 million), the winner of most prize money every year for the last decade, the breaker last season of the record for prize money won in a season, a record he has already broken this season.
In 2010, he performed a training feat unprecedented in the annals of racing when he sent out two horses, Viva Pataca and Able One (the latter in the same ownership as Able Friend), to win the G1 Audemars Piguet Queen Elizabeth II Cup and G1 Champions Mile respectively no less than three years after the same two had taken the same two races, and after both horses had had training problems in the interim.
Is Moore great because he gets the best horses? Or does he get the best horses because he's great? Does it really matter?
Moreira earned his flattering sobriquet in Singapore where he was not just champion jockey but utterly dominant for four seasons from 2010 to 2013, setting previously unimaginable records, which he then broke himself.
Transferring to the bigger time in Hong Kong, the 30-year-old Brazilian has this year already surpassed the previous record for winners ridden in a Hong Kong season, a feat he accomplished with almost two months of that season still to go.
He achieved a second career eight-timer when winning on all eight of his mounts at Kranji in September 2013. He has proved his extraordinary talent isn't localised with G1 victories in Australia and Dubai. There are various theories about just what he does that enables him to set such totals. For fans, "magic" seems to provide the best explanation.
Able Friend has won every race he's contested since a fourth-place finish in the 2014 Premier Bowl at Sha Tin (that following a runner-up effort to brilliant South African Variety Club -- now retired -- in the Champions Mile of 2014.) But it's not just the fact of his victories that startles, it's the manner of them. A hold-up horse, he blows straight past entire fields of top-class opponents without apparent effort.
In his last outing, the 2015 Champions Mile, he never really came off the bridle and still completed the last quarter in 21.35. Just to prove he hadn't beaten nothing, the third that day, Dan Excel, also trained by Moore, went on two weeks later to become the first horse ever to complete back-to-back victories in the SG$3 million (US$ 2.2 million) G1 Singapore Airlines International Cup.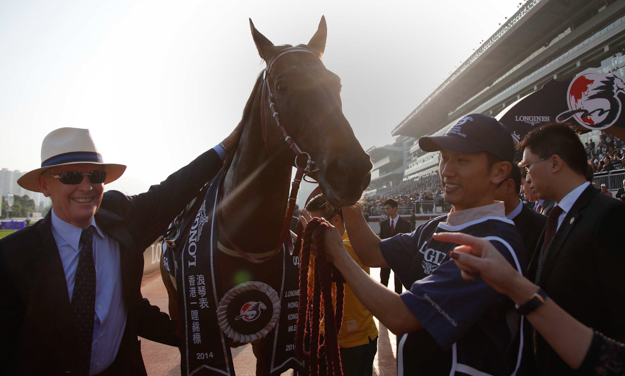 So the big chestnut (more than 1,300 pounds) is a phenomenon who is trained by a phenomenon and will be ridden by a phenomenon. Quod erat demonstrandum?
Not quite, because he faces a few unknowns on Tuesday, apart from the outstanding Solow, winner at this year's Dubai World Cup meeting of the race that used be called the Dubai Duty Free and is now the Dubai Turf, a horse who himself has never been beaten since he was dropped in trip to a mile or thereabouts.
Able Friend has never travelled overseas from Hong Kong, not even to the relatively close racing countries of Japan and Singapore. This time he has had to travel 8,000 miles. He has been on the go more or less since last November and -- never mind the problems of acclimatisation -- it will surely take all his trainer's skill to produce him fresh enough for the £375,000 G1 Queen Anne Stakes.
John Moore has never trained a winner at Royal Ascot. Indeed he'd never trained a winner outside Hong Kong, despite a few near misses, until he broke his duck two years ago with Military Attack in the Singapore Airlines International Cup at Kranji. Since then he's added three more, but his only Royal Ascot runner was Happy Zero in the Golden Jubilee Stakes five years ago, a fancied runner who was a spectacular flop.
Moreira has never ridden during the Royal Ascot meeting, although he did compete at the track in the Shergar Cup jockeys' challenge last year.
Perhaps even more significantly, Able Friend has never encountered a track with the undulations that will greet him on Ascot's straight mile.
Moreira, always polite and always helpful when questioned, sums up his feelings about this venture in one sentence: "I am tremendously excited about riding at Royal Ascot, and if he brings his A game I don't believe anything can beat him."
Moore is pretty much a journalist's dream, virtually dictating an article himself whenever he's asked for information: "He went to England about eight days before the race. He'd had his turf trial at Sha Tin and we were very pleased with it.
"I don't want to do too much work on hilly gallops with him. I think that was the mistake I made with my previous Royal Ascot runner, Happy Zero. We did a lot of work with him on the gallops at Andrew Balding's and I think he may have gone wrong behind as a result of trying to adjust to the undulations, although we didn't find that out until the race. This time with Able Friend I've looked for flatter gallops of the sort he's used to at home, and that's why he's staying with Michael Bell at Newmarket."
Moore is confident about the race itself. "I don't think he'll have too many problems," he said. "He's a very adaptable horse with a very good temperament and tremendous agility. I think he might even enjoy that downhill sweep from the gates to Windsor Castle and then the slight uphill to the finish.
"He'll fly back to Hong Kong about two weeks after the race. It won't be a UK campaign, just the one race, after which he can have a pick of green English grass and enjoy himself. Dr. Cornel Li [his owner] didn't take persuading [to send him]. He listens to me about his horses. Money isn't the problem for him. It's the dream."
The going on Tuesday is likely to be on the fast side of good, but Moore is philosophical about the prospect of an unexpected downpour softening the ground.
"I can't say how this horse would act if the ground came up soft as he never raced on it," he said. "The only indications we'd have on that are a look at the record of other progeny of his sire, Shamardal, and the fact that he's a very laid back horse.
"I believe he'd act on anything except deep ground, and I'm sure that if he brings his A game to Ascot, nothing will compete with him. He's an exceptional horse. I am extremely excited by the thought of the Queen Anne. Winning this race would really top off my career."
Asked to comment on what makes Able Fiend's rider exceptional, Moore is no less forthcoming. "His balance, his hands -- and he has a really good head, which gives him outstanding tactical ability. Is he a great jockey? Well you've got remember I've seen George Moore [his father] and Lester Piggott."
So he's up there with them?
"Well, his figures speak for themselves, don't they? He's up there in their league. And he's getting better."