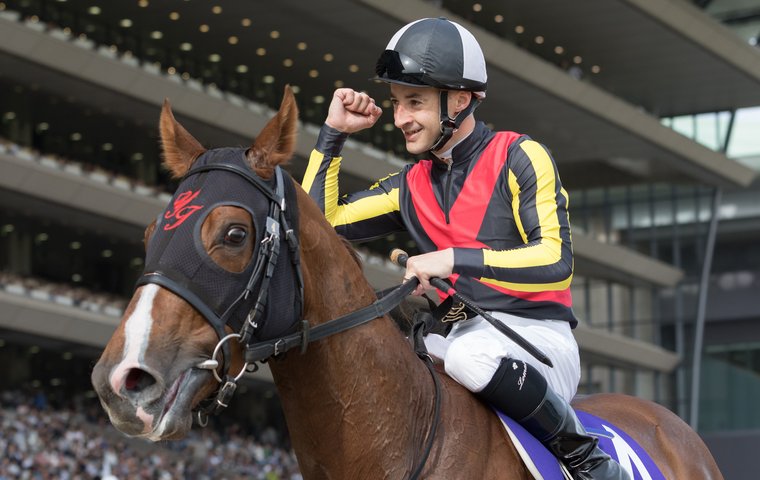 Leaving your home in France and moving your family halfway around the globe can be wrought with problems and concerns, yet for jockey Christophe Lemaire it was a relatively easy decision that has carried no regrets.

Ever since 2015, the 39-year-old Lemaire has found happiness riding year-round in Japan and achieved a level of success that has brought his career to new heights.
Just last year, he had 199 victories to lead all Japan Racing Association riders, claiming the title by 28 wins over Keita Tosaki.
Now, in 2018, he already has a second straight title signed, sealed and delivered with 201 wins through Dec. 2, giving him an insurmountable 57-win lead over the Italian Mirco Demuro.
His spectacular year has also included guiding the wonder filly Almond Eye to victory in last month's Grade 1 Japan Cup as well as a sweep of the Triple Crown for 3-year-old fillies.
'Nice way of life'
Whatever way anyone chooses to look at it, life in Japan has surely been good to Lemaire.
"There is a nice way of life in Japan," said the native of Gouvieux, France, who is world #4 in the latest TRC Global Rankings (tied with Demuro). "It's a safe life, with good food and nice people. The service in Japan is amazing and the respect the people have for each other is amazing. It's easy to see that horse racing is very big in Japan. So many people come to the races and these facilities and the quality of the horses and purse money is very good. For a jockey, it is one of the best places to ride. I'm quite happy here and I've enjoyed working here very much."
For Lemaire, the move to Japan was necessary and yet logical. He spent about 15 years riding in Japan during the winter, when major European tracks were on hiatus, and enjoyed a good measure of success in those trips, such as in 2005, when he rode Heart's Cry to an upset win over Deep Impact in the Arima Kinen or 2009 when he won the Japan Cup with two-time Japanese Horse of the Year Vodka.
So, when Lemaire's contract as the No. 1 rider for the Aga Khan was not renewed for 2014, it took little prodding for him to jump start his career his Japan. He passed his test for a Japanese jockey's license in 2014 and began riding there on a full-time basis the following year.
"In France, I had contracts with the biggest owners," Lemaire said, "but then my contract with the Aga Khan came to an end and I needed a new challenge, a new way of life, and new motivation."
Without question, he found all of that in Japan.
"When I came for the winter, I had some quiet times when it was difficult to win," he said. "But in the last few years, I feel proud over having such good results. It looks easy to do but it isn't. There are some very good jockeys here and you need to be at your best to win races."
Lemaire said there's a comfort level for him riding in Japan that allows him to put all of his talents to full use.
'Trainers trust the jockeys'
"Here in Japan, I feel free to ride my way and it works quite well," he said. "A big difference is that the trainers trust the jockeys. They let the jockeys ride the horse the way they want. In France, it's like making cuisine. You have to follow directions step-by-step."
Lemaire also points out that there's a different riding style in Japan as opposed to Europe because of course conditions.
"Here in Japan races are more based on speed," he said. "Horses can hold their speed all the way around. The track is faster and flat. In France we go very slow and then very fast."
While Lemaire beat a Triple Crown winner with Heart's Cry, he's now at the other end of the spectrum with Almond Eye, the fifth filly to capture Japan's Triple Crown for 3-year-old fillies.
Though Almond Eye has only raced in Japan, Lemaire is supremely confident that the daughter of Lord Kanaloa will be a force wherever she races, including either the Dubai Turf or Sheema Classic on the March 30 Dubai World Cup card, which is expected to be the stage for her next start.
"I've ridden some good horses in my career but she's already at the top of the list," Lemaire said. "She's the queen."
The Japan Cup, where Almond Eye defeated the JRA's best older males, illustrated all her brilliance as she showed an unusual amount of early speed – a change in tactics similar to the one he used on Heart's Cry to defeat Deep Impact - and then drew clear in the stretch to win the 38th edition of the $5.8 million stakes by 1¾ lengths in the blazing track-record time of 2:20.6 for 2,400 meters at Tokyo Racecourse.
"A monster or a machine," Lemaire said when asked what kind of horse was needed to win the Japan Cup in that manner. "It's very unusual to get such a strong animal. As I used to say to the Japanese press, she's nearly perfect. She can run in any position. She has a tremendous turn of foot. She has stamina. She has all of the abilities you can dream of. She has strengths that others cannot have. She's really, really special."
Almond Eye's previous race, the G1 Shuka Sho, showed a totally different yet equally impressive dimension. After traveling about five-wide on the final turn, Almond Eye sprinted past at least ten rivals with an amazing burst of speed in the stretch to win by 1½ lengths.
"With a good horse I couldn't have done that. I needed a fantastic horse," Lemaire said. "I knew it would be hard for her. She had to do all the work herself on a short stretch."
Thoughts on facing Enable
After the Japan Cup, trainer Sakae Kunieda said the Europe's premier race, the Prix de l'Arc de Triomphe, would be on Almond Eye's 2019 schedule, if the Silk Racing filly remains in top form. That raised the possibility of a meeting with another incredible distaff runner, two-time Arc winner Enable, and Lemaire was excited about the possibility of that international showdown.
"She will be competitive with Enable," Lemaire said about Almond Eye. "What she has done so far is very special."
While the Arc is a long way off, it does raise an intriguing possibility. Could a Frenchman return home to win the Arc for the first time aboard the first Japanese horse to win the Arc?
We'll have to see what fate has in store for us on that front, but for now, there's far more certainty about the way life's travels have treated Christophe Lemaire. Paris may be 6,000 miles from Tokyo, but he has surely found a new home in a place where they race in the shadow of Mt. Fuji.