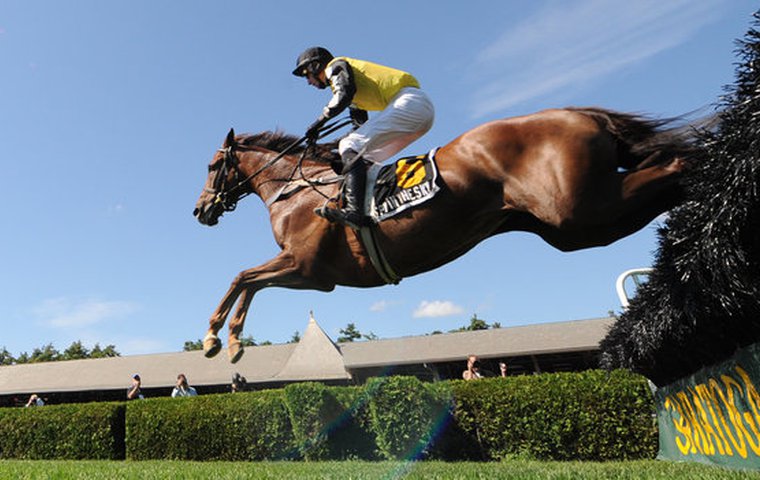 We've just finished our series on the extraordinary popularity of jump racing in Britain and Ireland as those nations gear up for next week's Cheltenham Festival, but what about the rest of the world? We take snapshots of the sport in the United States, France, Continental Europe, Japan, Australia, and New Zealand to see how jump racing is faring elsewhere.

United States: Tradition, atmosphere, and big crowds – even without betting
By Ashley Herriman
A niche sport in the United States, jump racing represents a diminutive and unique segment of the Thoroughbred industry. While betting is not a constant and jumpers don't attract the mainstream attention of their flat counterparts, crowds are still impressively high. The biggest days regularly attract 50,000 racegoers for events such as the Carolina and Colonial Cups, both run at Springdale in South Carolina, where wagering is not permitted.
"People enjoy seeing the horses race, the excitement of it, and they enjoy the camaraderie of the social aspects," said Hall of Fame trainer Jonathan Sheppard. "They get together for a nice afternoon in a pleasant countryside atmosphere, even with no betting."
As in Europe, the story of steeplechasing in the United States is closely linked with fox hunting, spreading from the Northeastern seaboard to the Carolinas and beyond. The arduous four-mile Maryland Hunt Cup was first run in 1894, and remains one of the great occasions of world jumping. The American version of the Grand National, first run in 1899 and for a period associated with the Breeders' Cup, carried a purse of $250,000 for the 2013 running at Far Hills, N.J.
Betting is limited to a half-dozen venues. Of the 31 meets in 2013, wagering was offered only at Saratoga, Belmont Park, Parx, and Colonial Downs, along with the Fair Hill Races in Maryland, and Virginia's Gold Cup races, which offered betting for the first time. Pari-mutuel handle on jump racing topped $4.4 million in 2013 – a sliver of the more than $10 billion annually wagered on U.S. Thoroughbred racing.
In 2012, U.S. steeplechasing distributed $4,628,950 in purses, most of which was derived from sponsorships and race meet revenues. Steeplechasing maintains strong ties to charity, and individual race meets are generally expected to provide as much in charitable donations as they pay out in purses. Since the late 1980s, annual jump racing attendance in the U.S. has fluctuated between 800,000 and 1 million.
The sport is organized and governed by the National Steeplechase Association, which oversees it in South Carolina, Pennsylvania, Virginia, New Jersey, New York (where Saratoga regularly adds racing over obstacles to its flat program), Tennessee, Delaware, North Carolina, and Georgia.
"I think it's very good that the powers that be, particularly in New York, respect the fact that it is sort of part of racing's history," Sheppard added. "It is going back a little bit to yesteryear, when racing was more of a pure sport rather than just sort of a betting medium. And I think it's great that even though we only have a tiny presence there, we do, nevertheless, have a presence."
Additional reporting by Sean Magee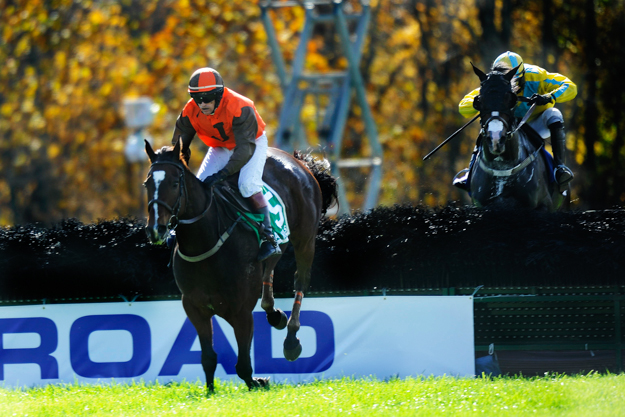 ---
France: Huge prize-money but little public interest
By James Crispe
Statistics suggest that France rivals Britain and Ireland as one of the world's leading jump racing venues. Yet, the numbers hide the fact that "obstacle" racing is not ingrained in the French psyche in the same way it is in the other leading nations.
France staged 2,256 professional jump races during 2012 – approximately 800 more than Ireland. But you only have to look at the attendance figures achieved by recent showpiece meetings at the leading jumps courses on either side of the Channel to gauge the gulf in public interest.
On the weekend of November 2-3 last year, Auteuil Racecourse in Paris staged a two-day fixture, which was heavily promoted as "Galloween" and had various horror-based activities for families. It featured six graded races and €2,482,000 in prize money, yet it attracted a mere 9,178 spectators (including invitees) over the 48-hour period.
A week later, Cheltenham staged its much less well-endowed three-day Open Meeting and saw 71,336 people come through the turnstiles.
Although jump racing takes place throughout France, Auteuil utterly dominates the landscape, hosting almost all the top events during its 38 annual race days. But, if you want to find a proper atmosphere, you need to venture North West to Craon, the heartland of French jumping and breeding, and visit its rustic six-fixture autumn festival.
In bloodstock, a seemingly endless stream of French-bred horses – including such champions as Kauto Star and Sprinter Sacre – has meant that France now challenges Ireland as the source of top chasers and hurdlers.
That all began after trainer Francois Doumen pioneered bringing horses across the English Channel to compete for the top prizes. He enjoyed remarkable success with steeplechasers such as Nupsala, The Fellow, and First Gold, and hurdlers Snow Drop and Baracouda. (Such was the blinkered parochialism of the British jumping establishment that after Nupsala had thrust Doumen into the limelight after beating Desert Orchid in the 1987 King George VI Chase at 25-1, one of the Kempton Park stewards confessed that he had not hitherto been aware that jump racing took place in France.)
Additional reporting by Sean Magee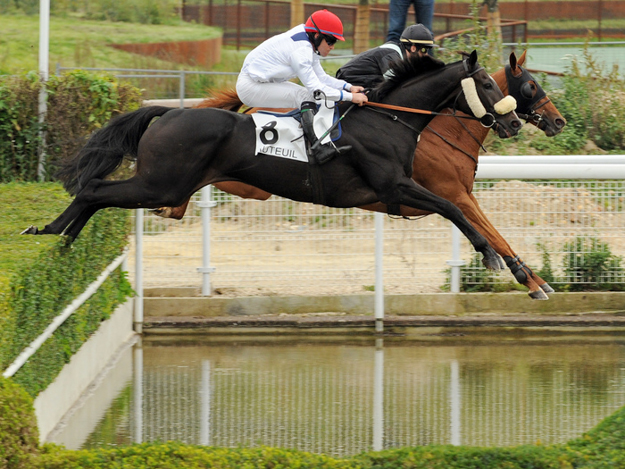 ---
Continental Europe: A pretty gloomy picture
By James Crispe
European jump racing is largely on the wane outside the big three countries of Britain, Ireland, and France.
In terms of races staged, the next most active country is Italy, though its 2012 figure of 171 is less than half the 399 run there 10 years earlier.
When prize money is paid promptly -- which rules out recent months -- most of the top Italian jump races are plundered by the French. Even everyday races often attract a large contingent of trainers and jockeys from the Czech Republic.
The Velká Pardubická, which rivals Aintree's Grand National as the world's most-feared steeplechase, towered above the other 153 jump races staged in the Czech Republic in 2012, although the industry there is not shrinking and has more active jump horses than Italy.
The key problem is that jump racing is more expensive to stage than racing on the level, and largely for this reason Germany is one of a number of European countries where the future of jump racing is in doubt. Just 24 chases and hurdles were staged there in 2013 compared with 181 in 1995.
One small glimmer of light among this darkness is provided by La Zarzuela Racecourse in Madrid, where, on February 24, 2013, Spain staged its first jump race in more than 20 years.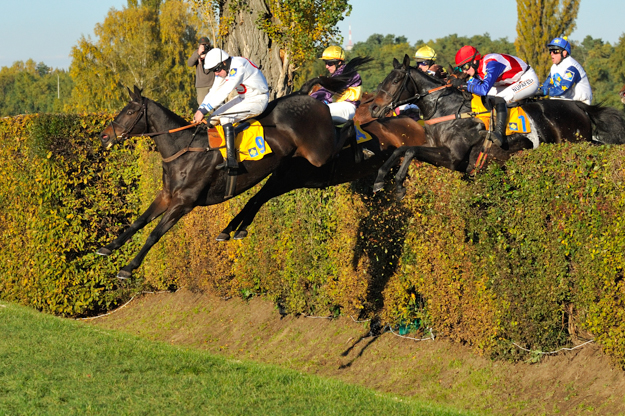 ---
Japan: Home of the world's richest jump race
By Naohiro Goda
Unlike the flat, there is no midsummer off-season for jumps racing in Japan, and meetings are organized throughout the year. These include the high-summer meetings at Niigata and Kokura, where midday temperatures are usually higher than 90 degrees Fahrenheit.
Of the 3,454 races organized by the JRA in 2012, only 133 or 3.85 percent were over jumps. Most jumpers also run regularly on the Flat, although they tend not to be high class in that code. The average field size for jump races in 2012 was 12.65, compared with an average of 14.48 for Flat races.
The most prestigious jump race in Japan is G1 Nakayama Grand Jump in April, which carries atotal purse of ¥124,100,000 ($1.24 million) making it the most valuable jump race in the world. This may be a smaller prize than any G1 on the flat in Japan but it's plenty appealing enough to encourage British and Irish trainers to have a crack at it.
Indeed, the Japanese jackpot was finally won by Europe when Blackstairmountain, trained by Ireland's leading jumps trainer Willie Mullins and ridden by Ruby Walsh, beat 15 rivals to bring his owner a juicy £433,843 ($725,646). Mullins was reported as saying that the Grand Jump "would suit what we call 'a summer horse,' and it took me a few years to find a horse good enough." Worth the wait, though.
Wagering on the 2013 Nakayama Grand Jump was ¥1,496,425,300 ($15 million), impressive until you realise it was less than one tenth of the amount bet on the Japanese 2000 Guineas, also at Nakayama, the day after.
Additional reporting by Sean Magee
---
Australia and New Zealand: How the sport soldiers on
By John Berry
Jump racing has been under pressure for decades in Australia – lack of interest from punters and support within the sport are big enough obstacles as it is without the added complication of fervent opposition from animal rights activists. But there is a glimmer of light for supporters of the code in Victoria, where the biggest races are run, and South Australia.
It is more than 30 years since a jumps race was run in either New South Wales or Queensland, and in Western Australia, the code never took hold at all. A couple of years ago, Victoria looked as though it could be going the same way as Totalisator Agency Board (TAB) figures showed the sport, plagued by small fields, was not pulling its weight.
However, it received a terrific boost from the state's coalition government courtesy of a $2 million, four-year funding commitment in 2012, aimed at increasing field sizes and stemming the fatality rates that have caused controversy.
Denis Napthine, then Minister for Racing and now the state's Premier, said: "The coalition government is a proud supporter of jumps racing and has invested in a range of initiatives to help the industry grow and improve. This includes important measures to improve the safety and welfare of both horses and jockeys. I am pleased to see an increase in the number of horses trialling for jumps racing, and I am looking forward to the season ahead."
South Australia racing boss John Glatz pledged that the two states would stand together.
"We will be there to support Victoria as far as keeping jumping racing going is concerned," he said. "It's been a battle, but I think that we are getting there with the help of Denis Napthine. We owe him a lot, not just for what he's done for jumps racing, but for racing in general."
In New Zealand, jumping is decidedly small time - last season only two jockeys posted tallies in double figures. Isaac Lupton topped the table with 14 wins, while Shaun Phelan won 10. On the flat, on the other hand, Opie Bosson and Matthew Cameron rode more than 300 winners between them.
But jumping's future in New Zealand looks secure, even though animal-rights activists called for its banning after two horses died at Waikato on the National Jumps Day at the end of September, which ended the winter season.