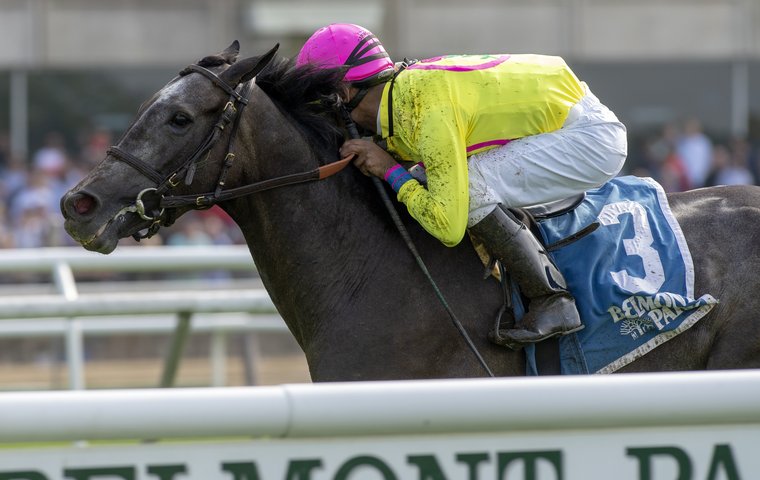 Buyers looking for likely prospects to take advantage of the lucrative and burgeoning American turf schedule have been increasingly active in Europe in recent times. But could moves to phase out race-day medication in the U.S. reverse that trend? Geir Stabell looks at the evidence.

A ban on race-day medication in North America seems likely to affect the European export market of racehorses in training.
Many of these animals, and certainly a large proportion of the most expensive ones, are sold to North American owners. A number of these owners come to Europe looking for talented runners they believe can be improved with the help of race-day medication.
Whether the use of Lasix has improved many of these horses - elevating some from good handicappers and listed-race performers to Graded stakes winners - is of course open to debate. But many of them certainly appear to have improved when racing in the U.S., and there can be little doubt this has been a big incentive to buyers.
Bringing horses with racing experience from Europe to North America is not a strategy used only by buyers. Big owner-breeder operations have been working along similar lines for many years. Juddmonte, for example, have successfully transferred several horses from Europe to North America. Dansili's brother, Champs Elysees, a 'nearly horse' in Europe, managed three Grade 1 wins in North America, taking the Hollywood Turf Cup, Northern Dancer Stakes and the Canadian International. He ran on Lasix only in two of the races, and on Bute plus Lasix in the other.
Olympico, Antonoe and Grand Jete are even better examples of how European achievements can be pushed to the background after a horse is moved west. They were all imported from France.
Olympico won this year's Grade 3 Fort Marcy Stakes, having twice been runner-up when tried in listed company in France.
As a juvenile, Antonoe won the Grade 3 Prix d'Aumale before flopping in the Group 1 Prix Marcel Boussac, and she was winless at three, when she finished 12th in the Group 1 Poule d'Essai des Pouliches. Her U.S. career, however, was much better; running on Lasix in all of her starts, Antonoe captured the Grade 1 Just A Game Stakes, and she was an unlucky third to Lady Eli in the Grade 1 Diana Stakes.
Grand Jete, who could only manage a maiden win at Clairefontaine from eight outings in France (where her last appearance was an unplaced effort in listed company at Fontainebleau), also raced exclusively on Lasix in the U.S., improving markedly to win the Grade 3 Eatontown Stakes before running second in the Grade 1 Beverly D and third in the Grade 1 Flower Bowl. She ran to a Globeform rating of 113 twice in the U.S., although her best handicap mark in France was equivalent to a Globeform rating of 88.
Almanaar, who recently won the Grade 2 Monmouth Stakes for Shadwell Stable having landed the Grade 1 Gulfstream Park Turf Handicap two years ago and running second in the Grade 1 Arlington Million in 2018, is another ex-European who has raced exclusively on Lasix in North America and managed to make the grade at the top level. He was a dual Group 3 winner, though never tried at a higher level when racing in France. Almanaar has had ten runs in North America, each time aided by Lasix.
These are just five names from a long list of ex-European runners to have increased their values markedly when racing on medication in North America. It would surprise me if potential U.S. buyers maintained the same level of enthusiasm for European horses in training as the phasing out of race-day medication grows Stateside.
On the other hand, changes in the medication rules could be good news for European connections looking to have a crack at lucrative stakes events in the U.S. with the North Americans perhaps no longer having the same level of ammunition, particularly for the growing number of highest-profile turf events, headed by races like the Breeders' Cup Mile, the BC Filly & Mare Turf, the BC Turf, the Arlington Million and the Man o' War.
Euros have won 16 of the last 21 runnings of the BC Turf, but the mile-and-a-half trip plays very much into their hands, whereas U.S.-based runners have won 13 of the last 20 editions of the Mile, and 12 of the last 20 Filly & Mare Turfs. Of those 25 winners, eight were European imports, all running on Lasix.
Last year, 11 of the 33 Grade 1s for 3-year-olds and older contested on turf in North America were won by Euro imports representing a U.S. trainer. All raced on Lasix.
Three European-trained horses won such a Grade 1 in 2018: Athena (Belmont Oaks Invitational), Expert Eye (Breeders' Cup Mile) and Enable (BC Turf). They were all also treated with Lasix.
Of the four top-level European-trained winners in 2017, three - Zhukova (Man o' War), Suedois (Shadwell Turf Mile) and Wuheida (BC Filly & Mare Turf) - ran on Lasix. Only Talismanic (BC Turf) didn't. He is trained by Andre Fabre, who never runs his horses on medication.
Only a small number of the large number of horses in training sold from Europe to North America each year get to compete at the highest level, yet a notable percentage of the total improve on European form. Several 80-100 rated imports have become stakes winners Stateside over the years. They all earned significantly more in prize money than would have been likely in Europe.
Geir Stabell is the founder and editor of globeform.com