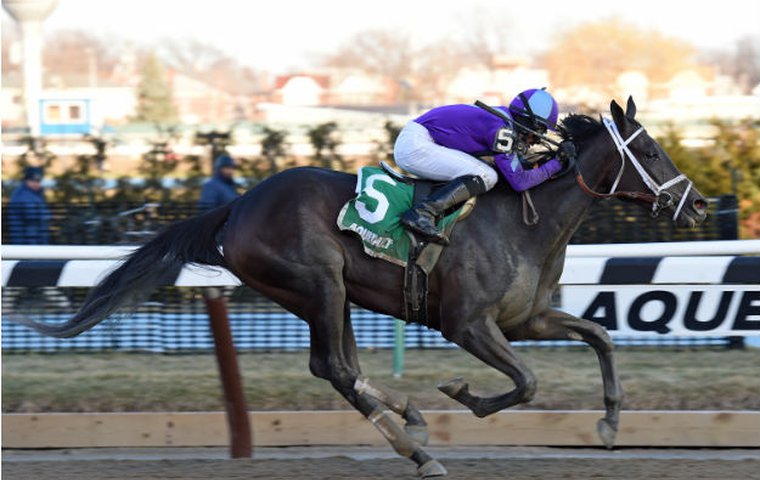 How patience has been so crucial on Mo d'Amour's path to the Oaks

"How great is this?" asked Ed Stanco, standing near the winner's circle at Aqueduct Racetrack on February 27.
Despite the 30-degree (Fahrenheit) temperature and the wind coming off nearby Jamaica Bay, and despite the unglamorous setting — Aqueduct plays third fiddle to its sexier New York Racing Association cousins, Belmont Park and Saratoga Race Course — the grin on Stanco's face made it clear that his question was rhetorical.
Because on that day, as it had been one day in the early months of 2013, there was nowhere that Stanco would rather be.
A champion and advocate for the blue-collar elements of Thoroughbred racing, Stanco is fond of proclaiming: "Aqueduct is my favorite track." It doesn't hurt that the fillies he owns have made a habit of winning there.
On that day in February his 3-year-old Mo d'Amour had won the Busher Stakes by two lengths, earning $75,000 and 50 qualifying points for the Kentucky Oaks at Churchill Downs on Friday. Three years earlier, another Stanco filly, Princess Of Sylmar, had romped in the Busher by seven lengths. That May, she ran to an upset win at odds of 38-1 in the Oaks, the first of her four consecutive Grade I wins.
----------
Take a peek into the life of 'the incredible Tapit'
----------
Mo d'Amour has a long way to go to follow in that filly's footsteps, but after 14 years in Thoroughbred racing, Stanco savors every win, even — or especially — those that take place on cold days at his home track.
The managing partner of King of Prussia Stable, Stanco bought Mo d'Amour, a daughter of last year's leading freshman sire Uncle Mo, for $75,000 at a 2-year-old in training sale last March on the advice of bloodstock agent Joe Brocklebank.
"He saw her and said, 'This is one we can get,'" said Stanco. "'She'll need a lot of time, so people won't really be bidding on her, so let's go for it.'
"So I called my partners, and I said, 'I just bought a horse. Do you want in?'"
"She was a beautiful filly," remembered Brocklebank. "She had a few minor vet issues that could be corrected with a little bit of time, and that's the reason I got her so cheap."
Tommy Eastham, of Kentucky's Legacy Bloodstock, which consigned the filly as a yearling when she sold for $22,000, remembers her as a "big, long, rangy filly with a good length of bone".
'Too much, too soon'
"She had a great walk, but she wasn't perfect up front," he said. "She was kind of pre-disposed to be offset in her knees and she didn't vet perfectly, but it's a good lesson to all of us: you don't have to be perfect to be a stakes winner."
After buying the filly last spring, Stanco and trainer Todd Pletcher gave her some time off; she began training in the summer, debuting with a win at Aqueduct in November, then jumping up to the G2 Demoiselle later that month, finishing seventh.
"It was too much, too soon," admitted Stanco.
In four starts this year, she's got two wins and two thirds, one of the latter, in the G2 Gazelle following the Busher, leading Stanco and Pletcher to think twice about heading to Kentucky for the Oaks.
But an impressive workout on April 22 put her, said Stanco, back on the list of horses that Pletcher shipped to Churchill Downs that weekend.
"This was our plan a couple of weeks ago," Stanco said. "To work her and see if she progressed, and if she did, we'd consider the Oaks."
No fear of Songbird
The defection of the undefeated Songbird, who developed a fever in mid-April, was not a factor to Stanco, who had had no desire to avoid the superstar of the 3-year-old filly division.
"A friend of mine said to me, 'Ed, you want to go to the Black Eyed Susan [at Pimlico on May 20] if you can,'" Stanco recounted. "'You gotta stay away from Songbird.'
"I said, 'That's what they said about Dreaming of Julia,'" he went on with a laugh, referring to the heavy favorite who finished fifth in Princess Of Sylmar's Oaks. "I wouldn't send her if I didn't think she'd be competitive."
Following Princess of Sylmar's win in 2013, Stanco and wife Ina have returned to Churchill for the Oaks in each of the last two years, just to be there, just to see the race, even though they didn't have a runner in it. This year it will be different: the King of Prussia gang — four partners, uncountable friends, and multiple generations of Stancos — is known for vociferous cheering, and for the purple and light blue they all wear, the color of the silks that will adorn the jockey aboard Mo d'Amour on Friday.
"The thought of being able to go back and run in the race for the second time in four years is overwhelming," said Stanco. "I don't know how to explain it. It's a blessing."
"It's all about bringing all your friends together," he went on. "For people to come to the racetrack that haven't really been here before, to know what this is like at this level … it's just so much fun."
Even when it's not at Aqueduct.