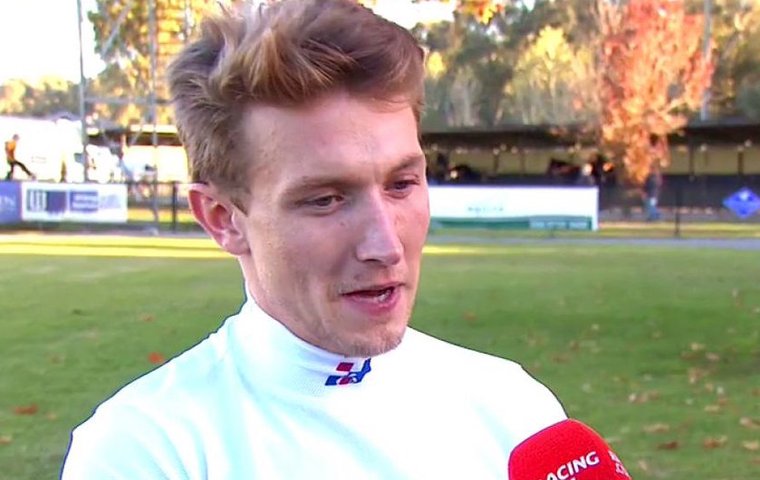 Pedigree has its place in racing, but jockey Toby Atkinson can't rely on it in his attempt to make it in the deep riding ranks in Victoria, Australia. A son of the late, great Pat Eddery, he has spent a cold winter doing what Australians call the 'hard yards' to earn rides to show his talents in the early stages of a comeback to race riding.

Atkinson's decision to make a new start in Australia arose after the 29-year-old loved his time in Melbourne working with UK trainer Hugo Palmer's horses Mask Of Time and Wall Of Fire at the Werribee quarantine centre last spring.
Atkinson didn't get to see the Melbourne Cup as he was sent to Del Mar to assist in preparing Home Of The Brave, then also with Palmer, for the Breeders' Cup. But the enjoyment of riding out in the Melbourne spring had stuck in his mind.
Like Atkinson, Home Of The Brave has also continued his career in Australia, where he won the G2 Theo Marks Stakes (1300m) on his second start for Godolphin head trainer James Cummings.
Atkinson's friendship with Michael Kent, the son of respected Victorian trainer Mick Kent, gave him the insight he needed to be convinced that Australia was the place where he could establish himself.
Weight issues had worn his enthusiasm
However, there was a problem. Atkinson had not ridden in a race since 2015.
Weight issues had worn his enthusiasm to the point where travelling was a better option than the grind to keep riding and add to his tally of 47 wins in the UK since starting his career in 2007. Fortunately for Atkinson, the desire to work with horses at Palmer's stable returned and that, in turn, developed into a want to rebuild his fitness for a comeback to race riding.
Atkinson needed to secure a correct Australian visa and work through Racing Victoria's requirements for a jockeys' licence, which included riding in 20 trials, before he could show his wares in the state.
The time gaining the appropriate paperwork meant Atkinson had his first Australian rides on June 4, which is about the furthest Victorian racing gets from the show Melbourne puts on in the spring.
The weather is cold, biting winds regularly cut through the state and the venues either feature wet tracks or dreary, often soulless, synthetic track meetings at which wagering turnover is the priority. The hardy Victorian racing fanatic comprises the majority of punters at racecourses in that period.
Opportunities abound for apprentices in the winter months, which left Atkinson with one option – to work hard and take the scarce chances thrown his way. But Atkinson believes he has got the timing of his entry to Victoria racing right.
"I think it was a good time to come over because you're putting in plenty of work and it is a stepping stone because, when the racing picks up, you've done the work and you're riding out for different trainers and they can get to know you," he said.
Atkinson knows he has to bide him time until Melbourne's weather improves over the spring and summer months. Victoria's racing schedule expands dramatically between October and April as night and twilight racing re-emerges from a winter slumber, meaning two or three meetings on many days would require riders.
Jockeys can be stuck deciding whether to take a couple of provincial rides on a Friday or one chance to ride at the richer Moonee Valley meeting that night. Cracks will open in jockeys' riding books, which Atkinson hopes will leave him his share of opportunities.
"Things are going pretty well here, but things are a bit slow because there's only one meeting a day at the moment," he said. "It's matter of feeling your way through. There's only one meeting a day and you've still got some of the best jockeys in the country at them, so you're only going to pick up rides for people you've been riding out for yourself.
"I suppose it can be a little bit frustrating but not overly. You have just got to take the rough with the smooth. It's a bit tricky at the moment, but I think things will pick up in a few weeks' time."
Radio interview
Atkinson rode a winner at his eighth ride back when he steered a horse called Extending to victory at Sale racetrack in June. The horse's trainer and owners were thrilled, but the punters weren't - Extending crossed the line first at 150/1.
Starting out in the winter months also means fewer opportunities to gain media exposure as the Australian Rules and rugby league codes dominate the sporting media platforms between March and the first week of October, but one of Atkinson's few media opportunities led to him receiving a call from a city trainer.
Atkinson said he was doing an interview on a racing radio station in Melbourne that produced a call from a fellow Englishman, G1-winning trainer Nigel Blackiston. Atkinson's mother had told him she went to school with Blackiston, who arrived in Australia more than 25 years ago to work for the legend Bart Cummings.
"When I came out here [to Australia], my mother actually said, 'there's a trainer out there. I haven't seen him for donkey's years but he's a lovely guy' and it was Nigel," Atkinson said.
"I did a radio interview and he said he heard it and I was talking to him again and it got to the point where I'm riding out now for him once a week and he's been really good to me."
Blackiston had a small connection with Eddery. The Victoria Racing Club used to run legends races for retired champion jockeys during the Melbourne Cup carnival at Flemington and Eddery won the last of those contests on the Blackiston-trained Pop Weasel in 2004.
'I think he's got a lot of quality'
Blackiston, who started his racing life working for trainer Bruce Hobbs at Newmarket, before his career took in stints with Anthony Hide and William Mather, sees a little piece of Eddery in Atkinson's style.
"He's a champion kid," Blackiston said of Atkinson. "I think he's got a lot of quality, but I think he has to learn about the tracks a bit more. He's got nice balance and a European style. Like his dad, he can bounce around a bit in the saddle but, when he picks a horse up, he can really pick a horse up."
Atkinson is riding for Blackiston at Flemington a couple of times a week and the trainer has started to give the jockey opportunities. Blackiston believes other trainers will follow suit once Atkinson find his feet in Victoria.
Atkinson agrees with Blackiston's point on gaining knowledge of the varied Victorian tracks.
"The tracks are taking a bit of getting used to. They're not overly hard to ride, but it's just finding out the techniques to get around them," Atkinson said.
"Out here, it's all about momentum. When you get around the bends here, you have got to keep the momentum of the horse up and going forward. Like England, the tracks are very different here and you can go from firm to heavy quickly. There are plenty of things to look out for, like some tracks you have got a short run in and you have one burst to get them home on the best ground."
Atkinson says the best local jockeys have been happy to help him learn about the Victorian courses, but he knows that only results matter in the cut-throat profession.
"They [jockeys] are all really good blokes," Atkinson said. "Craig Williams and Damien Oliver and the others, they're all really helpful and are happy to talk. Craig has taken the time to walk the tracks with me a few times and they're great guys.
"It's pretty competitive here and I've been here a while now. In New South Wales, there's more opportunity and maybe Queensland, but it's pretty tough to start out here.
"I think it's also a bit of luck as well to get into the stables at the right time and get the rides and winners off them. I'm trying to really get on really. That's the focus."