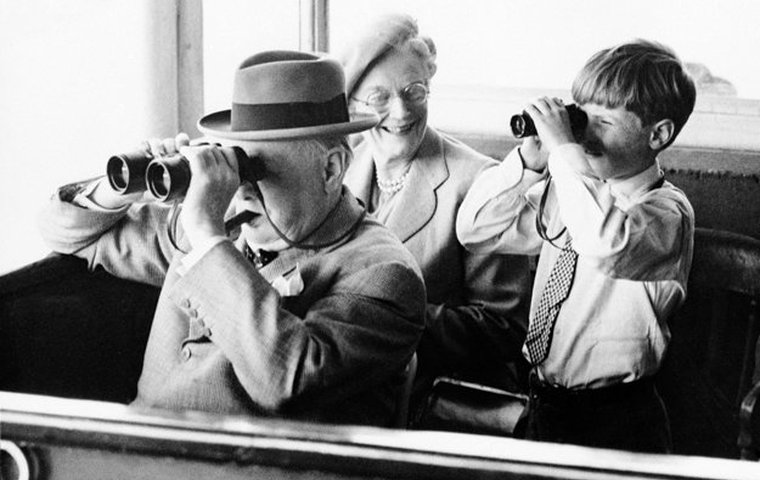 Recent coverage of the 50th anniversary of the death of Sir Winston Churchill – who died on Jan. 24, 1965 – recalled not only his time as inspirational wartime leader, but also the tributaries of a long and varied life.

And no programme covered his hinterland better than the 10-part BBC radio series written by Professor Sir David Cannadine of Princeton University. "Churchill's Other Lives" chronicled Churchill the brick-layer, Churchill the painter, Churchill the movie fan, the journalist, the enthusiastic eater and prodigious imbiber, etc. etc.
But Churchill the racing man received scant attention – which is a shame, for in his twilight years he loved owning, breeding, and watching racehorses, and his devotion was rewarded with notable success as owner and breeder. While he was not able to emulate the 5th Earl of Rosebery, who was Prime Minister for less than 18 months in the 1890s and in that short period owned two Derby winners, according to Churchill's daughter, the late Mary Soames, the sport "gave him enormous pleasure and interest" in his old age.
Churchill's enthusiasm for racing stemmed from a lifelong love of horses – in younger days he had been a keen rider to hounds and polo player, and had served as a cavalryman – and racing was in his blood.
His father, Lord Randolph Churchill, won the 1889 Epsom Oaks with L'Abbesse De Jouarre – whose name was reportedly mangled into "Abscess On The Jaw" by betting-ring groundlings – and when Winston came to register his colours in the late 1940s, he took over his father's "pink, brown sleeves and cap" – in the designation "pink, chocolate sleeves and cap." In a nice detail in the story of Churchill and racing, those colours live on in the scarf of Churchill College, Cambridge, founded in 1960 as a permanent memorial to the man.
But Churchill had not always endeared himself to the racing community. As Chancellor of the Exchequer in 1926, he introduced a betting tax, which so incensed the bookmakers at Windsor Racecourse that they downed tools and refused to take bets, leaving a bemused crowd to watch the races in silence.
The tax was quickly dropped, and racegoers saw Churchill in a much more positive light during the World War II, when he voiced his support for carrying on a restricted schedule of race meetings. In spring 1941, he advised Home Secretary Herbert Morrison: "If anything were done which threatened to terminate horse racing in time of war or ruin the bloodstock industry, it would be necessary that the whole matter should be thrashed out in Cabinet first" – and Cabinet duly sanctioned continuation of the sport, with a very limited programme.
Churchill's close personal involvement with the turf began in 1949, at which point he was 74 years old and Leader of the Opposition following the Labour victory in the 1945 general election.
Encouraged into this new pursuit by his son-in-law, Christopher Soames, Churchill bought the striking grey 3-year-old Colonist II, who had been beaten in three races in his native France but was clearly a horse of some potential. Soames engineered the deal between his father-in-law and Epsom trainer Walter Nightingall, who was to remain Churchill's trainer on the flat for his whole time as owner and who sent out 70 winners in the pink and chocolate silks.
Colonist II made his English debut in those colours in a race for maiden 3-year-olds at Salisbury in late August 1949.
His reputation had clearly preceded him – and doubtless the identity of his owner made him popular with punters, happy to see the national hero enjoying himself. Ridden by Tommy Hawcroft, he started 4-to-6 favourite to beat five opponents. "Good sort, made all" was the crisp form-book comment after he had won by four lengths.
Colonist II followed up with easy victories at Windsor (where Churchill had presumably been forgiven by the bookmakers, who would not have done much business anyway on the 1-to-5 favourite) and in the Ribblesdale Stakes, nowadays a Royal Ascot race for fillies but then not confined to the distaff side, and run at the Ascot September meeting.
With the aggregate winning distance for those three races a remarkable 20 lengths, Colonist II was beginning to look something special, and although he lost his remaining three races in 1949, the next season saw him established as one of the best stayers in Britain.
Colonist's 1950 campaign began with a quiet race at Salisbury, and then came a big date at the now defunct Hurst Park: the first running of the race named after his owner. And for good measure, Colonist's 2-year-old half-sister Cybarine was making her racecourse debut in the preceding race.
"I hope you will come with me to see these two horses running," wrote Churchill to his wife Clementine. "So far all this [racehorse ownership] shows a quite substantial profit, and the whole outfit could be sold for two or three times or more what we gave for it. In addition there are twelve hundred pounds of winnings with Weatherby's [racing's secretariat]."
Clementine did not share her husband's passion for the turf, and her dislike of his involvement was clearly expressed when she mentioned Colonist in a letter to a friend the following year: "I do think this is a queer new facet in Winston's variegated life. Before he bought the horse (I can't think why) he had hardly been on a racecourse in his life. I must say I don't find it madly amusing."
At Hurst Park, the dream result was not to be. Ridden by Tommy Gosling, now his regular jockey, Colonist finished a three-length runner-up behind Wild Mec, one of two French challengers in the six-runner field – and Cybarine was well beaten.
Then Colonist struck an extraordinary vein of form. He ran in nine more races in 1950 and won eight of them, his only defeat a fourth place behind Supertello in the Gold Cup at Royal Ascot. He won at Kempton Park twice, Hurst Park, Sandown Park, the Goodwood July Meeting, Ascot, and Newmarket twice. His final race of the year saw him winning the prestigious Jockey Club Cup on Newmarket's Rowley Mile – a timely victory, since only a fortnight earlier Churchill had been elected a member of the Jockey Club.
Colonist remained in training as a 5-year-old, winning two of his six races, both at Hurst Park.
In mid-May, he won the Winston Churchill Stakes, which had eluded him the previous year and in which he now beat Above Board, owned by King George VI.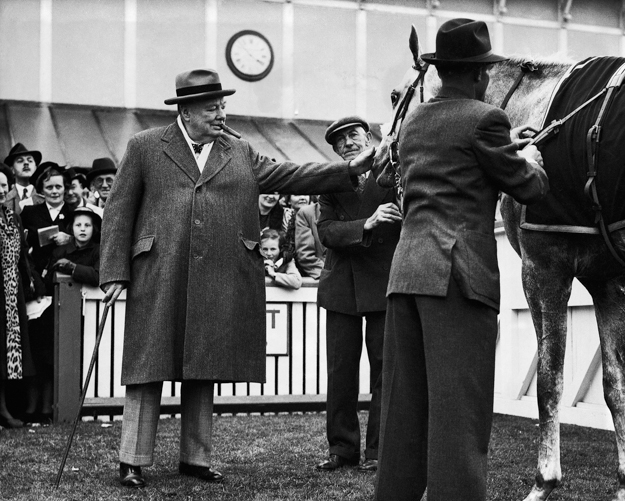 A few days after the race, Churchill wrote to the king's daughter, Princess Elizabeth, thanking her for "the gracious congratulations with which you honoured me." He went on: "I wish indeed that we could both have been victorious – but that would be no foundation for the excitement and liveliness of the turf."
Colonist returned to Hurst Park at the end of May for the White Rose Stakes, which he won from the French-trained Pan II, with Above Board third.
Pan II reversed placings in the 1951 Gold Cup, beating Colonist into second by three lengths, and the grey turned in another highly honourable performance when fourth behind Supreme Court in the inaugural running of Ascot's midsummer showpiece, the King George VI and Queen Elizabeth Stakes.
Colonist was now keeping the very best company, but next time out he finished last of three, though less than a length behind the winner, in the Bentinck Stakes at Goodwood. "Nightingall should not have proposed running Colonist only 10 days after his effort in the Festival Stakes," Churchill complained in a letter to Clemmie. "He was undoubtedly an overworked horse. Also he lost a shoe early in the race and hurt himself, though not seriously."
The injury might have been more serious than first thought, as Colonist did not race again, retiring from the fray the winner of 13 races.
Late in 1951, Nightingall suggested to his distinguished patron that Churchill – who had become premier again after the election in October that year – put the horse out to stud. This provoked a famous riposte: "To stud? And have it said that the Prime Minister of Great Britain is living on the immoral earnings of a horse?"
So Colonist II was sold and began a new career as a stallion (in which his offspring included another famous grey, the steeplechaser Stalbridge Colonist). Anthony Montague Browne, Churchill's final private secretary and a close companion, recorded that when a few months after Colonist had gone to stud Churchill was asked whether the horse was still racing, he replied: "No, he has given up racing. He is now rogering."
Although Churchill owned several very good horses, none of those who followed Colonist II enjoyed quite the same popularity as the grey. His colour added to his appeal – as did the large white sheepskin noseband he sported in his races – but there was something in his way of running which chimed with Churchill's character: what one newspaper called "the great spirit of his indefatigable owner."
Colonist apart, the two best racehorses owned by Sir Winston were both bred at the Newchapel Stud (not far from his country house, Chartwell), which Churchill bought in 1955, and both horses were born in 1957.
High Hat, a son of the great 1933 Derby winner Hyperion, did not race as a 2-year-old but ran fifth in the 1960 2,000 Guineas on only his second outing, then continued to race at a high level until gaining his first win in his fifth race: the Oxfordshire Stakes at Newbury.
His seven-race 1961 season yielded three consecutive victories: two at Hurst Park, notably the Winston Churchill Stakes, and the other at Kempton Park, where he beat the great filly Petite Etoile. But even in defeat he underlined his talent: runner-up to Epsom Derby winner St Paddy in the Jockey Club Stakes, and fourth to Molvedo in the Prix de l'Arc de Triomphe. At the end of the 1960 season, he was sold and sent to stud.
Winston Churchill loved naming the horses he bred, and when his mare Turkish Blood delivered a foal, he named the offspring after the city where the spread of the Ottoman Empire was brought to a halt: Vienna.
This son of Queen Elizabeth's King George winner Aureole was beaten in three races as a juvenile but developed into a high-class 3-year-old, winning the Blue Riband Trial at Epsom and Red Deer Stakes at Newbury and finishing third behind St Paddy in the St Leger.
As a 4-year-old, he won three races and ran well in defeat, especially so when beaten a neck by Petite Etoile in the Coronation Cup at Epsom and a length by St Paddy in the Hardwicke Stakes at Royal Ascot.
And at five he won twice more, including the Prix d'Harcourt at Longchamp. He finished second in the Prix Ganay and dead-heated for third in the Champion Stakes.
The Timeform annual Racehorses of 1962 declared that Vienna "was as game as they come, and never knew when he was beaten," and he proved a success at stud, his most eminent offspring being the brilliant 1968 Prix de l'Arc de Triomphe winner Vaguely Noble.
Churchill also owned winners of the Portland Handicap (Welsh Abbot in 1958) and Stewards' Cup (Tudor Monarch in 1959), and while his greatest racing moments came on the flat, he enjoyed success under National Hunt rules. Sun Hat, a half-brother to High Hat trained by Peter Cazalet, won four hurdle races in the 1963-64 jumps season and ran prominently in the 1964 Champion Hurdle, for which he started second favourite.
Winston Churchill embraced the ownership experience wholeheartedly, not least when running plans offered the opportunity for foreign travel and high-octane socialising.
In 1956, Le Pretendant, a half-brother to Colonist, won the Churchill Stakes at Ascot (named not for Winston but for his forebear John Churchill) and was then sent to Germany to run in a valuable race in Düsseldorf – a remarkable venture, given that it came barely a decade after the end of the war.
Anthony Montague Browne, who accompanied his boss to Germany, recorded: "The horse finished one from last, but the warmth of WSC's reception was memorable. The German Jockey Club gave us a spectacularly good lunch… We drank Champagne out of huge bell glasses, with a peeled peach floating in each one."
Back in England, Le Pretendant won the Cumberland Lodge Stakes at Kempton Park (transferred from Ascot) so impressively that he was invited to run in the Washington D.C. International at Laurel Park, then the most prestigious international race in the calendar. He finished last, yet the very fact of being invited advertised the horse's standing.
But spare a thought for punters who had made Le Pretendant evens favourite for his first race of 1956 at Newmarket, and watched in dismay as jockey Doug Smith, with an apparently unassailable lead through the final furlong, was caught on the line and beaten a short head.
A couple of days after the race a letter was delivered to Churchill:
"Dear Sir:
"May I be allowed to explain my riding of 'Le Pretendant' yesterday? The horse was hanging badly to the left. I thought of using my whip, but seeing I was four lengths clear inside the last furlong I thought this unnecessary. I decided to hold him firmly and keep him on an even keel. I now realise I was wrong, and am very sorry.
"It has always been my ambition to ride a winner for you and I sincerely hope I will have the opportunity of redeeming myself in the future.
"I remain, Sir, your obedient servant, D. Smith."
To which the great orator and wordsmith replied with unwonted brevity:
"Dear Mr Smith:
"I am sure you tried your best.
"Yours very truly, Winston S. Churchill."
---
Sources
Never Despair: Winston S. Churchill 1945-1965 (1988) by Martin Gilbert (though Gilbert's description of Churchill's racing interests needs to be treated with great caution when compared with the official racing record).
Speaking for Themselves: The personal letters of Winston and Clementine Churchill (1998), edited by their daughter Mary Soames.
Long Sunset: Memoirs of Winston Churchill's last Private Secretary (1995) by Anthony Montague Browne.
In addition, Insane and Unseemly: British racing in World War II (2009) by John Saville is very useful on Churchill's attitude to the sport during the war.
The letter from Churchill to Doug Smith is in a private archive.