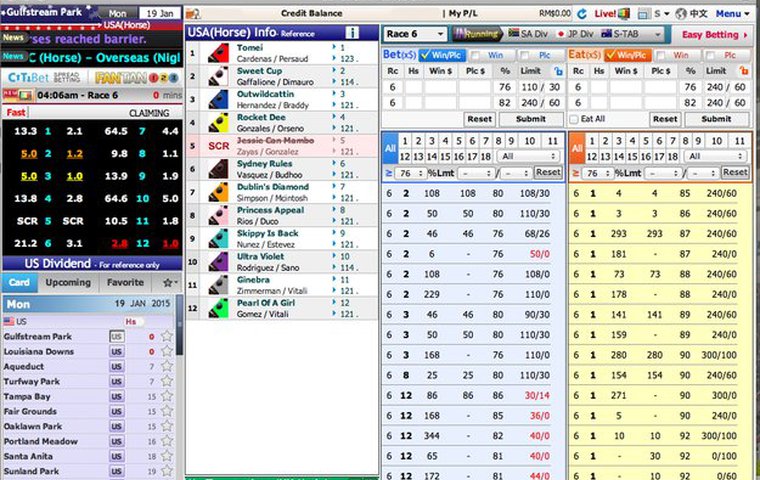 For most racing observers outside of Asia, and even for many within the region, a detailed description of the mysterious Philippines-based horse racing exchanges -- led by online trading platforms CITIbet and AA-Star -- may sound like the stuff of conspiratorial fantasy or crime novel fodder.

Imagine a website where horses can be anonymously bet on to lose, with liquidity thought to dwarf even the Hong Kong Jockey Club's famed astronomical holds. A haven for organized crime, run by faceless and unaccountable operators with whom authorities cannot communicate. Live-streamed, pirated pictures showing races from every corner of the globe beamed out from professional-looking websites. A booming, multi-billion dollar market that delivers no direct financial return to the sport, nor upholds any official agreements with racing's stakeholders. A place where many of the world's biggest gamblers are said to wager, some of them exclusively, feasting on rebates that far exceed those of legitimized tote operators. And most frighteningly -- a place where these shadowy cooperations seem to have zero interest in helping maintain the integrity of the sport they leech from each and every day.
It reads like world horse racing's worst nightmare, something from the future or just plain fiction. But the threat is real and, as some overseas authorities are finding out, the reach of the so-called "dark pools" doesn't stop at buzzy Asian racetracks.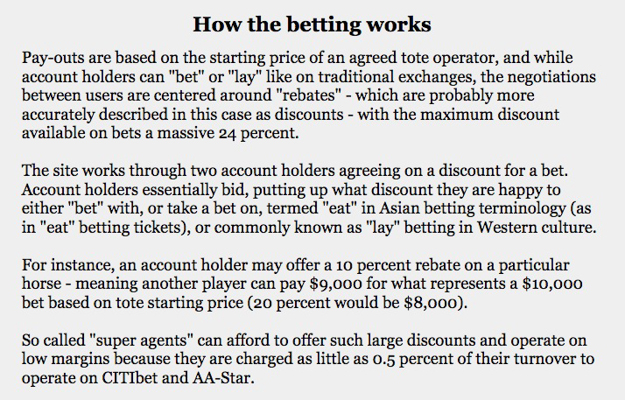 Consider this: On a Monday afternoon in late May 2012, nearly 8,000 miles away from the home of the exchanges, some strange happenings attracted the attention of authorities in the U.S. It was in an otherwise nondescript six-furlong maiden contest at ThistleDown in Ohio. The seven-horse field contained a runner called Eye Look The Part -- rated a red-hot 1-to-5 favorite in early betting.
It wasn't the result that was a surprise -- Eye Look The Part played his part perfectly as he thrashed rivals by 16 1/2 lengths -- it was what happened just before the jump that launched an investigation. An online bettor had placed $7,000 on every other horse in the race except the eventual winner. The strategy pushing Eye Look The Part's odds higher than 5-to-1 -- the longest price in the field -- and he returned $12.80 for a $2 bet.
Investigators had been introduced to the practice of "price steaming," tote manipulation to ensure a higher payout elsewhere. All trainers and jockeys were cleared of wrongdoing at ThistleDown -- the race was simply the vehicle for a successful sting that took place quarter of the way around the world. All the perpetrators needed to know was that there was a genuine 1-to-5 chance involved, and they could make it pay double figure odds with a "small" investment of just more than $40,000.
That might sound like a lot of money to bet on horses that you don't want to actually win, but if the liquidity was high enough on CITIbet, it could easily be a lucrative strategy. Because CITIbet pay-outs are based on the home totalisator dividend, a bet on the exchange of $20,000 -- depending on some other factors, including the liquidity available -- could have returned around $128,000 to the instigators of the sting for a total spend of around $60,000 -- still a tidy profit of more than 100 percent and at much better odds than the 1-to-5 initially showing before the price steaming took place. Still, in this instance, the strategy backfired to a degree as the large investments triggered robotic wagering programs that also took a slice of the inflated odds, and as a result, the payout was much less than it would have been otherwise.
What happened at ThistleDown is not atypical elsewhere in the world. Led by CITIbet and AA-Star, who appear to make up the lion's share of the underground market -- but whose size is difficult to truly determine -- the exchanges' indiscriminately operate on any event -- whether it be Thoroughbred, Standardbred, or Greyhound racing, as long as it provides a totalisator pool and accessible television pictures.
Most of the action taken by CITIbet and AA-Star is centered on the popular twice-per-week fixtures presented by the Hong Kong Jockey Club (HKJC) -- the races' large, well-handicapped fields are attractive to a familiar, mostly Asian audience. The HKJC's booming "home" pools of more than HK$100 million per race also enable big exchange players to bet back into the legal pool late, "laying off" and managing liability after soaking up bets on the exchanges.
The outlaw sites clearly thrive in the black-market world of Southeast Asia and China, where many customers don't even see the sites as illegal to bet with, which in most cases they are. In recent years CITIbet and AA-Star have begun to develop interfaces that look like fully legitimized operations, and with social media and smartphones facilitating growth, and as a result experts say they are attracting a more mainstream customer base. The events covered on the sites stretch throughout the racing world, and in more recent times, have even extended to "in-play betting," where bets are furiously traded right up until the closing stages of a race. The sites do not bet on sports, but recently started betting on financial markets.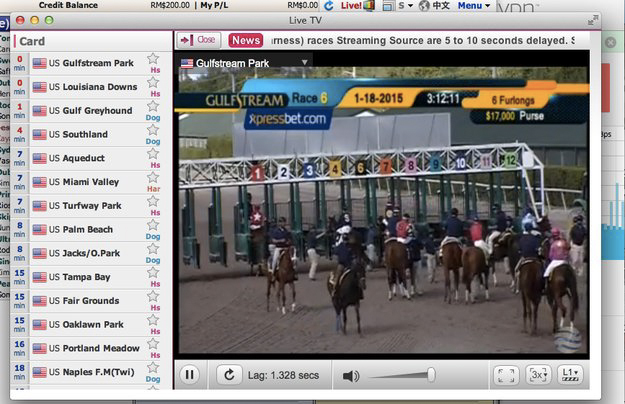 Down the rabbit hole
In the U.S., the subsequent investigation into the irregularities at ThistleDown would take the Thoroughbred Racing Protective Bureau's then Director of Wagering Analysis J. Curtis Linnell down what he described as a "Lewis Carroll-style rabbit hole."
The TRPB is a national investigative agency in the U.S. with a mandate "to expose and investigate all activity prejudicial to horse racing and to maintain public confidence in the sport of Thoroughbred racing." The TRPB oversees more than 40 tracks in North America, many of them with relatively small tote holds -- and it is at these tracks, along with some Greyhound and harness venues, where the practice of price steaming, clearly stemming from activity on the exchanges, is most prevalent. Linnell estimates that similar-type scenarios have played out "between 50 and 70 times" since that day in 2012, with the trail leading back to betting accounts based in Southeast Asia.
As controversial as Betfair and other licenced exchanges have been, they have based their growth around a policy of cooperation with racing authorities, and sharing of information with officials when requested -- it is a policy that CITIbet and AA-Star do not share and it seems, have no interest in implementing.
"The problem I have is the lack of transparency, and the lack of contact we have with the operators," Linnell said. "We have tried to get to the actual license holders of CITIbet and AA-Star -- and that would be the practical way to do it, because we want to be in touch where there is liquidity and bets being placed on our events. But there are a lot of layers of the onion and trying to peel them back is difficult, but just the fact it is so hard to get information from the operators illustrates the lack of transparency -- and that's not a good thing."
In Hong Kong, the HKJC do not seek to have an official relationship with the sites. "And cooperation with them would seem extremely unlikely," explained HKJC Chief Stipendiary Steward Kim Kelly last year. "That's not something we have pursued anyway."
Secrecy and "Special Economic Zones"
Although their origins and ownership are shrouded in mystery, the sites are licensed in one of the Philippines' governments "special economic zones," called First Cagayan -- the same base as lSBOBET and MAXBET (formerly IBCbet), which experts say are the two of the three biggest sportsbooks in the world.
The Cagayan Economic Zone Authority (CEZA) actually encourages the exchanges to use an agent-based system. Rather than use potentially traceable credit card transactions, the sites rely on a pyramid structure and require an account holder to be "introduced" to the site by an approved agent. An agent is responsible for collecting debts from the person he signs on to the site, and receives a small percentage on that account holder's turnover.
Critics say this system creates opportunities for loan sharks and money launderers, and one of the most outspoken experts has been sports betting expert Chris Eaton. Eaton is a former federal agent with the Australian Federal Police and INTERPOL, was head of security at FIFA and is now the director of sports integrity at the International Centre for Sport Security, based in Qatar.

"It's the wild west and out of control," Eaton said of the First Cagayan-based operations. "The agent-based structures are clearly designed to maintain the anonymity and secrecy of account holders, are readymade for abuse by criminals and ideal for money laundering. These operations are turning over billions weekly and governments are not pursuing them. No one even knows who owns these operations and this is outlandish."
Eaton has called for joint government or even United Nations intervention to force the First Cagayan companies to become transparent, but he says that in the short-term racing authorities may be powerless to do anything.
"Really, what we need is a worldwide compliance force in the sports betting sector -- what is happening with these operators isn't properly regulated and it is having such an enormous negative impact on sport and racing. If it doesn't happen soon, sport and racing will be the victims. Horse racing had the best protected system in the world, it understood betting and it has great stewarding systems and drug testing, but all of those integrity measures are based within national borders -- once it goes outside those borders and becomes unregulated, the stewards' control is lost and this is the problem. There is no proper regulation or supervision of these agent-based exchanges. Pressure needs to be put on the Philippines government."
Enforceable regulations?
Singapore's Remote Gambling Act, which came into effect on Feb. 5, perhaps offers a template for the type of tougher, more far-reaching laws, that will be required to even get the exchanges' attention. In the week after the law was passed, offshore gaming websites were geoblocked from Singapore, but it remains to be seen whether more severe measures, like blocking of payments through local financial institutions and extradition orders against offshore bookmakers, will be enforced.
Matt Pollins is a sports gaming law expert and associate at Olswang Lawyers in Singapore and says the Remote Gambling Act is less "grey" than the anti-offshore gambling laws in other Asian jurisdictions, but admits there is "not much" racing authorities can do to bring the sites into line. "Even before the law came into effect a lot of the sites had shut down Singapore-based accounts," Pollins said. "Singapore now stands out as a jurisdiction where it is clear that you can't take bets from, when a lot of countries it is quite grey. In terms of its international reach, the law is deliberately territorial -- which means if I am based in the U.K. and operating a site that takes bets from Singapore, I am committing an offence in Singapore, which means I could be extradited to face charges there."
The Remote Gambling Act seems to have given CITIbet and AA-Star a scare and the arrest of accused Hong Kong triad member Paul Phua Wei-seng in Las Vegas during last year's soccer World Cup has also reportedly made the sites leery about U.S.-based account holders and activity. The Malaysian-born Phua has been linked in FBI documents to ownership in MAXBET.
Another option for racing jurisdictions is to issue "cease and desist" orders for breach of copyright regarding the use of television pictures, although this would be unlikely to produce any meaningful results. Geoblocking websites too, is easily contravened by users and the sites maintain multiple server locations to keep authorities guessing.
Given the limitations of the laws, the sites remain mostly out of reach -- even for the HKJC, and other Asian tote operations based in jurisdictions where bookmakers are strictly illegal. Last racing season, from early September 2013 to July 2014, the HKJC turned over more than HK$100 billion, but officials freely admit that they believe the "dark pools" of CITIbet and AA-Star, although hard to quantify because of the lack of transparency, are far larger.
The Asian Racing Federation's Secretary General Andrew Harding -- who played a key role in Australia's landmark "racefields legislation" court battle -- hasn't ruled out one day pursuing CITIbet and AA-Star to seek financial return and a memorandum of understanding.
"It's about gaining recognition of the fact that racing's business model is built upon a reasonable rate of return from wagering to the sport," he said. "If that is broken and you are left with what we call the 'free rider phenomenon' -- that is, wagering operators using racing without contributing to its costs. When this happens it is a case of market failure and if there is nothing done to address that then you end up with under-supply in economic terms and the industry cannot be viable in the long term. The sport will be limited in its growth or go into decline."
Still, Harding admits authorities in the region need to be realistic and "focus on what is do-able in the short term." For the HKJC this means keeping its own house in order, with stewards monitoring the sites on racedays for suspicious activity and the security department running background checks on account holders.
"There are ways we have to investigate things that we see that might be irregular," Kelly said. "Knowledge of what happens on those sites may have a bearing on what happens in an inquiry. We deal with each race on a case-by-case basis, but if there was something irregular that happened at a racetrack it would be naïve not to explore those platforms, given that they are becoming increasingly popular worldwide."
HKJC Director of Security and Integrity Martin Purbrick explained further: "We look at betting patterns and if these suggest that the funds are from illegal bookmakers we would review it and, because illegal bookmaking is in breach of the law in Hong Kong, we would report this to the police."
The biggest effect on the HKJC's operations are late price movements or "price stomping" as it is known, rapid price fluctuations as money from the offshore markets floods back in the final minute of betting, much of it believed to be money from illegal bookmakers managing their liability. It may seem inconceivable that a totalisator pool containing more than HK$30million in win bets could be manipulated, but professional punters are adamant that the practice is happening. In the frenzied final minute of betting in Hong Kong races, the pools can double in a matter of seconds. Late price movements in the smaller pools of nearby Macau and Singapore are far more severe and unpredictable and have made overseas tote operators wary of betting with those jurisdictions.
Where the rabbit hole ends for investigators like Linnell, or the raceclubs of Asia, who knows. But given the loose regulatory requirements placed on them by authorities, the sites are here to stay, for now, and only seem to be growing in influence and popularity.
So while billions of dollars change hands on the sport, racing gets nothing except a threat to its integrity and some strange occurrences at far-flung racetracks around the world.
---
Michael Cox covers racing for the South China Morning Post.