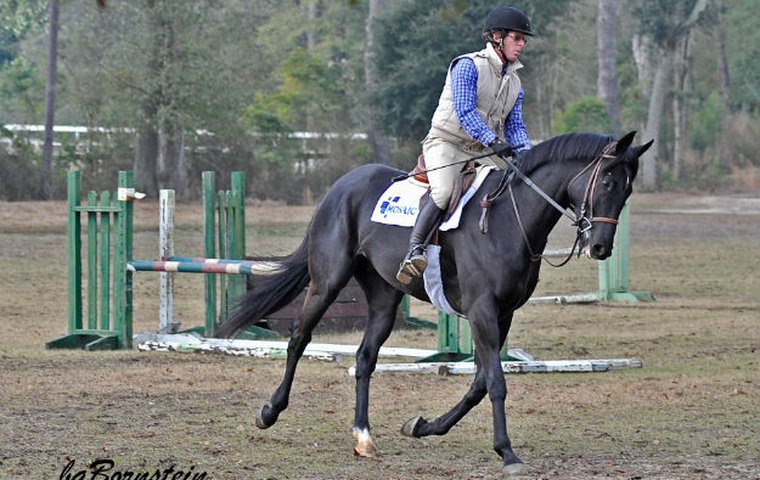 A trend, a movement really, has been developing in recent years. Whether you call them OTTBs, off-track Thoroughbreds, ex-racehorses, or something else, one thing is for sure: These Thoroughbred horses are once again becoming popular mounts for competitors and casual riders alike.

Traditionally, a Thoroughbred is started under saddle, learns the basics of being ridden -- first at a walk and trot and then at a canter and gallop -- and then goes off to the racetrack to embark on his or her racing career. Typically, it is not until that racing career comes to an end that retraining and fine-tuning for a second career begins.
But for a horse named Analysis, and his stablemates in the Mosaic Racing Stable, training for his career after racing is happening while he's still racing – and winning. His record is better than average, with two wins and two seconds from 10 lifetime starts and $119,696.
Analysis is a fourth-generation homebred of Mosaic Racing's managing partner Monica Driver. She foaled him out, as well as his dam and his granddam. Driver, a life-long horsewoman, grew up riding and going to the races with her father.
"I always gravitated to horses," Driver said. "My father rode and took me to the track, but it wasn't his passion like it was mine."
After college, Driver shifted away from horses, got married, and started a family. Eventually they moved to rural New York onto a plot of land with a big barn. That led to Driver exploring the New York Thoroughbred breeding program and incentives.
"I was interested in getting involved with mares," Driver said. "We were lucky with two of our first mares becoming Grade 1 producers soon after we purchased them. After that, they were just too good, and we sold half of them and sent them to Kentucky to the big leagues. We kept the cheapest branch of the family, but that blood is still in there."
That blood runs through the veins of Analysis. Owned by the partners of Mosaic Racing, a group of friends brought together by Driver who not only enjoy the competition, atmosphere, and thrill of Thoroughbred racing, but also care deeply about what happens to their horses after they break from the starting gate for the last time.
"We put money each month into a fund to help the horse after retirement," Driver explained. "We want to make sure our horses are in good hands for the duration of their lives."
But Driver and Mosaic Racing's efforts to prepare for their horses' post-racing lives goes much further than the monetary component. Analysis might be a 5-year-old racehorse, but he has already learned to jump cross rails, navigate trotting poles and cavalletti, transition from a standstill or walk to a canter, bend around the rider's leg, and carry himself properly -- pushing from and engaging his hind end rather than traveling heavily on his forehand. These exercises are helping him build a training and muscle foundation for a second career as a riding horse.
"Having our horses be active in more than one discipline at a time grew from several ideas," Driver said. "Most horses thrive on variety and it keeps them from souring. That is just basic horsemanship.
"Most of our partners are interested in what becomes of our horses once their racing careers come to an end, so it made sense to take a little extra time and add this dimension to expose them to additional training right from the beginning."
For Analysis, Mosaic's concept of cross-training is a true lemons-to-lemonade story.
"Analysis had a terrible first year of racing. He came back to the farm as a 3-year-old and just looked horrendous," Driver explained. "He went to Aiken, South Carolina with Carrie Frommer and she suggested we test him for Lyme disease. The results came back extremely positive and he was put on doxycycline. His weight and coat blossomed, he trained eagerly, and his personality was back."
Analysis would win two races that year, with two close seconds. Driver and her partners believe in giving their horses the winter off from the rigors of racing, sending them to Aiken to enjoy some turnout and cross training.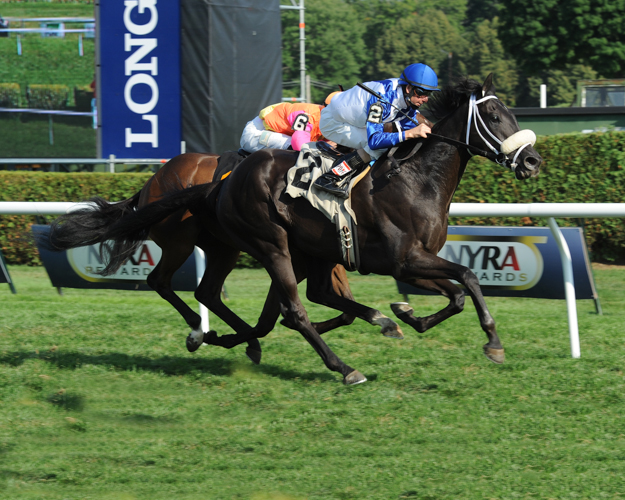 This time, Frommer brought him back slowly, sending him to the racetrack in Aiken some mornings and out for hacks with a hunter/jumper rider other mornings.
"People would just gaze at him and their jaws would drop," Driver said. "He hacks on the clay roads, he'd be very comfortable as trail horse. He can really listen to the rider, and that really helps in his racing. He pays attention to the subtle cues from the rider."
Driver says while she feels he could excel in any discipline, she feels he may be best suited to eventing, as he has the patience and finesse for dressage, but the athleticism and trust in his rider for cross-country.
"I don't think he's ever won a race because he particularly thought 'I have to beat everybody else,'" Driver said. "I think he won because he was asked to and was able to do what his rider asked of him."
--------
Jen Roytz is a marketing and publicity consultant and freelance writer based in Lexington, Kentucky. She can also be found on the backs of ex-racehorses most mornings.