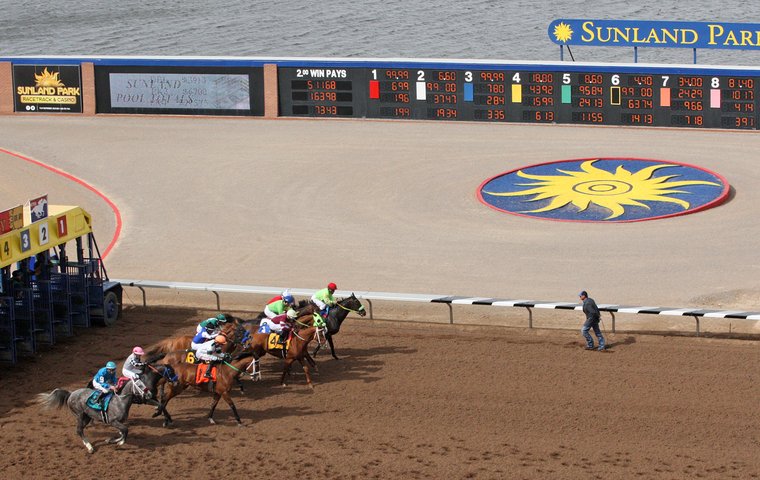 When Mine That Bird stormed home through the slop at Churchill Downs to win the 2009 Kentucky Derby as a 50/1 outsider, his story immediately became so legendary that a feature film was made about it just five years later. The post-race articles told of a trainer from New Mexico sporting a broken leg and his unknown gelding driving across the country to arrive at one of racing's most hallowed halls as a decided outsider and winning it all anyway.

Mine That Bird's Derby feat may be etched in history, but before that the tale began at Sunland Park.

Just across from El Paso, Texas, sits Sunland Park, New Mexico, a quiet town with a spectacular desert backdrop and a racetrack that opened in 1959. With racing's decline during the 1990s, government officials in New Mexico wrote legislation that allowed the introduction of slot machines to the property, ultimately increasing purses from $35,000 a day to an average of $250,000 a day.
The track still needed a race to draw national attention, so Sunland partnered with Bill Casner and Kenny Troutt's WinStar Farm to create the 8½-furlong WinStar Derby, worth $500,000. California shipper Excessivepleasure won the inaugural running in 2003 for trainer Doug O'Neill, then local horse and 46/1 shot Hi Teck Man took the second edition in 2004.
Make-or-break year
With designs on making the race a legitimate Kentucky Derby prep, the WinStar Derby was lengthened to a mile and an eighth for 2005. Thor's Echo gave O'Neill his second victory that year, and went on to win the Breeders' Cup Sprint and earn over $2.4 million.
"From the very first moment, the race got a good response," said Sunland Park publicity director Eric Alwan. In 2006, the purse was increased to $600,000 and trainer Bob Baffert won it for the first time with Wanna Runner.
But to make the leap to being a recognized Kentucky Derby prep, Sunland Park needed to get the race graded by the American Graded Stakes Committee. "2009 was a make-or-break year to get it graded," Alwan said. "Mine That Bird didn't win it, but the race took flight."
Mine That Bird was Canada's Sovereign Award Champion Two-Year-Old Male of 2008 before being a $400,000 private purchase by Mark Allen and Dr Leonard Blach. Under the tutelage of trainer Chip Woolley, Mine That Bird finished second in the local Borderland Derby and fourth in the newly named Sunland Derby – the partnership with WinStar had ended.
Mine That Bird was beaten that day by three lengths for the win, but by horses considered inferior to the competition he would face in Kentucky. He won anyway.
"It was certainly a watershed moment for this race," Alwan said. The Sunland Derby was graded for 2010, and has since produced the likes of Daddy Nose Best (multiple Graded stakes winner who retired just a few dollars short of $1 million in earnings) and Firing Line. The latter won the Sunland race by 14¼ lengths, then gave subsequent Triple Crown winner American Pharoah all he could handle in the Kentucky Derby, running second, beaten only a length.
"Firing Line making American Pharoah work hard really gave us clout," Alwan said. "The race has done more for the track than we could have ever dreamt. It strengthens our overall product and has an impact nationwide."
The 16th Sunland Park Derby (Grade 3) will be run on Sunday (March 24), and Sunland has amassed an exceptional program of races around their premier event.
"It is the greatest full card in Sunland history," Alwan said. There are seven stakes from 12 races on tap, including the $200,000 Sunland Park Oaks, featuring American Pharoah's G1-winning half-sister Chasing Yesterday and five-time Graded stakes winner Bellafina. The Sunland Park Oaks produced Kentucky Oaks winner Plum Pretty in 2010.
'Really good horses are coming from around the country'
The Derby itself – worth $800,000 this time – has drawn a field of ten, including Baffert's Mucho Gusto, Wicked Indeed from the Steve Asmussen outfit, and Cutting Humor from the Todd Pletcher barn. Defending champion trainer Todd Fincher, who won the 2018 edition with Runaway Ghost, will saddle Hustle Up.
"The chances of me winning it two years in a row are pretty slim," Fincher said, "but he deserves a shot at it. He's undefeated around two turns. Really good horses are coming from around the country. The race has been great for New Mexico. Trainers come from everywhere to run in it and the other stakes on the day."
Injured before the 2018 Kentucky Derby, Runaway Ghost has returned to the track for Fincher and since won two stakes for older horses despite an 11-month layoff. "He's doing really good right now," Fincher reported of the son of Ghostzapper.
A shipper from Northern California is Anothertwistafate, a son of Scat Daddy owned by Peter Redekop and trained by Blaine Wright. When winning the El Camino Real Derby at Golden Gate Fields last month, Anothertwistafate secured a guaranteed spot in the Preakness Stakes on May 18, but getting him there has been a dilemma.
"Timing wise, we figured if we went to Sunland that gave us five weeks from our race, and if he doesn't get into the Derby that's another month to the race at Golden Gate we will use for the Preakness," Wright said. "We wanted to stay close to the West Coast and not ask too much of our horse before tackling bigger things."
The Sunland Park Derby has grown considerably since its inception, with handle on the card reaching $4.3 million last year. Alwan is hopeful it will approach $5 million this weekend, but he isn't worried about attendance.
"Every year has been a knockout," he said. "It's full, totally full. There is not a parking spot to be had; we try to give the fans as much room as they can, so employees park elsewhere. This is the second most attended sporting event in the El Paso area besides the Sun Bowl. Last year we had 19,081 people, Sunland's all-time attendance record. To get almost 20,000 fans to any sporting event in this area is something."