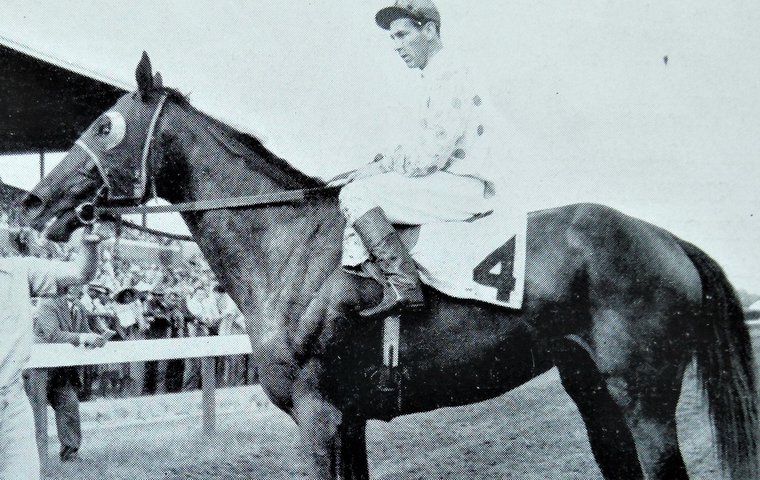 The dictionary defines Vagrancy as 'the act of wandering about from place to place'. The filly who bore that name was no vagrant, but she was no loiterer either, having a successful and strenuous racing career at tracks up and down the east coast, and her name can still be found in pedigrees today, if you look back far enough.

A nearly black filly with no markings, Vagrancy was foaled on April 25, 1939. She raced for her breeder William Woodward Sr's Belair Stable, whose colors of white with red polka dots and red cap were carried to two Triple Crowns, with Gallant Fox in 1930 then five years later by his son Omaha.
Woodward served as chairman of The Jockey Club from 1930 to 1950 and was made an honorary member of Britain's Jockey Club. He was among those instrumental in rescinding the Jersey Act, which had excluded many American Thoroughbreds from Britain's Stud Book, in 1949.
Vagrancy's sire, Sir Gallahad III, was bred in France in 1920 and was a multiple stakes winner in that country, including the Poule d'Essai des Poulains (French 2000 Guineas) and the Prix Jacques Le Marois. He was purchased in 1926 for $125,000 by a syndicate made up of Woodward, Robert A. Fairburn, Marshall Field III, and Arthur B. Hancock and stood at Hancock's Claiborne Farm in Kentucky.
Accomplished family
Sir Gallahad III led the American sire list four times, in 1930, 1933, 1934 and 1940. He sired three Kentucky Derby winners: Gallant Fox (1930), Gallahadion (1940), and Hoop Jr (1945).
It was at Claiborne where all of Woodward's horses, including Vagrancy, were foaled, remaining there until they were weaned, then being moved to Woodward's Belair Stud in Maryland, where he could keep an eye on their progress.
Belair Stud was founded by the Provincial Governor of Maryland, Samuel Ogle, in 1747, three decades before the War of Independence. The farm was sold to James T Woodward in 1898. When Woodward died, he left the property to his nephew, William Woodward, Sr.
Vagrancy's dam, Valkyr, by the great Man O'War, was foaled in 1925 and won nine times from 27 starts. At three, she was second in the Alabama and third in the Coaching Club American Oaks, both races her daughter would win.
Valkyr produced three other stakes winners in addition to Vagrancy: Vicar (Saratoga Handicap), Vicaress (Ladies and Delaware Handicaps), and Hypnotic (Coaching Club American Oaks and Alabama).
A training legend
Vagrancy's trainer would become one of the true legends of the game – James 'Sunny Jim' Fitzsimmons. One of two trainers with two Triple Crown winners to his name (the other being Calumet's Ben Jones) he trained exclusively for Woodward and for Mrs Henry Carnegie Phipps' Wheatley Stable.
Born in Brooklyn in 1874, Mr Fitz, as he was sometimes called, started in racing at age ten, working as a stable boy at the old Sheepshead Bay course. He became a jockey, but then got too heavy and turned to training. He was inducted into the American Racing Hall of Fame in 1958 while still active. He retired in 1963.
Fitzsimmons believed racehorses should race, and often mapped out arduous campaigns for them. At three, Vagrancy ran 21 times between April and October, at distances from seven furlongs to a mile and a half, and was voted both champion 3-year-old filly and champion handicap female in 1942, a common practice back then. Year-end championships weren't begun until 1936, and involved separate polls until they were combined in 1971.
Vagrancy's regular rider was James 'Jimmy' Stout. Born in 1910, he won the Belmont three times, aboard Granville in 1936, Pasteurized in 1938, and Johnstown in 1939, also winning the Kentucky Derby on the latter. He was inducted into the Hall of Fame in 1968. He retired from riding in 1954 with 2,056 winners.
Concentrating on stayers
Woodward wasn't looking for precocity in his runners; anything they did at two was a bonus. He concentrated on stayers, horses who could get the classic distances. To that end, he won the Belmont five times. In all, he bred 101 stakes winners, including seven American champions and four European champions.
News of the war in Europe dominated the headlines when Vagrancy made her career debut at Saratoga in August of 1941. She finished seventh of ten in a six-furlong allowance. In her next start, she won a 5½-furlong fillies maiden at Aqueduct, then was third going six furlongs at the same venue.
Her first stakes start was in the Matron at Belmont, where she finished ninth of 14. Her next four starts were at Laurel. She ran third before winning twice, five days apart, then was third again in Selima Stakes, her last start at two.
After an ordinary juvenile campaign, Vagrancy came into her own at three, running 21 times, winning 11, nine of them stakes. Only the previous year's Triple Crown victor, Whirlaway, won more races that season, with 12. By this time, America had been drawn into World War II.
Her first two starts didn't bode well. She was third in a six-furlong fillies allowance, then fifth in a 8½-furlong allowance for both sexes before scoring by 2½ lengths in another six-furlong allowance, all three of those coming in a span of ten days in April at Jamaica. On May 2 she won the 8½-furlong Pimlico Oaks by a half-length. Back at Belmont, two weeks later she finished seventh in a filly and mare allowance, then five days after that ran a fast closing second in the one-mile Acorn.
Non-stop schedule
Only a week later, she lined up against five others in the 1½ mile Coaching Club American Oaks, coasting home by two lengths as the 3/5 favorite with something left in reserve.
She then won the June 11 Delaware Oaks over nine furlongs by a nose over Waygal, becoming the first filly to sweep the Pimlico, CCA and Delaware Oaks.
Again she was back in a week, winning an Aqueduct allowance by five, quickly following up with a four-length victory in the 8½-furlong Gazelle at Aqueduct, carrying 126 pounds.
There were no filly stakes coming up so she was tried in the Butler Handicap, for all ages and sexes, at Empire City on July 4. Due to her age and gender, she carried only 100 pounds. She finished fourth, beaten three and a half lengths by the 5-year-old Tola Rose, with 103, who led all the way. Whirlaway, the 132 pound highweight, got up for second after a troubled start.
Yet another week saw her in against the boys in the Empire City Handicap, where she was fourth to her stablemate Apache. On July 31 she captured the seven-furlong Test at Saratoga as the 123 pound highweight, winning by a neck on a muddy track.
Beldame dead-heat
The mile-and-a-quarter Alabama a week later was next. Only three ran, with Vagrancy toting 126 to 114 for Bonnet Ann and Smiles. Vagrancy and Bonnet Ann battled down the stretch, with the latter prevailing by a half-length. Vagrancy's jockey, Jimmy Stout, lodged a claim of foul against Bonnet Ann's rider, Eddie Arcaro, saying Arcaro's mount had "both swerved and weaved in and out, repeatedly", preventing his filly from passing them. Bonnet Ann was disqualified and Vagrancy awarded the race.
She ran next at the now defunct Narragansett Park in Rhode Island in the New England Oaks at 8½ furlongs on August 29. The 121 highweight and 4/5 favorite, she met with repeated interference on the backstretch and was beaten three-quarters of a length by Spiral Pass, carrying 116, who led all the way.
She then had a three-week break, coming back for the nine-furlong Beldame at Aqueduct on September 19. The only 3-year-old in the field, she got away to an early lead and was four lengths in front after six furlongs. Arcaro, this time on Barrancosa, gained ground on the tiring leader in the stretch and the two passed the post together, the judges declaring it a dead heat.
Bred in Argentina, the 7-year-old Barrancosa was owned by film star and singer Bing Crosby and Lin Howard, son of Seabiscuit's owner, Charles Howard.
The New York Times reported that, after the Beldame, William Woodward "flipped a coin in the unsaddling enclosure and thereby lost possession for the coming year of the Beldame trophy".
Ten days later, she lined up in the 1⅝-mile Lawrence Realization. She led inside the sixteenth pole before Alsab swept past her to win by 3½ lengths. She carried 115 pounds to Alsab's 126. A champion at two, Alsab would also be named champion 3-year-old colt. On the same day as the Beldame, Alsab beat Whirlway in a match race at Narragansett.
There was no let-up in Vagrancy's schedule. On October 6, she started the 7/5 favorite against nine others in the mile-and-a-half Ladies Handicap at Belmont, winning by a length and a quarter over Dark Discovery, giving that one 18 pounds.
She won Laurel's Queen Isabella Stakes over nine furlongs by three, then was fourth in the Maryland Handicap and seventh behind Whirlaway in the Washington Handicap, both over a mile and a quarter at Laurel a week apart.
Her arduous campaign of the previous year may have taken somewhat of a toll on her. She ran 13 times at four, only winning once, with five seconds and four thirds. She continued to compete at the highest level. She failed to win a stakes race, but ran second in the Ladies and Diana and third in the Beldame and New York Handicap.
Stellar broodmare career
Vagrancy retired to the farm where she was foaled with 15 wins from 42 starts and earnings of $102,480. She had eight named foals, six of which raced, three of them stakes winners.
Her broodmare career took off instantly. Her first foal, by Eclipse Stakes winner Rhodes Scholar, who was imported to stand at Claiborne, was Black Tarquin, winner of the Gimcrack and Royal Lodge Stakes at two, and the St Leger and St James's Palace Stakes, the latter at Royal Ascot, at three. He was named champion 3-year-old colt in England.
Her 1948 foal, Vulcania, won the Diana and Test Stakes and is the granddam of 1987 Broodmare of the Year Banja Luka, the dam of 1986 Kentucky Derby winner Ferdinand. Through her other daughters, Vulcania is also the granddam of stakes winner Fiddle Isle (San Juan Capistrano), and multiple stakes winner Tallahto, herself the granddam of 2005 Breeders' Cup Mile winner Artie Schiller.
Natasha, her 1952 foal, produced multiple stakes winner Natashka, Broodmare of the Year in 1981. Natashka is the third dam of Elusive Quality, who set a world record for a mile on turf, 1.31 3/5, in the 1998 Poker Handicap and is the sire of 2004 Kentucky Derby winner Smarty Jones.
Shooting on Long Island
William Woodward Sr died in 1953, after which Belair was run by his son William Jr. His time at the helm would be brief. On October 30, 1955, the year of Belair champion Nashua's 3-year-old season, he was shot and killed by his wife, Ann, at their Long Island estate when she apparently mistook him for an intruder. Questions were asked and rumors flew, but she was subsequently cleared of all wrong doing by a grand jury.
This led to the sale of the Belair horses, and the farm itself was sold in 1957, though Woodward Sr's widow Elsie and daughter Edith Bancroft continued the Belair name after purchasing some broodmares.
Among them was Kerala, who would produce champion Damascus. All that remains of Belair is the main barn, built in 1907, which now houses a museum recalling the glory days of the farm.
Vagrancy died in 1964. The Grade 3 Vagrancy Handicap was first run in 1948. Some of its notable winners have been Cicada in 1963, Affectionately in 1965, Filly Triple Crown winner Sky Beauty in 1994 and 1995, Xtra Heat in 2002 and La Verdad in 2015.
It was run this year at Belmont Park on May 5. The winner was By The Moon, trained by Michelle Nevin and ridden by Rajiv Maragh.
Sources
American Race Horses, volumes 1941, 1942, 1943, John Hervey, Sagamore Press
American Racing Manual, 1961
A Second Quarter-Century of American Racing and Breeding, 1941 through 1965, The Blood-Horse, 1967
Belair Stable Museum website
Belair Stud: The Cradle of Maryland Horse Racing, Kimberly Gatto, The History Press, 2012
Daily Racing Form online archive
History of Thoroughbred Racing in America, William H P Robertson, 1964
Legacies of the Turf: A Century of Great Thoroughbred Breeders (Vol. 1) Edward L Bowen, Blood-Horse Publications, 2003
Matriarchs: Great Mares of the 20th Century, Edward L Bowen, The Blood-Horse, Inc., 1999
Merriam-Webster Online Dictionary
National Museum of Racing and Hall of Fame website
The Blood-Horse, various issues, 1942