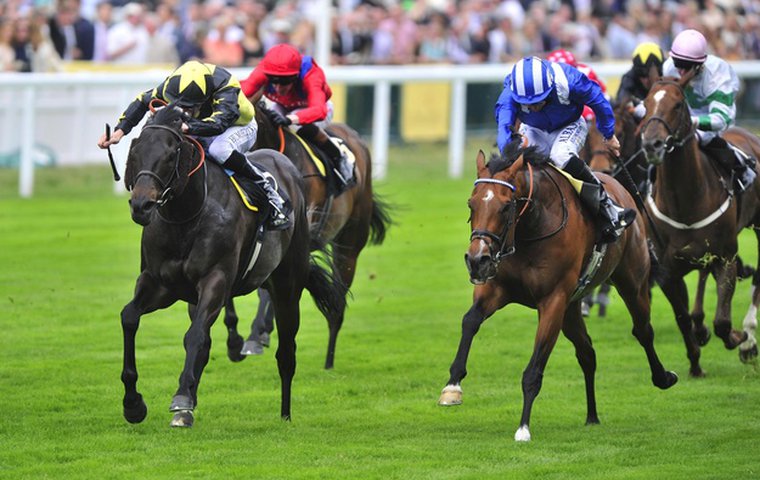 They say lightning never strikes twice in the same place. In racing terms, Tom Morley is living proof that it does.

With a limited budget, he has achieved the impossible by twice in the space of four years turning a racehorse deemed surplus to requirements by its previous owner into the winner of one of the world's most prestigious races - the G1 King's Stand Stakes at Royal Ascot.
The bare facts are that he purchased Prohibit for £89,250 at the Tattersalls Horses In Training Sales in Newmarket in October 2009. At the same sale three years later, almost to the day, Morley had to spend only £50,000 to secure Goldream.
In June 2011, wearing Morley's own orange, blue and green silks, Prohibit beat raiders from Australia, Hong Kong, Hungary and Germany to land a cosmopolitan renewal of the five-furlong King's Stand.
Move the clock on to 2015 and Goldream, this time sporting the yellow and black colours of Morley's mother, Julia, edged out Medicean Man to reclaim the prize and earn Mrs Morley an appointment with Prince Harry to receive the impressive silver trophy.
Now the amounts that Morley outlaid are not inconsiderable, in the real world at least. But, in the high-rolling realms of international bloodstock, spending less than £100,000 in the quest for a Royal Ascot winner is a highly optimistic assignment, and to pull it off twice in four years beggars belief.
What makes Morley's feat all the more remarkable is that he is not a bloodstock agent, nor even a full-time racing professional. The sport is his hobby, not his primary occupation.
No, Morley is a 40-year-old farmer, or to be more precise the accounts manager of his family's arable farm. He admits that, much to his own disappointment, farming does not stimulate him and he certainly never sits on a tractor. He just oversees the accounts and in return the farm pays for his racing habit.
At home in his modern house on the edge of the quiet Suffolk village of Drinkstone, far off the beaten track but little more than a stone's throw from his parents farm in the neighbouring settlement of Clopton Green, Morley certainly doesn't fit the stereotypical mould of a top-level British racehorse owner.
Plenty of racing photos are dotted around his home, but nothing ostentatious, and formal invitations to high society gatherings are notably absent from his mantelpiece – he may be an occasional visitor to the Royal Ascot winner's enclosure, but he is certainly no aristocrat, just an ordinary farmer's son with an inexplicable addiction to racing.
"I honestly couldn't tell you where my love of racing came from," he said. "My parents weren't interested. I got them interested. I can just remember going racing in my early teens and winning a bit of money betting.
"When I was away at boarding school [in the small market town of Oundle, in Northamptonshire] a lady from the town used to take me racing and it was she who introduced me to my first trainer, Pip Payne.
"The morning that I went to the sales to buy my first horse, my father said something to me along the lines of 'over my dead body are you buying a racehorse.' So I didn't tell them for seven months. It was only when it was ready to race that I thought 'I'm going to have to tell them now.'"
Given that Tom had given the animal in question the name Clopton Green, keeping its existence secret for any longer would have been mighty difficult!
Morley's father, Norman, eventually came round to the idea of his son frittering away his inheritance on horses, as did his mother, to the extent that they became great supporters, and enthusiastic racegoers.
And, as time has proved, he wasn't really wasting family money at all because he has turned himself into rather a good horse trader.
"To be honest, when I bought Clopton Green, back in 1999, I had no idea what I was doing and knew nothing about the sales," Morley admitted. "He was bought from the breeze-up sales but now I prefer used horses as form is much more my thing rather than a page of breeding."
"I prefer instant disappointment as opposed to gradual pain," he added.
So, 10 years later, how did he come to pick out Prohibit, whose purchase cost was almost eight times that of Clopton Green, making him the most expensive horse he had ever bought?
Home-bred by Prince Khalid Abdullah's famed Juddmonte Farms operation, Prohibit was a useful John Gosden-trained handicapper whose best efforts included a fifth place (in a field of 29) in the six-furlong Wokingham Handicap at Royal Ascot.
"By that time I would always put together a list for the horses-in-training sales and Prohibit was right at the top of it," he recalled. "Bizarrely, these days I don't spend much time watching racing live, either on the course or on the television, but back then I used to watch it all.
"Prohibit looked like a horse that had under-achieved for his ability, who needed to have a change of scenery and go somewhere where he was a bit more special."
Sent to join Robert Cowell, who had by now taken over from the retired Payne as Morley's principal trainer, and one-third owned by Morley in partnership with some other owners from the Cowell yard, Prohibit was not an overnight success.
But, kept very busy by his new handler (he made 25 starts in the first 18 months in his care, culminating in his King's Stand triumph) he blossomed and made the step up from handicapper to genuine G1 performer. His finest hour was also a special moment in Morley's gambling career as he had backed his own horse at 50-1 some months before.
Now retired and kept as a pet at Cowell's stable, Prohibit went on to rack up a career bankroll of £506,465, all but £30,000 of which was collected after he changed owners.
By the time he had called it a day, in January last year, among Prohibit's stablemates was a certain Goldream. Like Prohibit, he had been sourced from one of Newmarket's biggest trainers, in his case Luca Cumani.
But Morley is quick to point out the differences between the pair. "In personality and running style, they are totally different," he said. "Prohibit was hugely talented, slightly quirky and comes from the back while Goldream was more of a workaholic horse who needed to be taught to travel better and be up near the front.
"I was really keen to buy Goldream. I felt that he had been unlucky in his races, had been baulked a few times and raced on the wrong ground.
"I kept watching his races and thinking to myself that he was not really travelling, was always pushed along and too far back. Something was stopping him from fulfilling his potential, and I was also aware that Luca Cumani was not known for training sprinters."
Once purchased, Goldream had a disappointing first season in new surroundings, suffering defeat in all nine of his starts.
But Cowell's horses were not firing that year, and 2014 brought victories in two valuable handicaps, together with top-four finishes on each of his other five outings. This term began with a bang with a G3 win at the Newmarket 2,000 Guineas meeting and, after soft ground compromised his chances in a G2, the G1 summit was conquered at Royal Ascot.
How did the two Royal Ascot successes compare?
"When Prohibit won it was such a blur and I thought if I won it again it would be different. But it was just the same. It all happens so quickly," Morley admitted.
"And [with my type of horse] what race could we win that was bigger than the King's Stand? When it happened, you are so bowled over that you forget what an achievement it is – many people own racehorses for years without enjoying a single winner.
"It was quite emotional second time around as my father died in 2012 and it did bring him back to the forefront of our thoughts.
"Ultimately I would have…[long pause]…not nothing, but certainly no days like those two, had it not been for his hard work and dedication throughout his life to build up his farming business. Nowadays my purpose in racing is to try to find horses that can give special days to my mother and, with Goldream's win, my role had been achieved."
Morley added: "I don't get passion out of the farm, sadly. I wish I did. And I don't particularly enjoy going racing – you spend hours in the car, eat average food, are lucky if you get to sit down and often are not really well looked after.
"But everything that I do is for the challenge, for the test. The buzz that I get is trying to find the horses – that addiction has now been fuelled again and now the purpose is to try to find the next one.
"I know that, in racing terms, I have not spent a huge amount of money, but in layman's terms I have and, if we are being blunt, I've wasted a huge amount of money on a hobby."
When it is put to Morley that he has done amazingly well compared to most others who dabble in racehorse ownership in Britain, with its low prize-money returns, he is compelled to agree.
"But it's about more than just the money," he said. "It's about the prestige and achievement of what we've won and the emotional satisfaction and pleasure brought on certain days."
So does he have any golden rules when sourcing horses?
"I look for horses that circumstances have possibly conspired against, who appear to have under-achieved," he said. "And you must work with your trainer – there's no point buying a horse that your trainer doesn't like.
"One other important thing is that it is not humanly possible for a trainer to pay full attention to 200 horses and care as much as the owner if one of the lower-rated horses in his string does or doesn't win. So I am looking for something that might have slipped through the net in one of the bigger yards."
The quest for a third Royal Ascot winner has now begun. Incredibly, Morley has already found another serious King's Stand contender, and it is a tribute to his shrewdness that the horse in question, Spirit Quartz, came from a totally different source from the other two.
Morley bought Spirit Quartz privately from a trainer in Italy and Cowell then prepared him to finish third in the G2 Temple Stakes in 2012. But Morley sold him just days before the King's Stand, in which he finished an excellent fifth.
"I had Spirit Quartz for only six months and he never won a race for me," Morley recalled. "But I got what I thought was a decent offer for him from Qatar Racing so I sold him."
And, for a man who admits to being 'a sucker for a dark bay horse rather than a wishy-washy chestnut' and who out of sentiment raced two of his earliest purchases, Canadian Danehill and Taboor, well beyond the age when they had any chance of returning a profit on the racecourse, Morley has developed a hard-hearted, businesslike streak.
Hence when I asked about future plans for Goldream, after talk of running in the Nunthorpe Stakes at York next Friday (August 21) and maybe going to Dubai next winter, he concluded by mentioning the possibility of selling his star horse.
"I've no idea how Jeff [Sargeant, his mother's co-owner] would feel, but Goldream's a 6-year-old and value goes down fairly quickly when you've passed that age, so should he go to the sales? I certainly wouldn't rule it out."
Goldream won the G1 Prix de L'Abbaye on Arc day at Longchamp on Sunday, October 4, 2015.
--------
James Crispe is associate director of editorial at the International Racing Bureau