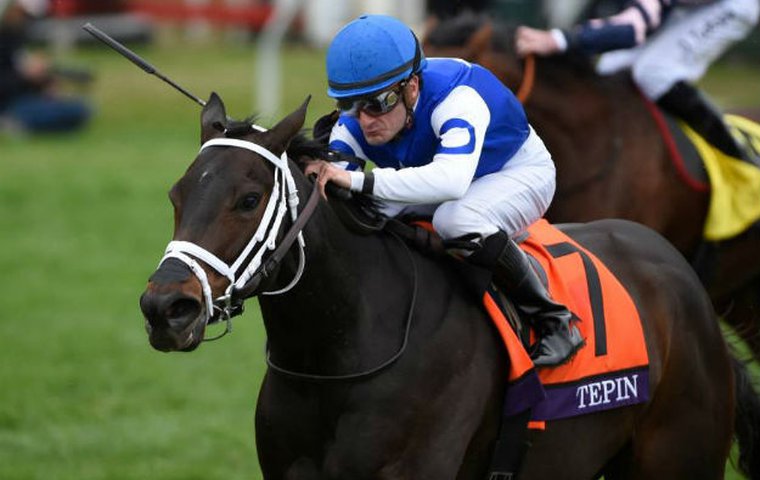 How Julien Leparoux may have been the key to champion mare Tepin

Training hours are coming to an end on a March morning at Palm Meadows in Boynton Beach, Florida. A lot of outfits have already shipped at least some of their horses north, to New York or Kentucky or Toronto, and quiet sinks over much of the training center.
Not so much at Barn 11, one of two barns at which the southern operation of Casse Racing is based; stalls are still full, and horses are still going out, and Norman Casse, the son and assistant of trainer Mark Casse, is in charge.
But there's a watchful eye nearby, with champion Tepin, ever observant, ensconced in stall #1.
"It's so fun watching her," Norman Casse said. "Stall 1 is where all the action is: where the riders get legged up, where the horses come around. She sticks her head out and just loves being part of the team and part of the morning."
Not every horse, he acknowledges, could handle the hubbub of that spot. But Tepin is not, to put it mildly, like every other horse.
Mark Casse has won seven Sovereign Awards as Canada's outstanding trainer, most recently earlier this month for 2015, but Tepin is his first Eclipse Award winner, earning that honor last year as the champion grass mare, capping a career year with a decisive 2 1/4-length win against males in the Breeders' Cup Mile at Keeneland in October.
Last-minute call
Her 2015 stats are eye-popping. Seven starts, five wins, three of them in Grade Is. Her two runner-up finishes, both at Saratoga, both in Grade Is, were excruciatingly close, leaving her less than a length away combined from going undefeated. She earned nearly $2.1 million, more than quadrupling her earnings from the previous year.
A $140,000 yearling purchase, Tepin is by Bernstein out of the Stravinsky mare Life Happened. Bred by Machmer Hall and consigned by Select Sales, she was purchased by Robert Masterson as a yearling at the 2012 Fasig-Tipton Saratoga sale.
"She wasn't slated to go to Saratoga," said Carrie Brogden, who owns Machmer Hall in Paris, Kentucky, with her husband Craig. "We were doing our last look, and the Saratoga horses had already been inspected. As we were going through the yearlings again, my mom and Craig noticed that she had developed really well and said, 'Maybe we should take her to Saratoga.' It was a last-minute call."
A half-sister to multiple graded stakes winner Vyjack, Tepin was, said Brogden, "uncomplicated" as a foal.
"Those mare's foals are always uncomplicated," she said. "She was big and strong, and very racy."
Significant change
Tepin started her career on the dirt, breaking her maiden in her second start and picking up the G3 Delta Princess as a 2-year-old. As a 3-year-old, she was switched to the turf. And, when she was four, perhaps the most significant change happened: jockey Julien Leparoux climbed on board.
"I don't think it can be overstated how much Julien gets along with her," said Casse. "It's one of those situations where it just clicks."
Not that that was part of the plan. Casse was riderless for Tepin's first start at Gulfstream in March a year ago, and Leparoux happened to walk into the barn one morning. Though he had ridden for the Casse operation before, he'd never been on Tepin.
"I said to him, 'I would really like you to ride Tepin,' and at the time, Tepin was not the Tepin she is now," Casse recalled. "Julien's face lit up, and said to his agent, 'Steve, I want to ride that horse'."
"Right away," said Leparoux, "I knew she was good."
"He's ridden her however he wants to ride her," said Casse. "He believes that he's figured things out about her, and I trust what he says. That may be one of the things that has made her a better horse."
Tentative plan
Leparoux has been in the saddle for her last nine starts, picking up this year where they left off in 2015 with two wins, both in graded stakes at Tampa Bay Downs.
"I knew she was a filly that used to be on the muscle, not too rank, but doing a little bit too much early on," he said. "The first time I rode her, Norman told me to try to get her to relax, and from there she was pretty good."
Now at Keeneland, the 5-year-old is the likely favorite in this weekend's GI Jenny Wiley (a mile and a 16th) over a turf course on which she is undefeated in three starts. The tentative plan is then to head to Churchill Downs for a race on Kentucky Derby day, and from there to Royal Ascot, setting her up, perhaps, for a return to Saratoga and a chance to avenge those agonizing losses — beneficial though they may have been.
"They were really gut-wrenching," admitted Casse. "She ran so hard that we backed off her after that, and I think those races really set her up good for the fall campaign.
"And that was kind of the idea behind running her at Tampa Bay. We thought, we'll do the same thing, run her a mile and an eighth, cut back on her training, and she'll be ready for Keeneland."
The barn pet
Leparoux will be in the saddle on Saturday. Asked whether he feels pressure given the roll she's on, he was ambivalent.
"Yes, because you want to win," he said. "No, because you're so confident in what she can do."
The uncomplicated foal has become a reasonably uncomplicated mare; she sometimes needs a pony in the morning, but her equanimity has earned her a place in the most-travelled spot in the barn, where she's not only at the center of the action, she's also the center of attention, demanding peppermints of visitors and mugging for the camera. Ignore her, in the barn or at the betting windows, at your peril.
"Some horses just couldn't be in that stall," said Casse. "She's become the barn pet."
Until race day.
"When she's on the racetrack, she's ultra-competitive," he went on. "You can see that by the way she runs. As soon as Julien asks her, her ears are back, and she's gone."