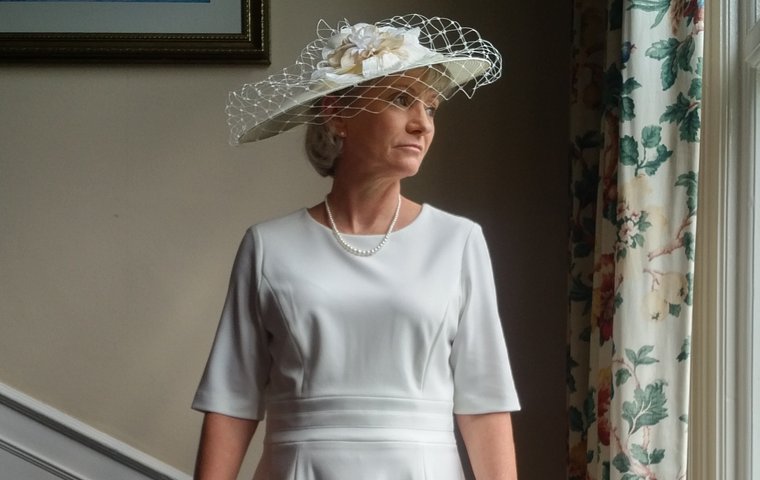 Working at Woodbine Racetrack in 1985 was supposed to "just be a summer job" for Julia Bell, but she never left.

Thirty four years later, Bell is still there, having risen through various parts of the racing office to now be the Thoroughbred stakes manager and a familiar presence on the track. Her year-round duties include taking stakes nominations, tweaking the stakes schedule, and helping international shippers manage their paperwork.
That last bit is particularly important this weekend, as horses fly in from overseas to compete in the $800,000 G1 Pattison Canadian International and the $600,000 G1 E.P. Taylor Stakes on Saturday.
Despite being a fourth-generation horse person, Bell's life at the track was never a foregone conclusion. With her jockey father and both grandfather and great grandfather working as trainers, Bell could have been expected to simply follow in their footsteps, but as a child she had her own dreams of becoming a ballerina. She pursued that goal actively until her height became an obvious problem, sending her back to the track as a teenager.
"I was an entry clerk," Bell recalled, "then I worked also as a placing judge. I was the assistant bookkeeper for a year. I've always been involved with the racing office."
A driving force behind her employment was John Whitson, Woodbine's vice president of Thoroughbred racing through 2004, who had previously run the international barn for overseas shippers. "He was a superb boss and mentor," Bell said. "We still talk all the time."
In 1996, Bell was promoted to stakes manager, with Whitson championing her appointment. Part of her job is to not only take stakes nominations and supplemental entries, but to then chase those connections and determine if they are genuinely running and need travel arrangements.
Woodbine's stakes schedule draws plenty of international attention, not just from the United States but also regularly receives runners from England, Ireland, France, and Germany. The popular Woodbine Mile in September has been won recently by European shippers Mondialiste in 2015 and Trade Storm in 2014. The Canadian International goes to shippers more often, with eight of the last nine winners coming from overseas, including globetrotting Joshua Tree, the only horse to win the International three times.
Safe passage
Similarly, European visitors have dominated the E.P. Taylor in nine of the last 11 editions. Last year, three-year-old Sheikha Reika won the race, one season after Blond Me arrived to score off past performances in Rome, Istanbul, England, and France.
Meeting these runners at the airport and ensuring their safe arrival into the Woodbine quarantine barn is of paramount importance to Bell, who runs the international aspect of Woodbine's popular concierge program for both local and out-of-town horse people, helping to finalize details such as hotels and transport. Before the needs of the human companions – such as plane tickets and paperwork - come the travel schedules of the horses themselves.
"We tend to have two plane loads for the Canadian International," she explained.
The first is a Lufthansa flight out of Frankfurt into Toronto. Some stables fly their charges into Frankfurt on private planes before boarding the freighter, which Bell says is preferred by many stables because they don't have to van into Amsterdam. Old Persian, who won the G1 Northern Dancer Turf on September 14 after shipping from Europe, arrived on the Lufthansa freighter. He will now head to the $4 million Longines Breeders' Cup Turf at Santa Anita.
The second flight is operated by KLM Royal Dutch Airlines and leaves out of Amsterdam, flying into Toronto. A lot of the English and Irish horses use the latter option, taking a ferry to reach the airport. And it is imperative they travel with their passports, which are issued at birth, much like the American Jockey Club registration papers.
Bell has to juggle obtaining the proper permits for the horses, reviewing health certificate information, and licensing the incoming horsemen as well as meeting the planes themselves.
The travel doesn't always go as planned. Last year, a lengthy delay meant the horses were some ten hours late arriving and had to be sent to a farm to burn off steam. During an outbreak of foot-and-mouth disease in Europe, Bell herself had to meet the Thoroughbreds and all their equipment in the cargo hold, sterilizing everything with the disinfectant Virkon, and bathing the horses with vinegar water. "That was a very long evening," she recalled wryly.
But Bell's know-how makes the Woodbine experience so hospitable that many visitors return year after year. Bell noted David Simcock, Sir Michael Stoute, Andrew Balding and Aidan O'Brien are all regulars.
On Woodbine Mile weekend, O'Brien's son Joseph ran Vitalogy to a third place in the G1 Summer Stakes for juveniles. From the United States, trainers such as Graham Motion, Chad Brown, and Neil Drysdale regularly ship runners up for the rich stakes schedule.
"It's been hugely successful," Bell said of the stakes program, which was bolstered this year by Woodbine adding a second turf course and offering horsemen even more opportunities to race on that surface.
As for Bell's 34 years of service at Woodbine. she noted it is an "accomplishment" - but she quickly turned her attention back on her work. During the off season, Bell tinkers with the next year's stakes book and schedule at Woodbine, making minor adjustments when needed. But it is in the weeks leading up to the big-race days where she thrives, juggling paperwork and passports with aplomb.
When the field goes to the gate for the rich stakes races Saturday, it was undoubtedly Bell who met the overseas connections at the airport and made them feel welcome.