Effinex took his connections on a wild ride in 2015. The 4-year-old colt's season was punctuated by his victory in last month's Clark Handicap, his first in a Grade 1, but was also notable for the quirky and unpredictable behavior he displayed in a few of his starts.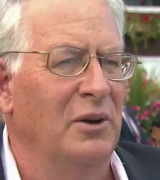 Conditioned by Jimmy Jerkens (left), the son of the late and revered Hall of Fame trainer Allen Jerkens, Effinex's antics on the racetrack would lead some to believe the New York-bred, who has emerged as one of the top older horses in North America, is a handful to work with in the mornings.
Jerkens, who is the type of horseman who prefers to get inside the mind of his horses, rather than rush to judgement, would disagree.
"He's not difficult at all," the 56-year-old Jerkens said on a recent afternoon at Belmont Park. "The only thing that made it difficult is why he did what he did in the afternoons. He's the easiest horse in the world to train. He doesn't do a thing wrong, and it looks like he aims to please in the morning, and he will show that in the afternoon too."
The pleasing side of Effinex, who will return to the races in 2016 for his owner Bernice Cohen's Tri-Bone Stables, yielded four victories from eight starts this year. In addition to his gritty win in the Clark, the other stakes won by the son of Mineshaft were the G2 Suburban Handicap and G3 Excelsior Stakes.
The day Effinex really caused a spectacle
There was also a cracking performance in the Breeders' Cup Classic, in which the 33-1 Effinex finished second, beaten 6 1/2 lengths by Triple Crown champion American Pharoah. Among the horses Effinex finished ahead of in the Classic were some distinguished runners: Frosted, Honor Code, Keen Ice and Tonalist.
Those races were this year's highlights. One of the head-scratchers came in Saratoga's G1 Woodward, when Effinex approached the starting gate, froze, and then took off running the other way. Once loaded in the gate, he was fractious, and wound up finishing fourth.
"That stuff takes away from a horse's performance, no doubt," reflected Jerkens, who noted that jockey Junior Alvarado said it was perhaps the noise from the crowd that rankled Effinex that afternoon. "Going into the Woodward, I thought he was doing as well as a horse could do, and that he was going to run the race of his life."
But it was in the G2 Brooklyn Stakes at Belmont Park, two races before the Woodward, where Effinex really caused a spectacle, bolting on the final turn, which caused Alvarado to ease the colt through the stretch.
Jerkens tinkered with Effinex's equipment after the Brooklyn debacle, and placed a Houghton bit on the horse, which he wore when he won the Suburban in his next start, by a head over multiple G1 winner Tonalist.
"It's a leather-covered straight bar, with a rectangle metal part that goes just beneath a horse's jaw. It allows you to shift a horse's head anyway you want," he explained. "The jockeys love it. Because the bit part is straight, horses tend to surge into it a lot more than a bit with a break in it, like a snaffle."
Unsure about going for the Breeders' Cup
To a much lesser degree than in the Brooklyn, Effinex drifted to the outside in the stretch of the G1 Jockey Club Gold Cup in early October, finishing a well-beaten third.
That effort gave Jerkens, whose nature is to be prudent with his horses, pause about running in the Breeders' Cup Classic, but the colt's breeder, Dr. Russell Cohen, an equine veterinarian and the manager for his mother's Tri-Bone Stables, wanted to forge on.
"Sometimes I need a guy like Russell to push on because [Effinex] turned out to be a better horse than I thought he was capable of being," Jerkens said. "I've got to give Russell credit. There were three races we ran in that I was on the fence about, and Russell pretty much said, 'I appreciate your input, but we're running.' They were probably his three best races, too. It was the Suburban, Breeders' Cup and Clark."
Jerkens tweaked the blinkers that Effinex wore in the Classic, extending the cup on the outside to about three-quarters, and cutting a little hole into the back of the blinker.
And then the trainer had to reassure jockey Mike Smith, who rode Effinex for the first time in the Classic, he wasn't receiving a leg up on a rogue.
'Don't let the horse scare you'
"I told Mike, 'Don't let him scare you. He's not a horse that wants to rip the outside fence down,'" recalled Jerkens of his conversation with Smith.
So then, what is the deal with Effinex?
"When he acts like he wants to get out, it's usually when the riders have a little too much hold of him, and he's in a tight [spot]," Jerkens said. "He's a big, long-striding colt, and he just wants some room to [run] a little bit."
Jerkens also has another theory.
"Mike said in the Breeders' Cup, in the middle of the first turn, [Effinex] switched onto his outside lead, which is very unusual," the trainer said. "That's an inclination for a jockey to grab him right away, because they think they are going to be in trouble. Mike said when you get into the horse's mouth too much, he's even worse. So [Smith] goosed him a little bit, neck-reined him a little bit, and got him back on his inside lead and he was fine.
"I have a theory as to why [Effinex] does that . . . I don't know if it's right or not," he added. "He's had a tendency all his life to hit his [left hind] pastern really bad. I think [switching to his outside lead] is his way of getting away from that."
The patience and insight employed by Jerkens to figure out how to manage Effinex in his races, is exactly what led Cohen to place Effinex in Jerkens' care in the first place, in the summer of 2014. He was conditioned by two other trainers for his first seven starts.
Why Jerkens was the only choice to train Effinex
"I realized early on that this horse was pretty talented, and it was obvious that he was going to outgrow any of the small outfits I deal with," Cohen said. "I've worked for a vast majority of trainers on this racetrack, and I know a lot about them. I know who is straight-on and I know who is a trainer, and I know who is a horseman. I know them by their blacksmiths and their veterinarians. I can't have medication issues [positive test results for medications]. I don't want to have medication issues. I need someone who is a horseman and really cares about the animal, and that it is not just a beast of burden for them. So, if you put that [criteria] into the computer, only one name comes out: Jimmy Jerkens."
The outspoken Cohen is anti-Lasix, and believes that the medication is over-used and that less than 10 percent of racehorses are in need of it. For Effinex's first five starts, the horse did not race on Lasix. But then Cohen, acting on his belief that Lasix is a performance enhancer, reluctantly decided to race Effinex on the legalized anti-bleeding medication.
"You can't give away 12 lengths to 15 lengths to horses that are on Lasix at a Grade 1 level," Cohen, a veterinarian on the New York racing circuit for nearly three decades, said of the decision.
And then there is the story behind Effinex's name. If readers haven't deduced or previously read about the meaning by now, here's a hint: It's a reference to Cohen's ex-wife.
It's not the first time a risqué name slipped by The Jockey Club on a Tri-Bone Stables-owned horse. Another Cohen-bred runner who raced for his mother's stable was New York-bred champion Double Dee's.
"I don't think I can name a Chihuahua in the [American Kennel Club] registry at this point," the 55-year-old Cohen said with a hearty laugh.
Around the barn, an affectionate name has been given to the colt: "Effie." And the moniker completely reflects the attachment Jerkens has for his horse.
"He will let you know when he doesn't want to be bothered and he wants to rest and be in his stall and left alone," Jerkens said. "When it's time to go out, he will come to the front of his stall and nicker to go out. He's great that way. It's just a breath of fresh air to have a good, old-fashioned horse like that once in awhile."