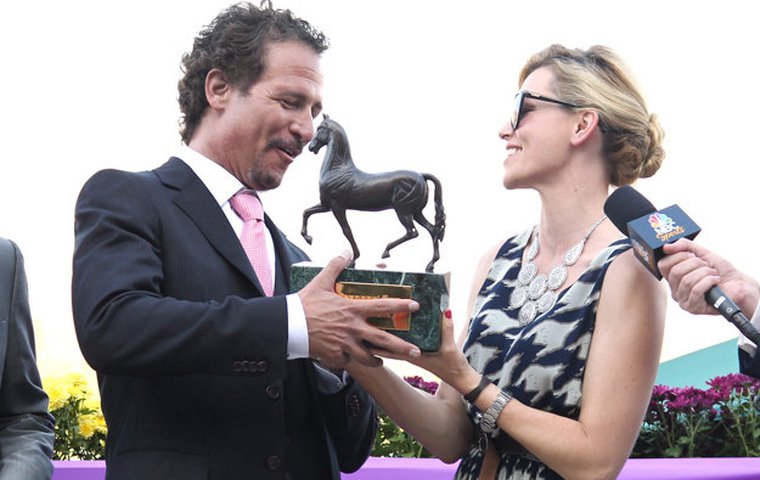 In describing Jim Rome, connoisseur of the smack-talk brand of sports show punditry, adjectives such as "humbled" and "thunderstruck" tend to collect moth-balls between airings. Not so today, as his horse kneels before the altar of hallowed greatness in an attempt to win the $5 million Breeders' Cup Classic at Santa Anita Park on the first day of November.

"I'm just so blown away by it," said Jim Rome, co-owner of Shared Belief, the Eclipse Award winning Two-Year-Old Male of last year, whose unbeaten career run stretched to seven when he bare-knuckled a win last time out in the G1 Awesome Again Stakes last month, also at Santa Anita.
"It's just such an amazing thing. I'm not going to say, 'If we don't win it's OK.' The stakes are extremely high and you want to win. But at the same time, I'm mature enough and I've been in the game long enough to know that this is a miraculous ride that I don't expect will ever come again."
The noonday sun sits overhead on the Friday end of another busy week for Rome, 50, who periodically kneads the tiredness from his eyes. "I'm working harder than I have ever worked right now." Chief culprit for any heavy-lidded signs of fatigue is "The Jim Rome Show" – his three-hour sports radio show broadcast live every weekday, recorded here from his office in a room dominated by a table with large black toadstool-like microphones sprouting out of it. The show is syndicated all over the U.S. And between that, his wife and two sons, and bountiful other commitments, he admits that his love for the game is sometimes played out on a second fiddle.
"I missed the Awesome Again because I had to chair an event for the Irvine Public Schools," he said. "That was something I committed to a year ago. So I watched [the race] in my home office, watched all the drama, and then had to get in my car and leave without knowing the outcome of exactly what happened."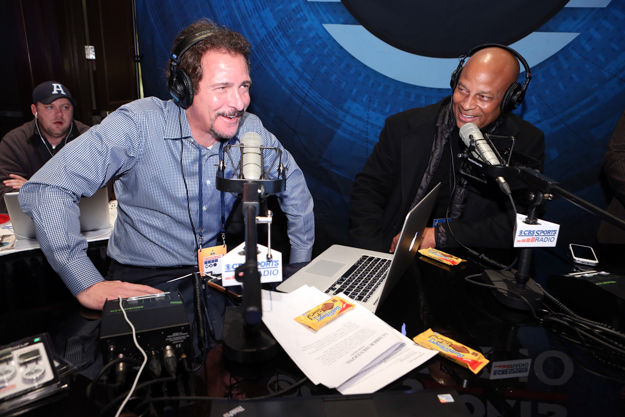 The drama that unfolded in the immediate aftermath of the Awesome Again concerned the ride that Victor Espinoza gave Sky Kingdom – one of two Bob Baffert-trained horses in the race. Espinoza swung his mount wide the whole way, taking Mike Smith on Shared Belief on a scenic tour of nearby East Pasadena, while Baffert's other runner Fed Biz dictated matters from the front. Despite the extra distance Shared Belief covered (some notch it at close to eight lengths), he managed to claw back Fed Biz with a stretch run that proved beyond question how a lion-heart beats inside his decidedly feline frame.
Shared Belief won by a neck. Espinoza was banned for seven days. The conspiracy theorists were elated. Was Baffert the mastermind behind the Machiavellian plot? Did Espinoza, embittered by the disappointment of California Chrome's lackluster run in the Pennsylvania Derby a week before, purposely push Smith wide to try to deny him a similarly pivotal victory? Some of those involved in the affair acted quickly to try to absolve themselves of wrongdoing.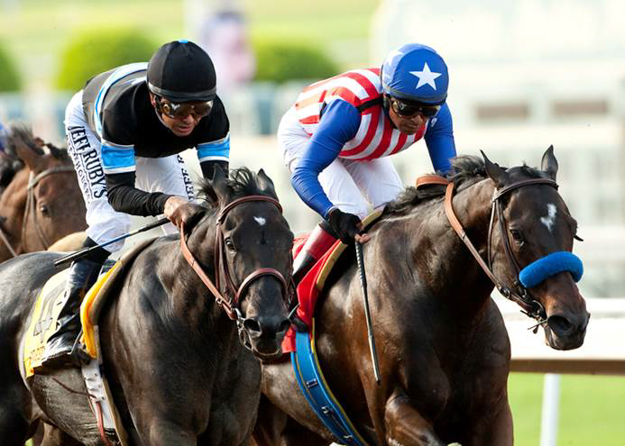 "Baffert called me the next day," Rome said. "First couple of times, I was doing something and I was kind of ignoring him. But he kept on calling me back until I picked up. [Baffert] says, 'Just so you know, I did not tell him to do that.' And I said to him: 'Bob, so you didn't tell him to push us out to the parking lot?' And he says, 'No, I did not tell him to do that.'"
Rome believes Baffert – or, at least, if crumbs of suspicion linger, they're not feeding any grudges. "Honestly, I have no issue with it. I think Jerry [Hollendorfer, Shared Belief's trainer] said it best when he said, 'We're all big boys.' I know there's going to be some race riding. I know the horse has got a bulls-eye on his back."
Rome acknowledges that a gut-buster of a race Shared Belief experienced in the Awesome Again wasn't perhaps the ideal scenario given the proximity of the Classic. But he suspects that, rather than drain the battery, the race will have hardened to a steely cast the last of the soft edges to be found on Shared Belief's sinewy chassis.
"I think that number one, it answered the question about how much heart and grit this horse has. And number two, I think that it was good for him to dig deep like that and get a race like that in him before he gets to the Breeders' Cup classic.
"When I saw him at the barn the next day, I was shocked. Mike Smith had told me in the morning that he looks great. But when I saw him in the afternoon, he looked like he hadn't run a race. He ate everything. His energy was good. He looked perked up. I think he came out of it pretty well."
Given the title of Rome's former television show on ESPN, "Jim Rome is Burning," he knows better than to set a match to the chances of any potential Breeders' Cup Classic rival.
Bayern, for example – another of Baffert's ticking time bombs – could prove explosive. "I mean, he's fast. And if he gets comfortable up front, that's going to be tough."
Tonalist, the Belmont Stakes and Jockey Club Gold Cup victor, could prove a major thorn, too. "You know he's going to run a big one." Not to mention the bicoastal rivalry that adds a spicy twist to the cocktail. "Those East Coast guys inherently don't have a lot of respect for horses on the West Coast."
Then there's a certain scrappy chestnut with a face splashed with white paint who, during the first half of the year, couldn't have garnered any more headlines had his name ended in Kardashian.
"We all know about California Chrome," Rome said "He may have come back and had a tough time of it back east [in the Pennsylvania Derby, when he finished sixth], but that was just one race and I think he needed it.
"I talk about what this sport needs all the time because I cover other sports, and that's rivalries – you have to have rivalries that people can identify with. Rivalries that last the test of time. The problem with our business is that people are so quick to get horses to the breeding shed. Well, what we've got with California Chrome is a really healthy rivalry already, and they haven't even run against each other yet."
Often pointed to is how for years—well before he dived into the muddy waters of racehorse ownership—Rome had dismissed racing as a bet rather than a sport, with many believing that he considered horseracing a mug's game, a fool's paradise, something to be reviled rather more than revered.
"It's largely overblown. I'm not going to say that I didn't say those things, such as 'It's not a sport, it's a bet.' I did say those things. I own everything I say. But I didn't have this unbelievable disdain for it. I've spent many many, many, many, more years saying many many, many, many, more positive things about it than I did earlier in my career when I had a little fun at its expense."
If ever his heart was truly hardened against the sport, the four-legged creatures who define the game proved an irresistible remedy. For him, the follies of human athletes—great fodder for his show, admittedly—are absent among his equine heroes. "I love being around the horses. They're athletes like any other athletes I've been around, except they don't get picked up for DUI's. They don't beat their spouses."
The thing is, 20 years of on-air service has weathered Rome's machine-gun style delivery, chiseling his coarse brand of smack talk into the smooth lozenge of one of the nation's most listened to sports pundits. And having spent a whole career picking apart the platitudes and worn clichés spun around the nation's sporting fields, he's worried that his own slick spin will fail when held up to the same sniff test for baloney.
"I don't root for a team or player - I just root for something to talk about. I've got three hours I've got to fill every day. But I don't think I could be in the show for 20-odd years if I was full of shit. In horse racing, I've got favorites. I root for Shared Belief. It's the one thing that I can still root for that I can feel good about. I've got this one passion for the animal even more than the business itself – it's more personal to me. This is who I am, and I say what I mean. I'm an animal guy. I love animals."
He may be an animal lover, but he wasn't always a horse lover, despite growing up in Los Angeles with a family full of them - his mom, dad, and sister each an enthusiastic rider. "I didn't get it. I didn't need it." It wasn't until years later, upon his wife's urgings for him to find a hobby, that he invested in a share of a horse called Wing Forward, who sluiced home to win from the back of the field on his first run for Rome at Santa Anita. From then on, he was hooked.
"Had Wing Forward not won that first race, I don't think racing would have got into my bloodstream as quickly as it did. Soon enough, it got to be all about the horses. I would walk around the back side of a morning and I was falling in love with every horse I met."
Rome spent big in an attempt to replicate the sweet high of his first racing hit. He bought shares in horses like they were lottery tickets. "I was looking to buy anything I could. I couldn't stop. It got into my blood." But the success he enjoyed off the bat eluded him, and it looked eventually as though he might have to draw stumps – until a mean, moody jezebel called Mizdirection came along.
"[Mizdirection] in effect saved my racing life," he said "I'd been involved for about five years. We were not winning anything. We were hemorrhaging money, and as much as I love the game and the horses themselves, I was lighting my money on fire and Miz was my last big swing. Luckily, Miz went on to be Miz, and gave me some of the biggest thrills I've ever had."
Mizdirection provided Rome with his first graded stake winner – the 2012 G3 Monrovia Handicap, which she followed up later that year with a win in the Breeders' Cup Turf Sprint. A year later, after picking up another G3 and a brace of G2s, Mizdirection successfully defended her Breeders' Cup Turf Sprint crown.
"I still get goose-bumps when I watch that race. And I still text Mike Puype [Mizdirection's trainer] and be like, 'Mike, wasn't she the greatest?' The Queen was the greatest. He's still sad that she's gone. We're all sad. People in the business understand these moments."
Two days after her historic second Breeders' Cup victory, Mizdirection went through the Fasig-Tipton Kentucky November sales ring, with Qatar-based Al Shaqab Racing forking out a tasty $2.7 million for the mare. "I honestly thought I'd never see her again."
He was wrong. During a trip to Europe recently with his family, Rome saw his former sweetheart at her new owner's property in France among a veritable who's-who of regally-bred matriarchs.
"She seems like she's doing fantastic. I saw her in the pasture with a few other millionaires. She had let her hair down and she was much more calm and much more mellow. Only, she has this crazy look where she cocks her head and gets this crazy maniacal look in her eye, and when she hit me with one of those looks from the pasture, I knew it was Miz again."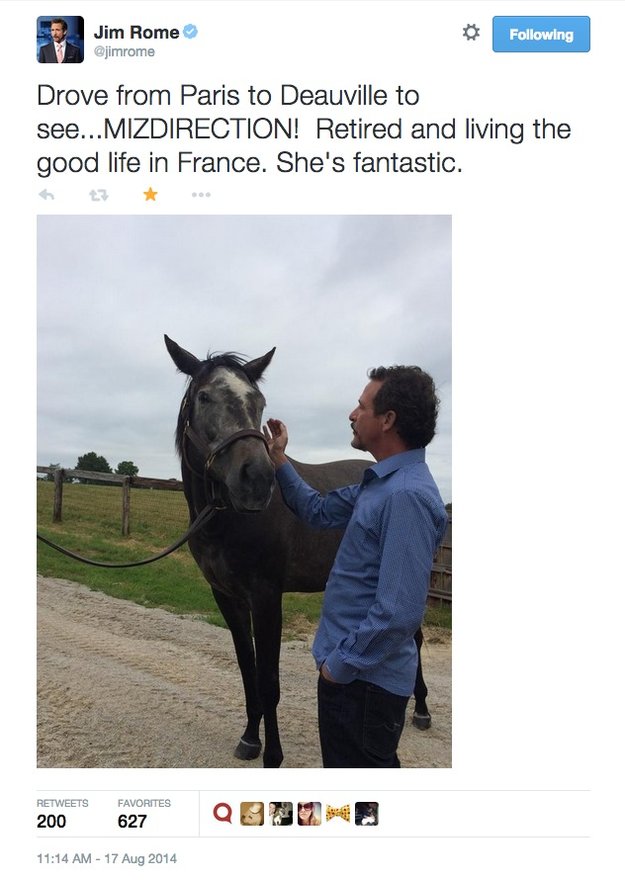 It would be wrong to assume that Rome and family are in it only for the quick fix of race-day gratification. His wife, Janet, served for a number of years on the board of the California Retirement Management Account (CARMA), a non-profit that raises money to fund the rehabilitation, retraining, and/or retirement of Thoroughbreds that have raced in the state. And Rome keeps watch on the horses that he's been involved in.
One of those horses is Gallatin's Run. "He was a really neat horse. I loved him, but his feet weren't quite right." Rome wanted to retire Gallatin's Run, but trainer Mike Mitchell leveraged one more run at Del Mar. "I was led to believe that he was claim proof, which is kind of naïve. We ran him. He wins. And we got down to the winner's circle and they were like, 'He's not your horse any more.'"
Gallatin's Run fell off the radar. "Then he shows up in a race a few months later in the snow in Beulah Park. I'm mortified." Rome wanted to claim the horse back, but he wasn't entered for a tag. "Eventually, the horse shows up at Churchill Downs, running for $7,500. I called the owner before the race. I offered him 15 grand. I said, 'Don't run the horse. I just want to retire him.'" They ran the horse, and Rome claimed him back anyway.
"Twenty-four hours later he's off the track. He was at Three Chimneys where he stayed for three years, and right now, he's just down the street at another farm."
Having firmly planted his feet under racing's main table, Rome isn't eager to lose his seat. He recently bought a share in a Pioneerof the Nile yearling – possible redemption for Shared Belief missing out on the Triple Crown trail (with foot problems) earlier this year?
"Yes, it would be incredible to have a colt go to the Derby, but it's not the end all, not the make or break. I've had an amazing run, and if I never sniff a Kentucky Derby, that's OK too."
Longevity though seems to be the main order of the day. He doesn't see any reason why Shared Belief, a gelding, shouldn't be a familiar name in racing programs for another year or two – should his horse remain hale and hearty, of course. And Rome is eyeing a long-term relationship with the sport, regardless of what happens in this year's Classic.
Then there's the small matter of what to do with his growing brood of champions and less ennobled impersonators.
"Can I tell you what my ultimate dream is? It would be to get a little piece of property somewhere where I can have a cocktail and go and hang out with all my racehorses. But I've got a couple of kids, they like the races, but they're 13 and nine. They need something a bit more recreational than their old man going back with a gin martini hanging out with Surfer Girl and Gallatin's Run and Shared Belief. Still, it's nice to dream, isn't it?"