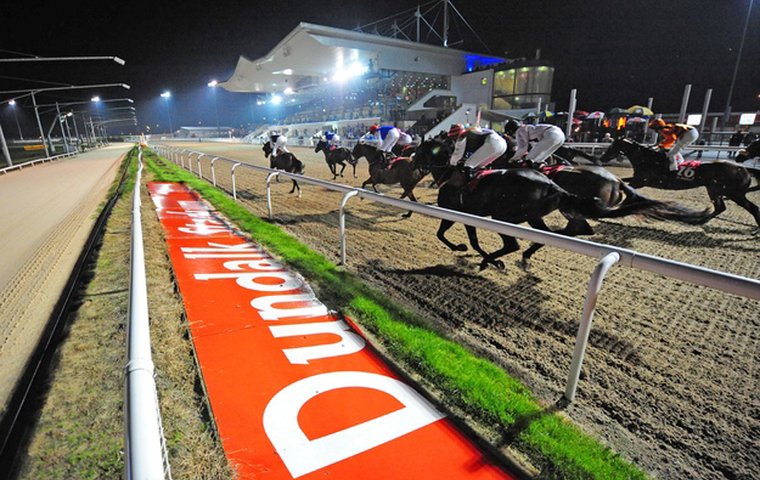 Dundalk, Ireland's only all-weather track, has more than proved its worth since the first race was run on the new surface less than eight years ago. Yet at the time, there was a worry that the racing there would be short on quality, as it invariably is on Britain's all-weather racecourses. That has not been the case, as Donn McClean reports.

Rich Tapestry had run just once before he made his debut at Dundalk in October 2010. Dermot Weld's horse raced just behind the leaders through the early stages of the one-mile maiden under Pat Smullen, hit the front at the two-furlong pole, and kept on well to win nicely.
In April 2013, Rich Tapestry won a Listed race at Sha Tin for Michael Chang, and last March he won a G3 at Meydan. Then last October, he went to California and landed the G1 Santa Anita Sprint Championship.
----------
"We have had 750 races since we opened here eight years ago," said Dundalk Racecourse supremo Jim Martin. "We have had 235 individual trainers with winners. That's a lot of trainers who have had winners here."
There was racing at Dundalk before August 2007, but they didn't race then on the Polytrack they have there now. The old turf track staged its last fixture in 2001 and no fixtures were sought in 2002. By then, talks between Dundalk's racecourse and Dundalk's Greyhound stadium had been under way for three years. Jim Martin had been to Birmingham, Alabama and had seen how horse racing and Greyhound racing then co-existed. There was a template there at Birmingham Race Course.
The old Greyhound stadium on The Ramparts in Dundalk was sold, and they started racing Greyhounds inside the old racecourse at Dowdallshill on the north side of the town in November 2003. It wasn't a given that horseracing at the venue would automatically follow. On the contrary, there was a worry among horseracing fans that, once Greyhound racing at Dundalk had been saved, there would be no horseracing.
The 18-metre gap between the Greyhound track and the grandstand, however, bore testimony to the plan to build a horseracing track, and the determination of Martin and his team provided everything else. Horse Racing Ireland's strategic plan in 2003 cited the establishment of an all-weather track in Ireland as one of its primary objectives, and Martin saw this as a major opportunity for Dundalk. There were turns and twists along the way but, in August 2007, Ireland's first horse race on an all-weather surface was run at Dundalk.
The initial fear was that the quality of racing would struggle, but that has not been the experience. The top trainers race good horses at Dundalk. The five leading trainers at Dundalk during the last five years is a snapshot of the leading trainers in Ireland: Aidan O'Brien, Jim Bolger, Ger Lyons, Michael Halford, Eddie Lynam.
Sole Power hadn't won in four attempts before he made his debut at Dundalk in a five-furlong juveniles' maiden in November 2009, and won it. Eddie Lynam's horse has since won the G1 Nunthorpe Stakes at York twice, the G1 King's Stand Stakes at Royal Ascot twice, and the G3 Palace House Stakes at Newmarket twice. He also won again at Dundalk.
----------
"It is a great facility," said Johnny Levins, leading trainer at Dundalk so far in 2015, with four winners. "Especially during the winter. It means that you can keep these flat horses going. I have 22 horses in training now. If we didn't have Dundalk, I would just be concentrating on getting the yearlings going. I'd have to let staff go. With Dundalk, it means that we can keep going, staff are happy, owners have runners. Everything just runs more smoothly."
The winter series has been running for four years now, every Friday night during the winter. The fixtures are allocated by Horse Racing Ireland, but the prize money is put up by Dundalk through media rights and entry fees. The last horserace is at 9:15 p.m. and the first Greyhound race is at 9:30 p.m. There's the co-existence. It's a late finish for staff, but it means that people can go for a good fun night out, and it works.
----------
Slade Power made his debut at Dundalk in December 2011 in a six-furlong 2-year-old maiden, which he duly won. Sabena Power's colt won a listed race at Haydock and a listed race at Fairyhouse in 2012, he won two G3s and the G2 British Champions Sprint at Ascot in 2013, and in 2014 he won the G1 Diamond Jubilee Stakes at Royal Ascot and the G1 Darley July Cup at Newmarket.
----------
"A horse rarely has a hard race at Dundalk," Levins said. "Even if they have had to battle. It rides quick, but it is a kind surface, it provides cushion. I could run a horse there every Friday night."
Your Pal Tal is a case in point. The Dark Angel gelding won a five-furlong handicap at Dundalk on Jan. 2 off an official handicap mark of 68, returned two weeks later to win a six-furlong handicap off a mark of 75, and went back again 10 days ago to win another five-furlong handicap off a mark of 83, each time ridden by Donagh O'Connor. He is rated 89 now on all-weather, but he may not be finished yet.
"Your Pal Tal has been great," Levins said, "but I also got a great kick out of Havelock Ellis winning a two-mile amateur riders' handicap there a couple of weeks ago. He was rated just 47 last August when we got him, and he won that handicap off a mark of 70. He's just getting going now."
----------
Gordon Lord Byron was zero for six before he made his debut at Dundalk in a six-furlong maiden in October 2011. He won that maiden, then he went back to Dundalk three weeks later and won a handicap off a mark of 78. Now, Tom Hogan's horse has won the G1 Haydock Sprint Cup, the G1 Prix de la Foret at Longchamp, and the G2 British Champions Sprint Stakes at Ascot. Then last March, Hogan took the Byron gelding to Australia, and he sent him out to win the G1 George Ryder Stakes at Rosehill.
Gordon Lord Byron is set to run in Sunday's G1 Queen's Silver Jubilee Cup at Sha Tin.
----------