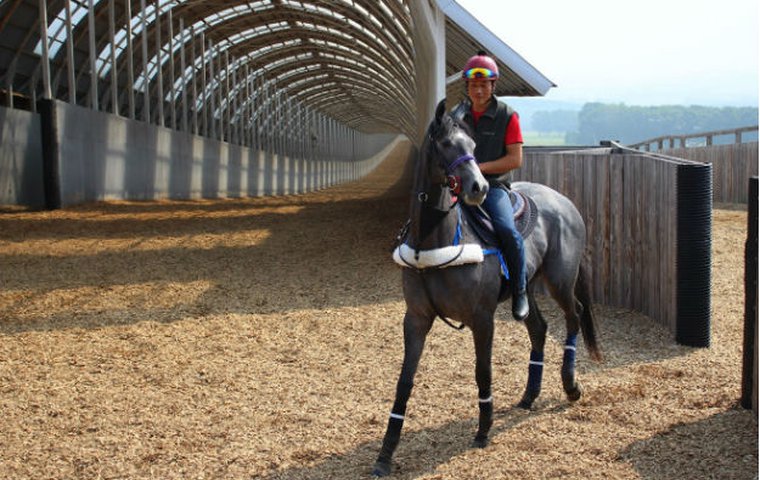 On a fateful day in August 1993, Zenya Yoshida, one of the greatest influences in Japanese racing and breeding as we know it, passed on. He left his three sons the empire he had spent his life developing, and the next generation prepared to continue his legacy.

Situated on Japan's most northern island, Hokkaido, close to the town of Chitose, his Shadai Farm was subsequently divided. The eldest son, Teruya, kept the original name, while Katsumi developed Northern Farm. Haruya, the youngest, started trading under Oiwake.
The stallions, which included the horse that had changed the family's fortunes, Northern Taste, as well as the future 13-time champion sire Sunday Silence, whose eldest progeny were yearlings at the time, would be run as a corporation at the already established station.
When Katsumi inherited Northern Farm, the stud was just 600 acres. Today, it spans over three times that with about 2,400 horses, including 600 broodmares owned by the family, close friends, and associates.
In addition, the 66-year-old Katsumi has also purchased two pre-training facilities: Shigaraki, near the main JRA (Japanese Racing Association) training centre of Ritto; and Tenei, in the Fukushima area. He also runs Northern Horse Park, where the JRHA (Japan Racing Horse Association) sales are held and which also has a museum dedicated to the Yoshidas' achievements and is open to the public.
"Ever since the beginning, the aim has always been to breed good, strong racehorses," said Shunsuke Yoshida, Katsumi's only son. "My father dreams of winning the top races all over the globe."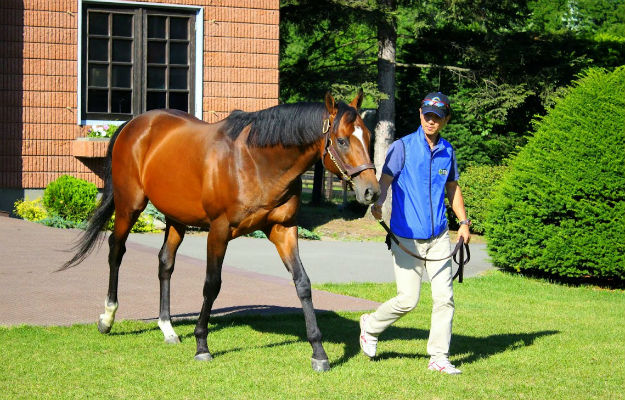 Success is something there hasn't been any shortage of at Northern Farm in recent times, not just in Japan, but also worldwide. To date, there have been 10 Japanese breeders' titles (the last four consecutive). The farm's racing syndicates have also topped the owners' table seven times, the last five consecutive.
One day in the not too distant future, 41-year-old Shunsuke will ensure the continuation of the dynasty when he takes over the responsibility of Japan's leading stud farm, having previously gained experience in the United States.
"A strong component of our ethos is to build happy and successful relationships with our clients, as well as investing in the people that work for us," he said (Northern Farm currently employs around 600 people).
In the last decade, Katsumi has attracted global recognition through his breeding and owning exploits. Back in 2006, he made Japanese history when recording a 1-2 in the Melbourne Cup with Delta Blues and Pop Rock. Cesario had taken the American Oaks just a year earlier.
Victories followed with Admire Moon in the Dubai Duty Free and with Rulership in the Queen Elizabeth II Cup in Hong Kong. Last November, his ill-fated homebred Admire Rakti triumphed in the Caulfield Cup.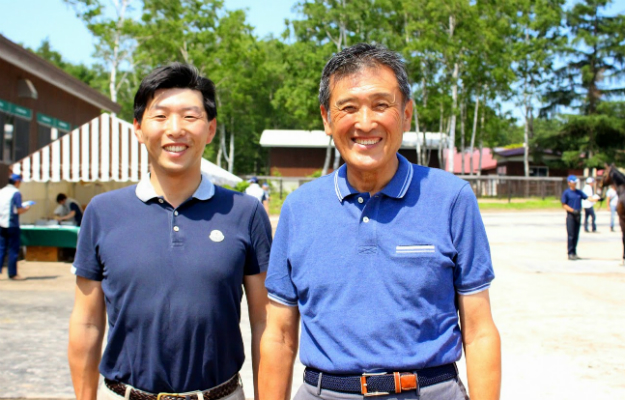 Katsumi is also the breeder of Deep Impact, champion sire in Japan since 2012 and hugely in demand worldwide, with several high-profile breeders, including Coolmore, the Wertheimer Brothers and the Niarchos Family, sending mares to him from Europe every year.
Northern Farm has also been responsible for developing the early careers of several top-class racehorses for outside clients - including Just A Way, the highest-rated horse in the world last year, who started off in the now famous C-1 barn in the Kuko area, one of two pre-training areas, together with Hayakita.
Now standing at Shadai Stallion Station, Just A Way was a contemporary of the year-older Orfevre, while Real Impact, Special Week, Dream Journey and this year's Derby winner, Duramente, are just some of the success stories that have passed through.
One of the homebred mares that lies closest to Northern Farm's heart is dual Japan Cup, Dubai Sheema Classic and seven-time winner at the highest level Gentildonna (the world's highest earning racehorse in history). Recently retired after ending her career on a high in the G1 Arima Kinen last December, she is now in foal to King Kamehameha, another homebred Derby winner and twice champion sire for the Yoshidas.
Mating choices often made on the day
For the majority of the farm's most important mares, mating choices are usually agreed in advance. However, the family's decisions for some others are somewhat relaxed. Most are booked in on the morning depending on which one of the 28 stallions is available.
Gentildonna's dam, the G1 Cheveley Park Stakes winner Donna Blini, was "the first really expensive mare that we bought," Shunsuke remembers - Katsumi spent 500,000 guineas on her at Tattersalls in December 2006.
This was to set a pattern. During the subsequent economic crisis, both Katsumi and brother Teruya made headlines when buying some of the world's best fillies in training and broodmares to go back to Japan. In Europe, these included Listen, Sarafina, Lush Lashes, Danedream, Sahpresa, Lily Of The Valley, Siyouma and most recently Avenir Certain.
"European blood has been very important to our success," said Shunsuke. "Our economy wasn't that strong at the time either, but my father made the decision that this was an extremely good opportunity to improve our broodmare band and essentially bring in outcrosses for Sunday Silence lines."
It wasn't just broodmares that the brothers brought back to Japan, however, as they also made high-profile purchases of Workforce, Harbinger and most recently Novellist, whose first crop are foals. "Most of the stallion prospects that we buy from abroad we have never seen beforehand as you have to act quickly, and racing performance is the most important factor to us," he added.
Despite the considerable influence of European blood, which Shunsuke said has had the most success when crossed with Japanese pedigrees, Northern Farm also has spent a significant amount on top pedigrees and racemares from the United States, South America and Australia - a market it is using increasingly.
It is these catalogue pages that have ultimately encouraged foreign buyers to Japan and the JRHA Select Sale, in addition to Japan's growing position on a world scale as a producer of top racehorses. This was underlined by Sheikh Fahad Al Thani's sale-topping €1.9 million purchase of a yearling colt in July 2014 by Deep Impact out of Fillies' Mile winner Listen, now in training in England with Roger Varian.
Syndicate ownership of Orfevre
Northern Farm has been the leading consignor since the sale was created 17 years ago and, with an aggregate of 3.7 billion yen (€26.8 million) this July with 81 horses sold, the European influence was once again present as it sold the highest-priced yearling colt and filly as well as foals from mares that had been purchased after successful racing careers abroad.
Around half the farm's yearly crop of 500 will pass through an auction, while the other half will be retained or offered through syndicates, which often include a combination of yearlings from the three brothers.
Zenya Yoshida, who through a partnership with Diner's Club members made owning racehorses more accessible in Japan, where it is notoriously difficult, created the original model.
The syndicates are each divided into 40 shares, and clients have the option to buy into some of the family's best-bred yearlings without needing their own licence. These can cost anything from €1,800 upwards. This season's most expensive was for a brother of last year's sales topper - for €20,830 a share.
Just one example of the success of Northern Farm's syndicates is Orfevre. Bred by Shadai Corporation, he was offered for €8,300 a share under the Sunday Racing Co. before going on to finish runner-up in the Qatar Prix de l'Arc de Triomphe, twice in addition to winning the domestic Triple Crown.
Europe's richest race remains the one the whole nation dreams of winning the most. However, the country was not represented at Longchamp last month (for the first time since 2009). Katsumi's intended runner, the 3-year-old filly Rouge Buck, suffered a fever that stopped her running in her final prep.
This is but a minor setback for Katsumi, who is determined to keep sending his best horses to Longchamp in years to come.
Should he become the first Japanese to own and breed the winner of the Arc it would be a lifetime achievement for the man that has broken all the barriers.