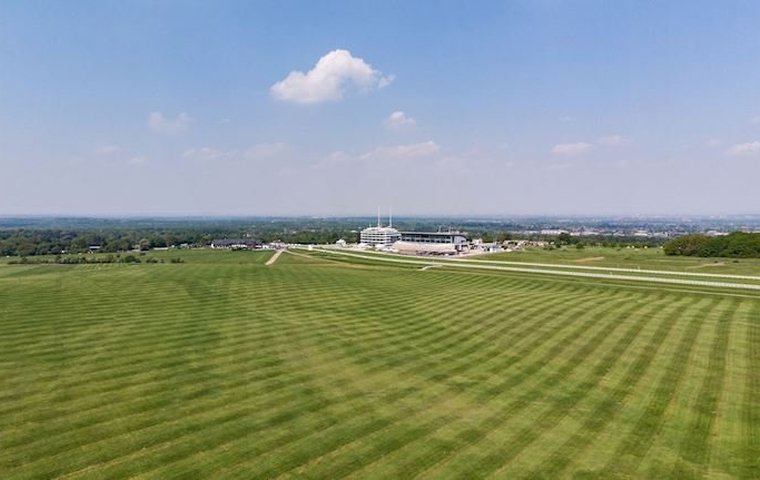 I grew up near Epsom, lived less than five miles from the historic racecourse, went to the big race most years. There was a time that I could name every Epsom Derby winner and its rider, so I knew Diomed (1777-1808) was the inaugural winner of that famous race, first run in 1780.

I knew all those Derby winners because each Tuesday when my mother would drop me at the bus stop for school for a day of mundane geography and woodwork, when she was out of sight I would stroll across the road to the local library and spend the day immersed in books of horses and horseracing.
Since I was pretty sure I would probably be champion jockey by the age of 19 or at least 20, I didn't see at all why I needed to learn how to read a map or how to make a wooden candlestick holder. I must admit, however, that when exams in those subjects came around it became painfully obvious that my knowledge of the Epsom Derby was no match for my fellow students' knowledge of geography and woodwork.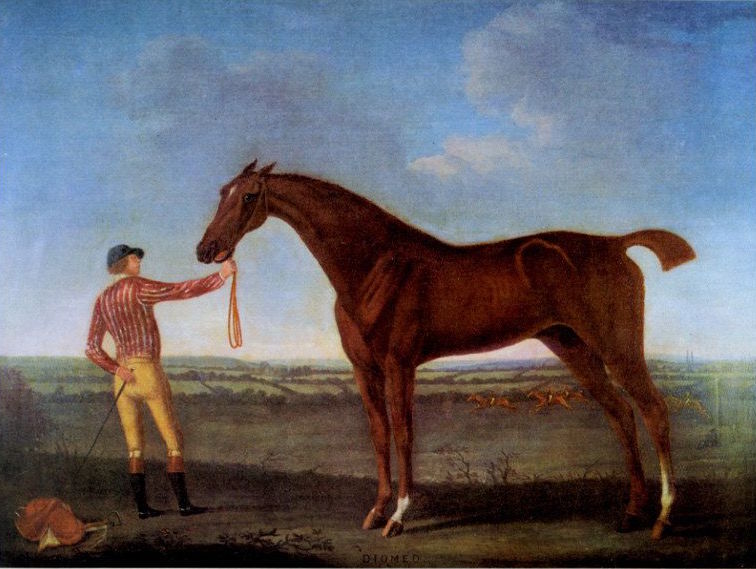 I knew from my days in the library that the race was named the Derby after a coin toss between Lord Derby and Sir Charles Bunbury and that, although Sir Charles lost the coin toss, he won the first running of that race as he was the owner of Diomed.
What I didn't know until I started researching American racing after moving to the States was that Diomed was exported to the USA all those years ago, and he became a greatly successful sire there. And what I really didn't know was that he was sold and exported at the age of 21.
Diomed was unbeaten as a 3-year-old, his first year to race, when he won the very first Epsom Derby, the race run for the first four years of its inception over a distance of a mile.
As a 4-year-old, he started where he left off at three, winning his first three races, all at Newmarket. But gradually then, over the next couple of years, his form tailed off and eventually he was retired to stud.
His initial fee was a modest five guineas (a guinea is equivalent to £1.05 in modern British currency). He wasn't particularly successful, not much in demand, threw little of note over the years and, by the time he was 20, his fee was just two guineas. Even at that price, he spent more time in the paddock than the covering barn.
Somehow Sir Charles Bunbury managed to negotiate a sum of $250 for the aged failed stallion from a Colonel John Hoomes, from Bowling Green, Virginia, and Diomed's bags were packed and he was shipped off to the New World in 1798.
Horses have been transported at sea since the time of the ancient Greeks, usually for purposes of war. But many are lost through sea journeys. They get sick, they get sea-sick but cannot throw up, so they colic instead. Travel sickness is a potentially fatal form of pneumonia that can affect horses travelling by land, sea or air on long journeys. Sometimes horses were hoisted off the ground with slings and pulleys to reduce sway in an effort to help them on sea journeys, which would bring with it its own set of problems.
It would have taken up to three months to travel by sailing ship all those years ago from the UK to the United States.
I read a novel called The Star of The Sea years ago, a brilliantly written story by author Joseph O'Connor. Although a fictional mystery, it was set aboard a sailing ship heading from Ireland (coffin ships actually they nicknamed them, for the amount of steerage passengers who would die on the journey attempting to escape the great famine. It was around this time that two brothers named Gilligan left their home in Sligo, Ireland, and boarded one of those ships and undertook that journey. They made it, and eventually married two sisters in New York, where my father eventually was born – a direct descendant of one of those hardy siblings).
New eyes for a European reject
Anyway, O'Connor's writing draws you in so deeply you feel you are inside that small wooden vessel, a tiny bobbing spot of timber and sails in the vast heaving cauldron of the North Atlantic.
Diomed was tough, though. He survived the ordeal in that vulnerable wind-tossed wooden vessel. He probably had to swim to shore when his journey was done, led by a man in a rowing boat.
The swim must have done him good. His waning fertility improved in the New World. And the people of his new homeland had new eyes for this European reject. At 15.3 hands and strongly built, they admired his physique, more powerful in appearance than most native stock at that time.
The colonists sent their better mares to him, and they weren't disappointed. He started throwing out racers by the hatful - champions. And some of those champions became champion sires themselves, following their father.
Tough, travelled, hardy, Diomed continued covering mares until his death at the age of 31. But one of his sons, Sir Archy (1805-1833), was by then already outperforming a father himself so renowned that it was reported his death was mourned as much as George Washington's.
Sir Archy, it was acknowledged, although his race record was only four victories from seven races, was the greatest racehorse of his day, and completely unbeatable in long-distance heats. In fact, it was said he retired to stud, not through unsoundness or loss of form, but because no one would show up to race him and that his early defeats were due only to the horse having been tested too soon while still recovering from strangles.
Another strong, big, tough horse, breeders found for some reason great success when inbred with offspring of his illustrious father. The fashion became so dominant and successful that, in 1827, both the Washington and Maryland Jockey Clubs framed races that specifically excluded horses with such pedigrees in order to give the others a chance.
Perhaps this is where some of the concentrated power and size and toughness of the American dirt horse first found its footing, still the best part of 50 years before the first running of the Kentucky Derby. Perhaps this is when the powerful tough dirt horse was born.
Great runners
He produced many great runners, Sir Archy, but perhaps the most important of them was Timoleon (foaled 1814), a great racer in his own right who became the sire of Boston (1833-1850), who begat the mighty 16-time champion sire Lexington (1850-1875), one of the most important Thoroughbreds in U.S. history, who in turn begat Kentucky, the winner of the very first Travers Stakes all those years ago in 1864.
I myself emigrated from Britain to the USA at a relatively advanced age. Thanks to a Mr James Weatherby, founder of the General Stud Book in 1793, any Thoroughbred today could look up, if they were so inclined, and find out if they were a descendant of that hardy first ever Derby winner who crossed the stormy Atlantic 220 years ago.
I suppose, with a bit of sleuthing, I could discover those Gilligan brothers on a shipping list somewhere. I know for certain, though, because I studied such things as a youth, that neither of them ever won the Epsom Derby.
And, luckily for me, because I didn't become that champion jockey, if I need to travel to some remote unknown location, I just tell my telephone now, and it talks me, mile by mile, yard by yard, to my destination.
And, equally luckily, I have never felt, even once through the years, that a wooden candlestick holder was the thing that was really missing from my life.