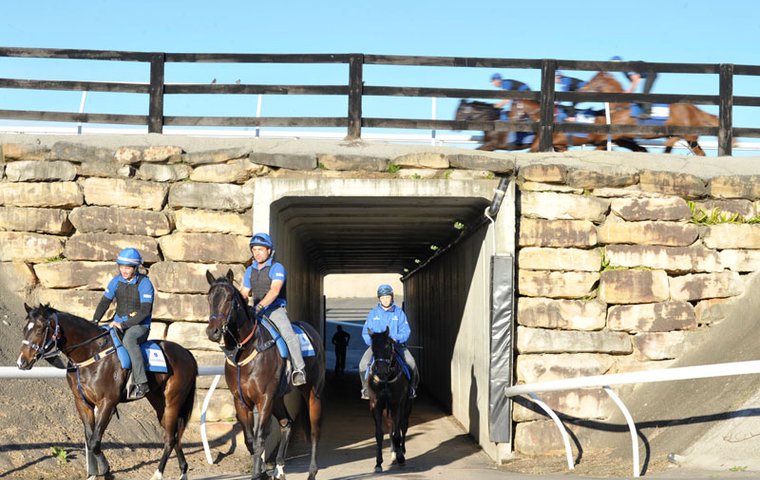 Back in the familiar Godolphin blue, Kerrin McEvoy's eyes were gleaming after jumping off the Geelong Cup winner 13 days out from the world's most famous two-mile race, the 2016 Melbourne Cup.

Charlie Appleby, a former head lad from McEvoy's time riding for Sheikh Mohammed in Europe, had just trained his first winner in Australia and McEvoy (world-ranked 25 in the TRC Global Rankings jockeys' standings) had linked up with the old firm once more in the winner's stall after the $300,000 contest.
Qewy's success for Godolphin (world No. 2 in the TRC owners' rankings) in the modern-day Melbourne Cup tune-up gives him a strong chance of victory on Tuesday, helped in no small part by the magnificent blood flowing through his veins, that of his sire, reigning Australian champion stallion Street Cry (the world's 12th ranked sire in the latest TRC Global Rankings), and of his dam Princess Nada, a half sister to another global super-sire, Dubawi (the world's second highest-ranked stallion).
A week later at Ballarat, north-west of Melbourne, it was a similar situation as McEvoy teamed up with a son of Danehill Dancer, Francis Of Assisi, again prepared by Appleby (ranked 13 in the TRC trainer standings) to snare the $180,000 Bendigo Cup.
Part of a plan
Both horses hail from bloodlines well known and respected in Australia and were sent to the Southern Hemisphere as part of a plan to finally secure that elusive Loving Cup next Tuesday.
Along with G3 Geelong Cup third-placegetter Oceanographer, the spring has also seen Godolphin import Scottish step out of quarantine and finish second in the mile-and-a-half G1 Caulfield Cup, while Hartnell was in stunning form, before Street Cry's champion daughter Winx steamed past him in the Australasian weight for age championship the Cox Plate at Moonee Valley last Saturday.
Saeed Bin Suroor (11th ranked trainer in the TRC trainer standings) has been part of an ongoing hit-and-run mission to win Australia's greatest race with Godolphin producing three placegetters, Central Park in 1999, Give The Slip in 2001 and Crime Scene eight years later, as well as having Caulfield Cup winners All The Good in 2008 and Taufan's Melody 10 years prior.
However Sheikh Mohammed and his team have for the past few years quietly altered their model seeking spring success. They now select a number of G1 hopefuls to travel to Australia annually to be trained by local Godolphin trainer John O'Shea (world-ranked 7 in the TRC trainer standings).
Impressive results
So far the record of these long-term imports reads impressively.
Their best results include Hartnell's success in the 2015 G1 BMW and this year's G1 Turnbull Stakes at Flemington. Contributer won the G1 Chipping Norton Stakes and the 2015 G1 Ranvet Stakes. It's Somewhat succeeded in the G2 Ajax Stakes as well as in three G3 races, Havana Cooler took out the 2016 Doncaster Prelude (registered as the G3 Royal Parma Stakes) and last year Magic Hurricane won the Sydney spring stayers' championship, the G1 Metropolitan.
So what's behind this new tactic to succeed in Australia's great races and how does it work?
Undoubtedly it's a team effort and starts with the keen eye of Godolphin chief executive John Ferguson.
"Australia and Australian racing have always been something that Sheikh Mohammed and Dubai respect and follow closely," he says. "The opportunity to purchase Woodlands Stud [reportedly for $415 million in 2008] gave us a platform to compete at the highest level and, thanks to [Godolphin Australia managing director Henry Plumptre's] teams on the studs and [trainers] Peter Snowden and John O'Shea, these dreams have been realised.
Selection process
"The success of European horses in Australia is not a secret and therefore it was natural that we would try and support John by sending European horses to his stable. The likes of Contributer, Hartnell and others have simply reinforced our commitment to send horses down in the future."
The selection process for the horses sent to O'Shea to acclimatise and race over several seasons is constantly being honed, however there is some exacting criteria.
Ferguson continues: "The horses selected for John are horses we feel will benefit from Australian training conditions and horses we feel suit Australia in the long term. The horses that arrive with European trainers usually have other targets overseas later in the year."
Godolphin Australia's managing director, Henry Plumptre, explains what was behind the change in direction. "Well the model really changed the year we took on John O'Shea as a trainer. We decided to only have one trainer here, and not send any more outside yearlings to our previous trainers in Australia.
"As far as the staying horses were concerned coming from Europe, well the genesis of that came from John Ferguson, and he sourced them from various places. Some of them came from the sales, some of them were from private sales, and some of them were horses we already owned, whether through Sheikh Hamdan or by Sheikh Mohammed."
Different training regime
Plumptre adds: "John Ferguson's view is it's not rocket science picking out these horses. You pick them in a certain rating, you look for horses that can probably get around that middle-distance trip of a mile and a quarter, and they need to be competitive. And there are certain benchmark races for those horses. There's a race at Ascot which has always been a very good benchmarking race for that type of horse. The Ebor Handicap would probably be a little bit too good for the sort of horses we were getting."
And, from that first group sent to Australia in 2014, the results have consistently flowed.
"Obviously Hartnell was the best, I would say, but there wouldn't have been a lot between him and Contributer at their best," says Plumptre. "But we also had a very good back-up team with It's Somewhat and Havana Cooler.
"We also had a nice horse who came out last year called Ducas Valentinois. He's taken a while to hit his straps because he's just taken longer to acclimatise, but it's been very successful so far and I think John Ferguson will continue to source those types of horses because they are not superstars in Europe but they can be very good horses here. Especially because they seem to respond to a different training regime, not so much of that grinding work they do in Europe, more of that short, sharp work and freshening up.
The Osborne Park factor
"Plus a big factor is the ability we have at Osborne Park during the day to be outdoors if that's what they need. We can give them a very varied lifestyle."
Plumptre gives a lot of the credit to the conditions at the Osborne Park training facility at Agnes Banks, near Richmond at the foot of the Blue Mountains on the outer edge of Sydney, which opened in 2010.
"We try to keep it as peaceful as possible. Newmarket is a busy place any morning of the week. It's completely focused on horses. There's no urban development in Newmarket. It's just six-thousand acres of heath and strings of horses going everywhere and it's a relatively peaceful environment for them, which is what Richmond is.
"It might only be an hour from the centre of Sydney, but it's a complete oasis really. And a couple of those horses have been a bit fizzy. Even Hartnell himself, he still works in earmuffs because he can get himself a bit revved up. Havana Cooler is another one who can get a bit revvy. So we are very lucky to have that facility. It makes a huge difference."
The move to a local training regime is done carefully, but there are certain successful models that are followed closely, according to trainer John O'Shea. "I think when you are trying to win major races in Australia there are always historical precedents which you fall back on and consequently having the horses here allows you to reflect on those precedents and try to work towards those races along similar paths."
Praise for Ferguson
O'Shea continues: "I still think there are certain races you need to be competitive in. For example, if you want to win a Melbourne Cup and you run in the first three in an Irish St Leger, you have to be competitive and history tells you that. So, if you have horses here and you run well in a Turnbull you're going to run well in the Cox Plate and the Melbourne Cup.
"It gives you an opportunity to see where your horses fit in and go along a nice program wherever you think they are going to be best placed."
Henry Plumptre directs most of the accolades for the success of the first group of horses sent to John O'Shea firmly at the feet of John Ferguson, whose son James has been looking after the carnival imports for Charlie Appleby at the Werribee quarantine centre near Melbourne.
Plumptre explains: "The first batch John Ferguson sent down here, well four of the six won stakes races, so we're not going to argue with him too much.
"Funnily enough, people probably don't know this but John Ferguson has actually been doing this for many years."
Plumptre tells the story. "Back in the 1980s, when I was working in Newmarket, my first client as a bloodstock agent was Lloyd Williams, and I bought Lloyd three stayers out of Newmarket in 1987. None of which were particularly exciting although one won the Herbert Power [G2 at Caulfield].
Great understanding
"When I left Newmarket at the end of that year, Lloyd asked me to hand his business on to an agent of my choice, and John was my first choice. John sold Lloyd and Kerry Packer quite a number of stayers over the next three or four years and some of them were really quite successful horses. So John has been doing it for a while and I think he knows the right type of horse that we need down here. And he's watched people like David Hayes with Jeune [1994 Melbourne Cup] and Almaraad. [1989 Cox Plate]. One of them who came out, the 1986 Melbourne Cup winner At Talaq, was a dual St Leger winner and they had him winning a Group 1 over seven furlongs the following year in the 1987 Orr Stakes."
O'Shea also credits Ferguson in partnership with former BBC TV racecaller Jim (J.A.) McGrath (an Australian). "They tend to work it out," he says. "Obviously Jim has a great understanding of Australian racing and he puts up horses to John, and John works out whether that's a good idea or not a good idea, and so far he's had some really good ideas."
For the Australian trainer, his time in the Godolphin system has changed his mindset on how to train Thoroughbreds.
"I think I definitely don't work horses as hard as I used to. That's probably one thing. I came through a very tough school working under T.J. Smith, Gai Waterhouse and Bart Cummings. They were great trainers who got their horses very fit. Worked them hard and fed them hard. One thing I don't do as much now is that, once they are fit, we probably just tick them over. I definitely don't work them as hard as I used to."
Aussie 'help' in Newmarket
Plumptre sees O'Shea's experience with the greats of Australian racing as a big key to his success. "John O'Shea has worked with some amazing trainers, Hall of Famers such as Bart Cummings and Tommy Smith, and he's obviously learnt a broad set of skills in terms of the sorts of horses he trains. He can train a stayer but he can train a Golden Slipper horse as well.
"He keeps saying he didn't train Hartnell that well last year, but I wouldn't agree with that. I think Hartnell had a few issues last year which were nothing to do with the trainer's ability, and I think it was an acclimatisation thing that stopped him last year. But John's very good and very incisive in working out what they need and sticking to a plan, and he goes with that plan and he knows that balance of work and exercise that keeps them nice and fresh. They seem to like to be kept fresh. That's one thing we have noticed with them."
And there is some Aussie 'help' in Newmarket with the final preparation work before the horses travel to Australia performed by former a Gai Waterhouse employee, gifted horsewoman Kate Grimwade.
O'Shea rates her work as pivotal to the acclimatisation process for the horses he receives from the Northern Hemisphere.
"Kate is fantastic because, having worked for Gai, she understands our racing and what we need to have done. So what we try to do is tell her the date of the flight and say, when this horse raced well he raced at a certain weight and what that was and then we say, 'Katie, you just have them at that weight when they get on the float', and she does it to the letter.
'Have them ready to run'
"So, if I say to her I want to run him in a 10-furlong race when he comes, then he has to be ready to run a 10-furlong race when he gets on that float or on the plane, and she does exactly that.
"So, when they turn up, all we have to do is just tick them over, give them a gallop and run them. She does a fantastic job."
Kate Grimwade may have the Australia-bound horses for anywhere between four weeks and several months. She reflects: "The horses we have prepared for John have been sound and race-hardened. This makes getting them ready a very easy task.
"John gives me one very simple instruction, to have them fit to run and at race weight, on the day they fly. We work back from their flight date as if it was race day. We always have a plan in our mind, but it is very changeable depending on how they are progressing."
Grimwade is quick to also point out it is a team process. "Brendan McGiff rides all of the Australia-bound horses, and he is excellent at it. Brendan knows his horses inside out, he adores them and builds up their confidence so they all think they are world beaters when they get on the plane. We take extra care to ensure their coats don't break before they leave."
Lessons from Gai Waterhouse
Grimwade, too, calls on her memories learnt from another of Australia's best. "Working in Australia demonstrated to me how well horses do for a spell, even if it is a short one. Gai taught me they won't lose much fitness in three weeks off. All of the horses we have sent to John have had a three-week spell."
"Hartnell came to us on the back of a very tough 3-year-old season and he needed a break. We turned him out every day but kept him in light cantering exercise, just to make sure he was sound and well. He then had a full month off before commencing a conditioning programme at Osborne Park.
"Contributer was bought following his success in the Wolferton at Royal Ascot. He had been carefully nurtured by Ed Dunlop and was clearly a horse who was improving. He had a three-week spell, then an eight-week conditioning program, culminating in a hugely impressive bit of work five days before he flew. He was a bit of a rogue, so I was always just relieved when he was back in his box, safely."
She adds: "Most recently we have had Holler, who John decided to leave here following Royal Ascot so he could benefit from the English summer. It worked a treat as he was able to enjoy three weeks of lush English grass, and we had a relatively good summer so he even got some sun on his back.
"We have done a lot of hill work with him, which has really built on his already impressive hindquarter. He has come on in his coat and I hope he can be competitive for John this spring."
Seeking a competitive edge
The longer term model of importing horses just for the carnival will continue too, according to Ferguson. He says: "It would be wrong to just allow John O'Shea to compete in Australia to the exclusion of our other overseas conditioners. Racing now is a global sport and, if Saeed, Charlie or any of our trainers have a horse they believe capable of winning races at the Carnival, we should encourage them to take part."
Appleby has taken to the Australian conditions like a duck to water. Ferguson continues: "Charlie has been part of the Godolphin team long before he had a trainer's licence and has therefore grown up with us. Bringing horses to Australia for the first time is a new experience, but everybody has been so kind and welcoming, which has made it easier than it might have been."
For Plumptre, keeping some European horses in their normal routines has many advantages. "Generally in the U.K. and Europe, they have far more of those middle-distance-to-staying races than we do. Our racing programs are generally focused on five or six furlongs to a mile. Their racing over there generally doesn't get serious till it gets over a mile, and there are any number of races in France, England, Germany and Ireland where you can take a nice stayer and win a nice race.
"So I think that model will stay in place. Ultimately, though, it's about every team trying to produce these horses that can give Sheikh Mohammed a competitive edge in a Group 1. Whether it's in Hong Kong, Australia, England, Ireland, America or France, the whole idea is to be racing at that elite end, enhancing the value of the bloodstock and giving something back to the boss, which is really what it's all about.
And in the heart of the Melbourne Spring Carnival just ahead of the grand final, which is Cup week at Flemington, Plumptre maintains the measured yet confident tone of the entire Godolphin team.
"Obviously we have our fingers crossed for this week and hope we can get the horses there in good order. It will be a big week as it always is in Melbourne this time of the year, and I'm absolutely over the moon with the training team. They've done a fantastic job this spring already."