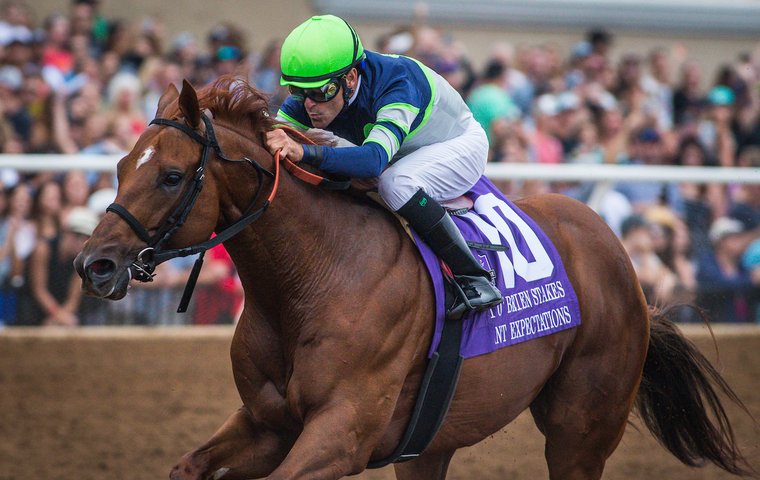 Patience was a key ingredient in Giant Expectations' climb from a winless 3-year-old season to two Graded stakes victories last year, to a position in the starting gate for the Pegasus World Cup Invitational on Saturday at Gulfstream Park.

One month after his upset victory in the G2 San Antonio at Santa Anita Park, the California-based New York-bred will face likely Horse of the Year Gun Runner and ten others in the deep field for the world's richest horse race. Giant Expectations is trained by Peter Eurton for the partnership group of Exline-Border Racing, Gatto Racing and Garrett Zubock.
Hall of Fame jockey Gary Stevens will ride the son of Frost Giant, who will be trying nine furlongs miles for the first time. He has drawn post 12.
When the inaugural Pegasus World Cup was held last year, Giant Expectations was 0-for-6 in maiden races and was in the midst of an 11-month break between starts, recovering from lung issues.
"He had a bit of a lesion in there and had kind of a chronic cough," Eurton said. "We thought we could heal it in a short period of time, but it turned out that we had to give him about three or four months off. Knock on wood, he's good now."
Winning four of seven starts in 2017, he earned $410,000 and put himself in position to be considered for major races like the Pegasus. "We've kind of had to wait on him a little bit," Randy Exline said. "He has obviously been a very, very special horse and has really come into his own this last year. Peter has just done a marvelous job with him."
Giant Expectations got past his lung problems, resumed training and was sent across the country to race in a New York-bred maiden race on May 29 at Belmont Park. It was an unusual move, but Exline, one of the principals in the partnership, figured that it made sense to try him in restricted New York-bred conditions while getting away from the toughies he was facing in Southern California.
"I've got owners and we needed to make some money," Exline, 36, said. "The horse ran second to Arrogate. The horse got beat by Tin Blessings, got beat by a lot of Graded stakes winners. I don't know if there is a horse in the country that had a tougher maiden campaign than this horse had. Every Baffert runner seemed to be in these races - American Freedom is another one - and we were running right behind them every time."
The cross-country experiment turned out to be a brilliant move. He won the maiden race on a sloppy track by 9¾ lengths. Then quickly won another.
Gate issues
"We wanted to go to New York and we didn't know if we would stay. It kind of depended upon how we did," Exline said. "Peter and I flew out there for the first race and he kind of just galloped around and won by many. He came out of it so well, it really took nothing out of him, and we said, 'Let's run again in ten days.' He won that one, we banked almost $100,000 in ten days, so we decided to bring him back to Southern California, where the ownership could watch him."
Exline grew up in Indianapolis and moved to Southern California after graduating from Indiana University to work in management of a senior housing company. He also owns a craft brewery. Exline embraced racing as a fan at Del Mar and bought his first horse in 2012. The filly he and his partners purchased was Sheza Smoke Show, who won the G3 Señorita.
Exline and Justin Borders, an occupational therapy company owner from Paso Robles, California, formed Exline-Border Racing, which manages the partnerships. Exline and Border are partners in Champagne Room, the 2016 2-year-old filly champion trained by Eurton. Giant Expectations is the third horse they purchased. They now have about a dozen.
On July 19, Giant Expectations finished second by three-quarters of a lengths in an optional claimer/allowance race at Del Mar. He followed that performance with a victory in the seven-furlong G2 Pat O'Brien, a 'Win and You're In' race for the Breeders' Cup Dirt Mile.
That run of success was interrupted last fall when Giant Expectations reverted to another old problem - gate issues. He was fractious at the gate of the G1 Santa Anita Sprint Championships - the crew had forgotten to place pads inside the stall - unseated Stevens, and was a non-factor, beaten 11 lengths. In the Dirt Mile, he got away slowly and ended up sixth.
"He actually ran a pretty decent race in the Breeders' Cup for being so far out of it," Exline said. "He was one of the only horses that finished down the lane that day. I don't know that we were going to beat the first or second horses, but with a better start we could have probably run third."
Facing Collected, Hoppertunity and Accelerate in the San Antonio, Giant Expectations was the longest shot at 13/1 in the five-horse field. Collected got away slowly and Stevens put Giant Expectations on the lead. They were able to get away with moderate early fractions of :24.69 and :49.19 and had no problem holding the lead to win by 3¼ lengths.
"He got the trip of all trips, a :49 half," Eurton said. "But they came flying and I don't think they would have ever got by him. He did get his trip and Collected didn't get his. Maybe a horse like Gun Runner doesn't need to get a trip. He can do it any way he wants. He's ultra-special."
Typically, Giant Expectations has turned in very fast works in preparation for the Pegasus: a pair of five-furlong breezes in :58.80 seconds and :58.
While Giant Expectations has thrived as a middle-distance horse, Eurton said he has no concerns about trying 1⅛ miles. "I don't mind it," Eurton said. "If he runs well in here, we might think about a mile and a quarter in Dubai. Or the mile in Dubai. I like the extra distance. He gets into an amazing cruising speed. Just the other day he galloped a mile and five-eighths and he trucks around around there, just keeps on going. He's not a super-fast horse, he's just a horse that has a very high cruising speed."